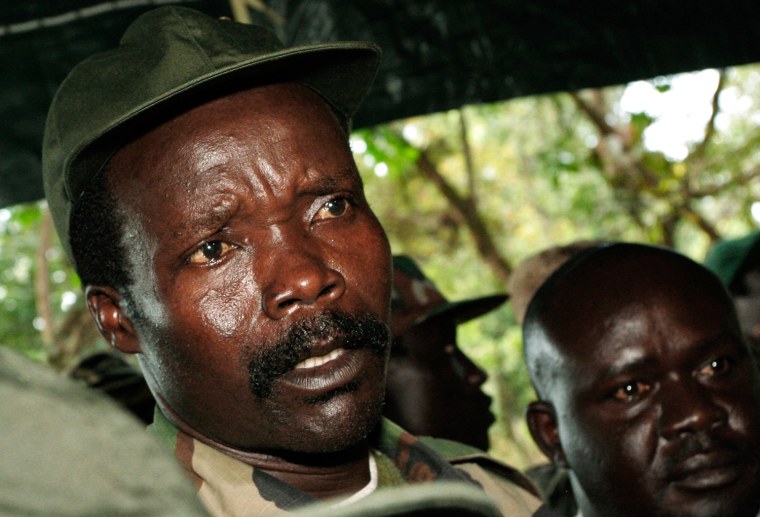 KAMPALA, Uganda -- Uganda has suspended the hunt for fugitive warlord Joseph Kony and his Lord's Resistance Army fighters, blaming hostility toward foreign troops by Central African Republic rebels who seized power last month.
Kony is wanted by the International Criminal Court for war crimes. He and his commanders are accused of abducting thousands of children to use as fighters in a rebel army that earned a reputation for chopping off limbs as a form of discipline.
Uganda provides more than 3,000 troops for a 5,000-strong African Union force hunting Kony and his fighters, who are thought to be hiding in jungles straddling the borders of the Central African Republic, South Sudan and the Democratic Republic of Congo.
A separate coalition of rebels in the Central African Republic, known as Seleka, toppled President Francois Bozize last month. They swept into the capital, Bangui, in a lightning offensive that triggered days of looting and drew international condemnation.
The Seleka rebels also killed 13 South African soldiers during their attack on Bangui.
"These rebels have been openly hostile to us and following that, the president (of Uganda, Yoweri Museveni) has ordered us only to be in defensive positions," said Dick Olum, head of Ugandan troops and overall commander of the force hunting Kony.
"So we've temporarily suspended offensive operations against the LRA for now until we receive further orders," he told Reuters on Wednesday.
It was not immediately clear if troops from other countries in the regional force were also giving up the search. Ugandan media reported that about 100 U.S. special forces helping with intelligence and logistical support had suspended operations.
Uganda's Daily Monitor newspaper quoted Crane Elise, spokeswoman for the U.S. Embassy in Kampala, as saying: "We have temporarily paused the operations against LRA to give us time to consult with the State Department."
LRA fighters fought the Ugandan government for nearly two decades before being ejected from their strongholds in the north of the country in 2005, forcing them to establish bases in the jungles of other countries in the region.
Related:
War crimes suspect 'The Terminator' surrenders
PhotoBlog: Looters, gunmen roam capital after coup