An 85-year-old Korean War veteran from California has been detained in North Korea while on vacation to the reclusive country, his son said Wednesday.
Merrill Newman was seated on his flight out of Pyongyang minutes from take-off when a uniformed official boarded the plane, requested to see his passport, and asked the stewardess to have him leave the aircraft, The Associated Press reported.
"My dad got off, walked out with the stewardess, and that's the last he was seen," his son, Jeffrey Newman, told the AP from his home in Pasadena, Calif.
The day before Newman was detained on Oct. 26, he met with North Korean officials and discussed his service in the Korean War 50 years ago, his son told the San Jose Mercury News.
"There's some misunderstanding here, a terrible misunderstanding, and my father has always had a deep respect for the Korean culture and the Korean people," he told the newspaper.
"We need to see what we can do to resolve that misunderstanding and return him home to his wife and grandchildren and put this behind us," Jeffrey Newman said.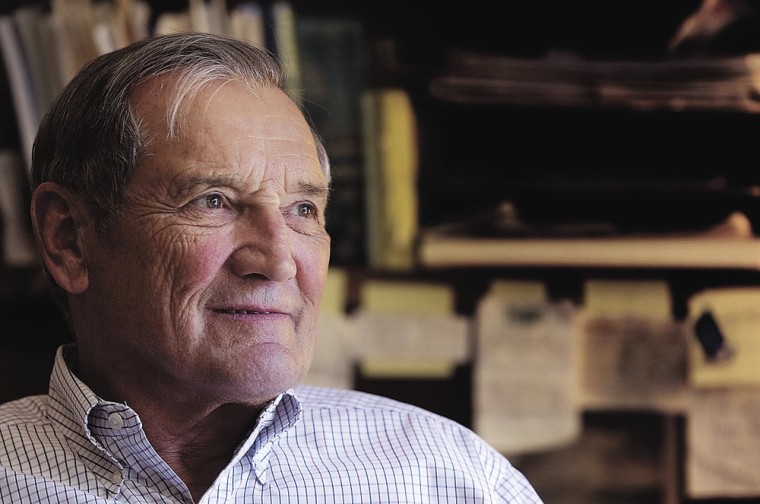 Newman, a married grandfather and avid traveler from Palo Alto, retired as a finance executive in 1984.  He was a volunteer with the Red Cross for 50 years after serving as an infantry officer during the Korean War.
Jeffrey Newman said his father was slightly unnerved by the meeting with North Korean officials but thought nothing more of it until he was hauled off his flight.
"There have been other Korean veterans who've been back," he said. "My dad was not breaking any new ground. He's always wanted to go to North Korea; it's been a lifelong thing.
"Like the guys who go back to Normandy, the World War II veterans, these places had profound, powerful impacts on them as young men, and he wanted to see it again."
Dan Sneider, associate director for research at the Walter H. Shorenstein Asia-Pacific Research Center at Stanford University, told NBC Bay Area that reports of the detention were unusual because Pyongyang had not tried to use it to leverage anything from the U.S.
Sneider said: "I hope that the North Korean government understands this is not a very smart thing to do under any circumstances and that they will see their way towards doing the compassionate and the intelligent thing and releasing him."
Newman's travel companion, Bob Hamrdla, also told the San Jose Mercury News: "I hope that the North Koreans see this as a humanitarian matter and allow him to return to his family as soon as possible."
A newsletter on the website of Channing House retirement complex, where Newman lives, said the trip was scheduled to last 10 days and the pair were due to be accompanied by two North Korean guides at all times.
Newman's family told the AP they have been working with State Department officials and the Swedish Embassy in Pyongyang -- often used by Americans in lieu of direct diplomatic contact with the hermit nation -- in a bid to secure Newman's release.
The Swedish ambassador delivered the American's heart medication but it was unclear if he received it, the AP reported.
The State Department told NBC Bay Area that it was aware of reports that an American had been detained in North Korea.
"We have no additional information to share at this time," the statement added. "The embassy of Sweden in Pyongyang acts as our protecting power for issues involving U.S. citizens in North Korea."
On Tuesday, the State Department issued an official warning to U.S. citizens not to travel to North Korea because of the risk of "arbitrary arrest and long-term detention," but it did not link it to Newman.
According to the State Department, four Americans have been arrested after entering North Korea illegally since 2009, and two detained despite having valid DPRK (Democratic People's Republic of Korea) visas.
Newman's is the second high-profile detention of an American citizen by North Korea in 12 months. In November 2012 Kenneth Bae, a Korean-American Christian missionary and tour operator, was sentenced to 15 years hard labor for "hostile acts against the republic."
The Associated Press contributed to this report.
Related: