MOSCOW — Starstruck Russians snap selfies and crowd around reality-TV-star-turned-presidential-candidate Ksenia Sobchak as she walks in Moscow's Red Square.
When three teenagers scream her name, Sobchak, a journalist and television personality who is taking on President Vladimir Putin, instructs them to get out and vote when the elections come round in March.
"We need real change in this country and together we can achieve this," she told the teens on Wednesday.
Sobchak, 36, hopes one big thing will work in her favor: The vast majority of Russians know who she is thanks to years in the public eye.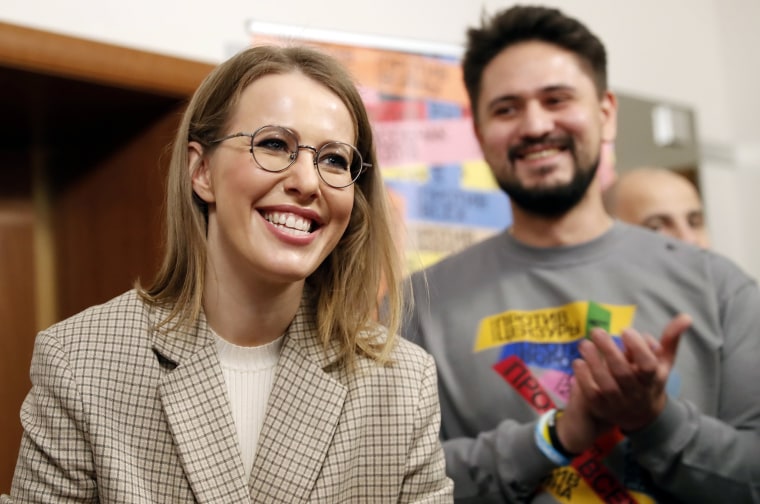 She has starred in shows such as Russia's equivalent of "Big Brother," and "A Blonde in Chocolate," in which she often swore, appeared drunk and wore revealing clothing.
But even though she is well-known, Sobchak is also highly divisive.
Not only does her family have long and deep ties to Putin, the image she has recently cultivated — that of a hip-but-serious politician — stands in stark contrast to how the nation has come to know her over the years.
A recent opinion poll revealed 24 percent of people have negative associations with the name Sobchak. Seventy percent said they view her presidential bid negatively and only 5 percent would even entertain the possibility of voting for her in March.
But Sobchak maintains that her reality TV days are a thing of the past.
"They can say, and they will say, whatever they like. They should judge actions," she said this week.
For the past six years, she has been heavily involved in Russian politics, calling out Putin's government and becoming an interviewer and a journalist on an independent TV channel.
Her first order of business in announcing her candidacy was to demand the release of political prisoners. According to Memorial, a human rights organization, there were 117 such detainees in Russia in 2017.
She also said that Crimea belongs to Ukraine — an opinion neither popular nor deemed patriotic in Putin's Russia. The peninsula was annexed by the Russian president during the 2014 upheaval in Ukraine.
She has also spoken out against corruption, rigged elections and any person staying in power for as long as 18 years. Putin, who has been president or prime minister since 2000, has an 80 percent approval rating and is likely to win next year. In doing so, he would extend his lock on power to 24 years, longer than any Russian leader since Stalin.
International election monitors have consistently raised concerns about the integrity of Russia's electoral process under Putin.
A report on last year's regional elections by the Organization for Security and Cooperation in Europe, an intergovernmental organization, found that candidate eligibility was at odds with international obligations and that many media outlets were under state control.
'People are not stupid'
As Sobchak continues her walk in Red Square, she points to the walls of the Kremlin, a symbol of Russian might concealing a well-oiled government machine and the thousands of people who work in it.
"People who govern our country sit behind very tall walls, with cameras and guards all around," she said. "I don't think it's normal. I want my government to be transparent."
She added: "Russian people are not stupid. They know that the system we are living in is undemocratic. My dream is to see this Kremlin wall opened for all the people."
"I think it is my big advantage that I know Putin personally"
Sobchak says that if she comes to power, her government would reduce the president's role in politics.
"Any president we choose becomes a czar in Russia," she said. "I don't want czars anymore. I don't want to be a czar myself. I want to be a democratic leader."
But her family's connection to Putin is raising questions for many would-be supporters.
Her father, a former mayor of St. Petersburg, served as a political mentor to Putin in the 1990s. For years, Sobchak has been rumored to be the president's goddaughter, speculation she denied in a recent interview.
These ties lead many to question whether the Kremlin had any part in her decision to run, and whether her participation is a way for Putin to add legitimacy to his government.
Sobchak has vehemently denied any links to the Kremlin, saying she herself has been a victim of the Putin regime. She says her home was raided and she was left jobless after her participation in anti-Putin protests in 2012.
She ardently defends her presidential campaign, saying she never asked Putin for a "permission" to run.
"I don't need any," she quipped at her first news conference after announcing her bid. "I am an independent person."
But while she maintains her independence, she has raised eyebrows for not directly attacking Putin.
"I think it is my big advantage that I know Putin personally … that he can trust me, that he can see in me a new generation," she told NBC News. "I want to be a person who really makes him see how many people are against the system."