KABUL, Afghanistan — The U.S. launched airstrikes overnight at Taliban targets and coalition special forces fought insurgents as fierce battles raged for control of Kunduz, the first Afghan city to fall to the militants in 14 years.
The Pentagon has called the Taliban's seizure of Kunduz a "setback" for Afghanistan's U.S.-trained forces, which have struggled in their counterattack on the militants since the city of 300,000 people was taken Monday.
Despite firepower and assistance from the U.S.-led coalition, the last government-held position within Kunduz city fell to the Taliban on Wednesday.
More than 60 Afghan soldiers surrendered to the militants when the city's fort fell, according to one army officer who managed to flee with about 40 of his men.
The officer — who would only give his first name, Najibullah — told NBC News that he had fought for more than 48 hours with around 100 men but had run out of ammunition and been surrounded on all sides.
"We could hold no longer so we fought our way out but we got separated in the chaos," he said. "More half of our group surrendered and the rest got to the airport. We are exhausted, hungry, I do not know what happened to the rest of my comrades I pray to God for their safety."
The fall of the fort was another setback for Afghan security forces, which had to retreat from positions back to the airport overnight because reinforcements were delayed.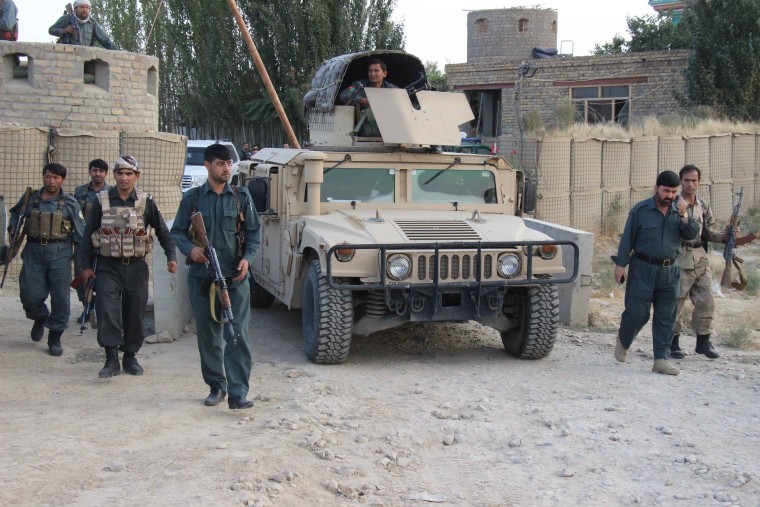 The deputy head of the Kunduz provincial council, Faiz Mohammad Amiri, said that the Taliban had then launched attacks targeting the airport but were pushed back with the help of U.S. airstrikes.
Col. Brian Tribus, a spokesman for U.S. and coalition troops in Afghanistan, confirmed Wednesday that U.S. forces launched two airstrikes in the vicinity of Kunduz airport overnight. A "limited number of coalition forces" also were on the ground in the city advising and assisting Afghan forces, he added.
"Coalition special forces advisers, while advising and assisting elements of the Afghan Security Forces, encountered an insurgent threat in the vicinity of the Kunduz airport at approximately 1 a.m.," he said in a statement.
Tribus would not say what nationality the special forces were, but when asked if the statement meant they had engaged in combat, he told Reuters: "Yes." The rules of engagement for U.S. forces remaining in Afghanistan allow them to fight if they are threatened by insurgents.
Afghan special-forces reinforcements still were struggling to make their way to the besieged city on Wednesday, bogged down by ambushes and a plethora of roadside bombs.
"We have been fighting throughout the night and lost more soldiers but have not been able to move forward," one special-forces commander told NBC News on condition of anonymity because he was not authorized to speak to the press. "We are working on a plan and hopefully within couple of hours will launch an attack with the help of airstrikes to break the road block and reach Kunduz."
As the fighting continued to rage, the Afghan ministry of public health said 30 people have been killed and more than 200 injured — 90 percent of them civilians.
"I am deeply concerned about the situation in Kunduz," said Nicholas Haysom, head of the U.N. mission in Afghanistan. "The reports of extrajudicial executions — including of healthcare workers — abductions, denial of medical care and restrictions on movement out of the city are particularly disturbing."
Mohammad Bashir told NBC News that one neighbor — a government employee — had been beaten and taken away by the Taliban overnight.
"We could not sleep at all last night," said Bashir, a bus driver. "There were cries and wailing all night from his home... We do not know what happened to him."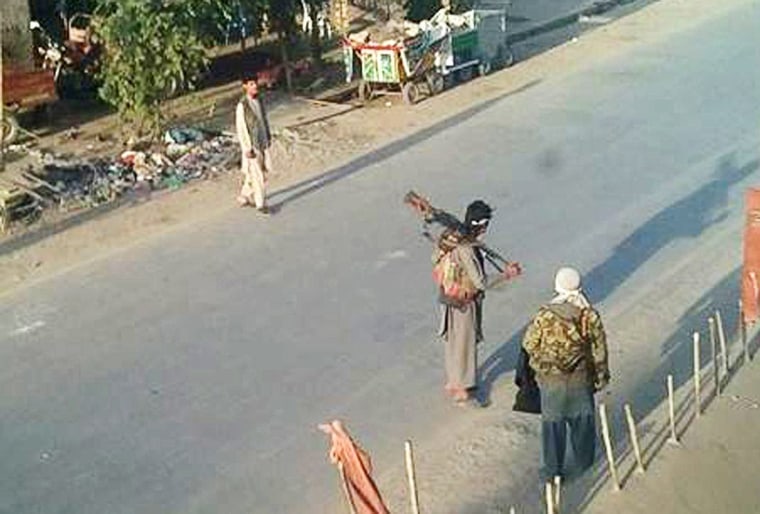 He added: "It is a horrifying situation."
The United Nations said that an estimated 6,000 people had fled Kunduz. Shah Wali said he and his family were among the "huge number" of locals in cars, motorbikes and on foot trying to leave the city.
"There are a lot of Taliban vehicles and fighters on the streets of Kunduz, but they have not stopped us.," he said by phone while journeying to neighboring Takhar province. "Friends and relatives who left earlier assured us that the road is fine ... we are just trying to save our lives."