TEL AVIV — President Donald Trump's son-in-law and senior adviser said in an interview published Sunday that the administration will soon present its Israeli-Palestinian peace plan, with or without input from Palestinian President Mahmoud Abbas.
In an interview published in the Arabic language Al-Quds newspaper, Jared Kushner appealed directly to Palestinians and criticized Abbas, who has shunned the Trump team over its alleged pro-Israel bias, particularly on the fate of contested Jerusalem.
The interview came out after a weeklong trip around the region by Kushner and Mideast envoy Jason Greenblatt. The team met with leaders of Israel, Jordan, Qatar, Egypt and Saudi Arabia to discuss the worsening humanitarian situation in Gaza and the administration's proposals for a peace deal.
Palestinian leaders have blasted the Trump negotiating team in recent days.
It remains unclear how the U.S. would proceed with a peace plan without Palestinian cooperation.
Kushner said the plan is "almost done," but offered scant details aside from the promise of economic prosperity. He made no mention of a Palestinian state arising alongside Israel, though he acknowledged that Arab partners support that goal.
Senior Palestinian negotiator Saeb Erekat accused Kushner and Greenblatt on Saturday of trying to topple the Abbas-led West Bank autonomy government and dismantle the U.N. aid agency for Palestinian refugees. On Sunday, Erekat doubled down on his criticism, dismissing the American negotiators as biased and predicting their peace plan would fail.
"Kushner's interview again illustrates the U.S. refusal to talk substance, to mention Palestinian rights or a Palestinian state," Erekat told NBC News in a statement released by his office. "This is an attempt to push forward a plan that consolidates Israel's colonial control over Palestinian land and lives while telling the Palestinian people that money will compensate for our inalienable rights."
"Kushner represents a policy of dictation rather than negotiations," he added. "It is the Trump Administration that has walked away from the negotiations, from international law and U.N. resolutions."
Any peace plan would face major obstacles, including the increasingly dire humanitarian situation in the Gaza Strip, internal Palestinian divisions and recent cross-border violence between Gaza's Hamas rulers and Israel.
Israeli Prime Minister Benjamin Netanyahu told his Cabinet on Sunday that he met twice with Kushner and Greenblatt this weekend and discussed the peace process, regional issues and "how to solve the humanitarian situation in Gaza without strengthening Hamas."
"I must say that there was total support for our positions and actions to ensure the security of the State of Israel," Netanyahu said.
"I expressed great appreciation to President Trump, Secretary of State Pompeo and, of course, Ambassador Haley for the continuous and strong support at the U.N., which is truly very impressive."
Kushner's remarks to Al Quds, in what the paper billed as his first newspaper interview on the administration's Middle East initiative, highlighted the Trump administration's attempts to deliver a message directly to the Palestinian people.
Palestinian leaders have refused to meet with the Trump team since the president's decision in December to recognize Jerusalem as the capital of Israel and to move the U.S. Embassy there.
Jerusalem is an emotional issue at the epicenter of the Israeli-Palestinian conflict. Israel captured the city's eastern half, home to holy sites for Jews, Christians and Muslims, in the 1967 Mideast war and annexed it. Palestinians seek east Jerusalem as capital of a future state.
Kushner cast doubt on Abbas' ability to make a deal, alleging that the Palestinian leadership is "scared we will release our peace plan and the Palestinian people will actually like it" because it would offer them a better life.
"The global community is getting frustrated with Palestinian leadership and not seeing many actions that are constructive toward achieving peace," Kushner said. "There are a lot of sharp statements and condemnations, but no ideas or efforts with prospects of success."
"If President Abbas is willing to come back to the table, we are ready to engage; if he is not, we will likely air the plan publicly," Kushner said.
The Trump administration has previously threatened to cut off aid to the Palestinians if they refuse to "sit down and discuss peace."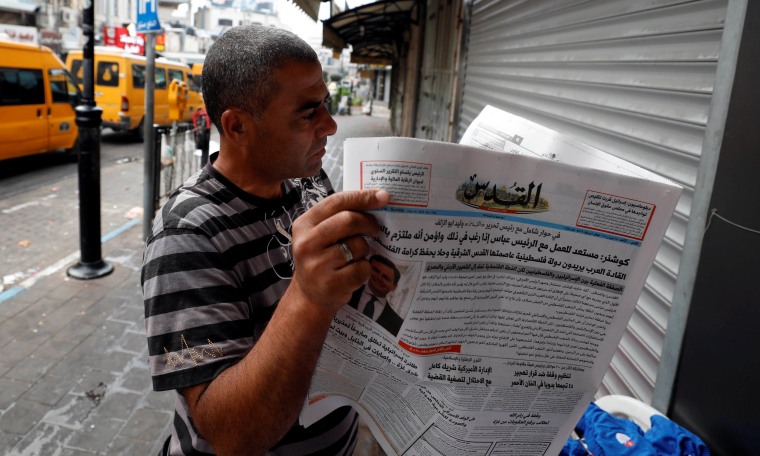 Abbas spokesman Nabil Abu Rdeneh responded to Kushner's interview by restating that American efforts will yield no result if they bypass the Palestinian leadership and if they are not aimed at an independent Palestinian state with east Jerusalem as its capital.
Trump's "deal of the century" is expected to propose detailed solutions to core issues in dispute between the Israelis and Palestinians, such as borders, the future of Israeli settlements, the fate of Palestinian refugees and security.
Asked by Al Quds editor-in-chief Walid Abu-Zalaf how his plan differs from those that came before, Kushner said he and his team had "spent a lot of time listening and focusing on the people."