KYIV, Ukraine — Russia blasted the Ukrainian capital with a deadly wave of "kamikaze" drones Monday, in a renewed attack that set apartments ablaze as soldiers fired into the air.
The drones, carrying explosives and their distinctive buzz, terrorized Kyiv just a week after the Kremlin's forces unleashed a deadly barrage against civilian and infrastructure targets across the country.
Ukraine said the attacks included Iranian-made drones, which it has accused Moscow of increasingly deploying as it runs low on precision missiles, and appealed again for Western allies to provide aerial defensive help.
The drones launched by Russia inside Ukraine did appear to come from Iran, said a senior defense official, who added that U.S. intelligence indicates that Iran has provided Russia with hundreds of autonomous flying vehicles capable of exploding upon impact.
Russian President Vladimir Putin has escalated his strikes on Ukrainian cities in the wake of a series of battlefield setbacks that have weakened his military's grip on territory Moscow claims to have annexed, as well as the Kremlin's hold over the mood at home.
Kyiv Mayor Vitali Klitschko said "kamikaze" drones caused five explosions that rocked the city in the early morning hours Monday. One of them hit a residential building in the central Shevchenkivskyi district, he said.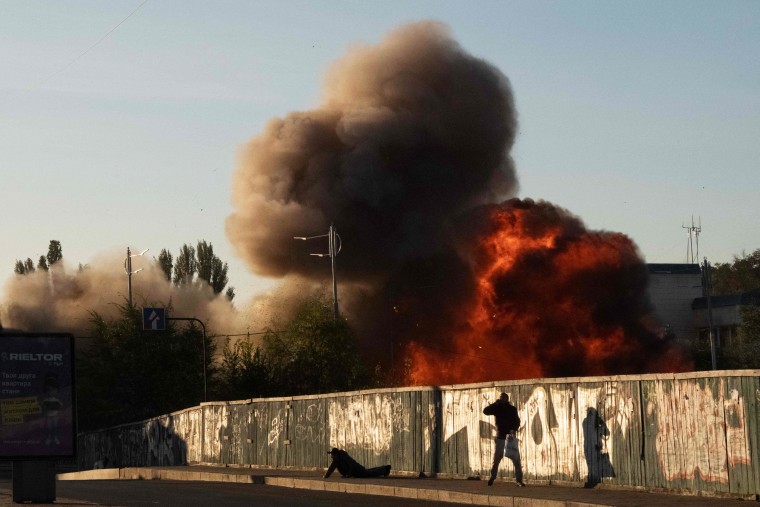 Ukraine President Volodymyr Zelenskyy said four people — including a young family expecting a child — were killed in the attack, but he noted that search and rescue operations were still underway. Infrastructure, housing and civilians appeared to be the target, he added.
"Terror must lose and will lose," Zelenskyy said on his official Telegram channel. "And Ukraine will prevail and will bring to justice every Russian terrorist — from commanders to privates who carried out criminal orders."
Kyrylo Tymoshenko, the deputy head of the Ukrainian president's office, said 19 people were rescued from the building, and the rescue operation was ongoing.
NBC News has not verified the number of people killed, injured or rescued.
Authorities worked quickly to clear out rubble, looking for anyone missing after several floors appeared to have collapsed. The air was filled with a smell of fire and smoke, as well as dust from the rubble.
Speaking with NBC News at an intersection close to the damaged building, Kyiv resident Anna Frolova said the morning was off "to a horrible start" as she thought the Russians had "enough" after striking key infrastructure in her city last week.
"It turns out they have not had enough, and now they are hitting residential buildings as well and people are dying. And this is scary," Frolova, 52, said.
"I feel fear, pain, anger and hate," she added, vowing to stay in the capital despite the strikes. "Hate toward, I don't know, these people who have allowed this to happen in the 21st century. This medieval war."
After the first round of air raid sirens ended around 9:30 a.m. local time (2:30 a.m. ET), life seemed to have quickly returned to relative normality on what turned out to be a sunny, mild day. The city's center was full of cars and people as the threat of another nosediving drone dissipated, only for the warnings to soon return.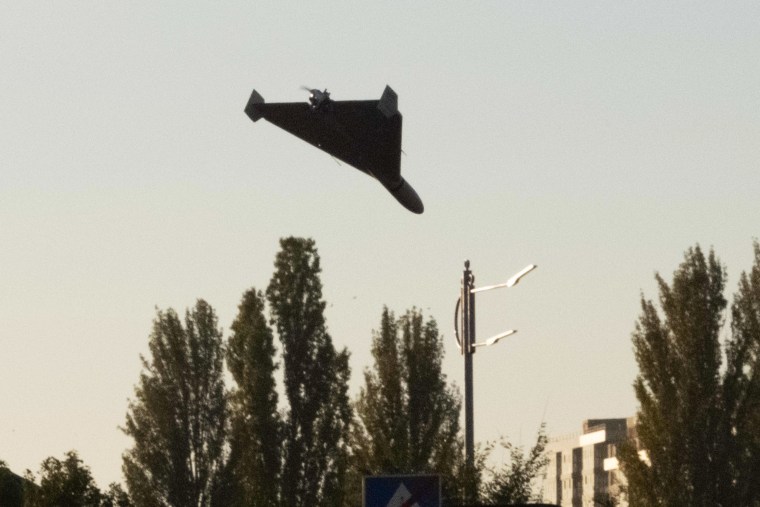 Ukrainian officials also reported rocket strikes in the southern port city of Odesa, the central Dnipropetrovsk region and the northeastern Sumy region. Overnight, drone attacks were also reported by officials in the southern city of Mykolaiv, where deadly rocket strikes last week destroyed the two top floors of a residential building.
The head of Zelenskyy's office, Andrii Yermak, called for more air defense systems from the West and "as soon as possible."
Klitschko shared an image of what he said was wreckage of one of the drones involved in the attack on Kyiv, displaying a Russian name for Iranian-made Shahed-136 drones that both Washington and Kyiv have accused Tehran of supplying to Moscow to be used in Ukraine. Iran has denied the claims. NBC News could not verify the photo.
The mayor said that, in all, 28 drones flew in the direction of Kyiv on Monday morning, but the majority of them were shot down. In total, Russia attacked Ukraine with 42 drones on Monday and 36 were shot down, according to Ukrainian Minister of Internal Affairs adviser Anton Gerashchenko.
Because the Russian attack also targeted energy facilities in south and central Ukraine, the country's national energy company Ukrenergo said it could not rule out the possibility of rolling blackouts in the affected areas.
Mykhailo Podolyak, an adviser to Zelenskyy, said on Twitter that "Iran is responsible for the murders of Ukrainians, adding that the country "oppresses its own people" and is now giving Russia "weapons for mass murders in the heart of Europe."
"That is what unfinished business and concessions to totalitarianism mean," Podolyak tweeted. "The case when sanctions are not enough."
State Department Deputy Spokesperson Vedant Patel said at a press briefing on Monday that Iran's supply of the drones did appear to be a violation of UN Security Council resolution 2231, a key provision of the Iran nuclear agreement. He said further sanctions against Iran could be a possibility.
"Russia deepening an alliance with Iran is something the whole world, especially those in the region and across the world, frankly, should be seen as a profound threat and it's something that any country should pay very close attention to," Patel said.
Russia's Defense Ministry did not directly acknowledge drone strikes on Kyiv, but said Monday it used "high-precision long-range air and sea-based weapons" to strike what it said were military and energy targets in Ukraine.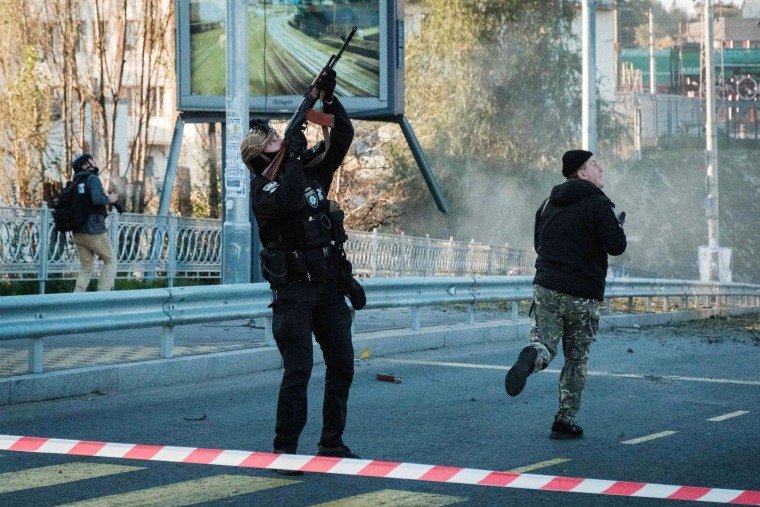 Zelenskyy warned earlier this month about Russia's increasing use of Iranian-made drones, posing a new challenge for the country's air defenses and causing concern among Ukraine's Western allies over Tehran's alleged support for Russia in the war.
The Shahed-136 drones, which have earned the nickname "kamikaze" for destroying their targets by physically crashing into them, are relatively cheap and can be equipped with a small warhead, making them effective precision weapons, military analysts told NBC News. 
Their operational range is subject to debate among analysts, but could be as long as 1,200 miles, although they are probably much shorter in practice, but still sufficient to hit any target in Ukraine from Russian-occupied areas. 
Yuriy Ihnat, a spokesman for the Air Force Command of the Ukrainian Armed Forces, said during a briefing Monday that the country's air defense systems destroyed 85% of the Iranian drones that Russia had used to attack Ukraine since Sunday evening. NBC News could not verify the claim.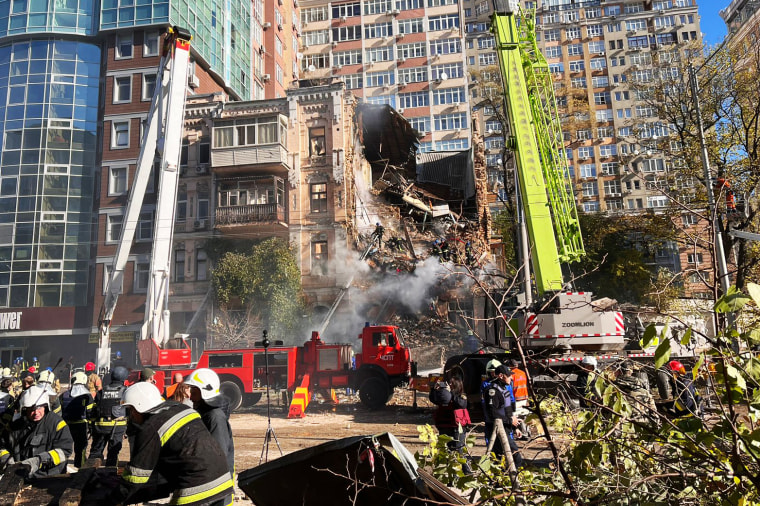 Last week's attacks were framed by Putin as revenge for a blast that damaged his signature bridge from Russia to the annexed Crimean Peninsula.
The aerial aggression inspired renewed support from Kyiv's Western allies, with President Joe Biden vowing to provide the advanced air defense systems Ukraine wants in order to fend off such attacks.
The White House was previously reluctant to put the technology in play in Ukraine, fearing it would be seen by Russia as a step closer to direct U.S. involvement in the war.
Anastasiia Parafeniuk reported from Kyiv, Yuliya Talmazan reported from London and Dennis Romero reported from California.