A former writer for the PhoneDog website is being sued by the company not for leaving it, but for leaving with PhoneDog's name as part of his Twitter handle, resulting in a lawsuit and raising the question of who really owns a Twitter name? And is it worth the kind of damages PhoneDog is seeking?
Noah Kravitz is facing the suit by Phone Dog Media, which says that when Kravitz left the company in October 2010, he took with him the Twitter name "Phonedog_Noah" (tied to his personal email) — and 17,000 followers. The company is seeking damages of $340,000 — $2.50 a month for every follower for the eight months Kravitz used "Phonedog_Noah" (until he was served with the suit).  He now goes by "noahkravitz."
Kravitz, who has gone public to talk about the issue, said when he left, PhoneDog, which covers cellphone news, said he could continue with the "Phonedog_Noah" account in exchange for tweeting for the company "from time to time."
Phone Dog Media has kept mum — and definitely not tweeted — about the lawsuit, but did issue this statement to the New York Times, which recently wrote about the case: "The costs and resources invested by PhoneDog Media into growing its followers, fans and general brand awareness through social media are substantial and are considered property of PhoneDog Media L.L.C. We intend to aggressively protect our customer lists and confidential information, intellectual property, trademark and brands."
Kravitz, who now writes for TechnoBuffalo, said he's not sure how PhoneDog came up with the monetary formula it used in seeking damages for the total of $340,000.
"If you took their valuation and if you applied it to the Twitter accounts of somebody like Lady Gaga or Shaq, you'd have the gross domestic product of more than one nation on earth per month," he recently said in a CNN interview.
The case, attorney Henry J. Cittone, a specialist in intellectual property disputes, told the Times, will "establish precedent in the online world, as it relates to ownership of social media accounts."
In the meantime, publicity is bringing Kravitz many other Twitter followers; as of Tuesday, he had more than 23,700 of them.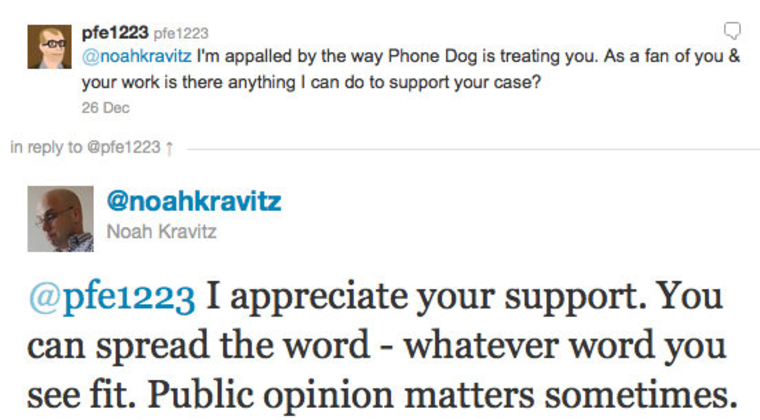 Related stories:
Check out Technolog, Gadgetbox, Digital Life and In-Game on Facebook, and on Twitter, follow Suzanne Choney.