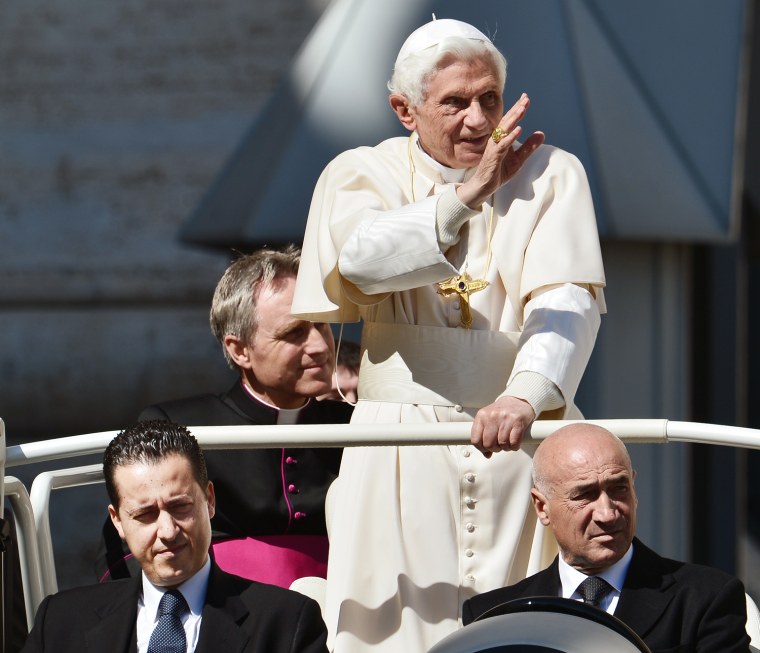 VATICAN CITY -- The worst crisis in Pope Benedict's pontificate deepened on Monday when Italian media said at least one cardinal was among those suspected of leaking sensitive documents as part of a power struggle at the top of the Catholic Church. The pope's butler, who has been arrested, has pledged to cooperate in the probe. 
Leading Italian newspapers Corriere della Sera and Il Messaggero reported Monday that the pope's butler — arrested three days ago for allegedly feeding documents to Italian journalists — clearly did not act alone, and that an unidentified cardinal is suspected of playing a major role. 
The scandal exploded last week when within a few days the pope's butler was arrested, the head of the Vatican's own bank was abruptly dismissed and a book was published alleging conspiracies among the cardinals or "princes of the Church."
Vatican cops arrest pope's butler over leaked papers alleging corruption
However, the Vatican spokesman, the Rev. Federico Lombardi, denied the reports that a cardinal might be the next target of the "Vatileaks" probe. He said many Vatican officials were being questioned but insisted: "There is no cardinal under suspicion." 
Meanwhile, the lawyer for the pope's butler says his client has pledged "full cooperation" in the investigation and wants the truth to come out. 
The commitment by butler Paolo Gabriele to cooperate raises the specter that higher-ranking prelates may soon be named in the scandal. Leaks of confidential Vatican correspondence have shed light on power struggles and intrigue inside the highest levels of the Catholic Church. 
Gabriele, the pope's personal butler since 2006, was arrested Wednesday evening after documents he had no business having were found inside his Vatican City apartment. He remains in detention in a Vatican detention facility, accused of theft, and has met with his wife and lawyers. 
The 46-year-old father of three was always considered extremely loyal to Benedict and his predecessor, John Paul II, for whom he briefly served. Vatican insiders said they were baffled by his alleged involvement. Gabriele's lawyer, Carlo Fusco, reported Monday that Gabriele was "very serene and calm." 
So far, Gabriele has been the only one arrested, but Lombardi stressed that the investigation was continuing. 
Pope at Easter vigil: Technology without God is dangerous
The probe is working on two separate tracks. Vatican magistrates are pursuing the criminal investigation, and Gabriele was arrested as part of that. Separately, Pope Benedict appointed three cardinals to form an investigative commission to look beyond the narrow criminal scope of the leaks. 
Those cardinals have the authority to interview broadly across the Vatican bureaucracy, Lombardi said, and can both share information with Vatican prosecutors and receive information from them. 
They report directly to the pope, who Lombardi said, was being kept informed of the investigation. 
Like a Dan Brown book? Vatican allows mobster to be exhumed
Benedict has not commented directly on the scandal. 
Meanwhile, hundreds of demonstrators marched to St. Peter's Square on Sunday to demand information on Emanuela Orlandi, the daughter of a Vatican messenger who disappeared in 1983 at the age of 15. 
Various theories have surrounded her disappearance, linking her kidnapping to an attempt to free the Turkish gunman who shot John Paul in 1981, or to alleged Vatican financial dealings with a Rome criminal gang. 
The march came a day after an Italian prosecutor told CNN that a priest who used to run a church in Rome is under investigation on suspicion of complicity in her abduction.
Reuters and The Associated Press Press contributed to this report.
More world news from msnbc.com and NBC News:
Follow us on Twitter: @msnbc_world