CANCÚN, Mexico — Five members of an American family were among the 12 people killed when a bus flipped over during a day trip to Mayan ruins in southeastern Mexico, relatives and officials in the country said Wednesday.
Tuesday's crash claimed the lives of Anna Behar and her 11-year-old son, Daniel, both of Lorton, Virginia, and his 78-year-old grandmother, Fanya Shamis, of Coconut Creek, Florida, a family member confirmed to NBC News. Anna Behar's husband, Moises, and their other son, David, 15, were injured in the wreck.
Other identities and ages of those killed were not immediately released, but officials said five other Americans died, as well as two Swiss nationals, one Canadian and the tour's Mexican guide.
About 20 people on the bus were injured and several were still in stable condition, Mexico's secretary of tourism tweeted. Earlier, at least seven Americans and two Swedes were reported among the injured, said Vicente Martin, a spokesman for the Quintana Roo state Civil Defense agency.
The driver was also injured in the crash and detained, officials said.
The bus was carrying cruise ship passengers when it ended up on its side in vegetation along a two-lane road. Video taken after the crash showed some survivors lying on the pavement and others walking around.
One body lay on the roadside covered by a white sheet or other object, as the crash scene was cordoned off with yellow police tape.
Miami-based Royal Caribbean Cruises said in a statement that passengers from two of its ships, the Celebrity Equinox and Serenade of the Seas, were on the bus. The company expressed its sympathies and said it was assisting with medical care and transportation.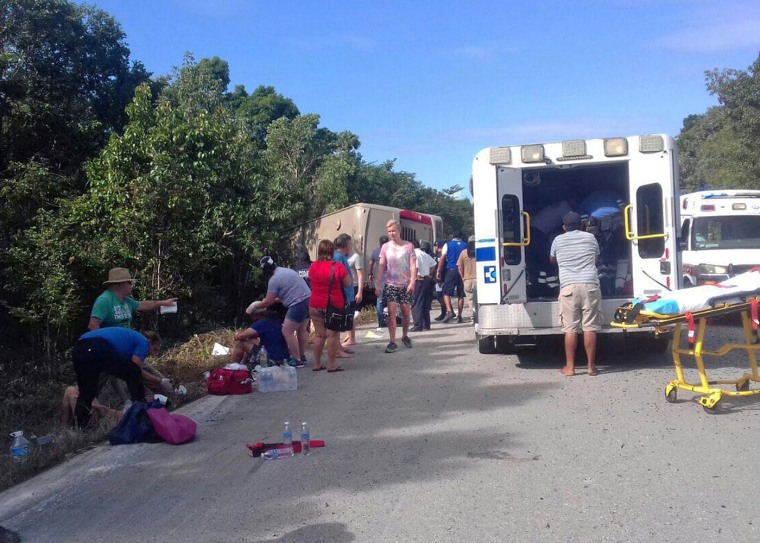 Martin said investigators were working to determine the cause of the crash, which occurred as the bus was on its way to the ruins at Chacchoben, about 110 miles south of Tulum.
Officials added in a statement Tuesday night that seven injured tourists had returned to their boat while 13 remained hospitalized, six of them in Tulum and seven in the city of Chetumal, near the Belize border.
The dead were being transferred to the forensics service for identification and subsequent notification of consular authorities.
Chris Brawley, a passenger on the Serenade of Seas, was on a bus headed to the same Mayan ruins when they came on the scene minutes after the accident.
It was shortly after 9 a.m. and a convoy of buses from the cruise port at Mahahual was headed to Chacchoben, he said. They had been on the road for about 35 to 40 minutes before the accident.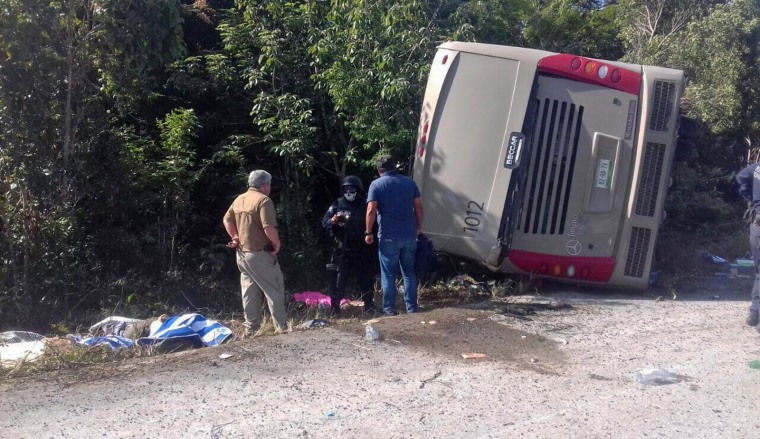 Brawly said the sky was clear and the road was dry and he didn't see any sign of another vehicle being involved in the crash, which happened on a narrow, two-lane road with no shoulder or guardrail.
He said he did not see the crash, but "the bus clearly lost control somehow as there were swerve marks all over the road surface."
Brawley, of Haslet, Texas, said his ship departed Fort Lauderdale, Florida, on Friday for a seven-day cruise. They were in Roatan, Honduras, on Monday and were scheduled to be in Cozumel on Wednesday.
Michael Schuenemeyer, a minister from Cleveland, was on another bus that passed the crash about an hour later.
Tow trucks were lifting up the bus when they passed by, he said. "It was in pretty sad shape," Schuenemeyer said.
Costa Maya Mahahual, the bus company involved, confirmed that in addition to the tourists, a guide and driver were aboard the bus.