KABUL, Afghanistan — At least 103 people were killed and 235 people injured after explosives hidden in an ambulance were detonated at a police checkpoint in the Afghan capital, Kabul, a day earlier, officials said Sunday.
The attacker used an ambulance to get through one security checkpoint by telling police he was taking a patient to a nearby hospital. He then detonated his explosives at a second check point, said Nasrat Rahimi, deputy spokesperson for the Interior Ministry.
Rahimi said police had detained four suspects in connection with the attack.
Zabihullah Mujahid, a Taliban spokesman, claimed responsibility for the suicide bombing, which sent thick, dark smoke into the sky from from the site of the explosion near the government's former Interior Ministry building.
"It is a massacre," said Dejan Panic, coordinator in Afghanistan for the Italian aid group Emergency, which runs a nearby trauma hospital.
In messages on Twitter, the group said 131 wounded had been brought in to that hospital alone and that at least seven were dead on arrival.
U.S. President Donald Trump said in a statement: "I condemn the despicable car bombing attack in Kabul today that has left scores of innocent civilians dead and hundreds injured."
"This murderous attack renews our resolve and that of our Afghan partners. The Taliban's cruelty will not prevail," Trump said. The U.S. president said "all countries should take decisive action against the Taliban and the terrorist infrastructure that supports them."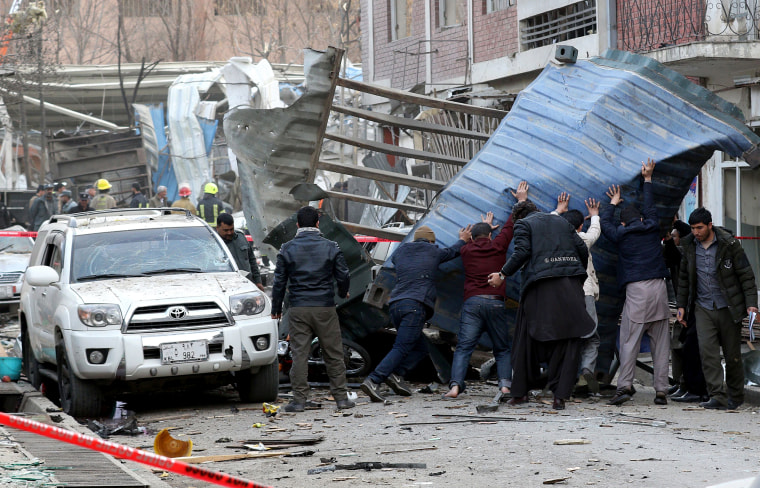 French journalist Sonia Ghezali was in her home nearby when the attack happened. She told NBC News that she and her housemate heard the explosion, but waited before going to the scene out of fear that the attackers would detonate another bomb.
On a typical Saturday, Ghezali said the neighborhood is bustling as residents make their way to nearby schools and shops, and tourists visit a popular market on nearby Chicken Street.
But when she left her apartment Saturday, Ghezali said everything was in chaos.
"At the end of the street everything was blocked," she said. "[We] saw a a lot of wounded people: women, men, and children with blood on their faces."
The blast comes a week after a deadly attack on the Intercontinental Hotel in the city killed 22 people, including four Americans. The hotel attack was claimed by the Afghan Taliban.
U.S. Ambassador to Afghanistan John R. Bass said in a statement that he condemned Saturday's "senseless and cowardly" bombing.
"My government and I stand with the brave people of Afghanistan. Their work to create a peaceful, prosperous future for all the citizens of this country is the best response to terrorists and others who know only violence," he said.
Gen. John Nicholson, commander of Resolute Support, the NATO-led mission to train, advise and assist in Afghanistan, said that the attack showed that the perpetrators of these attacks "care nothing for the Afghan people."
U.S. Secretary of State Rex Tillerson said the United States "strongly condemns today's horrific attack in Kabul" and expressed condolences for the families and the victims, and he said "we commend all the emergency services personnel for their courageous actions in responding to this terrorist attack."
"The Taliban's use of an ambulance as a weapon to target civilians represents inhumane disregard for the people of Afghanistan and all those working to bring peace to the country, and is a violation of the most basic international norms," Tillerson said in a statement.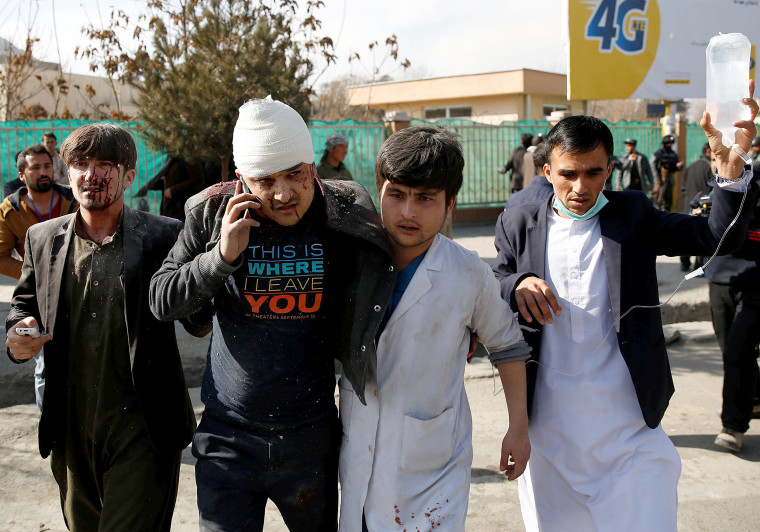 The spokesman for the U.N. Secretary-General said António Guterres "strongly condemns" the attack and said those responsible must be brought to justice.
"Indiscriminate attacks against civilians are grave violations of human rights and international humanitarian law and can never be justified," he added.
Ahmed Mengli reported from Kabul. Saphora Smith reported from London.