RIGA, Latvia -- At least 21 people were killed after a supermarket's roof collapsed in the Latvian capital, officials said Friday.
TV pictures showed the Maxima store surrounded by fire trucks and ambulances with rescue workers using mechanical cutters to clear debris from the single-story concrete and glass building. 
The roof of the supermarket fell in Thursday evening when the store was busy with shoppers on their way home from work. 
Rescue workers were called to the store, situated in the midst of gray, Soviet-era housing in a suburb of the capital, and several were injured by a second collapse because of the building's weakened structure.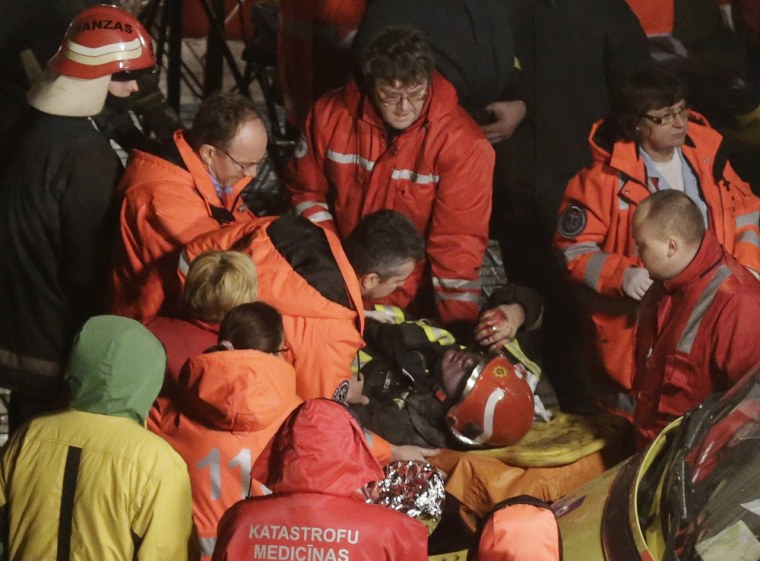 It was unclear how many people remained trapped in the ruined store. News agency RIA Novosti quoted Riga Mayor Nils Usakovs as saying 70 people were still in the building. 
Rescue services said 36 injured people had been rescued and police sniffer dogs were searching for people still trapped. 
Eight of the injured and three of the dead were firefighters, Latvian rescue services spokeswoman Viktorija Sembele said. 
More than 60 soldiers were helping with the rescue effort, the army said on its official Twitter feed. 
Latvian TV said three cranes were working to remove concrete blocks from the roof so that rescuers could get to those inside, but firefighters feared another collapse.
Prime Minister Valdis Dombrovskis told Latvian TV that the rescue work would probably go on for many hours. 
"It is clear that there has been a problem with fulfillment of construction requirements," Interior Minister Rihards Kozlovskis told Latvian TV by telephone. 
The police will launch an investigation into the disaster. 
Local media said workers had been building a roof garden on the store. 
Local media reported that the Maxima supermarket, estimated at around 5,380 square feet in size, had been awarded an architecture prize when it was completed in 2011. 
Latvia, which joins the euro zone next year, has been recording strong economic growth after a deep recession in the years following the global credit crisis. It is still one of the poorest countries in Europe, the legacy of nearly 50 years of Soviet rule that came to an end in 1991.