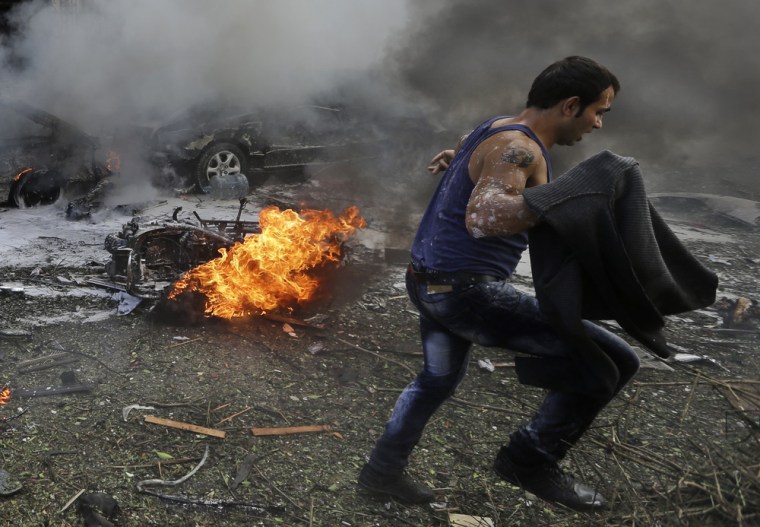 BEIRUT - An Iranian diplomat was among at least 23 people killed in a suspected twin suicide bomb attack at the Iranian Embassy in Beirut Tuesday, officials said.
An al Qaeda-linked terror group claimed responsibility - the latest sign that Syria's civil war is spilling over the border into Lebanon.
Burning cars, bodies and pools of blood littered the front of the embassy building, in the Hezbollah-dominated south of the city.
Iran's ambassador to Lebanon, Rokon Abadi, was uninjured, but in an interview with Lebanese television station MTV he said his country's cultural attache, Sheikh Ibrahim Al-Ansari, was killed.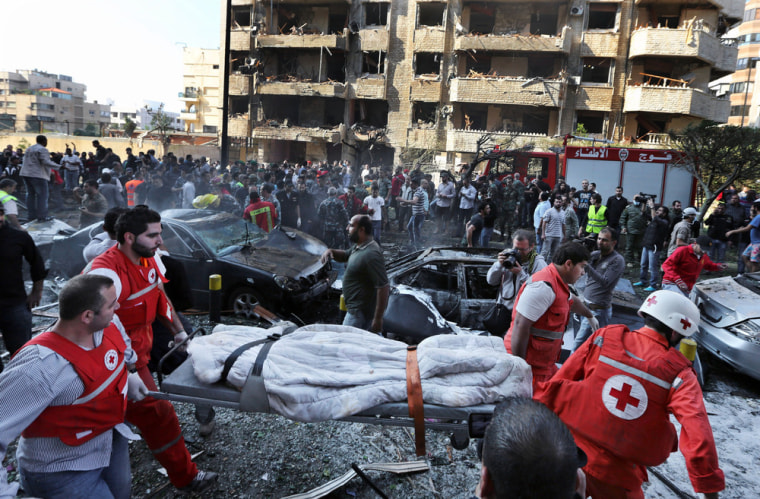 Eyewitnesses described charred bodies and a large crater.
Security camera footage indicated the first blast was carried out by suicide bomber who rushed toward the walls of the embassy, while the second was caused by a nearby car bomb, officials told Lebanese media.
One explosion blew out the large black main gate of the Iranian mission, damaging the three-story facility, Reuters said.
Lebanon's Health Minister Ali Hassan Khalil told Reuters that at least 23 people were killed and 146 wounded, but the toll was changing rapidly as emergency workers and bystanders picked through the wreckage of burning vehicles. 
"At one entrance of the Iranian embassy I counted six bodies outside. I saw body parts around and thrown two streets away," Reuters television cameraman Issam Abdullah said from the scene. 
"There is huge damage, it looks like it is a car bomb. One car is twisted there. There were two Mercedes cars badly damaged," he added. 
The Abdullah Azzam Brigades, an Islamist terror group affiliated to al Qaeda, was behind the attack, according to a post on Twitter by Sheikh Sirajeddine Zuraiqat, the group's religious guide.
"We will continue operations in Lebanon, God willing, until we achieve two demands:  Withdrawal of Iranian elements from Syria, and the release of our families from the unjust prisons of Lebanon," said Zuraiqat.
The group, also known as Kataib Abdullah Azzam, is opposed to the involvement of Iranian forces and Hezbollah in Syria's civil war and was responsible for an attack on a Japanese oil tanker in the Strait of Hormuz in 2010.
U.S. Ambassador to Beirut, David Hale, strongly condemned the attack and called on "all parties to exercise calm and restraint."
"Acts of violence such as this only reinforce the U.S. dedication to work with the institutions of the Lebanese state, including the Lebanese armed forces and including the security forces," he said. 
Activist Ahmad Yassine posted pictures of the aftermath of the explosion to Twitter, showing burning vehicles and bystanders picking through the wreckage.
The area is home to a number of foreign embassies, including those of Egypt, Kuwait and China.
Sunni rebel groups linked to al Qaeda have repeatedly condemned the military involvement of Iran and its Lebanese Shiite paramilitary ally Hezbollah in the Syrian war, which turned the tide in favor of President Bashar Assad.
At least 66 people were killed in August in tit-for-tat bombings in Sunni and Shiite strongholds in Lebanon.
"The situation in Lebanon has shifted," analyst Lokman Slim told Al Jazeera. "We can expect more sectarian-based attacks of this kind in future."
NBC News' Charlene Gubash and Paul Nassar, and Reuters contributed to this report. Alastair Jamieson and Ayman Mohyeldin reported from London.