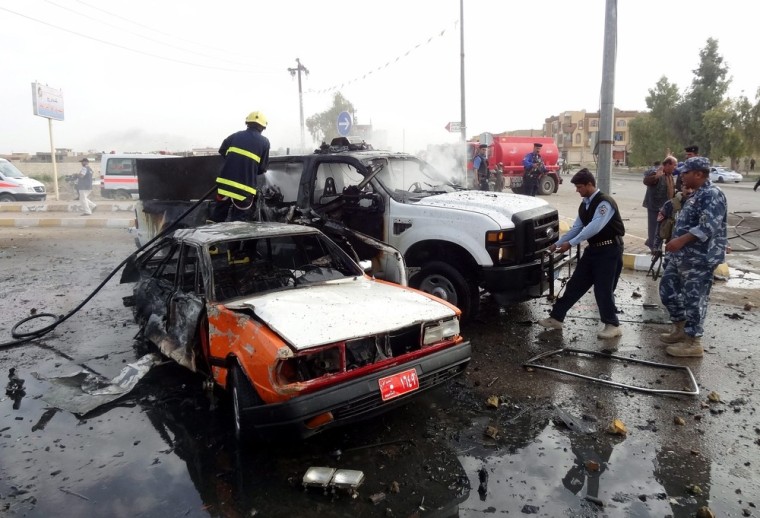 More than 20 bombs hit cities and towns across Iraq Thursday, killing at least 36 and wounding more than 100, police and hospital sources said, raising fears of sectarian strife in a country keen to show it can now maintain security. 
In Baghdad, three car bombs, two roadside bombs and one suicide car bomb hit mainly Shiite areas in what looked like coordinated attacks, killing 15 people and wounding 61, the sources said. 
 Two car bombs and three roadside bombs aimed at police and army patrols in the northern oil city of Kirkuk killed eight people and wounded 26, police and hospital sources said. 
"I was trying to stop traffic to let a police patrol pass. When it passed, a car bomb exploded and I fell on the ground and police took me to the hospital," a policeman wounded in the face and chest told Reuters as doctors tended his wounds. He declined to be named. 
Heightened tension between Shiites, Sunnis and Kurds in the fragile coalition government since U.S. troops withdrew in December has raised fears of a return to sectarian violence of the kind that pushed Iraq to the brink of civil war a few years ago. 
The country is less violent than at the height of that conflict in 2006-07, but bombings and killings still happen daily, often aimed at Shiite areas and local security forces. 
Kirkuk, home to Arabs, Kurds, Turkmen and others, is at the heart of a long-running dispute between the central government and the autonomous Kurdish region, which claims the city and the region's rich oil reserves. 
The rift between Baghdad and the Kurds recently worsened when the Kurdistan Regional Government said it was halting oil exports because the central government was not paying oil firms operating in the north. 
The government of Prime Minister Nuri al-Maliki is anxious to show it can keep the country secure and attract investment following the withdrawal of U.S. troops. 
Baghdad hosted an Arab League summit last month, its first for 20 years, and it passed off relatively peacefully amid a massive security lockdown.
Attacks in Iraq are mostly blamed on Sunni Arab insurgents who have refused to lay down arms after the withdrawal of U.S. forces in December.
More world news from msnbc.com and NBC News:
Follow us on Twitter: @msnbc_world