At least 69 people were killed when a volcano in Guatemala spewed lava, ash, rocks and deadly hot gas, authorities said late Monday.
The Volcán de Fuego, or Volcano of Fire, began erupting Sunday.
Hours later, fast-moving flows surprised communities that had not been ordered to evacuate. Ash spread through the sky, and blanketed Guatemala City, some 40 miles away.
More than 3,200 residents of communities near the volcano were evacuated, officials said.
Fanuel Garcia, director of the National Institute of Forensic Sciences, said that 69 bodies had been recovered. Just 17 of them had been identified, the institute said in a statement Monday night.
"It is very difficult for us to identify them because some of the dead lost their features or their fingerprints," Garcia added.
The volcano spewed a five-mile stream of red-hot lava. Some bodies were so thickly coated with ash that they looked like statues.
Local television footage showed residents of villages walking through the streets, caskets hoisted on their shoulders.
Hilda Lopez said her mother and sister were still missing after the slurry of hot gas, ash and rock roared into her village of San Miguel Los Lotes.
"We were at a party, celebrating the birth of a baby, when one of the neighbors shouted at us to come out and see the lava that was coming," the distraught woman told the Associated Press. "We didn't believe it, and when we went out the hot mud was already coming down the street."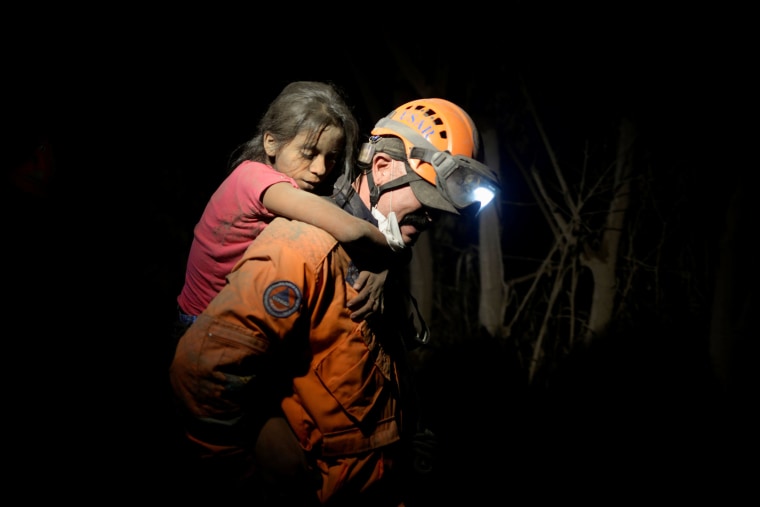 Using shovels and backhoes, emergency workers dug through the debris and mud, perilous labor on smoldering terrain still hot enough to melt shoe soles a day after the volcano exploded.
The quick-moving pyroclastic flow — a mix of hot lava blocks, pumice, ash and volcanic gas moving at high speed down volcanic slopes — surprised some residents.
"Not everybody could leave — I'd say they were left buried," Consuelo Hernández, a resident of the town of El Rodeo near the volcano, told el Periodico newspaper.
"Where we live the lava was coming down an alleyway … we ran to a hillside. If there are people buried, the lava came over the plots of land and streets."
Authorities said that more than 1.7 million people have been affected by the eruption — the 12,346-foot volcano's second this year.
Residents of the nearby towns are no strangers to volcanic activity. The Volcano of Fire has erupted on and off for centuries, according to the U.S. Geological Survey.
Guatemala, with a population of 15 million, is home to a chain of volcanoes that run parallel to the Pacific Ocean.