Hopes faded of finding any remaining survivors of a massive landslide in Guatemala that killed at least 73 people, even as families scrabbled through rubble hoping to find the bodies of loved-ones, with hundreds of others still missing.
Distraught relatives of the victims shoveled alongside diggers through the mounds of earth that destroyed homes in Santa Catarina Pinula on the southeastern flank of Guatemala City after the collapse of a hillside on Thursday night.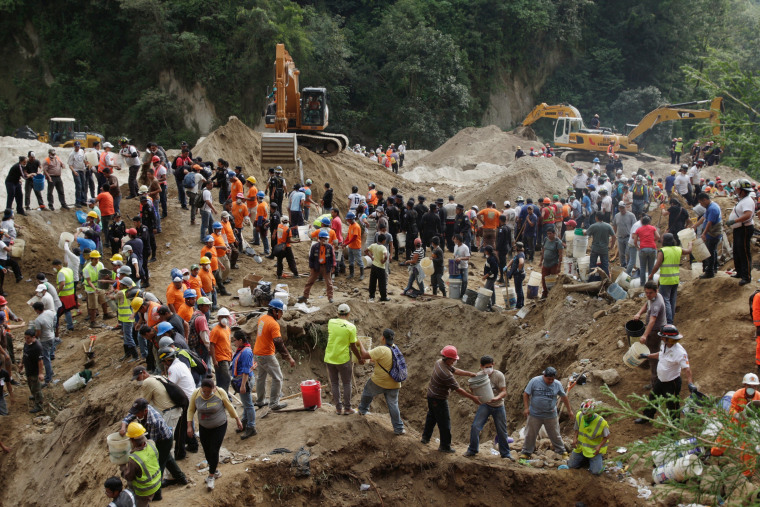 Every fresh batch of earth turned up by the diggers held more personal belongings, from mattresses and books to toys and Christmas decorations, reminders of around 350 people who authorities said were still unaccounted for.
Clutching photos of loved-ones, family members stood in line outside a makeshift morgue near the excavation site, some of them crying, to see if they recognized any corpses.
"This is the worst thing that has happened to us," said Ana Maria Escobar, a 48-year-old housewife, sobbing as she waited for news of 21 missing family members who lived in the town that she had left only a year ago.
"So far only my sister-in-law has been found," she added.
Gaby Ramirez, an 18-year-old courier, had been searching for her brother with shovel in hand since 6 a.m., after the landslide buried a neighbor's house he was visiting.
"I don't hope to find him alive, but I do hope to find his body and bury him," she said. "I have to bury him, I can't leave him there."
Loosened by rain, tons of earth, rock and trees had cascaded onto a neighborhood of the town known as El Cambray II that lies near the bottom of a ravine, flattening houses and trapping residents who had gone home for the night.
Some houses were buried under about 50 feet of earth, and Guatemalan disaster agency Conred said it doubted any other survivors would be found.
At last count, the Attorney General's office reported 73 dead via Twitter, though fears that hundreds more remain trapped threaten to make the landslide one of the worst natural disasters to hit Central America in recent years.
Among the dead were 17 children, and there were at least 26 people reported as injured.
Authorities said they did not rescue a single survivor on Saturday despite a team of around 1,800 volunteers, soldiers and firemen. But some 400 survivors had been evacuated in total from the site since the tragedy, they added.