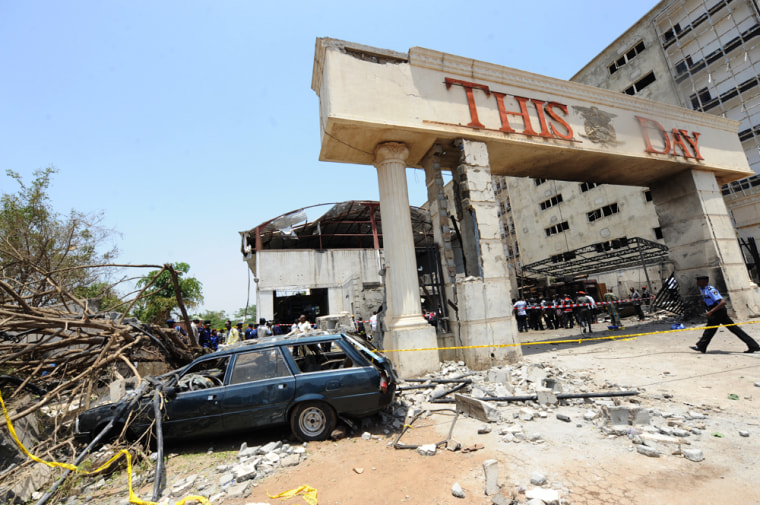 Suicide car bombers targeted the offices of Nigerian newspaper This Day in the capital Abuja and northern city of Kaduna on Thursday, killing at least four people in apparently coordinated strikes.
This Day is based in southern Nigeria and is broadly supportive of President Goodluck Jonathan's government - the main target for Islamist insurgent group Boko Haram, which has killed hundreds of people this year in shootings and bombings.
There was no immediate claim of responsibility for the attacks.
At around 11 a.m. one bomber drove a jeep into the daily's office in Abuja, killing himself and two others, witnesses and the state security service (SSS) said.
At the same time, 90 miles north in Kaduna, a car was stopped from getting into This Day's offices and one of the attackers jumped out.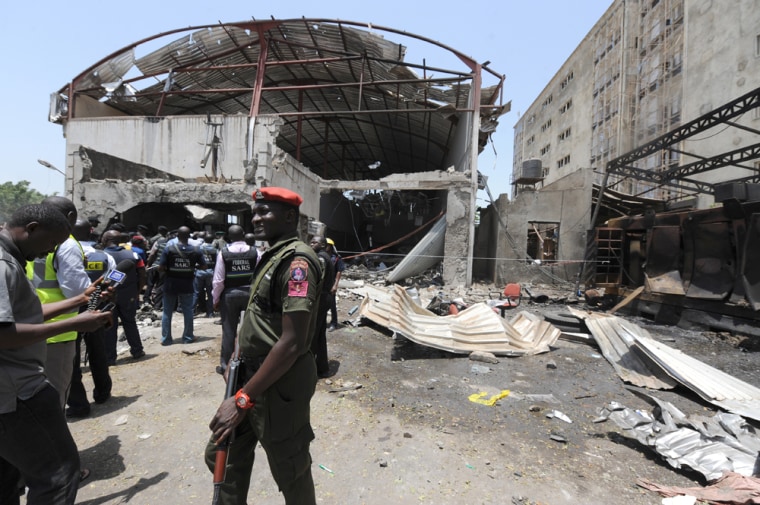 "He was immediately challenged by two gallant Nigerians, following which he threw the bomb at them and it detonated, killing them instantly," the SSS said in a statement.
It identified the bomber as Umaru Mustapha, from Maiduguri in Borno state, the home of Boko Haram in the remote northeast of Africa's most populous nation.
Thousands of Nigerians protest fuel prices, as government fears 'anarchy'
Later in the day, authorities reported another explosion in Kaduna. There were no further details.
Boko Haram, whose name in the Hausa language means "Western education is sinful", has not previously targeted the press in its bombings. Last October, the sect killed a reporter for state-run television who it said was an informant.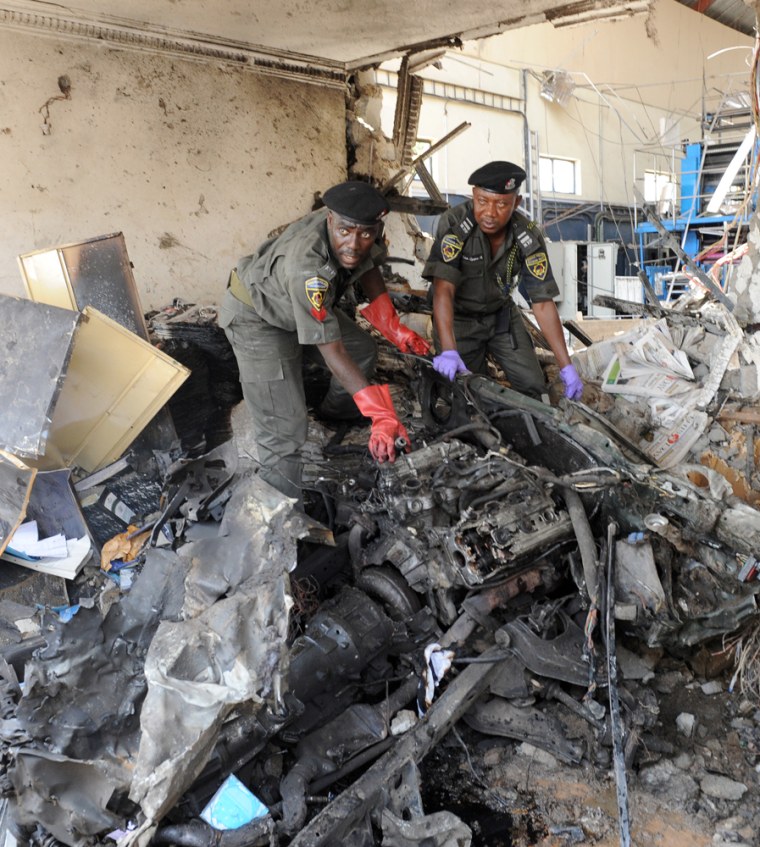 Boko Haram has been fighting a low level insurgency for more than two years and has become the main security menace in Africa's top oil producer. Most attacks have been in the largely Muslim north, well away from the southern oil fields.
This Day angered Muslims a decade ago when one of its columnists suggested the Prophet Mohammad might have wanted to marry a beauty queen. At least 100 people were killed in ensuing riots.
"Horrendous and wicked"
President Jonathan, in Ivory Coast for talks with other West African leaders on a crisis in Mali, said in a statement the attacks on This Day were "misguided, horrendous and wicked."
"The President urged media practitioners not to be dissuaded from carrying out their fearless campaign for peace, justice and equity, as democracy cannot flourish without press freedom," the statement from his media adviser said.
In August last year, Boko Haram carried out a suicide car bombing at the United Nations building in Abuja that killed 25 people and prompted a ramp-up in security measures.
At the scene of the Abuja blast on Thursday, sirens wailed as police and fire fighters rushed in. Smoke billowed from the building, whose windows were all smashed.
Soldiers and police cordoned off the area, while emergency workers evacuated wounded on stretchers to waiting ambulances.
"The suicide bomber came in a jeep and rammed a vehicle into the gate," said Olusegun Adeniyi, chairman of the This Day editorial board. "Two of our security men died, and obviously the suicide bomber died too."
This Day's publisher, Nduka Obaigbena, is a celebrity in Nigeria and puts on music, art and fashion events in cities in around the world.
More world news from msnbc.com and NBC News:
Follow us on Twitter: @msnbc_world