LAHORE, Pakistan — Pakistan is gridlocked with an array of senior officials and other elites in the Islamic republic facing criminal charges, including allegations of corruption and murder.
The legal woes besetting America's nuclear-armed ally come amid extremist threats, tensions between its civilian and military leaders, a mounting financial crisis and deteriorating relations with arch-rival India.
"It is a fractured country where no one seems to be in control of the situation," said Zahid Hussain, a longtime Pakistani columnist.
At the heart of the stalemate gripping the country are problems facing former Prime Minister Nawaz Sharif and his family. The Supreme Court ousted him in July for not declaring his income.
Last week, Sharif set the stage for a political comeback with the passing of a bill in Parliament that would allow him to regain control of the Pakistan Muslim League — Nawaz, a right-of-center, pro-business party Sharif named after himself.
The move comes as he faces more than a dozen pending corruption cases. And it doesn't stop there.
The three-time prime minister's brother, Shahbaz Sharif, the powerful chief minister of Punjab — the country's largest province with a population of 110 million — is being investigated for money laundering, murder and terrorism.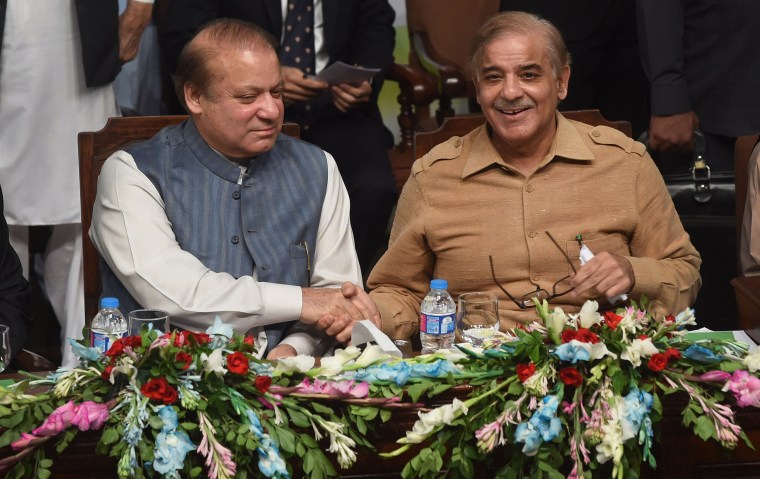 Finance Minister Ishaq Dar, who is also a brother-in-law of Nawaz Sharif, was indicted last week on corruption, money-laundering and undeclared income charges. As the man in charge of Pakistan's faltering economy, he's faced calls from the opposition to resign.
Nawaz Sharif's three adult children, including his heir apparent Maryam Nawaz, also face graft investigations. Maryam Nawaz's husband, Safdar Awan, was arrested by anti-corruption authorities on Monday. Her brothers, Hassan and Hussain, are wanted by the courts.
And Nawaz Sharif's replacement, Prime Minister Shahid Khaqan Abbasi, is being investigated for corruption.
The opposition is also facing legal woes.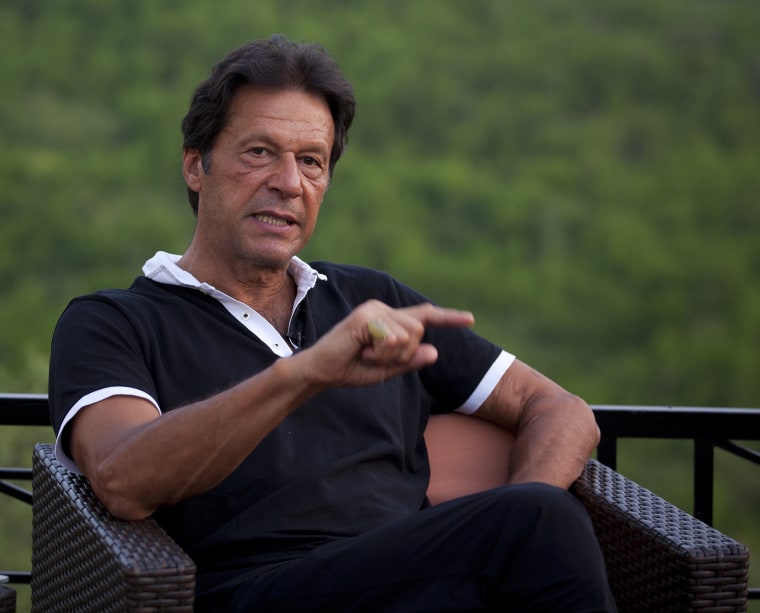 Imran Khan, a cricket star-turned-politician, is being investigated by Parliament after allegations of harassment made by a party member as well as charges that he failed to declare his income. His deputy, Jahangir Tareen, is also being tried for corruption.
Sakib Sherani, a former adviser to the government, said "a failing economy, rising regional and geopolitical pressure are being left unaddressed" by the crisis.
The clamor for the powerful military to step in is increasing. Pakistan has already seen its armed forces seize power four times since gaining independence from Britain in 1947.
The political chaos comes as the ever-present threat of violent extremism and increasing tensions with nuclear-armed India loom over the region.
In late September, ISIS flags appeared mysteriously on one of the main roads of Pakistan's capital, Islamabad. On Thursday, more than 20 people were killed in a suicide bombing at a shrine in Balochistan — an attack claimed by the extremist group.
In a display of the ongoing gridlock, Interior Minister Ahsan Iqbal — the civilian head of security for the country — was stopped last week from entering a hearing of the Nawaz Sharif trial by the same paramilitary force that is supposed to report to him.
"At a time when Pakistan needs to consolidate its police, military and intelligence efforts to counter the potency of [ISIS], those efforts are at risk of being undermined by the customary tensions between Pakistan's generals and the political class," said Mosharraf Zaidi, a former foreign policy adviser to the government. "This has the potential to cause real damage to Pakistan's hard-won victories against terrorists."
Tensions are also mounting on the India-Pakistan border. On Wednesday, troops exchanged fire in what are "escalating" border clashes, according to the Foreign Office.
Pakistan's stability matters to South Asia and beyond.
As a linchpin of the American war in Afghanistan, the U.S. alliance with Pakistan hinges on security cooperation against terror groups and the passage of supplies to the some 11,000 U.S. troops there.
In August, President Donald Trump warned that Pakistan "has much to lose by continuing to harbor criminals and terrorists," a reference to the country's alleged support for militant groups like the Haqqani network, which targets U.S. soldiers in Afghanistan. Pakistan has long denied allegations that it helps and shelters militants.
Amid Trump's strong words and threats of sanctions from U.S. legislators, Pakistanis are struggling with power cuts, food price inflation and a growing tax burden imposed by a government too distracted to administer to the world's sixth-most-populous nation.
The chaos is having an impact on Pakistani living standards, with suddenly increased food and oil prices, said Atif Zafar, head of research at JS Global Capital, one of the country's leading investment banks. The stock market has suffered its highest quarterly loss since June 30, 2008, he said.
The IMF has also warned that the Pakistan rupee is overvalued.
"The most serious challenge confronted by the country is the deepening economic crisis. It is further aggravated by political uncertainty," said Hussain, the columnist. "It is really a dangerous situation."