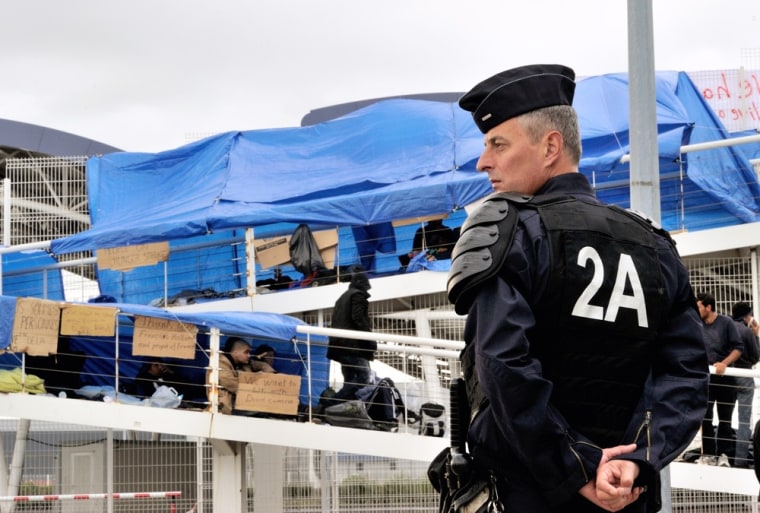 Some 60 Syrian refugees – many of them on hunger strike – are in a standoff with police at a ferry terminal in northern France.
The group has occupied a footbridge at the port of Calais, a popular crossing point into Britain, and is demanding the British government grant them asylum into the U.K.
Between 20 and 40 of the group have not eaten for two days, activists and protesters said.
Katie Wellington, an activist with the Calais Migrant Society who is at the port, said some 70 riot police attempted to clear the site on Friday morning. In response two Syrians climbed onto a roof and threatened to jump if their asylum demands were not met.
Wellington said the group has effectively given the British government an ultimatum: "Let us into the U.K. or we will die here."
"These people have different reasons for wanting to come to the U.K.," she said. "Many of them have family or communities there, and they feel they will get better protection from the [British] government than in France."
Denis Robin, the prefect of the Pas-de-Calais region, told Sky News he has offered the Syrians, currently illegal migrants, asylum in France.
"Today, the Syrians present here are caught in a stalemate. What we can do is to offer them a status on French territory ... in other words to make a request for asylum," he said.
Wellington said contact had been made with the British government. The U.K. Home Office said it was aware of the situation but did not respond with an official comment at the time of publication.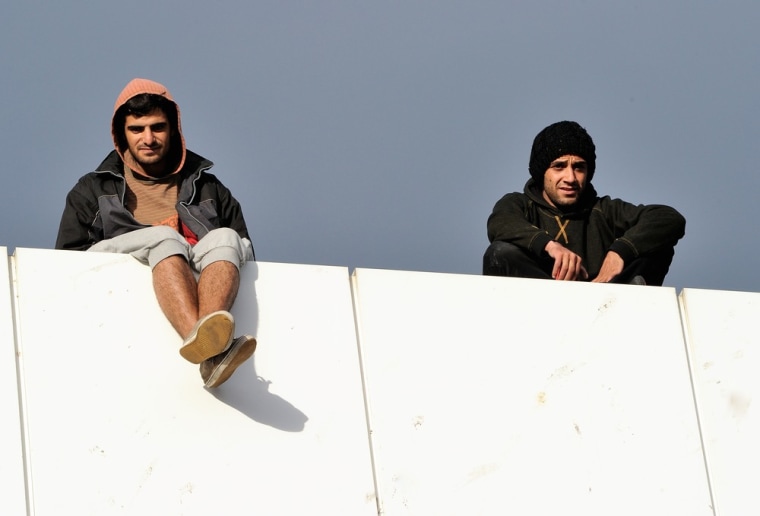 She said most of the group had arrived in Calais last month but had been subject to evictions from squats – unauthorized housing – by French authorities.
The Syrian group on Thursday wrote a letter to the U.K. government, published on the Calais Migrant Society website. It asks people to contact the U.K. Home Office asking them to respond to the migrants' demands.
One of the protesters, 25-year-old Mohammed al Kayd, said he was an economics student studying in Damascus before he was forced to flee Syria one year ago.
"In Calais we sleep in the streets and no one asks us what we need or what happened to us. We are ignored," he told NBC News via telephone. He said two protesters had to be taken away by ambulance Thursday night after sleeping in the rain.
Al Kayd said he had no family or friends at the port. He is trying to get to the U.K. because his brother was granted asylum there six months ago and now lives in Nottingham. His father followed four months later and now lives in Middleborough.
"I left Syria with a little bit of money which I had to spend on food and travel," he said of his 2,000-mile journey across Europe. "I went through Jordan and from there through Egypt and to Italy by boat.
"The journey by boat lasted for 10 days and the last three of these I went without food. From Italy I went to France and traveled to Calais by train."
The standoff comes exactly one month after the United Nations announced the number of people who have fled Syria has topped 2 million.
Related: