Straight, gay and lesbian Mormons marched together for the first time for marriage equality at New York City's annual gay pride parade on Sunday, June 24.
Approximately 30 Mormons marched down Fifth Avenue to cheers and applause from the parade route crowd. They marched as part of the New York City chapter of Affirmation, an international organization of gay and lesbian Mormons who, along with Mormons for Marriage Equality and Mormons Building Bridges, helped organize and advocate for nationwide pride marches.
Mormons who support marriage equality are perceived as a minority within the Church of Jesus Christ of Latter-day Saints, but Sunday's participants hope to change that statistic. Over a dozen marches are scheduled for 2012, and over half have already taken place—from Salt Lake City to Santiago, Chile.
The LDS Church's view on gay marriage is in the spotlight now that Mitt Romney, an active member of LDS, is running as the GOP presidential candidate. He would be the first Mormon in the White House if elected.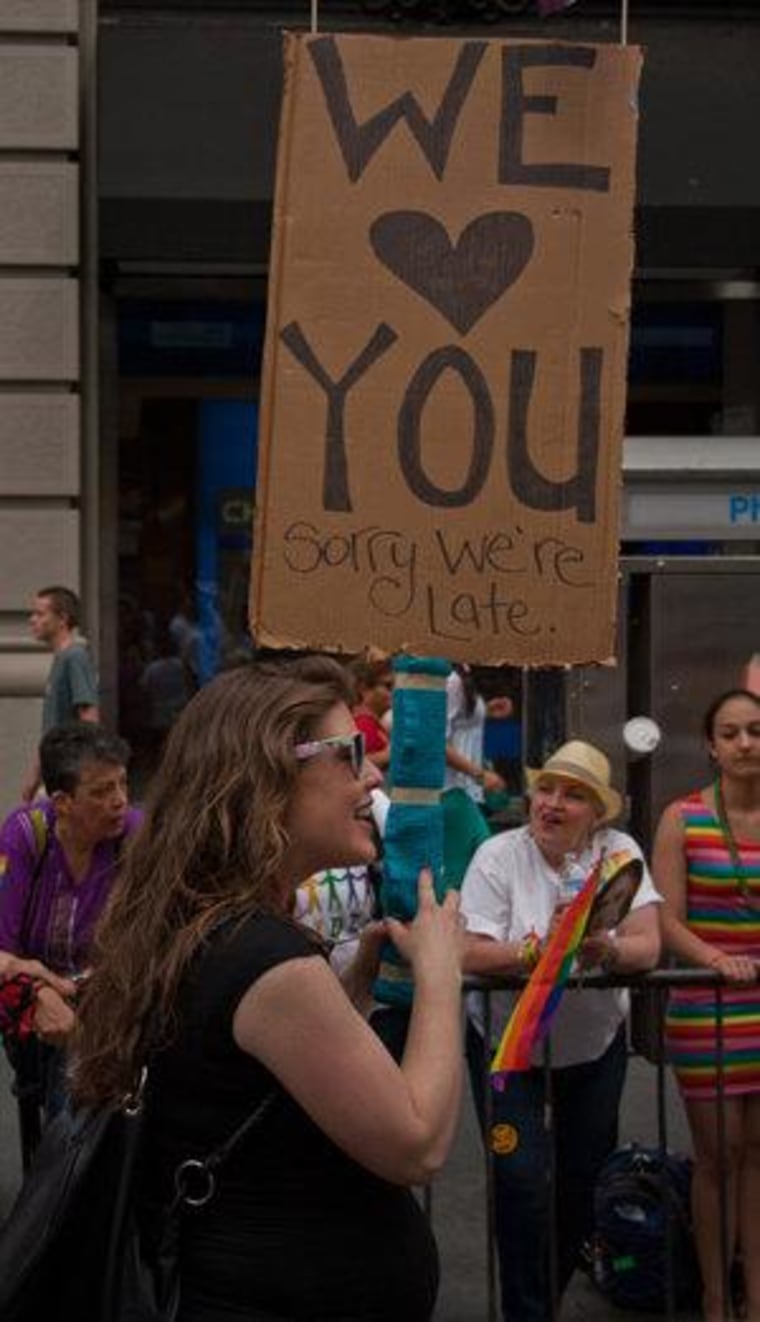 In campaign speeches this year, Romney reaffirmed his opposition against same-sex marriage, though he also said he does not consider his views to have been a result of his Mormon faith. In an interview with Piers Morgan on CNN last year, Romney emphasized that he was not a spokesman for the LDS Church and that he kept his personal views separate from his politics.
An evolution within the community
Among the group of Mormons lining up to march in New York City was Kate Allgood Cowley, a soon-to-be mother whose due date is only days away. "Hopefully, I'm welcoming him into a more loving, accepting world," Cowley said as she and husband Jed took turns holding a sign that read, "We love you. Sorry we're late."
The Affirmation marchers discussed faith and politics, and shared stories of their own personal journeys as they waited for the march to begin. Some talked about their experiences of being ostracized from their families and their decisions to leave their respective wards; others shared their gratitude over the surprising amount of support they received from their family and friends.
Cowley shared her experience as a straight ally who witnessed the difficult coming out process for her gay Mormon friends. "My Mormon faith teaches me and encourages me to reach out and love other people regardless of their differences," she said. "It teaches me to avoid judgement and leave that judgment up to God."
As the group gathered for photos before the march, Cowley said she was worried there were still many Mormons afraid to voice their support of gay rights publicly. "I feel passionately about speaking up and making sure my voice is heard," she said.
The LDS Church has historically opposed same-sex marriage, citing a law of chastity that prohibits sexual relations outside of a heterosexual marriage.
The Church's involvement in supporting legislation that prohibits same-sex marriage has led to the formation of websites and groups like Mormons for Marriage and Mormons for Marriage Equality, which seeks to unite Mormons who support marriage equality. A recent Pew Research Center survey of Mormons found that nearly a quarter of polled Mormons disagreed with the LDS Church on same-sex marriage.
Laura Compton, a California Mormon and one of the co-founders of Mormons for Marriage, said she knows that they are the minority in the LDS Church, but she believes those attitudes are changing as more anti-gay-marriage legislation is put in place.
"We saw the pain [laws against same-sex marriage] caused for our gay and lesbian friends, and there were suicides and divisions within congregations," Compton said. "It felt really wrong to say we want to protect families while at the same time destroying our gay and lesbian friends."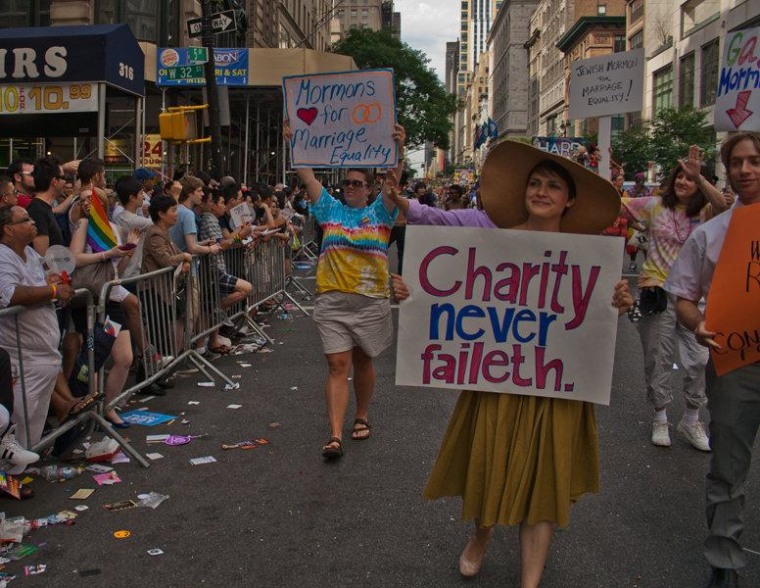 Mormon students at Brigham Young University have filmed their own "It Gets Better" videos to reach out to young gay and lesbian Mormons who may be bullied in their communities and scared to come out to their families.
"I know plenty of people who disagree with the Church, but it's incredibly difficult to get anyone to show their support for their position because they're afraid of being alienated from family and friends and they're afraid of being disciplined," said Peter Danzig, an ex-Mormon currently living in Utah.
Danzig resigned from the Church in 2008 after writing a letter to The Salt Lake Tribune in 2006, voicing his concern over Brigham's firing of an adjunct professor who argued in the newspaper that the LDS Church was wrong to oppose same-sex marriage.
Danzig said he was called into meetings to investigate his position, and he was suspended from playing in the LDS Orchestra. After almost two years of talking with Church leaders, he and his wife chose to resign from the Church. "The hardest thing was watching how distraught my family members were because I was being disciplined," Danzig recalled. "When someone decides to take a stand, it's very difficult to comfort a sobbing mother that feels like they're losing you forever because you have a difference of opinion."
But Danzig is hopeful. "There's been a big shift recently. I think things are slowly changing."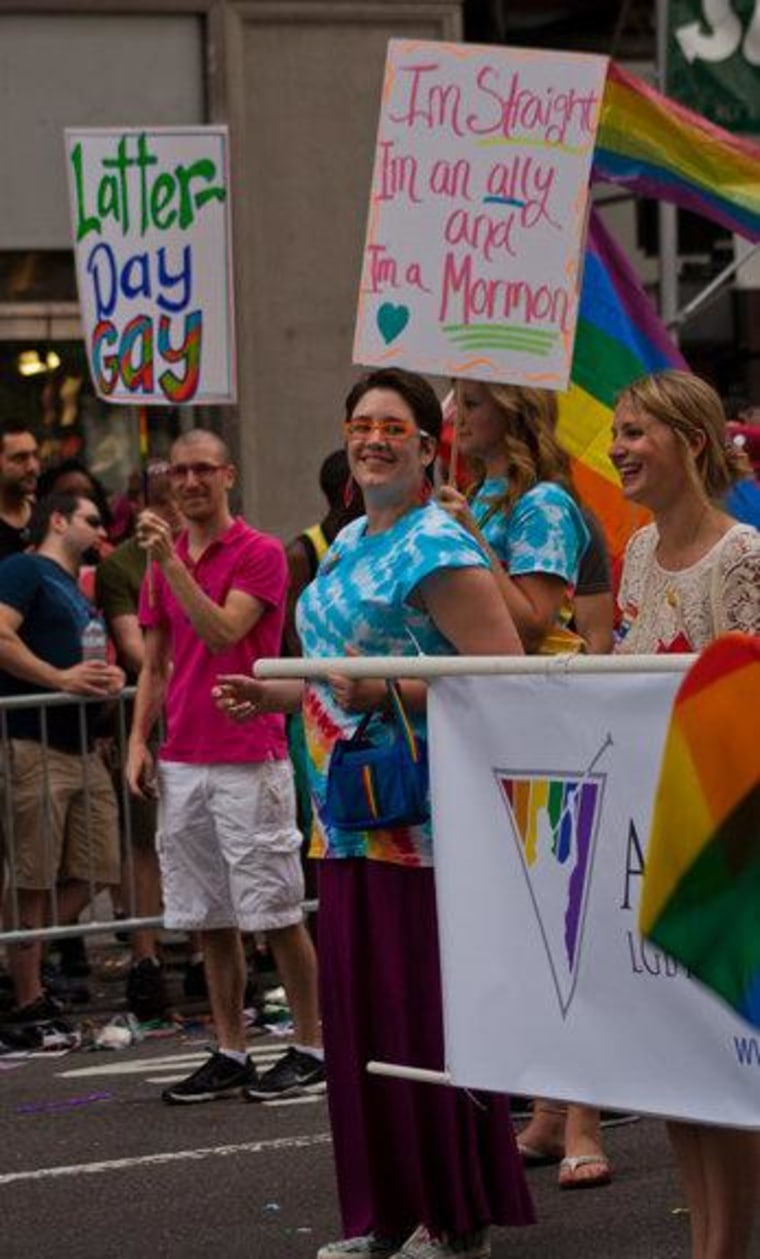 Americans' attitudes on gay marriage have shifted as a whole, too. A 2012 Pew Research Center poll showsthat support for same-sex marriage has risen since 2004. 
This past May, President Obama announced his position on marriage equality had "evolved," and he now fully supported legalizing same-sex marriage.
Randall Thacker has witnessed a change in his own faith community. Thacker came out over 10 years ago and felt like he didn't have a place anymore in the LDS Church. "I stopped attending about eight to nine years ago" he said.
He tried attending other religious services, but decided to rejoin the Mormon community last fall. "I went back to church and told the bishop, 'Look, I'm coming here authentically as me, and I'm gay and in a relationship, and I want to be spiritually nourished. I don't want to be excommunicated."
The bishop welcomed him back into the community with no judgement, and Thacker said that the rest of the leaders he spoke with did the same. Thacker is currently the senior vice president of Affirmation. He traveled from Washington, D.C., for the New York march.
Romney brings Mormonism into the spotlight
Given the spotlight Mitt Romney's campaign has drawn to the religion, Danzig speculates that the Church is hesitant to attract negative attention by disciplining Mormons who choose to publicly support marriage equality.
"The LDS Church doesn't want that image of telling people what to do," Danzig said. "It's opened a remarkable window for the minority to speak out and say, 'Hey, we're here.'"
There has been no official response from the LDS Church in response to Mormons marching for marriage equality, and attempts to reach officials for a statement were unsuccessful.
As the November election nears, individuals like Danzig and groups such as Mormons for Marriage Equality and Affirmation hope to see more Mormons come forward in support of the LGBT community.
"It's a shame that [Romney] has pandered to the most conservative factions of the Republican Party," Compton said. "I'm sure he knows gay people, I'm sure he knows lesbians, and I'm sure he knows people who are affected by what he's going to say. But he's a politician, and he's doing what he needs to do to get votes. He doesn't have my vote."
Getting involved in the fight
The Church's activism has caused more Mormons in support of marriage equality to come out of the shadows.
In 2000, The LDS Church played a pivotal role in the fight against marriage equality by campaigning for Proposition 22, a law that restricted same-sex marriage in the state. The LDS Church donated money and volunteer effort to the campaign, which California citizens voted to enact.  Although Prop 22 was ultimately struck down by the California Supreme Court in May 2008, the LDS Church's involvement in it left an impact on Mormons that oppose it and continue to oppose follow-up measures, such as Proposition 8, which also bans same-sex marriage.
"We found out Mormon Church leaders were going to be involved with campaigns to pass Prop 8, and a number of us online had seen what happened in 2000 with Prop 22," Compton said as she described the formation of Mormons for Marriage.
"We want marriage equality, we want full and equal rights—not separate rights—and we want to have a space where people who are not straight feel as comfortable as people who are straight," she continued.
Straight, gay and lesbian Mormons who all supported marriage equality found one another through blogs and social networking sites. The online community grew as more states passed laws defining marriage as being between one man and one woman.
'I am proof that hearts can change'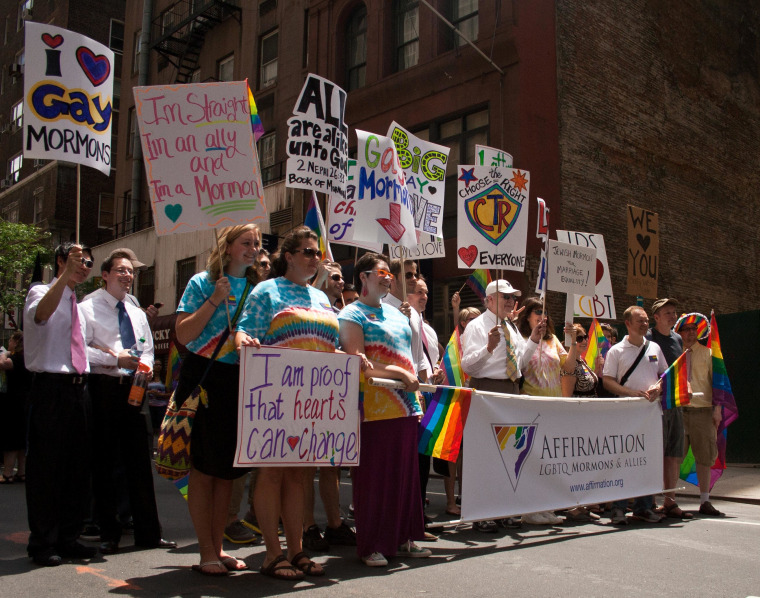 Politics hung in the air during the gay pride parade march Sunday as politicians such as New York Gov. Andrew Cuomo, who signed the state's gay marriage law into effect last year, participated. A pro-Obama 2012 group also marched in the parade, along with various other political groups.
Cowley, Thacker and the rest of the enthusiastic Mormons marched proudly with signs in the air as confetti burst from the float in front of them, and announcers along the route introduced them as "the only group of Mormons Mitt Romney would not be proud of."
After nearly two hours of marching, the group made their way to the end of the parade route in Greenwich Village to more applause and hugs from supporters along Christopher Street. 
"This crowd is great," Cowley said with a smile as her husband waved to the crowd with his dark red tie. "I'm so happy." She and others expressed their hope that the Mormon participation in pride marches around the country would continue for many years.
Thacker cited his return to the LDS Church as being the start of a new era of acceptance. Thacker is in a committed relationship with a non-Mormon, a type of union referred to in the LDS Church as a "Part-member family."
"I've had friends who've said, 'Well, then you're not Mormon anymore if you're gay,' which is really sad," he said, but then someone told him he was part of a Part-member family.
"That actually was really cool. They actually validated my relationship," Thacker said. "I'm a Mormon, my partner's not, but we're there."
For more photos from the NYC Pride March, see David Lumb's photos at Animal New York.