Floodwater swept the living away, and on Wednesday it was washing bodies back onto the shores of eastern Libya faster than the devastated city of Derna could bury them.
It was a struggle to even count them.
Libyan officials on Wednesday put the number of deaths at 8,000 and said 10,000 people are missing.
Broken roads, failed communications networks, the legacy of years of civil conflict and the effects of climate change have all contributed to make Libya one of the world's worst humanitarian crises, said Elie Abouaoun, country director for Libya with the International Rescue Committee.
"It is devastating," he told NBC News.
Thousands still missing in Derna
The eastern Libyan port city was destroyed beyond recognition when two dams burst on the Wadi Derna River during a storm this week, causing waves 23 feet high to rush through the town and into the sea.
A total of 5,300 people had been confirmed dead in the floods so far, the Ministry of the Interior of Libya's eastern government said. But aid groups and officials have said that some 10,000 people are missing, also feared dead either beneath the wreckage of homes or lying somewhere in the floodwaters.
The staggering statistics only go so far in conveying the tragedy.
One father watched in disbelief as rescue workers pulled the limp body of his son from under rubble in Derna.
It's a scene that is being repeated across this city and in towns across eastern Libya.
"Bodies are lying everywhere — in the sea, in the valleys, under the buildings," Hichem Abu Chkiouat, civil aviation minister in Libya's eastern government, told Reuters.
"I am not exaggerating when I say that 25% of the city has disappeared. Many, many buildings have collapsed," he said.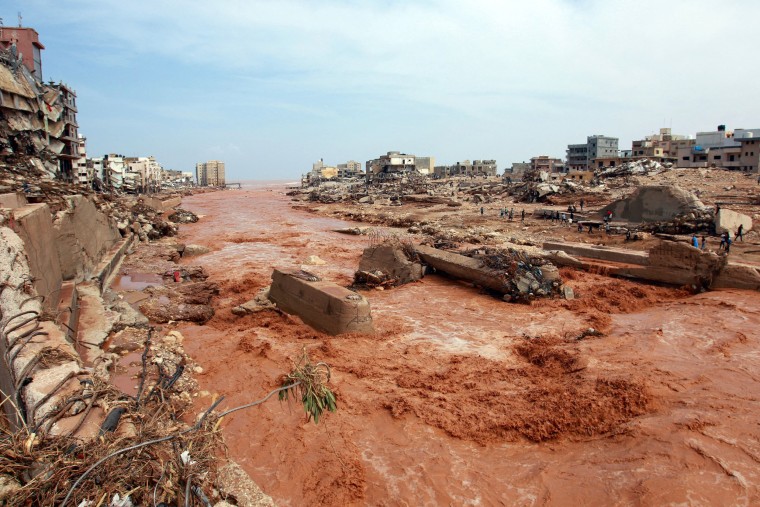 He said that officials had counted more than 5,300 dead so far, and warned the death toll was likely to rise and could even double given the number of missing.
The "sea is constantly dumping dozens of bodies," Chkiouat added.
Yann Fridez, head of the delegation of the International Committee for The Red Cross in Libya, told France24: "The city of Derna was submerged by waves 7 meters (23 feet) high that destroyed everything in their path."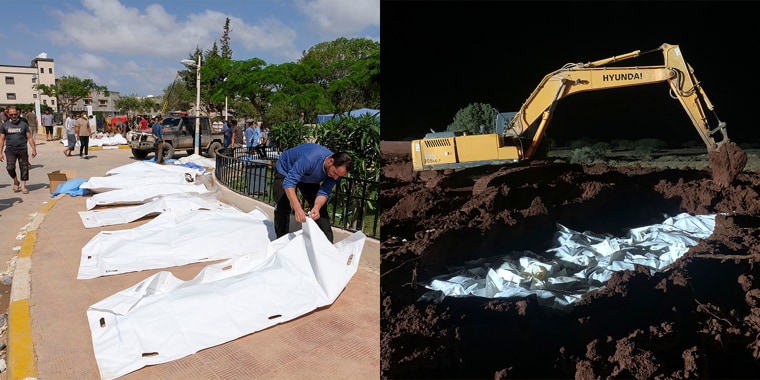 And for Libya there may be more chaos to come.
Officials in the coastal town of Tocra, to the west of Derna and east of Benghazi, warned Wednesday that a dam there could also collapse and cause similar scenes of destruction, the state-run Libyan News Agency reported. Officials urged nearby residents to leave immediately.
They will join many already in need of aid.
Some 30,000 people from Derna alone have been displaced after their homes were washed away or ruined, according to the International Organization for Migration, a United Nations agency.
It is a natural disaster without precedent in a country already reeling from more than a decade of civil war and complex factional disputes.
"For Libya it's definitely something of equal importance like something like 9/11 to the U.S.," said Abouaoun, of the International Rescue Committee.
There are around 6,000 people presumed dead, but several thousand still unaccounted for, he said. "So we don't know what will be the final toll."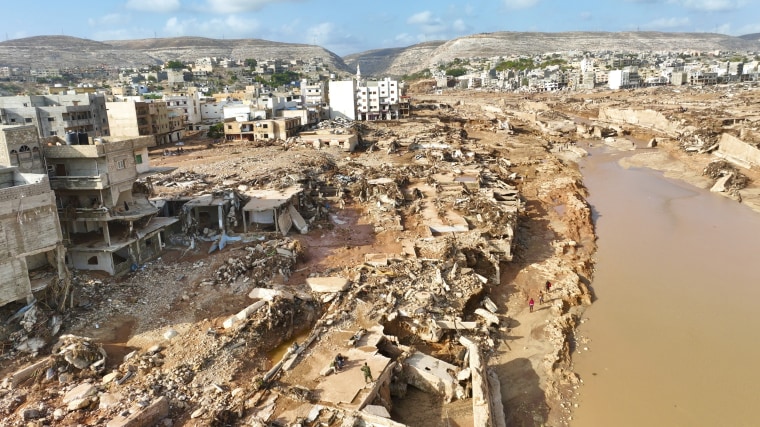 Aid was slowly coming in, he said, but Derna urgently needs manpower.
"Several countries have already sent field hospitals and supplies," Abouaoun added.
"What is really missing is some more support with search-and-rescue operations because the window of opportunity for finding survivors is closing. We are on the second day."
He called on international aid agencies and foreign governments to help with the immediate search-and-rescue operation, just as several countries did after the earthquake in Morocco last week.
President Joe Biden is among the world leaders to have already pledged support, with many of Libya's neighbors sending teams and humanitarian supplies.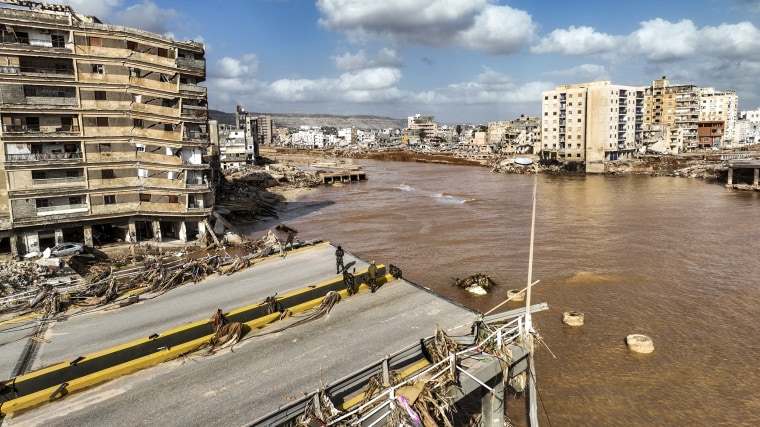 Attention has already turned to what could or should have been done to prevent the disaster in Derna.
"Some areas received instructions to evacuate, but some people didn't respond. They took matters lightly," Mustafa Salem, a Derna resident, told Reuters. "We were surprised at 9 p.m. that the storm had intensified and the winds had become strong."
Then Salem heard a dam break, described by some witnesses as sounding like an explosion.
"People were asleep and no one was ready," he said.