This story first appeared on the website of NBC News' partner Sky News.
DERNA, Libya — Locals now call Wadi Derna "the dam of death."
In a moment's notice, the structure unleashed tens of millions of cubic meters of floodwater on Derna's residents.
The torrents swept generational homes and entire families into the Mediterranean sea — leaving onlooking survivors in a state of shock and horror.
The scene at one of the dams that collapsed in heavy rains and sent a massive flood gushing into the eastern Libyan port city
As we walked across the emptied river bed, residents stood on the precipice of the cliffs.
Their eyes stuck on what was once the dam.
A collapsed ridge of concrete and a debris-filled cylindrical pipe flung to the side.
A road that connected the valley is now shredded — the two sides of asphalt reaching over the edge to each other.
This is a site of swift colossal damage.
"We will never forget what happened here," says Safwat Ashraf, a 24-year-old teacher.
"Our community feels destroyed. It's a small tight-knit city where everyone knows each other. Our friends and families are all gone."
His house is on one of the higher plains. Across from their home, a primary and secondary school sits battered on the valley's edge. Its wall was ripped apart and thrown into the river bed.
Safwat says he heard women and children screaming who had sought shelter in the school.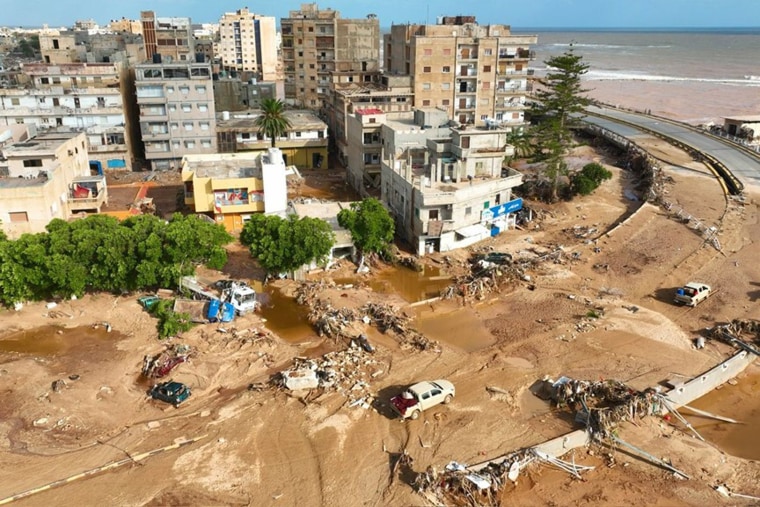 Residents tell us that one family climbed up to the school from their house to stay safe from the torrential rainfall of Storm Daniel.
The water unleashed by the Wadi Derna dam, a second and final barrier to one higher upstream, killed 27 members of the family.
Tree trunks and large twisted roots jut out the skeletal school structure. The yard — now wall-less and exposed — opens out to the mouth of the valley and into the Mediterranean sea.
Residents sit on the edge and look out at a scene of utter destruction.
A vein that has cut through their town.
Diggers claw at a silt-covered riverbed to find those buried and left behind by the receding waters.
One man, Moji Mohamed, is holding the hand of his 4-year-old son as he looks around unbelievingly.
He tells me he's lost his elder brother, aunt and five cousins.
This coastal city has endured Islamist extremism and years of political chaos during Libya's civil war.
Overnight, the years of neglect and mismanagement Derna has faced was laid bare in the shape of two broken dams. With a flood warning that came from nature but not from their government.
This story first appeared on the website of NBC News' partner Sky News.