Libya's government insisted it was still in control of the country Monday after an armed assault on parliament that it denounced as a bloody coup attempt.
Militants led by a retired military general stormed the parliament building in the capital Tripoli on Sunday using anti-aircraft guns and rocket-propelled grenades, according to a statement from the group.
Two people were killed as lawmakers were forced to flee and the armed men ransacked the legislature, The Associated Press reported.
Retired Gen. Khalifa Hifter's group said they would not allow the fractured country to become a "breeding ground or an incubator for terrorism." He denied it was a coup and insisted that his men were "fighting by the people's choice."
The militants said they carried out another attack on an Islamist group in Benghazi on Friday, taking the weekend's death toll to more than 70.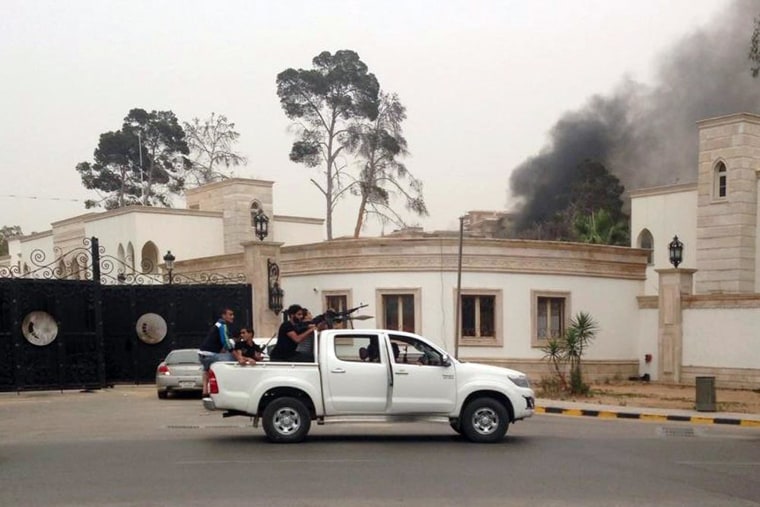 By late Sunday, armed men loyal to the central government were manning checkpoints in the city, and the fighting had reportedly spread to the highway leading to the airport.
But early Monday, the government released a defiant statement, saying that they were still in control of the country and decrying the clashes over the weekend.
"The government condemns the expression of political opinion through the use of armed force from all parties and it calls for an immediate end to the use of the military arsenal," in a statement read aloud by Justice Minister Asalah al-Marghani and posted by BBC News.
Three years after the U.S.-led intervention to topple Moammar Gadhafi, Libya is as fractured as ever. The country has had three prime ministers since March and has been unable to pen a long-planned constitution.
The fresh turmoil comes as critics headed by Republican lawmakers continue to criticize the Obama administration over an attack a U.S. diplomatic compound in Benghazi on Sept. 11, 2012. Three Americans died in the attack including Ambassador Christopher Stevens.
The Associated Press contributed to this report.
- Alexander Smith