BAGHDAD — Violence gripping Iraq has cast the country's women into non-traditional roles: providers and protectors.
Though ISIS has subjected women to horrific abuse and enslavement, life in government-held areas often proves to be simply the lesser of two evils.
"Women have become doubly victimized, [first] by ISIS and then by the local culture," said activist Yanar Mohammed. "Whether you are Sunni, Shia, whether you submit to ISIS or you submit to your patriarch in Iraq … there is absolutely no protection for women."
NBC News spoke to several to shed light on their struggles. Here are five of their stories.
SAMERA: 'We Left Everything Behind'
Every corner of Samera Mohammed Abdulghani's life has been touched by war.
She "lived a normal life" in Ramadi before ISIS seized control of the city last May.
Then, everything changed. The widow fled with three of her six children and joined the 6,000 or so people crowded into a displacement camp in Doura, southern Baghdad.
"We left everything behind and have nothing at all now," said Abdulghani. Food and medicine are in short supply and Abdulghani relies on donations to care for her family.
"We receive nothing from the government," she explained. "The government helps no one."
Despite her dire circumstances, Abdulghani is keenly aware of the dangers she escaped. Her oldest son, 33, lives under the militants' rule in the small town of Hit. Her brother refused to leave Ramadi, opting to stay and fight ISIS.
While Iraqi forces last month retook most of Ramadi, Abdulghani struggles with the idea of returning.
"The area where I lived in Ramadi is liberated, but we saw on TV all houses are destroyed," Abdulghani said. "I do not know what to do. Am I going to stay here or go back to my city and live in a destroyed house?"
AMEENA: 'I Want to Go Back Home'
Ameena Wahab Mustafa has seen the same images. She also fled Ramadi for Baghdad, but unlike Abdulghani is eager to go back.
Mustafa had been desperate to reach the Iraqi capital. She spent six weeks stuck at a crossing under the baking sun with her wheelchair-bound husband and children.
When a bridge opened to let families through, authorities initially blocked her son's passage. "I beg the officer on the bridge and told him I am ready to kiss his feet just to let my son come with me," she told NBC News.
Mustafa didn't know where to go when they got to Baghdad, so her family sought shelter at a mosque before moving into the Doura camp for displaced people.
"Life is very difficult here," said Mustafa, 44. "We do not have enough money to buy food."
Given the poor conditions, her hometown of Ramadi beckons.
"I want to go back home, even if it is destroyed with no walls and ceiling," said Mustafa. "At least it is my family's and mine."
FATIMA: 'People Will Start Talking About Me'
Life outside of the camps poses its own challenges.
Violence has upended convention, forcing women to become breadwinners in a society where those who do can be viewed with suspicion and judgment.
"Women in Iraq are not equal to men, these are only slogans," said Fatima Gate'a. "We are controlled by society and religion… If I go to find work now, people will start talking about me."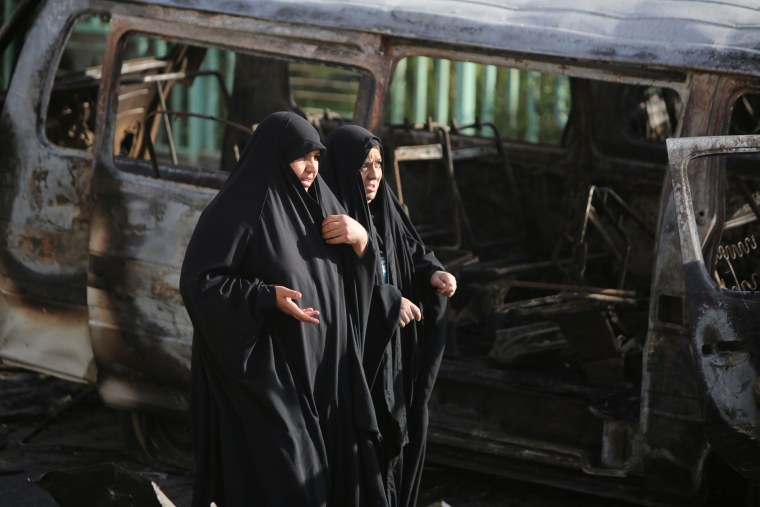 Her husband's death in a 2007 bombing left Gate'a no choice but to become the sole provider to their four young children. She scrapes together money, handouts from her brother and a local mosque mostly, in order to feed them.
Gate'a is managing to send two of the four children to school, but that has added more anxiety to her load.
"I keep waiting for them until they come home safely," Gate'a told NBC News. "We are not protected at all, death can reach us at any time when we go outside."
UMM ALI: 'They Look at Single Women as a Victim'
The generation of widows born out of Iraq's cycle of violence contends with fears for personal safety in addition to financial hardship.
"It is hard to live alone without your husband," said Umm Ali, whose husband was killed in a 2010 bombing outside of a Baghdad supermarket.
"People will not leave you alone even when you are an old woman," explained the 52-year-old. "They will say, look that is a woman who lives alone without a man by her side. They look at single women as a victim and they will hunt her."
Umm Ali, who declined to give her full name, said life wasn't always so hard for Iraqi women.
"I wish to see Iraq like it was in the 70s or 80s — life was different," she said. "We used to feel that we are alive. Now… we are just machines."
ZAHRA: 'We Are Controlled by Men'
No one knows what happened to Zahra Hussein Abed's husband: he left his office at the Ministry of Agriculture on day in 2007 but never came home.
"We searched in hospitals, police stations, morgues, everywhere but we did not find him at all," Abed, 47, told NBC News. "We think that he was kidnapped then killed and buried somewhere."
At the time, a surge of sectarian violence was sweeping through Iraq.
The government paid her husband's salary for one year after his disappearance but then the money stopped.
Abed says the small monthly pension she gets from the government isn't enough; she relies on help from her two adult sons, a police officer and a mechanic.
While she's grateful to have the support — "Thanks to Allah he granted me those men" — Abed laments the culture which had made women like her dependent on them.
"Women in Iraq do not have the right to do whatever they want. We are controlled by men," she said. "My husband did not let me to go out alone, even to the market; my sons behave the same with their sister and me."
UMM AHMAD: 'I Am Afraid'
Abed's husband disappeared at the height of Iraq's sectarian violence but men are disappearing in Iraq today too, Umm Ahmad told NBC News.
Now, though, it's often voluntary.
Countless Iraqi men have joined the wave of refugees and migrants seeking a better life in Europe.
Ahmad's 25-year-old son was one of them: he paid a trafficker to get him to Turkey, then through to Finland.
"I have to accept the idea that he is gone," Um Ahmad said. "I pray Allah that he will live a better life."
That doesn't mean she's not worried for his welfare — and for her own.
"He is the only son that I have," said Umm Ahmad, who also has one daughter. "I cry every day … My husband tries to calm me down but I am a mother. I am not that strong as a man."
Left caring for her elderly and sick husband, Ahmad said she hopes her son will return one day.
"I am afraid that one day I will find myself living alone," she added.