Pilots of Boeing 737 MAX aircraft worldwide were not warned of a potentially dangerous feature suspected of playing a role in last month's deadly Lion Air crash in Indonesia, investigators and pilots unions said.
Indonesian officials said late Monday that the situation believed to have faced the crew of doomed Flight JT610 was not covered in the aircraft's flight manual and that more training was needed for pilots of the new aircraft.
U.S. pilots were also not aware of potential risks of the scenario, in which the plane could become uncontrollable without correct inputs, two American pilot unions told Reuters.
The comments shed further light on the areas under scrutiny as investigators prepare to publish their preliminary report on Nov. 28 or 29, one month after the Lion Air jet crashed into the Java Sea after taking off from Jakarta, killing all 189 on board.
Until now, public attention has focused mainly on potential maintenance problems including a faulty sensor for the 'angle of attack,' a vital piece of data needed to help the aircraft fly at the right angle to the currents of air and prevent a stall.
Now the investigation's focus appears to be expanding to the clarity of U.S.-approved procedures to help pilots prevent the 737 MAX over-reacting to such a fault. In the United States, American, United and Southwest use the Boeing model.
Dennis Tajer, a 737 captain and spokesman for Allied Pilots Association (APA), which represents American Airlines Group Inc. pilots, said his union was informed after the crash about a new system Boeing had installed on 737 MAX jets that could command the plane's nose down in certain situations to prevent a stall.
"It is information that we were not privy to in training or in any other manuals or materials," he said.
Boeing said it was taking "every measure" to fully understand all aspects of the incident and working closely with the investigating team and all regulatory authorities involved.
Soerjanto Tjahjono, head of Indonesia's transportation safety committee of crash investigators (KNKT), said on Monday that Indonesian regulators would tighten training requirements as a result of the findings of the investigation so far.
The comments focus attention on the contents of aircraft manuals and a conversion course allowing pilots of the previous generation of Boeing jet, the 737NG, to upgrade to the MAX.
The Oct. 29 crash was the first accident involving the 737 MAX, an updated version of Boeing's workhorse narrowbody jet that entered service last year.
Information recovered from the jet's flight data recorder last week led the U.S. Federal Aviation Administration (FAA) to issue an emergency airworthiness directive urging airlines to update their flight manuals.
The directive warned pilots that a computer on the Boeing 737 MAX could lead to the plane being forced to descend sharply for up to 10 seconds even in manual flight, leading to potential difficulties in controlling the plane.
Pilots could stop this automated response by pressing two buttons if the system behaved unexpectedly, but questions have been raised about how well prepared they were for such an automatic reaction and how much time they had to respond.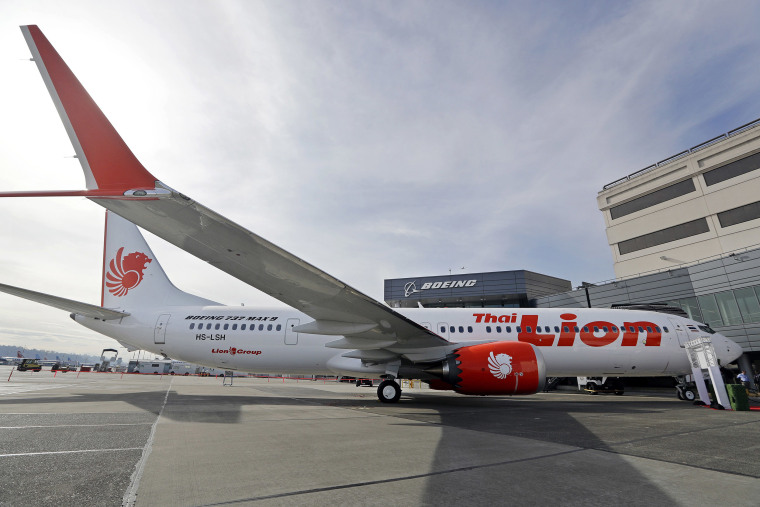 Capt. Jon Weaks, president of the Southwest Airlines Pilots Union, told NBC News, "There is a fix: Simply flipping a switch should have turned the automatic system off."
"Once we know the system exists, and once we know the system can trigger for the right reasons or if we are made aware there may be a problem with it triggering for the wrong reasons, we are fully prepared to deal with either of those situations," Weaks said. "But we really need to know what's on our airplane."
Even though investigators say this problem was not covered in the operating manual, pilots did have access to a checklist designed to turn off errant systems when the plane started nosing downwards at the wrong time, said Soejono, a Lion Air instructor who like many Indonesians goes by one name.
Experts say investigators will be examining whether the crew examined this checklist and if so whether they had time to cut off the automated nose-down system while flying at a relatively low altitude of 5,000 feet. Pilots on a previous flight are reported to have overcome a similar sensor problem.
To answer that question fully, investigators may need access to cockpit voice recordings thought to be hidden in the seabed.
"A failure like this on a modern jet airplane is very rare, and so something has happened here and the investigators, Boeing, the FAA, are are all looking very carefully at it," said Capt. John M. Cox, founder of aviation safety firm Safety Operating Systems.