LONDON — When the LIV Golf series launched Thursday, it looked like any other major tournament. But looming over the sports' stars and characteristic rolling greens was a geopolitical cloud.
The likes of Phil Mickelson and Dustin Johnson were among the names at the inaugural event of this rebel golf tour, lured by the financial backing of Saudi Arabia. While they teed off at the unassuming Centurion Club near St. Albans, each swing reverberated far beyond the commuter city north of London.
Not long after the first shot, the PGA Tour said it was suspending all current and future players in the breakaway league. "These players have made their choice for their own financial-based reasons," Commissioner Jay Monahan said in a memo to members.
Yet the LIV series is not just a challenge to the established golfing order but Riyadh's latest apparent attempt to win international influence and prestige while rehabilitating a reputation tarnished by human rights concerns and the killing of Jamal Khashoggi.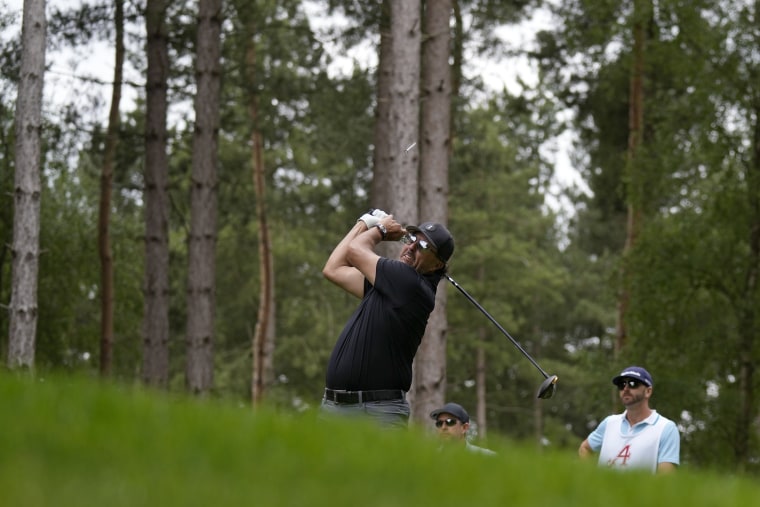 Saudi Arabia has invested heavily in motorsports, hosted major boxing matches and concerts, and last year its $400 billion sovereign wealth fund bought the English soccer team Newcastle United.
And now that same Public Investment Fund is backing the lucrative LIV golf franchise, seeking to challenge the established PGA and inject some excitement into a sport some consider quaint and that still retains many of its Victorian roots. 
The LIV series has a different format from the PGA: 12 teams, 48 players and 54 holes per event (LIV is 54 in Roman numerals). A sparkling sign at the "fan village" at the Centurion Club on Thursday declared "Welcome to the Future."
Players have reportedly been offered huge sums to join, while each LIV event offers $25 million in prize money — more than the $20 million for the PGA Tour's flagship event — with the winner banking $4 million and the last-place player earning $120,000.
But the Saudi funding has left some of golf's biggest and most beloved names struggling to answer tough questions.
Mickelson, who had spent four months away from the game and the public eye, declined to confirm or deny that he had been offered $200 million to join the LIV series.
"I don't condone human rights violations at all," Mickelson said. He apologized this week for comments he made recently to an unofficial biographer describing the Saudis as "scary."
Graeme McDowell, a former U.S. Open champion from Northern Ireland, said that he found the killing of Khashoggi — in which the kingdom has repeatedly denied its involvement  — "reprehensible" but was nonetheless happy to be part of the tournament. 
"If Saudi Arabia wants to use the game of golf as a way for them to get to where they want to be, I think we're proud to help them on that journey," he said.
NBC News has contacted LIV Golf for comment.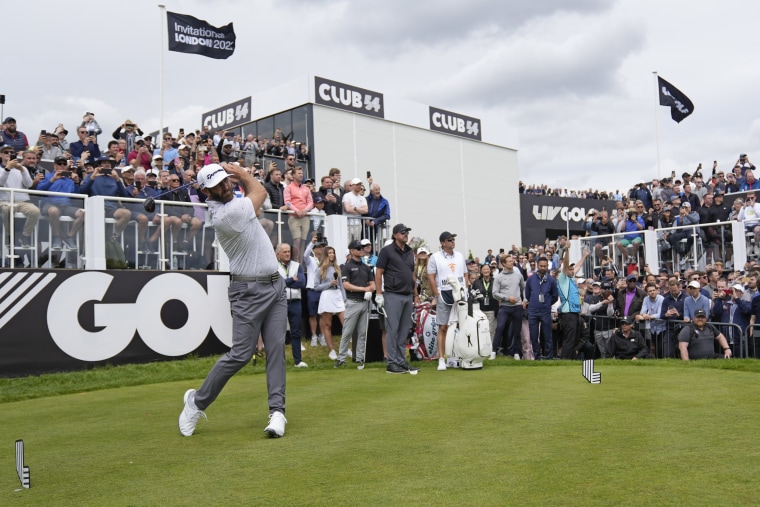 It's not just sports grappling with these questions, of course. 
President Joe Biden is set to visit Saudi Arabia next month and will likely meet with Crown Prince Mohammed bin Salman, a significant reversal after vowing to treat the country as a "pariah" and one that comes amid concerns over rising gas prices in the wake of Russia's war in Ukraine.
Ari Fleischer, who was White House press secretary under George W. Bush, hosted the LIV tournament's news conferences in the buildup to Thursday's launch. And two of the eight LIV events will take place on courses owned by former President Donald Trump.
But while the kingdom seeks to emulate its neighbors Qatar and the United Arab Emirates, who have both invested in sports teams and tournaments, experts say Saudi Arabia's more high-profile modern history of human rights abuses could nullify any reputational gains.
"Saudi Arabia is still in the beginning of its soft [foreign] policy towards the world," said Sebastian Sons, a researcher at the Center for Applied Research in Partnership with the Orient, a think tank in Bonn, Germany. "It tries to do similar things to the UAE and Qatar, but due to the murder of Jamal Khashoggi it will remain extremely problematic for S.A. to improve its image just through sports events,"
As Sons puts it, "Those golfers, whether they like it or not, and whether they acknowledge it or not, they are implicitly ambassadors and they are communicating messages on behalf of the Saudi state."
Human rights campaigners have for years accused Saudi Arabia of "sportswashing" — using glitzy high-profile events to improve its global reputation despite limited domestic reforms.
"Instead of establishing the rule of law in the country and a professional legal system, ending the horrendous due process violations, halting arrests of people expressing themselves peacefully … instead of doing that, you invest massive sums of money in getting essentially a lot of celebrities and athletes to associate with you," said Adam Coogle, deputy director of Human Rights Watch for the Middle East. 
Like many Gulf states, the country is undergoing a long-term shift: It aims to make 10 percent of its national income from tourism by 2030, up from just 3 percent in 2019. Experts see sports as a big part of this — both by helping to attract foreign investment and providing jobs for a young population with high unemployment.
But reputational concerns still play a crucial role.
"On one hand I don't think it's principally engaged in what it's doing for the purposes of sportswashing," said Simon Chadwick, a professor and director of the Centre for the Eurasian Sport Industry at the Emlyon Business School in France.
However, Chadwick added: "There are reputational benefits by focusing our attention on golf, or football, or motor racing or whatever else it might be, and that may divert people away from talking about Khashoggi, from talking about Yemen and talking about the 81 people who were executed on one day."