Live coverage on this blog has ended, please click here for the latest updates.
A fanfare of trumpets sounded at proclamation ceremonies in the capital cities of Scotland, Wales and Northern Ireland on Sunday officially declaring Charles king of the nations that, along with England, form the United Kingdom.
Thousands of people gathered at Edinburgh Castle, Cardiff Castle and Hillsborough Castle in Belfast to hear the official announcement, although Charles officially became king when Queen Elizabeth II died Thursday.
The ceremonies took place as the late monarch's coffin left Balmoral Castle and traveled to Edinburgh on Sunday. Crowds also lined the roads in tribute to the queen as the funeral procession slowly wound through tiny villages and small towns from the remote castle in the Scottish Highlands.
Here's what happened:
Queen Elizabeth II's coffin arrived at Holyroodhouse in Edinburgh from Balmoral.
The queen's daughter, Princess Anne, accompanied the cortege as it slowly made its way to the throne room at Holyroodhouse Palace.
King Charles III met with the secretary-general of the Commonwealth, Patricia Scotland, who heads the central body that has served the group of former colonies since it was established in 1965.
Prince Andrew and his former wife, Sarah, the Duchess of York, will inherit the queen's corgis, according to a source close to the prince.
Follow here for live coverage.
Public art honors the queen at a familiar spot in London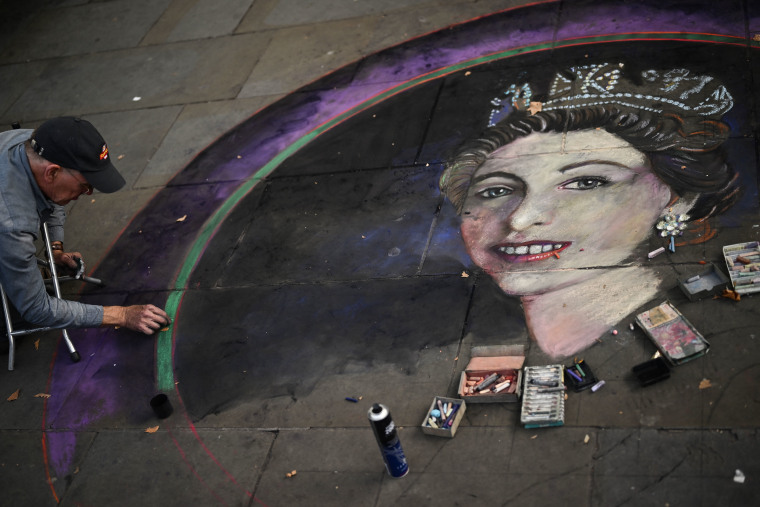 Queen Elizabeth's subjects get one final chance to pay respects at Palace of Westminster
The general public will be allowed to file past Queen Elizabeth's closed coffin in a round-the-clock operation that organizers warned could be physically taxing on mourners.
The queen's subjects and well-wishers will be able to stroll past the raised platform to glimpse her casket inside Westminster Hall in the Palace of Westminster from 5 p.m. BST Wednesday until 6:30 a.m. a week from Monday, the government announced Sunday.
"You will need to stand for many hours, possibly overnight, with very little opportunity to sit down as the queue will be continuously moving," a government statement said.
Larger bags, food and food containers will be strictly prohibited once mourners reach the Palace of Westminster, where they will be subjected to "airport-style" security screening, officials said.
King Charles meets with the Realm High Commissioners of U.K.'s Commonwealth nations
Newly crowned King Charles III greeted Realm High Commissioners at Buckingham Palace on Sunday in hope of maintaining the affiliation of former British-ruled lands that meant so much to his mother.
King Charles is the head of state in those countries, but Antigua and Barbuda is reportedly planning a referendum to possibly become a republic.
The House of Commons of Canada, one of the 14 realms, announced Saturday night that Parliament, originally set to reconvene for the fall term on Sept. 19, will push that to Sept. 20 in honor of Queen Elizabeth's funeral.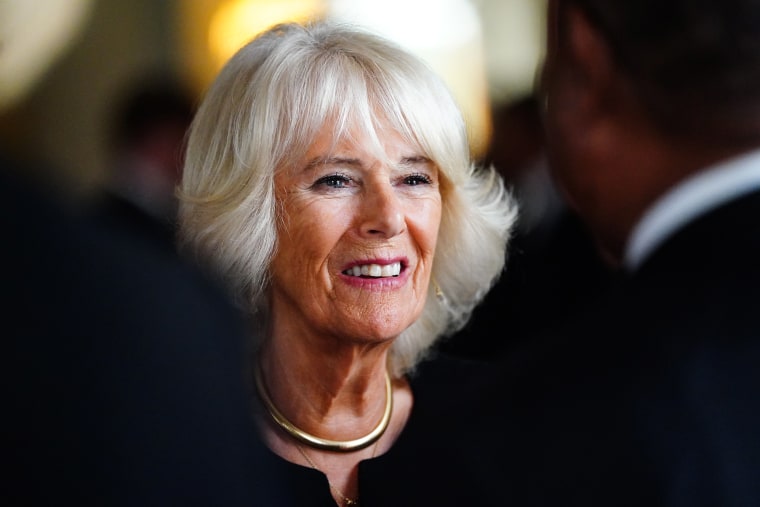 Preparations underway at Edinburgh's St. Giles' Cathedral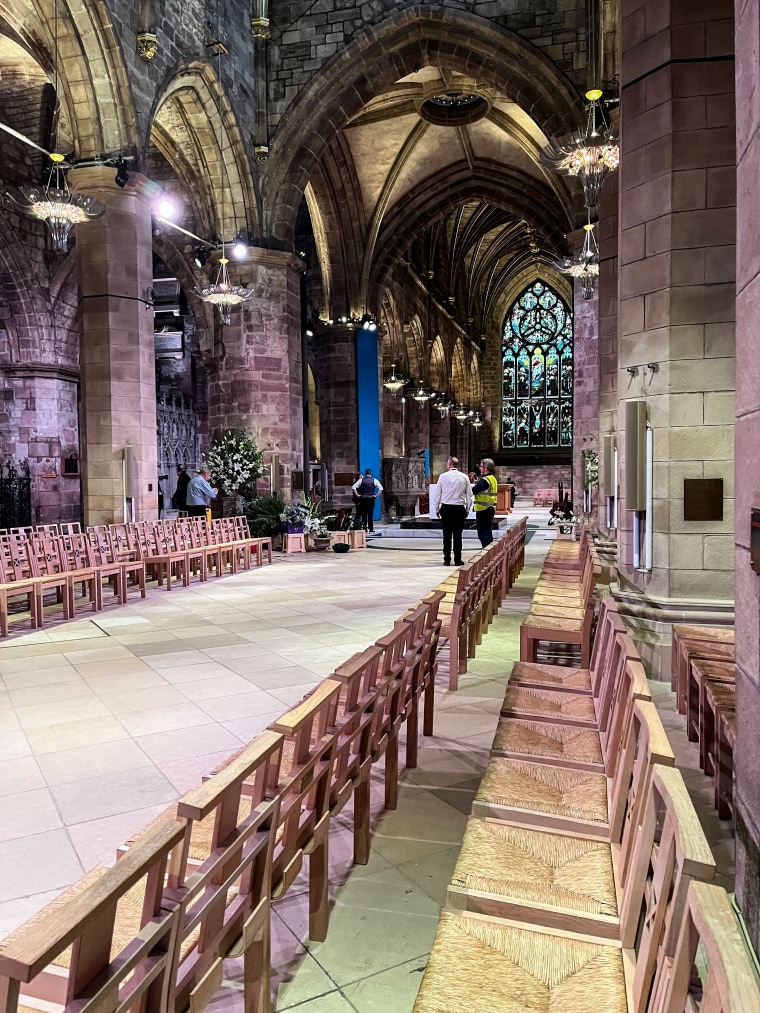 Preparations were underway at Edinburgh's St. Giles' Cathedral on Sunday, readying the house of worship for the arrival of the queen's casket Monday. It will be taken from Holyroodhouse in a procession to St, Giles' Cathedral, where it will lie at rest until Tuesday. Large crowds of mourners are expected to pay their respects.
Thousands turn out as Queen Elizabeth II's coffin arrives in Edinburgh
Crowds lined the streets of the Scottish capital as the queen's hearse passed by, with some people bursting into applause. Amid solemn ceremony, the coffin was then taken to lie in state in the throne room at Holyroodhouse Palace.
Sydney Opera House sings praises of the queen
The iconic Sydney Opera House paid tribute to the queen all weekend, shining her image on a shell of the architectural wonder's famed exterior.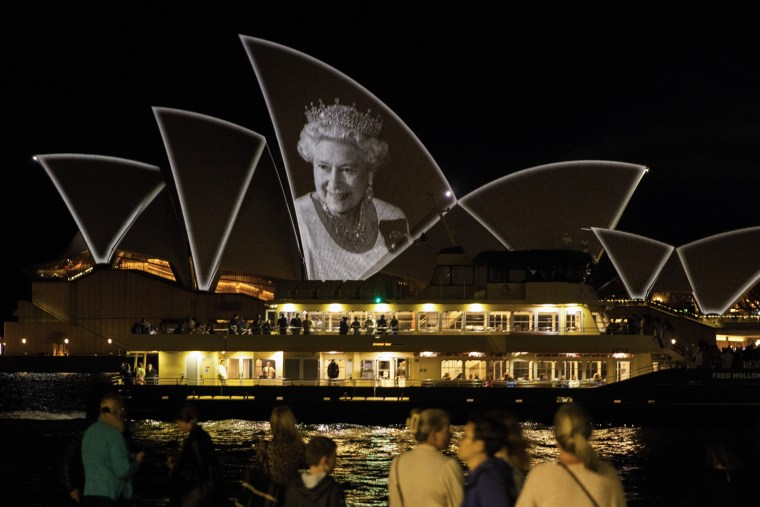 Queen Elizabeth II presided over opening ceremonies of the Sydney Opera House, one of the world's most famous and distinctive structures, in 1973.
Her death has already had an impact on Australian politics. Prime Minster Anthony Albanese said he would not call for a referendum on whether Australia should become a republic in his first term.
President Biden accepts invitation to attend the queen's funeral
President Joe Biden formally accepted an invitation Sunday to attend Queen Elizabeth II's funeral on Sept. 19. The first lady will accompany him to the service.
An emotional moment for some in the crowd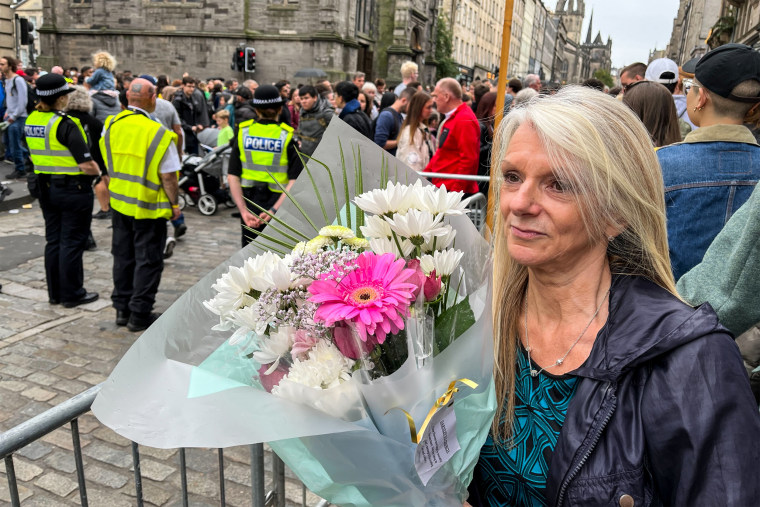 EDINBURGH, Scotland — For some in the crowd in the Scottish capital, seeing the coffin was a deeply emotional moment.
"I cried when I saw it," said Margory Young, 57, a nurse who traveled from the Scottish city of Glasgow to pay her respects. "We have never known life without her, so it was a moment in history and we had to see it."
Prince Andrew to inherit queen's corgis
The queen's corgis will be cared for by Prince Andrew and his former wife, Sarah, the Duchess of York, who live together in Windsor, according to a source close to the prince. 
It was Sarah who found the puppies, which the prince gave to the queen last year after Prince Philip died, the source said.
Biden recalls Queen Elizabeth II tribute at 9/11 commemoration
Speaking at the National Sept. 11 Pentagon Memorial, President Joe Biden recalled a message from the late queen after the attacks 21 years ago Sunday.
"I remember a message sent to the American people from Queen Elizabeth," he said. "It was on September 11. Her ambassador read a prayer of service at St. Thomas Church in New York, where she pointedly reminded us [that] 'grief is the price we pay for love.'"
The queen broke with tradition in 2001 by ordering that the U.S. national anthem be played outside Buckingham Palace two days after the attacks. In 2010, she traveled to ground zero in New York City to honor the victims and laid a wreath at the site.
Hearse carrying queen's coffin completes journey
EDINBURGH, Scotland — The appearance of a helicopter overhead sent a crackle through the dense crowd and then the hearse carrying Queen Elizabeth II arrived on Edinburgh's Royal Mile.
Some climbed on phone boxes, balconies and a staircase. Others leaned out windows eager to catch a glimpse. Many tried to capture the moment on their cellphones, some applauded. Minutes later it started to rain.
After the hearse stopped outside Holyroodhouse Palace, the official residence of the British monarch in Scotland, the coffin was carried into the throne room by members of the military.
The coffin will remain under continuous vigil for 24 hours, allowing the public to pay its respects.
Queen's coffin arrives in Edinburgh
A hearse carrying Queen Elizabeth II's coffin has completed its journey to Edinburgh after a six-hour drive from Balmoral estate.
The coffin will remain in Scotland until Tuesday, when it will be flown from Edinburgh to Buckingham Palace in London.
The hearse left Balmoral Castle Sunday morning, draped in the Royal Standard and adorned with a wreath of flowers.
Highway overpass filled with crowds of people in Scotland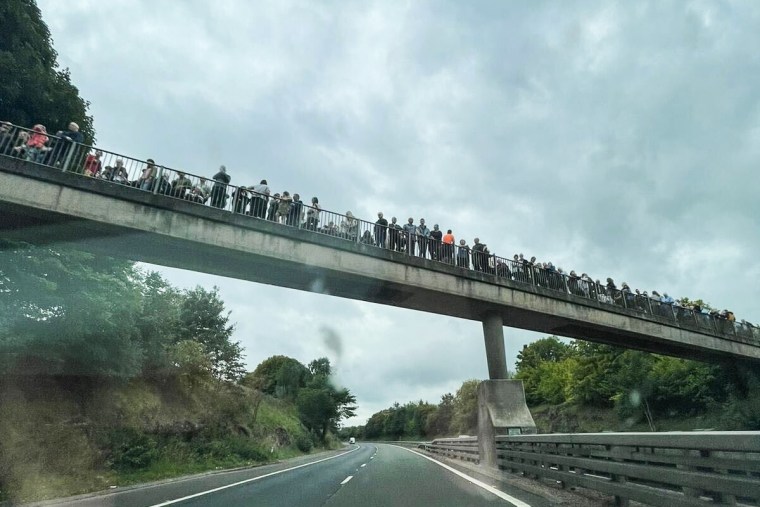 Anti-monarchists in Scotland turn their backs on king's proclamation
EDINBURGH, Scotland — Not everyone was deferential when King Charles III's proclamation was read aloud outside St. Giles' Cathedral in Edinburgh Sunday.
A group of anti-monarchist protesters — or republicans — turned their backs and shouted "no consent" during the proclamation, part of which declares that Scotland consents to Charles being declared king.
"We wanted to make it clear that there's more than one viewpoint in Scotland," said John Hall, 33, treasurer of the anti-monarchy campaign group One Republic. "I wanted to make sure that I made it clear I didn't consent to this pageantry."
Hall added there were a number of people in the crowd shouting similar messages. "It's nice to know I'm not the only one holding that viewpoint," he said.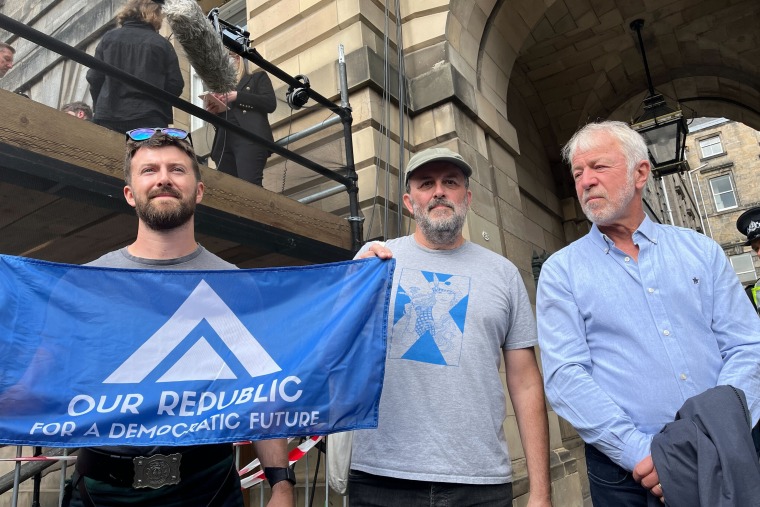 Crowds increase on Edinburgh's Royal Mile as queen's coffin nears Scottish capital
EDINBURGH, Scotland — With the crowds on Edinburgh's Royal Mile already three or four deep in places, Vivienne Evans, 29, and Raina Roche, 24, were slightly worried about what it would be like when Queen Elizabeth II's coffin arrived in the Scottish capital.
"I don't know what the response is going to be like when we see her coffin," said Evans, who is originally from London and goes to college in nearby Glasgow.
"I imagine it will be incredibly overwhelming for a lot of people," said Roche, a New Jersey native studying in London.
No kidding! Goat mascot attends King Charles III's proclamation in Wales
In Wales, an unusual guest appeared at the proclamation of Charles as king at Cardiff Castle — Shenkin IV, the mascot of the 3rd Battalion Royal Welsh, an infantry regiment of the British army. 
The battalion has kept a goat as a mascot since the Battle of Bunker Hill during the American War of Independence in 1775, according to the Royal Welsh Museum.
Queen Victoria allowed the new mascot to be chosen from the royal herd of Kashmir goats and the tradition has been followed until the modern day. Queen Elizabeth II gave Shenkin IV — who has a military rank of Lance Corporal and receives an income that contributes to his uniform and lodging — to the battalion in 2018.
Shenkin IV took four weeks to catch from the royal herd. Goat Major Sergeant Mark Jackson of the Royal Welsh said at the time it was the "cheeky look in his eye" that made him an ideal mascot.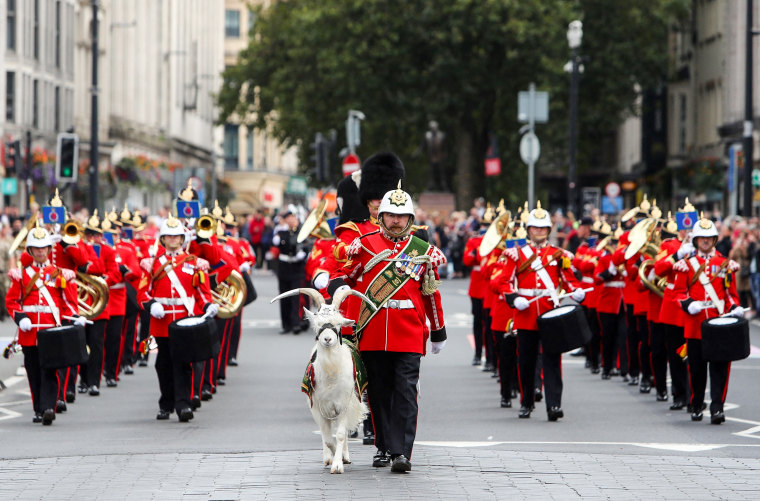 New Prince of Wales speaks with Welsh first minister
Prince William, newly named the Prince of Wales after his father's ascent to the throne, spoke on Sunday with the Welsh First Minister Mark Drakeford.
William told the official that he would serve the Welsh people with "humility and great respect," according to a statement released by Kensington Palace.  
"The prince acknowledged his and the princess's deep affection for Wales, having made their first family home in Anglesey including during the earliest months of Prince George's life," it added.
William and his wife, Catherine, Princess of Wales, intend to visit the country soon and to meet with Drakeford and other leaders, according to the statement.
Anti-royalists demonstrate outside Cardiff Castle in Wales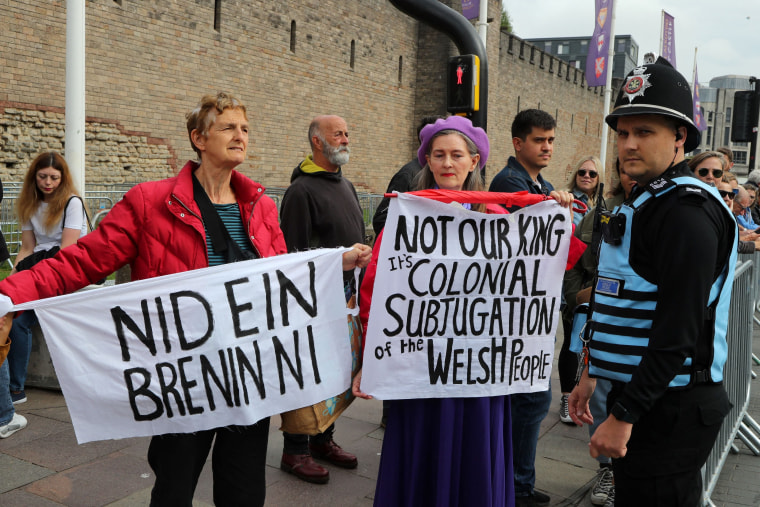 Antigua and Barbuda to hold republic referendum within 3 years
The prime minister of Antigua and Barbuda said he would call for a referendum on whether the his country should become a republic within three years.
The Caribbean country is one of 14 nations to retain the British monarch as their head of state, but after signing a document confirming Charles' status as the new king, he said he would push for a new poll.
"It does not represent any form of disrespect to the monarch. This is not an act of hostility, or any difference between Antigua and Barbuda and the monarchy," he told British broadcaster ITV News. "It is a final step to complete the circle of independence to become a truly sovereign nation."
Since Barbados became a republic in 2021, a number of other Caribbean countries, including the Bahamas, Jamaica and St. Kitts and Nevis, signaled they intend to do the same. 
Sharp shooters over Edinburgh cathedral ahead of queen's arrival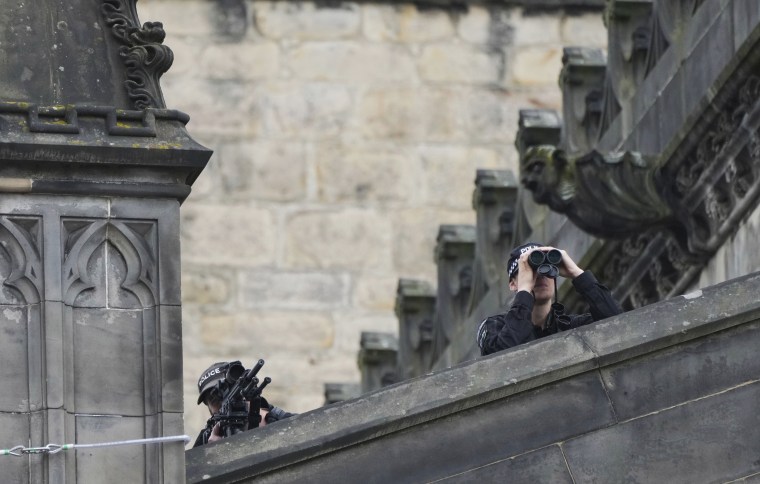 King arrives at Buckingham Palace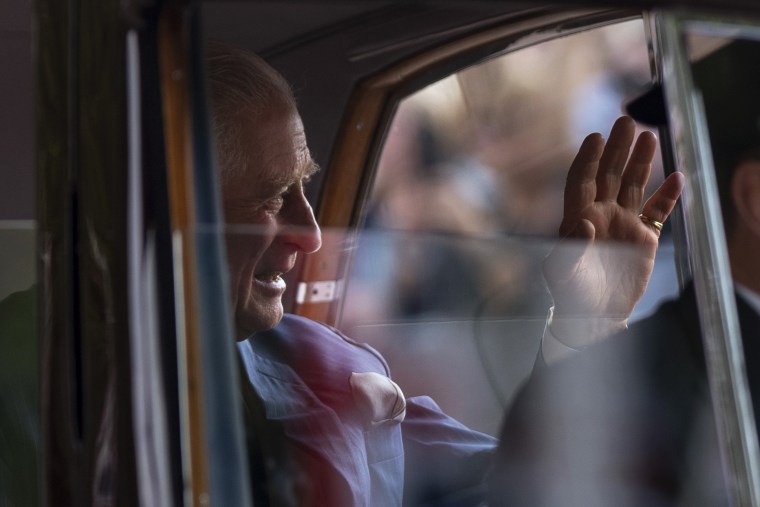 LONDON — Crowds lining the roads cheered as King Charles III arrived at Buckingham Palace Sunday afternoon.
The new king waved as his black car drove down The Mall and through the palace gates accompanied by a motorcade of four cars and four police motorbikes.
Onlookers shouted "God save the King" while one man teared up and said he would remember the moment for the rest of his life.
India holds national day of mourning
NEW DELHI — Flags at public places are flying at half-staff across India as the country held a national day of mourning for Queen Elizabeth II.
While some questioned why a symbol of colonial rule was being honored, others chose to focus on the person herself.
New Delhi shop owner Sameer Chaudhary, 50, told NBC News that the queen had a "terrific" reign but she symbolized the cruel colonial institution that devastated India.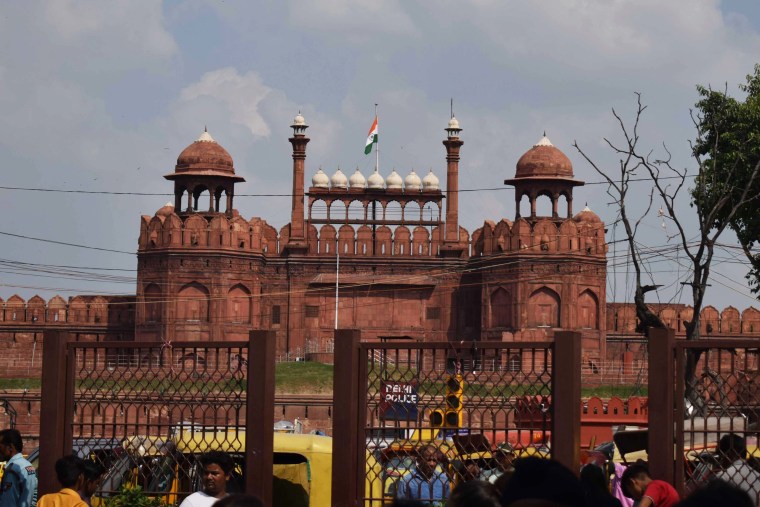 What is the Royal Standard draped over the queen's coffin?
The coffin of the late queen was draped in the Royal Standard of Scotland as it left Balmoral Estate, highlighting the monarch's personal and official connection to one of her favorite places.
The Royal Standard has taken various forms throughout history and varies from country to country.
In Scotland, it features Scottish arms in the first and fourth quarters and English arms in the second. The lion rampant is a nod to the Royal Banner of the Royal Arms of Scotland, the crown's official banner in Scotland.
In England, however, the standard bears four quarterings — England (represented by three lions) in the first and fourth quarters, Scotland (represented by a lion rampant) in the second quarter and Ireland (represented by a harp) in the third quarter.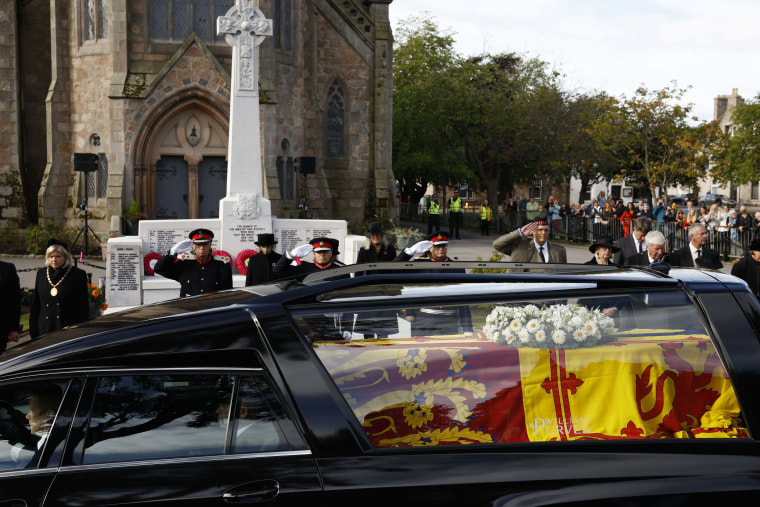 Crowds build outside Edinburgh cathedral
Andrew Lonie, 79, a retiree from Edinburgh, was among the swelling crowds outside the cathedral where Charles was officially proclaimed king of Scotland, Wales and Northern Ireland.
"I wanted to come and see it in person — I've never heard one before," said Lonie, who was 9 years old when the last new monarch took the throne. "It's a piece of history, and I'm just so glad I'm able to see it."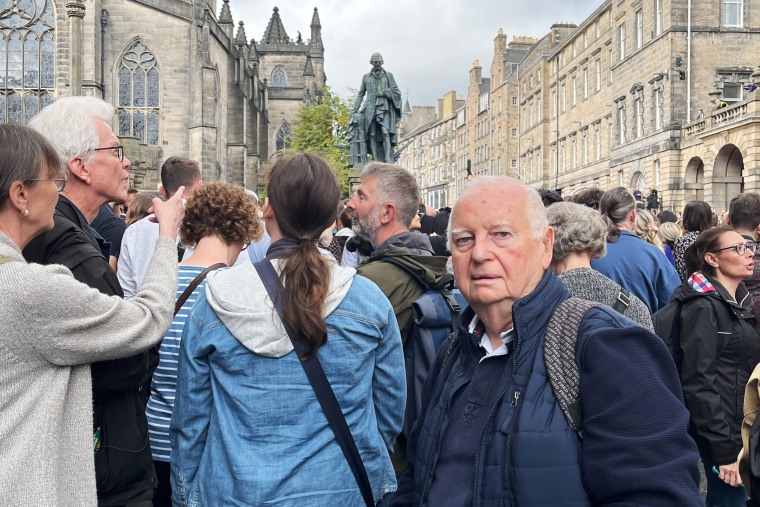 Charles proclaimed King of Scotland, Wales and Northern Ireland
A fanfare of trumpets was sounded in Scotland's capital, Edinburgh, Wales' capital, Cardiff, and Northern Ireland's capital, Belfast, before Charles was officially proclaimed king in all the three countries.
Thousands of people gathered at Edinburgh Castle, Cardiff Castle and Belfast's Hillsborough Castle to hear the official announcement, although Charles officially became king when Elizabeth died Thursday.
Many joined in as the national anthem, "God Save the King," was played and offered three cheers for their new monarch.
Afterward, 21-gun salutes resounded outside all three venues.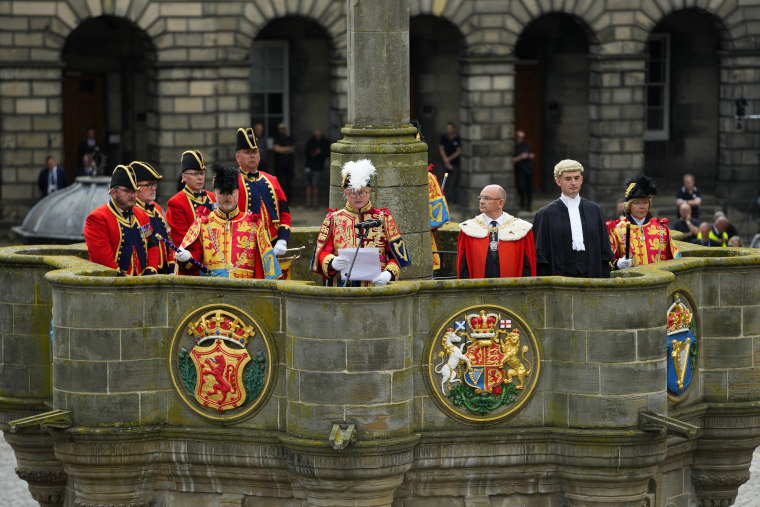 Wreath atop queen's coffin adorned with flowers from Balmoral
An elaborate wreath accompanied the coffin of Queen Elizabeth II, featuring flowers and leaves from her beloved Balmoral estate in Scotland.
It features dahlias, sweet peas, phlox, white heather and pine fir, the royal family said in a tweet.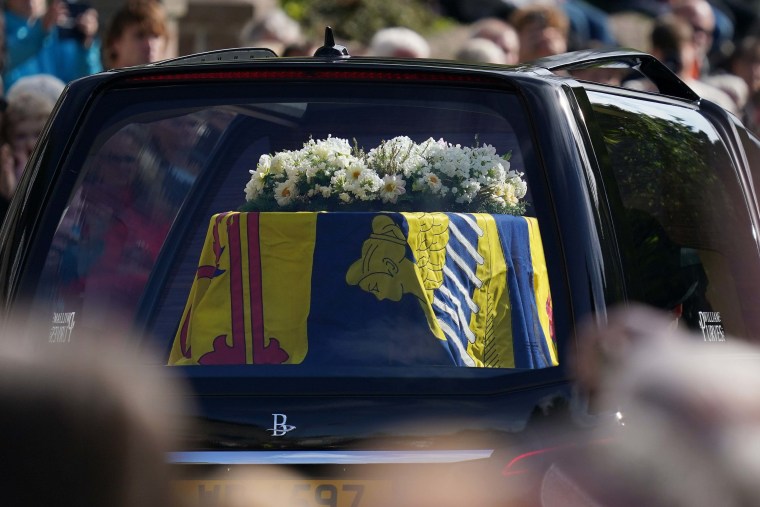 Flowers pile high at the gates of Balmoral Castle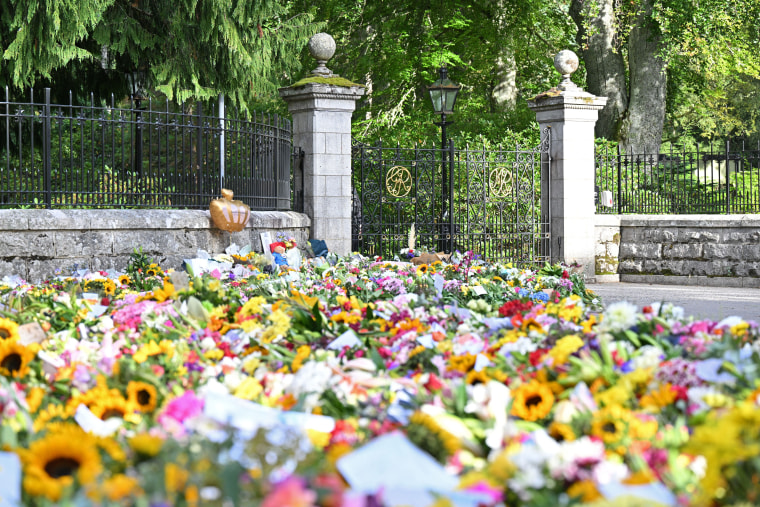 Australian prime minister will not hold referendum on country becoming a republic during his first term
With a pro-republic Labor Party government in power, Australia's constitutional ties to the British monarchy will again be open to debate for the first time since change was rejected in a 1999 referendum.
However, Prime Minister Anthony Albanese told British broadcaster Sky News he will not hold a referendum on whether Australia should become a republic in his first term. (Sky News is owned by Comcast, the parent company of NBC News.)
In his first international interview since the death of Queen Elizabeth II, Albanese said it was a moment to show gratitude for the Queen's "service to Australia, the Commonwealth and the world."
Queen Elizabeth II in 1954 became the only reigning British monarch to travel to Australia and went on to visit the country 16 times.
Scottish leader marks 'sad and poignant moment' as queen leaves Balmoral Castle
As Queen Elizabeth II's coffin embarked on its final journey from Balmoral Castle, Scotland's first minister posted a touching tribute to the late monarch.
"A sad and poignant moment as Her Majesty, The Queen leaves her beloved Balmoral for the final time. Today, as she makes her journey to Edinburgh, Scotland will pay tribute to an extraordinary woman," Nicola Sturgeon said in a tweet.
On Friday, Sturgeon was pictured signing a book of condolence the monarch.
'You'll always be remembered'
EDINBURGH, Scotland — The outer walls and gates of the Palace of Holyroodhouse, the official residence of the British monarch in Scotland, have been covered in row upon row of flowers, notes and even children's drawings mourning and thanking the late queen.
"You'll always be remembered in my house as an example on how to behave under all circumstances," one handwritten message said.
Another was written on a Portuguese flag. "Canada loves you forever," one said.
Fiona and Alex Herries laid flowers with their two young daughters. "We just thought it was important for the next generation to be part of this so they understand the significance of this moment in history," Fiona said.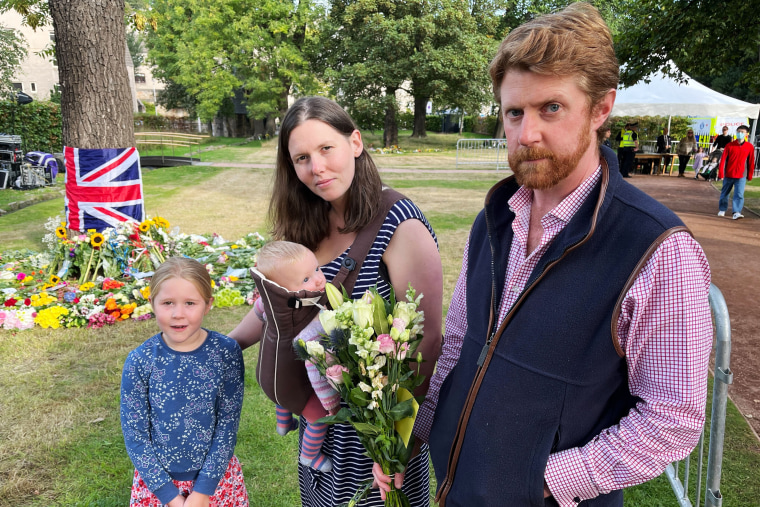 Knitted tribute to the queen placed on postbox in Scottish village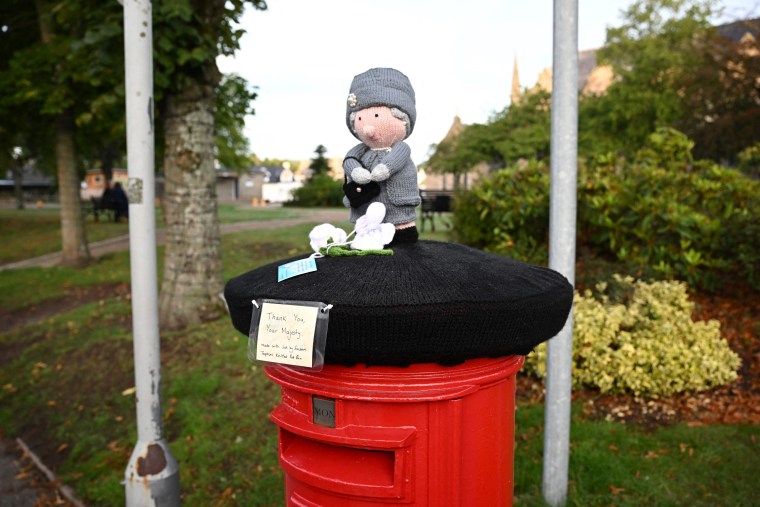 Children wave union flags as they wait for queen's funeral procession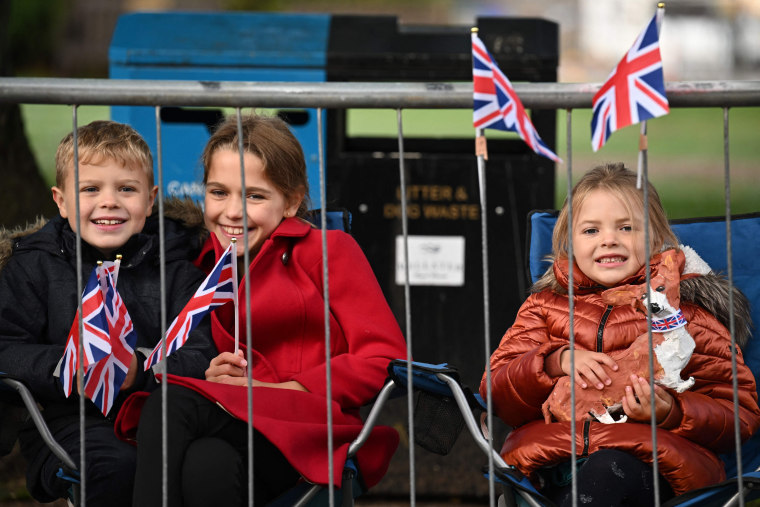 Queen's coffin leaves Scotland's Balmoral Castle
Draped in the Royal Standard, Queen Elizabeth II's coffin has left Balmoral Castle to begin its journey to Edinburgh, Scotland's capital.
It is the first time her coffin has been seen since her death on Thursday.
The hearse will wind its way through tiny villages and small towns from the remote castle in the Scottish Highlands before it is laid to rest in the throne room of the Palace of Holyroodhouse, the official residence of the British monarch in Scotland, until Monday afternoon.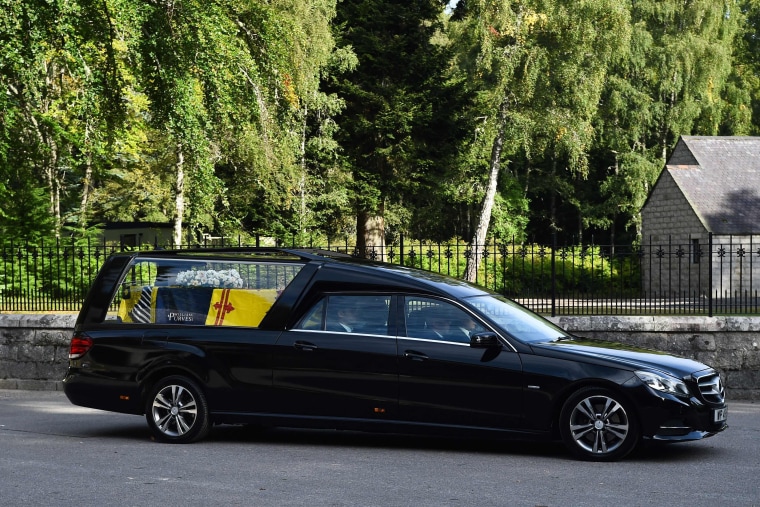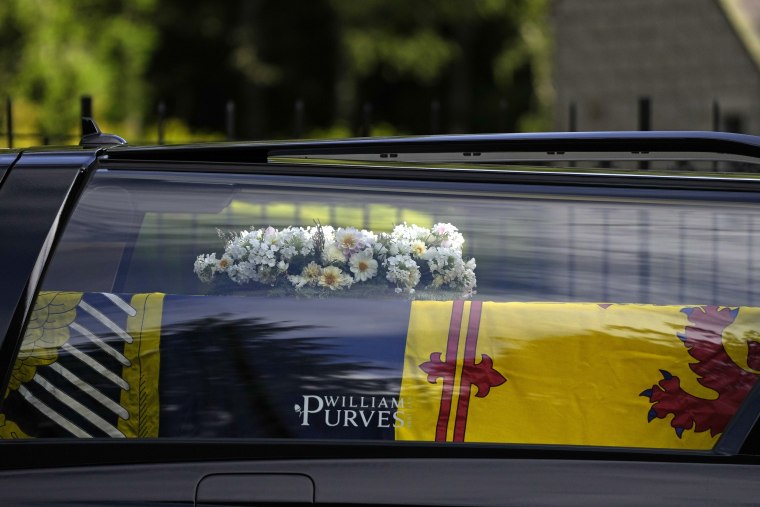 Royal reunion dominates British front pages
Images of Prince William, Prince Harry and their wives together for the first time in several months were splashed across the pages of British newspapers Sunday morning, with headlines proclaiming "peace" and unity for the sake of their grandmother.
On Saturday, the siblings walked together around a large flower memorial for the queen outside Windsor Castle, where they shook hands with members of the public and read handwritten notes left by mourners.
"William and Harry came together to mourn," The Independent said while tabloid, The People said they made "Peace for Gran."
Harry and Meghan stepped down as senior royals in 2020 while Prince William and Catherine, now Princess of Wales, carried on official duties.
Early mourners gather to see the queen's funeral procession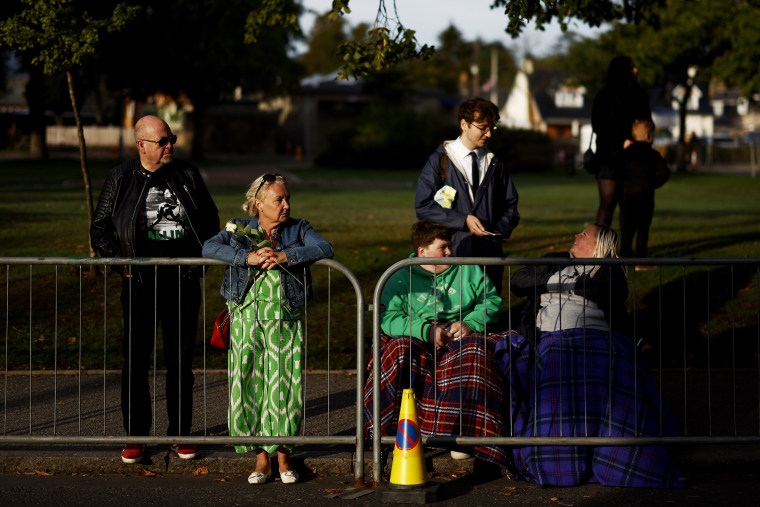 Remembrance services to be held for queen across U.K.
Remembrance services for Queen Elizabeth II will be held across the U.K. on the first Sunday after her death.
Special guidance has been issued by the Church of England on services during the period of mourning.
"Flags to be lowered to half mast, and to remain at this height until the day after the State Funeral," it says, adding that bells should be rung at a "practicable" time.
The queen was formally the Defender of the Faith and governor of the Church of England, titles dating back centuries that have now passed to her son.
Queen Elizabeth to leave Balmoral for the last time
On Sunday, the queen's coffin will be driven from Balmoral Castle, Royal Deeside, to the Palace of Holyroodhouse, Edinburgh, the official residence of the British monarch in Scotland. 
Public viewing of the vehicle will be possible along the route in Aberdeenshire, Aberdeen and Dundee, officials said.
The queen's coffin will be carried into the Throne Room at Holyroodhouse, where it will remain until Monday.
Proclamations for the queen will be read elsewhere in Scotland, in Northern Ireland and Wales.
Denmark's queen scales back her jubilee after Queen Elizabeth II's death
Following the death of Queen Elizabeth II, Denmark's Queen Margrethe canceled, postponed and scaled back events of her own jubilee this weekend in which she marks 50 years on the throne of Europe's oldest ruling monarchy.
Queen Margrethe, 82, whose reign is now Europe's longest, has praised Britain's late monarch as "a towering figure among European monarchs and a great inspiration to us all," adding that "We shall miss her terribly."
The Danish monarch also asked for a moment of silence Saturday evening before a gala performance at the Royal Theatre in Copenhagen.
Billboards around the world pay homage to Queen Elizabeth II
Displayed in a solid black background, images of the queen in her earlier years and in her 90s accompanied by the queen's initials could be seen across buildings in Manila, Philippines.
This is one of the many tributes seen across the world as people continue to commemorate the queen's legacy.