President Joe Biden on Tuesday announced the first wave of sanctions on Moscow as Russian President Vladimir Putin appeared to be stepping up aggressions toward Ukraine, moving troops into two breakaway areas of eastern Ukraine and asking lawmakers to authorize his using troops overseas.
Putin framed the troop movement as a "peacekeeping" effort, but the Kremlin's decision came after Russia massed some 150,000 troops on its neighbor's borders, triggering dire warnings from the West that an invasion was imminent and that Moscow was trying to create a pretext for an attack.
The Biden administration has begun describing Russia's movement of troops as "an invasion," and canceled a planned meeting between the country's top diplomats.
Follow our in-depth coverage of the Russia-Ukraine crisis here.
This liveblog has now ended - follow the latest version here.
Syria supports Russia in recognizing independence of breakaway regions
Syria has said it backs its ally Russia's decision to recognize two breakaway regions in eastern Ukraine as independent, Syrian state TV quoted the country's foreign minister as saying on Tuesday.
"Syria supports President Vladimir Putin's decision to recognize the republics of Luhansk and Donetsk," Foreign Minister Faisal Mekdad told an event in Moscow, according to The Associated Press.
The comments came as the United States and allies prepared to announce fresh sanctions against Russia on Tuesday following the development.
"What the West is doing against Russia is similar to what it did against Syria during the terrorist war," Mekdad reportedly said.
Syria has been a steadfast ally of Russia since the country launched its military campaign in Syria in 2015.
In a statement on Tuesday, the Syrian presidency said: "Syria affirms that it is ready to work on building relations with the republics of Luhansk and Donetsk and to strengthen them with regard to mutual interests."
China muted on Russia-Ukraine crisis
As the United States and a slew of other countries condemned Russia's actions in eastern Ukraine on Tuesday, China's response has been decidedly muted.
China has not explicitly supported or condemned Russia, which Beijing has been forging closer ties with in an effort to push back against the West, and instead called on all parties to exercise restraint and find a negotiated solution. 
"The security interests of any country should be respected and maintained. Real security should be common, comprehensive, cooperative and sustainable," Foreign Ministry spokesperson Wang Wenbin said at a regular news briefing on Tuesday. 
Wang did not answer a question on whether China recognized the independence of Donetsk People's Republic and Luhansk People's Republic, two Moscow-backed breakaway regions, saying the situation involved "complicated historic matters."
Earlier on Tuesday, Chinese Foreign Minister Wang Yi and U.S. Secretary of State Antony Blinken spoke by phone about developments in Ukraine and North Korea. Wang told Blinken that China was concerned about the worsening situation in Ukraine, and that the purposes and principles of the U.N. Charter should be upheld. His comments echoed those he made at the Munich Security Conference on Saturday.
China also declined to choose sides at an emergency meeting of the U.N. Security Council in New York on Monday. U.N. ambassador Zhang Jun instead called for diplomatic efforts toward "a reasonable solution that addresses each party's concerns on the basis of equality and mutual respect."
Earlier this month, Chinese President Xi Jinping and Russian President Vladimir Putin met in Beijing during the Winter Olympics. He was one of the few world leaders to attend the opening ceremony amid a diplomatic boycott.  In a joint statement released after their meeting, China supported Russia in its opposition to Ukraine's admission into NATO, the U.S.-led military alliance.
Germany moves to halt Nord Stream 2 pipeline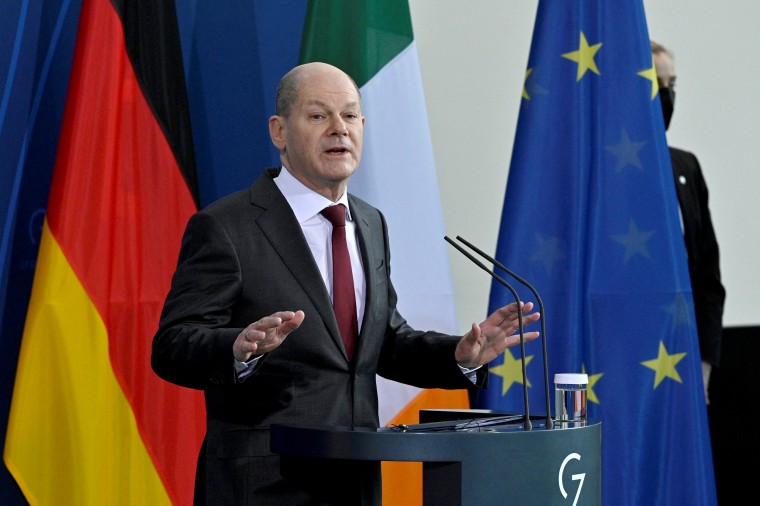 German Chancellor Olaf Scholz said Germany is taking steps to halt progress on the Nord Stream 2 gas pipeline following the latest developments in the Ukraine crisis.
Scholz told reporters on Tuesday that the pipeline would not be certified as the West looked to take punitive measures against Moscow. 
He said the government had decided to "reassess" the certification of the pipeline, which has not begun operating yet.
"It sounds a bit technocratic but this is the first necessary step to make sure that this pipeline cannot be certified at this point in time and without this certification Nord Stream 2 cannot operate," he said.
Germany relies on Russia for about a third of its natural gas, a dependency that would have only increased after Nord Stream 2. 
Scholtz said his government would "reassess to secure the supply and security of our country and will reassess the situation that has evolved over the last few days."
He also said it was "important to launch new sanctions now in order to prevent an escalation and a disaster."
"These are difficult hours for Europe and almost 80 years after the end of the Second World War, we might see a new war in Eastern Europe," he warned, adding: "It is our task to avert such a disaster and I call upon Russia once more to contribute their share."
Critics including Ukraine have accused Germany of not contributing enough to the efforts to counter Russian threats.
European Union foreign policy chief says Russia sending troops not a 'fully-fledged invasion'
European Union foreign policy chief Josep Borrell said Tuesday that Russian troops "have entered" eastern Ukraine's Donbas region, but said the move did not represent a "fully-fledged invasion."
"I wouldn't say that (it is) a fully-fledged invasion, but Russian troops are on Ukrainian soil," Borrell said Tuesday, according to the Associated Press. 
He added that E.U. foreign ministers would meet Tuesday to decide what sanctions to impose following Russia's decision to formally recognize two separatist regions as independent.
Zelenskyy to consider severing diplomatic relations with Russia
Ukrainian President Volodymyr Zelenskyy has said he will weigh the possibility of severing diplomatic relations with Russia. 
Speaking at a news conference on Tuesday, Zelenskyy said he had received a request from the Ministry of Foreign Affairs to "consider the issue of severing diplomatic relations between Ukraine and Russia."
He said that following the news conference, he would "look at and work on this issue, and not only this issue, but our effective steps countering the escalation coming from the Russian Federation."
After Russia formally recognized the independence of two breakaway regions, he said: "We understand all the risks." 
U.S., Russia trade accusations at Security Council
People of self-proclaimed Donetsk People's Republic celebrate Monday after being recognized by Russia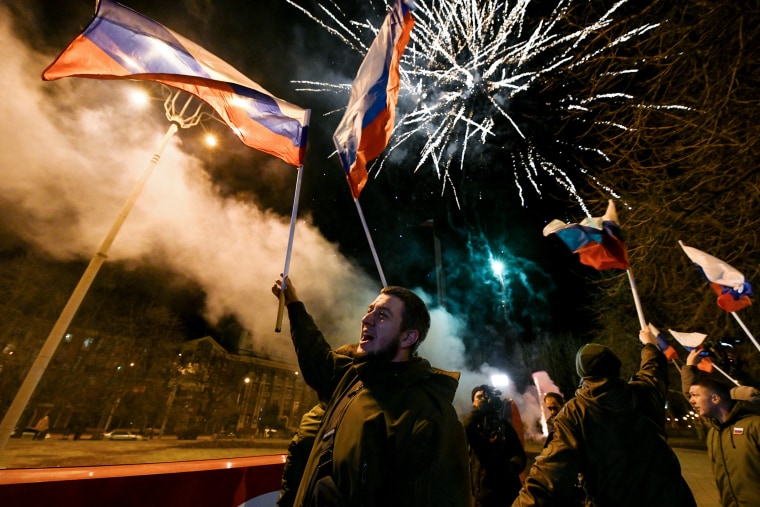 Ukraine 'ready and able to defend ourselves,' defense minister says
Ukraine's defense minister has said his country is "ready and able to defend ourselves and our sovereignty" as he appeared to call for sanctions from the international community. 
In a statement on Tuesday, Oleksii Reznikov said Ukraine remained "confident and calm" after Russian President Vladimir Putin recognized the independence of two breakaway states in eastern Ukraine. 
"We are ready and able to defend ourselves and our sovereignty," he said in a Twitter statement, adding that the "world cannot be silent."
In a separate statement, he said: "There are difficult challenges ahead. There will be losses."
"We will have to go through pain, overcome fear and despair," Reznikov said.
2,000 ceasefire violations in Ukrainian breakaway regions over weekend, security organization says
The world's largest regional security organization recorded a rise over the weekend in the number of ceasefire violations in the two Moscow-backed breakaway regions that Russian President Vladimir Putin recognized as independent on Monday.
In a statement Tuesday, the Organization for Security and Co-operation in Europe's special monitoring mission to Ukraine it said it had recorded at least 2,158 ceasefire violations, including 1,100 explosions in the Donetsk region between the evenings of Friday and Sunday. 
In the previous reporting period, it said it had recorded 591 ceasefire violations in the region. 
Meanwhile, in the Luhansk region, it said it had recorded 1,073 ceasefire violations, including 926 explosions, over the same time period. In the previous reporting period, it said it had recorded 975 ceasefire violations in the region.
The rise in ceasefire violations came ahead of Putin's decision Monday to order troops into Ukraine just hours after formally recognizing the independence of the self-proclaimed "Donetsk People's Republic" and "Luhansk People's Republic," which have been controlled by Russian-backed separatists since 2014.
Separatist leaders for the regions had called for evacuations of civilians to Russia last week, warning of an imminent Ukrainian offensive.
Ukraine repeatedly denied any such plans, while its Western allies accused Moscow of attempting to create a pretext for an invasion.
U.S. to announce sanctions against Russia Tuesday
The United States is set to announce new sanctions against Russia on Tuesday in coordination with its allies after Moscow recognized two breakaway regions of Ukraine as independent and sent forces to the area, U.S. officials have said. 
"Tomorrow, the U.S. will impose sanctions on Russia for its violation of international law and Ukraine's sovereignty and territorial integrity," U.S. Ambassador to the United Nations Linda Thomas-Greenfield said in a statement on Twitter Monday night. 
"We can, will, and must stand united in our calls for Russia to withdraw its forces, return to the diplomatic table & work toward peace," Greenfield said. 
In a separate post, Greenfield also struck out at Russia's characterization of troops sent to Ukraine's Donbas region as "peacekeepers." 
"President (Vladimir) Putin ordered troops into the Donbas, calling them peacekeepers. This is nonsense. We know what they really are," the ambassador said. "In doing so, he has put before the world a choice. We must meet the moment, and we must not look away."
The expected sanctions come after President Joe Biden signed an executive order Monday imposing sanctions targeting the two Russia-backed breakaway regions in eastern Ukraine after Putin recognized the regions as independent.
Putin orders troops to eastern Ukraine
Late Monday night, Russian President Vladimir Putin ordered troops into Ukraine, just hours after he formally recognized the independence of two Moscow-backed breakaway regions in the eastern part of the country.
The order was seen by the United States and its European allies as a dramatic provocation after weeks of warnings that Moscow was trying to create a pretext to invade its neighbor. It led to the U.S. and the European Union announcing sanctions targeting the two areas, with more set to follow, and drew condemnation at an emergency meeting of the United Nations Security Council.
Putin framed the troop movement as a "peacekeeping" effort in both regions. The move came after days of escalation in the ongoing conflict between Kyiv's forces and Russian-backed separatists in Ukraine's east — and hours after he delivered a lengthy speech presenting his view of the relationship between the two nations.
Many experts believed Moscow's formal recognition would effectively scuttle a previous cease-fire agreement in the conflict, which has been ongoing since Russia annexed Ukraine's Crimean Peninsula and moved to back the separatists in 2014.
Read full story here
Why a Ukraine incursion could be a problem for Putin