This event has ended. For more updates check here.
Pope Francis tells politicians to examine their consciences before God over Ukraine crisis
Pope Francis said Wednesday that the threat of war in Ukraine has caused "great pain in my heart" as he urged politicians to make a serious examination of conscience before God about their actions.
In comments made at the end of his weekly general audience, Francis implored leaders to refrain from making choices that could lead to further suffering, according to a translation by Reuters.
He also proclaimed Ash Wednesday, March 2, as an international day of fasting and prayer for peace.
Putin says Russia open to 'diplomatic solutions,' but own interests come first
Russia's President Vladimir Putin has suggested Moscow is open to "diplomatic solutions" on the situation in Ukraine. However, he said Russia's interests would come first. 
Putin made the comments in a video address Wednesday marking the Defender of the Fatherland Day, a public holiday in Russia. 
"Our country is always open for direct and honest dialogue, for the search for diplomatic solutions to the most complex problems," Putin said.
"But I repeat: the interests of Russia, the security of our citizens are unconditional for us," he said. "Therefore, we will continue to develop and improve the army and navy, to ensure that their efficiency is increased, that they are equipped with the latest technology."
During his address, Putin thanked "comrades" and veterans, saying he was confident "in the soldiers and officers of Russia, in your high professionalism, courage, reliability, that you will protect the peace and tranquility of our citizens, and defend the national interests of our great country."
Ukraine tells its citizens in Russia to leave 'immediately'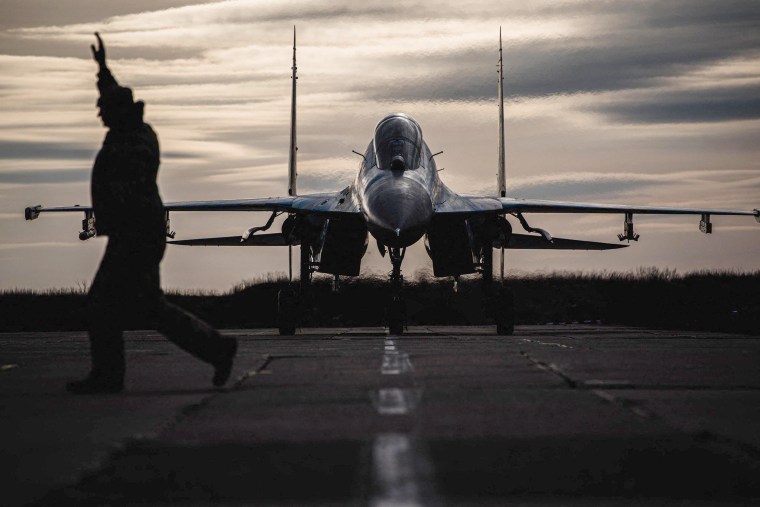 Ukraine has told its citizens in Russia to leave "immediately" as it warned nationals to also avoid any travel to the country in the midst of the unfolding crisis.
Ukraine's Ministry of Foreign Affairs issued the warning on Wednesday amid what it called the "intensification of Russian aggression against Ukraine."
Warning that the latest developments in the unfolding crisis could lead to "significant restrictions on the provision of consular assistance in the Russian Federation," the ministry recommended that all Ukrainian citizens refrain from traveling to Russia.
Those already in the country, it said, should "leave its territory immediately."
"We emphasize that ignoring these recommendations will significantly complicate ensuring proper protection of Ukrainian citizens in the Russian Federation," it added.
Ukraine calls on allies to ramp up pressure on Putin and 'cronies': 'Hit hard, hit now'
Ukraine's foreign affairs minister has called on the country's allies to ramp up pressure on Russia with "more sanctions" targeting its economy and President Vladimir Putin's "cronies."
"To stop Putin from further aggression, we call on partners to impose more sanctions on Russia now," Dmytro Kuleba said in a statement Wednesday morning on Twitter. 
"First decisive steps were taken yesterday, and we are grateful for them," he said. "Now the pressure needs to step up to stop Putin. Hit his economy and cronies. Hit more. Hit hard. Hit now."
It comes after the U.S. and allies announced new sanctions against Russia after Putin formally recognized the independence of two separatist regions in eastern Ukraine and sent troops to the area,
A military truck drives down a street outside Donetsk, in territory controlled by pro-Russian militants in eastern Ukraine, late Tuesday.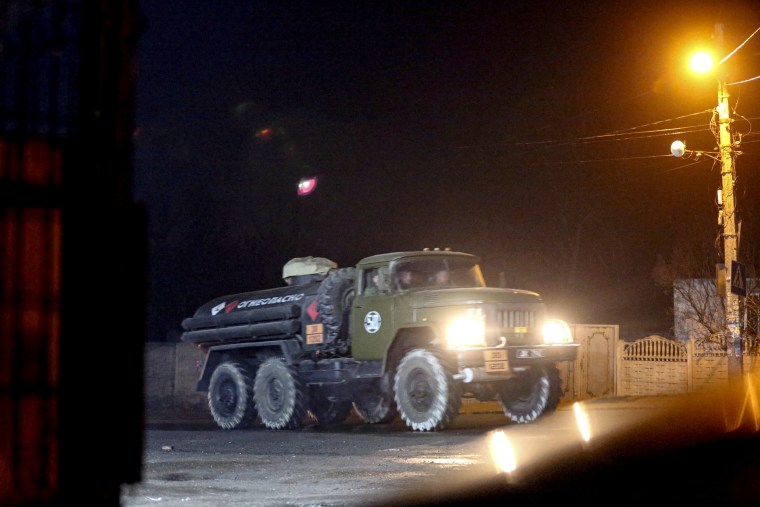 Sanctions 'cannot solve a thing,' Russian ambassador to U.S. says
Russia's ambassador to the United States has said sanctions "cannot solve a thing" after the U.S. and allies announced new sanctions against Russia after it recognized the independence of two separatist regions in eastern Ukraine and deployed troops to the area.
In comments published to the embassy's Facebook page Tuesday evening, ambassador Anatoly Antonov said that "for seven years, Americans did nothing to convince the Ukrainian leadership of the need to implement the Minsk agreements," referring to the series of international agreements which seeking to end the war in Ukraine's Donbas region.
Now, he said, the U.S. has "chosen a different strategy here — to pump the Kiev regime with 'weapons' and push it to a war."
"Not everyone can learn lessons from history," he said. "As concerns Russia, sanctions cannot solve a thing."
"It is hard to imagine that there is a person in Washington who expects Russia to revise its foreign policy under a threat of restrictions," he continued. "I don't remember a single day when our country lived without any restrictions from the Western world. We have learned to work in such conditions. And not only to survive, but also to develop our state."
1 Ukrainian soldier killed, six injured in fresh shelling, Ukraine government forces say
The Ukrainian government's Joint Forces Operation said Wednesday that at least one soldier died, while at least six others were injured, in shelling over the past 24 hours. 
The Joint Forces Operation said on Facebook it had recorded at least 96 shellings in the 24-hour time span. At least 81 of the shelling was carried out with the use of heavy weapons, it said, while not saying where the fighting took place.
One Ukrainian serviceman received fatal shrapnel wounds, it said. Another soldier was injured and in hospital, while five more also received combat injuries, it said.
The violence comes after Russian President Vladimir Putin formally recognized the independence of two separatist regions of Ukraine before sending troops into the area.
Taiwan says it must be on heightened military alert
Taiwanese President Tsai Ing-wen held a meeting on Wednesday to discuss the crisis in Ukraine, which has raised fears that it may embolden Beijing in its territorial claims on the self-governing island.
Tsai condemned Russia's actions in Ukraine as a violation of its sovereignty and called on all parties to resolve the dispute peacefully, according to a statement on her Facebook page. She was speaking at a meeting of a Ukraine working group formed under Taiwan's national security council.
She also said Taiwan's military and security forces must heighten their surveillance around the Taiwan Strait "to ensure national security." 
While the situations in Ukraine and Taiwan are fundamentally different in terms of geography, geopolitics and relative importance in the international supply chain, Tsai said, the government is working to combat misinformation and maintain morale in Taiwanese society.
Ma Xiaoguang, spokesman for China's Taiwan Affairs Office, told reporters on Wednesday that Taiwan and the West were using the situation in Ukraine to "maliciously hype" the military threat to the island and stoke opposition to China. 
Chinese Foreign Ministry spokeswoman Hua Chunying said Wednesday that Taiwan is "not Ukraine."
"Taiwan has always been an inalienable part of China's territory," she said. "This is an irrefutable historical and legal fact."
Taipei's representative in Washington told NBC News earlier that Taiwan was watching events in Ukraine with "much concern and anxiety."
But in a survey conducted last week by the Taiwanese Public Opinion Foundation, more than 60 percent of respondents said they did not believe Beijing would invade Taiwan in the event of Russian-Ukrainian conflict.