This event has ended. For more updates check here.
Twitter suspends some accounts reporting on Russian military
Twitter has suspended or locked the accounts of at least 15 users who were tracking Russian military movements on the platform.
The accounts are part of a relatively new form of journalism that uses the internet to gather images and video (also known as open-source intelligence, or OSINT) in an effort to track and report on violent conflicts. Many of these accounts have been tracking Russian military movements — information that the Russian military might have found problematic if they launched an attack.
Many tech companies use automated systems to moderate their platforms, which can be tricked into banning legitimate accounts through a coordinated flood of false claims. 
A spokesperson for Twitter said the company has reinstated some accounts that were mistakenly suspended.
"We've been proactively monitoring for emerging narratives that are violative of our policies, and, in this instance, we took enforcement action on a number of accounts in error," the spokesperson said in an email. "We're expeditiously reviewing these actions and have already proactively reinstated access to a number of affected accounts."
The spokesperson added that the suspensions were not the result of a "coordinated bot campaign" or "mass reporting."
First round of E.U. sanctions take effect
A first round of European Union sanctions went into effect Wednesday targeting Russian politicians and blocking trade between two breakaway regions in eastern Ukraine that were recognized as independent by Moscow this week.  
All 351 legislators in Russia's Duma, or parliament, who voted in favor of formally recognizing pro-Russian separatist regions in Ukraine had any assets they had in the E.U. frozen, the 27-nation bloc said in a news release. They were also prevented from traveling to E.U. countries.  
Banks involved in financing separatist activities in eastern Ukraine as well as 27 other individuals were also targeted with restrictive measures. 
The self-proclaimed "Donetsk People's Republic" and "Luhansk People's Republic" will also be removed from a free-trade deal between the E.U. and Ukraine.
Pyotr Tolstoy, the deputy chairman of the Duma, told the Belgian broadcaster RTBF the sanctions were "worthless" and Moscow is planning a response. He did not give details. 
European Council president calls for emergency meeting
Charles Michel, president of the European Council, called for an emergency summit of European Union leaders to take place Thursday, according to a letter obtained by CNBC. 
The letter was sent to 27 member-state leaders, who will meet in Brussels. 
"The use of force and coercion to change borders has no place in the 21st century," Michel wrote.
He continued that Russia's actions "violate international law and the territorial integrity and sovereignty of Ukraine" as well as "undermine the European security order."
Michel added that at the meeting, he plans to discuss latest developments, protecting the "rules-based" international order, how to "deal with Russia," and how to support Ukraine.
Leaders of Ukraine, Lithuania and Poland call on Russia to 'de-escalate' and withdraw forces
The presidents of Ukraine, Lithuania and Poland called on Russia Wednesday to "de-escalate" and "withdraw its armed forces deployed around Ukraine's borders and in temporarily occupied territories of Ukraine." 
In a statement issued after a meeting in Kyiv, Presidents Volodymyr Zelenskyy of Ukraine, Gitanas Nauseda of Lithuania, and Andrzej Duda of Poland expressed their "strongest condemnation" of Russia's decision to recognize two separatist regions in eastern Ukraine as independent. 
"This unprovoked aggressive step by Russia constitutes yet another blatant violation of the fundamental norms and principles of the international law, including the U.N. Charter, as well as security assurances given to Ukraine in the framework of the 1994 Budapest Memorandum," they said. "Russia deliberately and unilaterally has withdrawn from the Minsk agreements and therefore bears full responsibility for further deterioration of the security situation on the ground."
In addition to calling upon the international community to take "resolute and far-reaching steps" in response to Russia's actions, the world leaders urged Russia to de-escalate the situation and "refrain from taking any further military actions."
"The Presidents of Lithuania and Poland stand by Ukraine and fully commend and support its efforts to solve Russian-Ukrainian conflict by diplomatic and peaceful means," they added.
Ukrainian websites hit by cyberattack
At least five Ukrainian websites were slowed or rendered inaccessible by a cyberattack on Wednesday, the country's minister of digital transformation, Mykhailo Fedorov, said on his Telegram channel.
The websites of the Cabinet of Ministers and Ministry of Foreign Affairs as well as those of a number of banks were hit with a distributed denial of service (DDoS) attack, Fedorov said. DDoS attacks are a simple tactic to overwhelm a website with massive amounts of traffic.
The attack echoes a similar one last week, which Ukraine and the U.S. attributed to Russia. That case appeared to have been a hybrid information warfare tactic designed to harass Ukrainians and sow distrust about their financial systems. Hackers knocked out the websites of two major banks while simultaneously sending many Ukrainians spam text messages that informed them ATMs were down.
Ukrainian frontier guards patrol an area along the Ukrainian-Russian border in the Kharkiv region on Wednesday.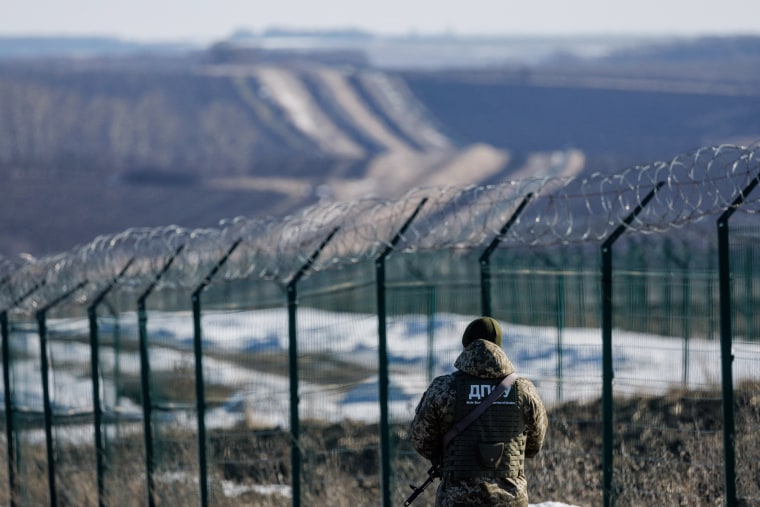 Russia says sanctions 'will not affect our resolve' as it warns of strong response
Russia has remained defiant in the face of fresh sanctions from the United States and other Western nations, saying the penalties will "not affect our resolve to keep standing up for our interests" as it warned of a "strong response."
In a statement Wednesday, Russia's foreign ministry said the new sanctions were "in line with Washington's unceasing attempts to change Russia's course." 
"Despite the obviously barren efforts that have been taken over many years to halt the development of our economy, the USA are grabbing the restricting instruments again, which are ineffective and counterproductive for the America's own interests," the ministry said, adding that "Russia has proved that it can minimize the losses of these sanctions."
The foreign affairs ministry said the U.S. was following a "false conviction" that it "still has the right to impose its own rules of the world order."
The ministry said Russia was open "only toward diplomacy that is based on principles of mutual respect, equality and consideration of each other's interests."
It also said there would be a "strong response" to the sanctions. "Not necessarily a symmetrical one, but measured and considerable for the American side."
Russia reportedly begins evacuating diplomatic staff from Ukraine
Russia has begun evacuating diplomatic staff from all of its diplomatic facilities in Ukraine, the state-owned TASS news agency reported. 
Citing a representative of Russia's embassy in Kyiv, TASS said the evacuations had begun Wednesday. The development came after Russia's Ministry of Foreign Affairs said in a tweet earlier in the day that evacuations would begin "soon."
On Tuesday, the ministry said it had made the decision to pull its diplomatic staff from Ukraine "to take care of Russian diplomats and employees of the Embassy and Consulates General."
Former Ambassador McFaul warns a Russian invasion will 'probably be the largest war in Europe since 1939'
Former U.S. Ambassador to Russia Michael McFaul warned in an interview on NBC's "TODAY" show that the steps taken by the West to respond to Russia are not enough to stop Russian President Vladimir Putin. 
Asked what the U.S. and NATO have in their arsenal to respond to Russia, McFaul said, "Tragically, let's be honest, not very much."
McFaul said President Joe Biden has ruled out going to war with Russia and said he has played his cards well. Sanctions are coming, which McFaul said will be "difficult" for the Russian economy. The U.S. has given military assistance to the Ukrainians and has bolstered NATO's frontline forces, he added. 
"But having said all that, that is not enough to deter Putin," he said. "Tragically, I think he's going to go in, and he's going to go in big, and this will probably be the largest war in Europe since 1939."
Leaders of Pakistan and Sudan head to Moscow amid Ukraine crisis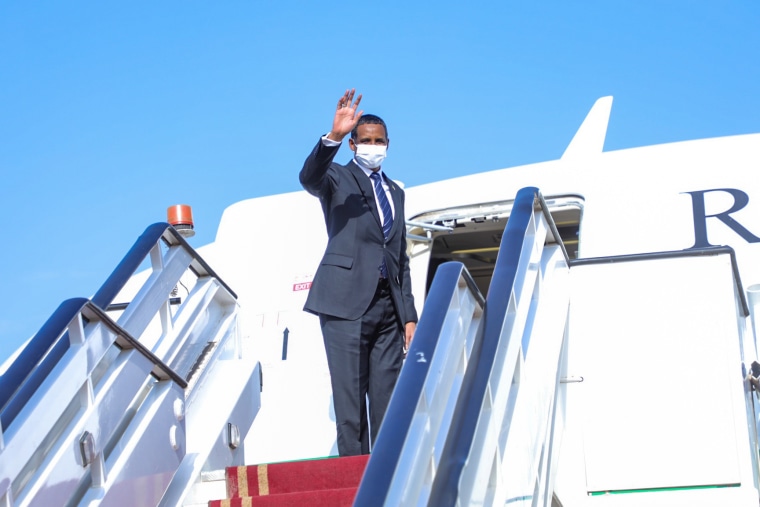 As the West announced heavy sanctions against Russia, condemning its decision to formally recognize the independence of two separatist regions and send troops into the area, officials from other nations made their way to Moscow, with Sudan looking to "advance relations."
On Wednesday, Gen. Mohamed Hamdan Dagalo, the deputy head of Sudan's ruling council, said in a tweet that he hoped to strengthen ties with Russia as he headed to Moscow in the latest in a string of foreign trips. 
Widely known as Hemedti, Dagalo made the trip as Russia faced condemnation and heavy sanctions from the West after recognizing the independence of two separatist regions in eastern Ukraine and ordering troops into the area.
"Through this visit, we hope to advance relations between Sudan and Russia to broader horizons, and strengthen the existing cooperation between us in various fields," Dagalo said in a tweet Wednesday, according to a translation by Reuters. 
Meanwhile, Pakistan Prime Minister Imran Khan was set to leave Wednesday for a two-day visit to Russia. Pakistan's foreign office said he was visiting on the invitation of Russian President Vladimir Putin. 
Faisal Javed Khan, a senator in Pakistan and a member of the ruling Tehreek-e-Insaf party, said in a tweet that the meeting would "review the entire array of relations (between) the two countries," including on energy cooperation and trade.
Calling the trip a "game-changer," he said it was the first visit by a serving Pakistani prime minister to Russia in more than 20 years.
Vladimir Putin attends a wreath-laying ceremony at the Tomb of the Unknown Soldier by the Kremlin wall to mark the Defender of the Fatherland Day in Moscow on Wednesday.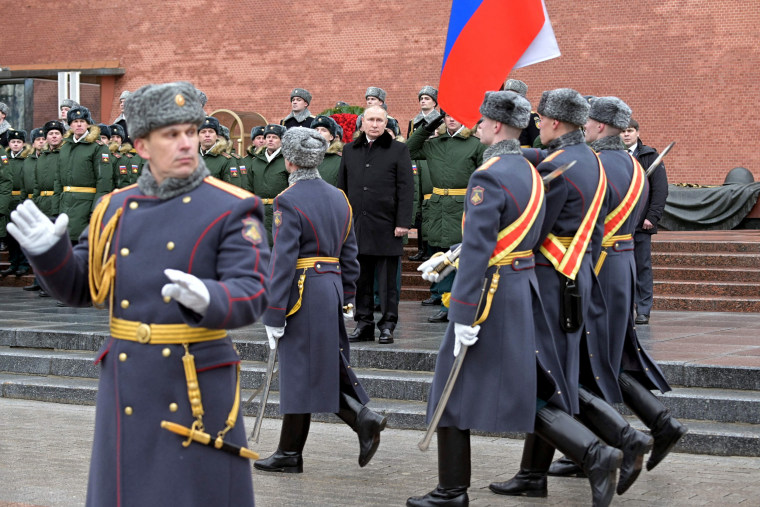 China says it won't join sanctions against Russia
China said Wednesday that it would not join the U.S. and other Western countries in sanctioning Russia over its actions in Ukraine.
"Sanctions have never been a fundamentally effective way to solve problems," Foreign Ministry spokeswoman Hua Chunying said Wednesday. "China always opposes any illegal unilateral sanctions."
Hua repeated Beijing's earlier for all parties to exercise restraint and try to resolve the dispute through dialogue and negotiation.
Ukraine moves to impose state of emergency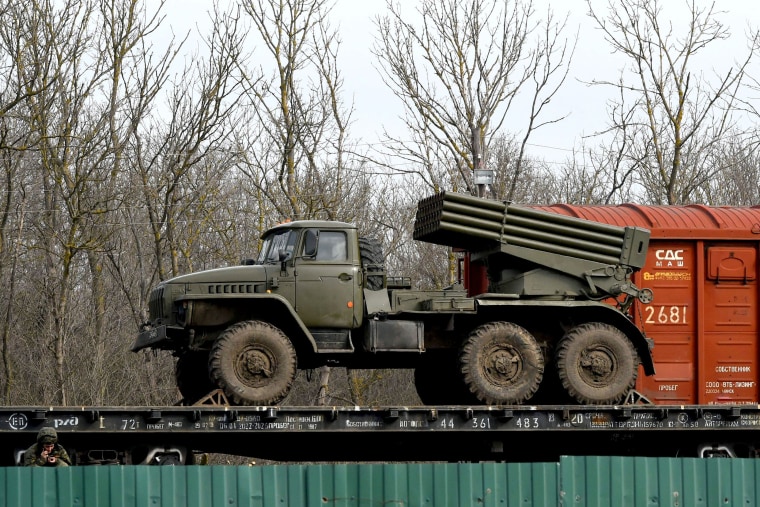 Ukraine is on track to impose a state of emergency across the country, excluding the separatist regions of Donetsk and Luhansk, where a special regime is already in place.
Speaking on Wednesday, Oleksiy Danilov, secretary of the Nation Security and Defense Council, said that after a "lively" discussion, the council decided to push forward with the decision. 
"According to our legislation, the Council must approve this decision within 48 hours," he said.
If given final approval by Parliament, a state of emergency would be imposed on all territories of the country, except Donetsk and Luhansk, the two separatist regions Russia recognized as independent on Monday.
It is unclear exactly what measures would be enforced under the state of emergency. Danilov suggested it would depend on the situation in each territory.
On Wednesday, Ukraine's Parliament voted in favor of a draft law to give permission for civilians to carry firearms for self-defense, in the first reading of the proposed legislation.
Ukraine rolls out further restrictions at Russian border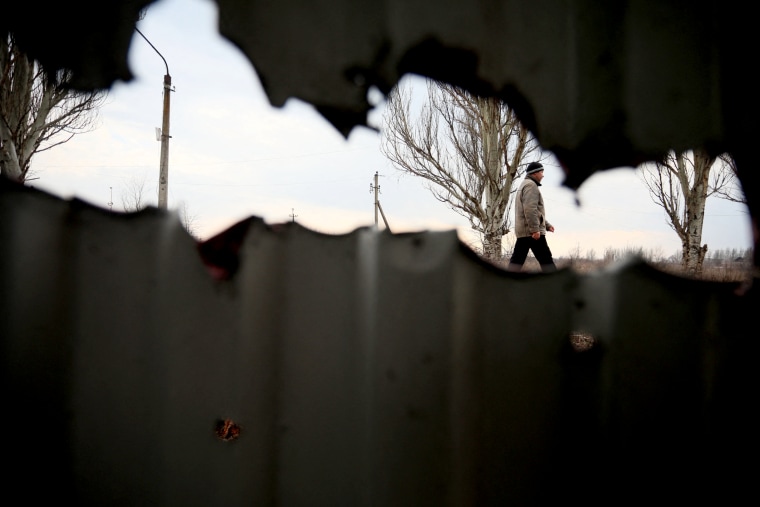 Ukraine's border service has announced additional restrictions in border areas with Russia. 
In a statement Wednesday, the State Border Guard Service of Ukraine said the restrictions would block traffic except for certain vehicles, including those belonging to the military, law enforcement agencies and agricultural machinery on unofficial roads leading to the border. 
The restrictions will also block people from staying at the border at night, with traffic for non-military vehicles also limited during the night time.
The border service noted that regular measures have also been introduced restricting the stay of foreigners in the border zone, as well as the use of radio stations and flights of light and unmanned aerial vehicles. 
Restrictions have also been imposed on filming and photography of personnel and facilities of the border service, it said.
A satellite image dated Feb. 21 and released by commercial satellite company Maxar appears to show a new Russian troop deployment near Belgorod in western Russia, near the Ukraine border. NBC News cannot verify the image.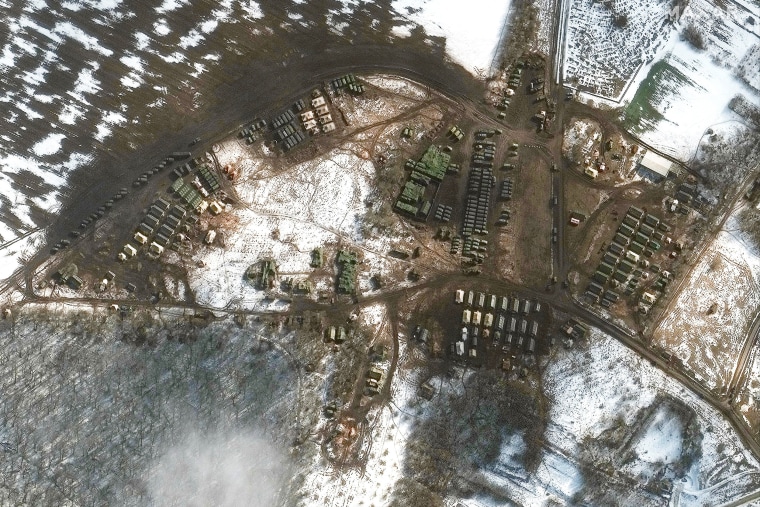 Ukraine's Parliament approves sanctions on 351 Russians, including lawmakers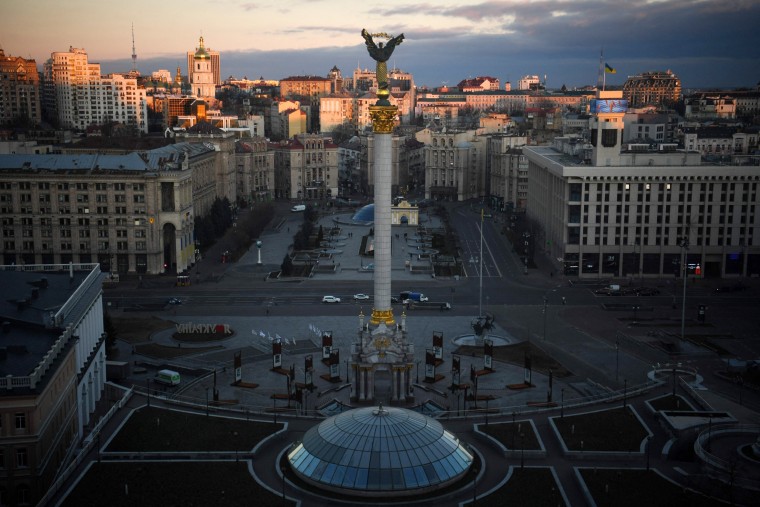 Ukraine's Parliament has approved sanctions on 351 Russians, including lawmakers who have supported Russia's decision to recognize the independence of separatist regions in eastern Ukraine and send troops there. 
The sanctions are heavily restrictive and include bans on entry into Ukraine, in addition to prohibiting access to assets, capital, property and licenses for business. The security council was expected to impose the sanctions after the vote. 
It comes as Ukraine called on its allies to impose further penalties after the U.S. and allies announced fresh sanctions over Russian President Vladimir Putin's recognition of the self-proclaimed "Donetsk People's Republic" and "Luhansk People's Republic."
Pope Francis tells politicians to examine their consciences before God over Ukraine crisis
Pope Francis said Wednesday that the threat of war in Ukraine has caused "great pain in my heart" as he urged politicians to make a serious examination of conscience before God about their actions.
In comments made at the end of his weekly general audience, Francis implored leaders to refrain from making choices that could lead to further suffering, according to a translation by Reuters.
He also proclaimed Ash Wednesday, March 2, as an international day of fasting and prayer for peace.
Putin says Russia open to 'diplomatic solutions,' but own interests come first
Russia's President Vladimir Putin has suggested Moscow is open to "diplomatic solutions" on the situation in Ukraine. However, he said Russia's interests would come first. 
Putin made the comments in a video address Wednesday marking the Defender of the Fatherland Day, a public holiday in Russia. 
"Our country is always open for direct and honest dialogue, for the search for diplomatic solutions to the most complex problems," Putin said.
"But I repeat: the interests of Russia, the security of our citizens are unconditional for us," he said. "Therefore, we will continue to develop and improve the army and navy, to ensure that their efficiency is increased, that they are equipped with the latest technology."
During his address, Putin thanked "comrades" and veterans, saying he was confident "in the soldiers and officers of Russia, in your high professionalism, courage, reliability, that you will protect the peace and tranquility of our citizens, and defend the national interests of our great country."
Ukraine tells its citizens in Russia to leave 'immediately'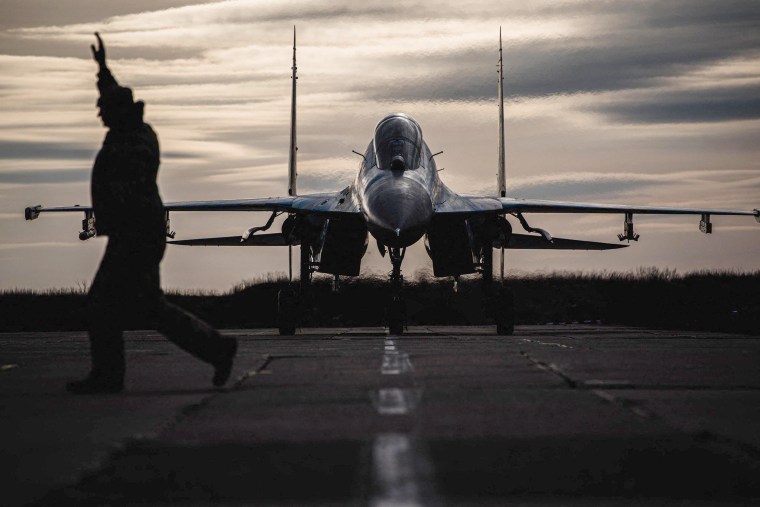 Ukraine has told its citizens in Russia to leave "immediately" as it warned nationals to also avoid any travel to the country in the midst of the unfolding crisis.
Ukraine's Ministry of Foreign Affairs issued the warning on Wednesday amid what it called the "intensification of Russian aggression against Ukraine."
Warning that the latest developments in the unfolding crisis could lead to "significant restrictions on the provision of consular assistance in the Russian Federation," the ministry recommended that all Ukrainian citizens refrain from traveling to Russia.
Those already in the country, it said, should "leave its territory immediately."
"We emphasize that ignoring these recommendations will significantly complicate ensuring proper protection of Ukrainian citizens in the Russian Federation," it added.
Ukraine calls on allies to ramp up pressure on Putin and 'cronies': 'Hit hard, hit now'
Ukraine's foreign affairs minister has called on the country's allies to ramp up pressure on Russia with "more sanctions" targeting its economy and President Vladimir Putin's "cronies."
"To stop Putin from further aggression, we call on partners to impose more sanctions on Russia now," Dmytro Kuleba said in a statement Wednesday morning on Twitter. 
"First decisive steps were taken yesterday, and we are grateful for them," he said. "Now the pressure needs to step up to stop Putin. Hit his economy and cronies. Hit more. Hit hard. Hit now."
It comes after the U.S. and allies announced new sanctions against Russia after Putin formally recognized the independence of two separatist regions in eastern Ukraine and sent troops to the area,
A military truck drives down a street outside Donetsk, in territory controlled by pro-Russian militants in eastern Ukraine, late Tuesday.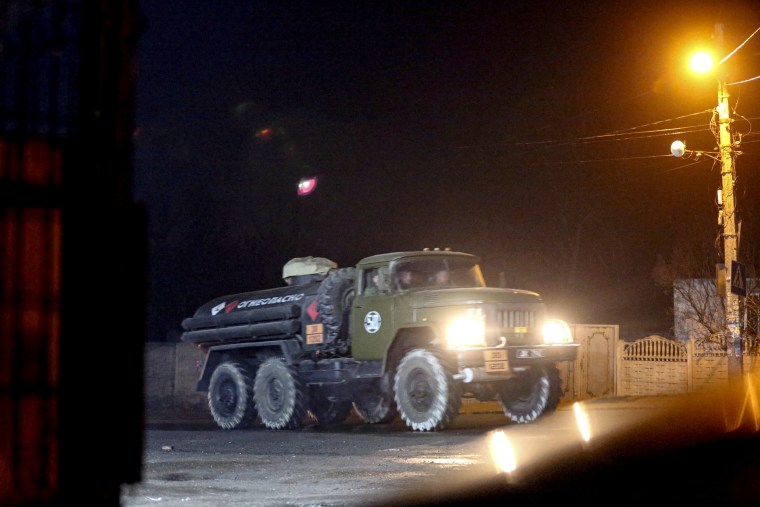 Sanctions 'cannot solve a thing,' Russian ambassador to U.S. says
Russia's ambassador to the United States has said sanctions "cannot solve a thing" after the U.S. and allies announced new sanctions against Russia after it recognized the independence of two separatist regions in eastern Ukraine and deployed troops to the area.
In comments published to the embassy's Facebook page Tuesday evening, ambassador Anatoly Antonov said that "for seven years, Americans did nothing to convince the Ukrainian leadership of the need to implement the Minsk agreements," referring to the series of international agreements which seeking to end the war in Ukraine's Donbas region.
Now, he said, the U.S. has "chosen a different strategy here — to pump the Kiev regime with 'weapons' and push it to a war."
"Not everyone can learn lessons from history," he said. "As concerns Russia, sanctions cannot solve a thing."
"It is hard to imagine that there is a person in Washington who expects Russia to revise its foreign policy under a threat of restrictions," he continued. "I don't remember a single day when our country lived without any restrictions from the Western world. We have learned to work in such conditions. And not only to survive, but also to develop our state."
1 Ukrainian soldier killed, six injured in fresh shelling, Ukraine government forces say
The Ukrainian government's Joint Forces Operation said Wednesday that at least one soldier died, while at least six others were injured, in shelling over the past 24 hours. 
The Joint Forces Operation said on Facebook it had recorded at least 96 shellings in the 24-hour time span. At least 81 of the shelling was carried out with the use of heavy weapons, it said, while not saying where the fighting took place.
One Ukrainian serviceman received fatal shrapnel wounds, it said. Another soldier was injured and in hospital, while five more also received combat injuries, it said.
The violence comes after Russian President Vladimir Putin formally recognized the independence of two separatist regions of Ukraine before sending troops into the area.
Taiwan says it must be on heightened military alert
Taiwanese President Tsai Ing-wen held a meeting on Wednesday to discuss the crisis in Ukraine, which has raised fears that it may embolden Beijing in its territorial claims on the self-governing island.
Tsai condemned Russia's actions in Ukraine as a violation of its sovereignty and called on all parties to resolve the dispute peacefully, according to a statement on her Facebook page. She was speaking at a meeting of a Ukraine working group formed under Taiwan's national security council.
She also said Taiwan's military and security forces must heighten their surveillance around the Taiwan Strait "to ensure national security." 
While the situations in Ukraine and Taiwan are fundamentally different in terms of geography, geopolitics and relative importance in the international supply chain, Tsai said, the government is working to combat misinformation and maintain morale in Taiwanese society.
Ma Xiaoguang, spokesman for China's Taiwan Affairs Office, told reporters on Wednesday that Taiwan and the West were using the situation in Ukraine to "maliciously hype" the military threat to the island and stoke opposition to China. 
Chinese Foreign Ministry spokeswoman Hua Chunying said Wednesday that Taiwan is "not Ukraine."
"Taiwan has always been an inalienable part of China's territory," she said. "This is an irrefutable historical and legal fact."
Taipei's representative in Washington told NBC News earlier that Taiwan was watching events in Ukraine with "much concern and anxiety."
But in a survey conducted last week by the Taiwanese Public Opinion Foundation, more than 60 percent of respondents said they did not believe Beijing would invade Taiwan in the event of Russian-Ukrainian conflict.