The European Union announced new measures Sunday designed to bolster Ukraine in its fight against Russia, while imposing bans on Russian aircraft and state-owned media outlets.
"For the first time ever, the European Union will finance the purchase and delivery of weapons and other equipment to a country that is under attack," European Commission President Ursula Gertrud von der Leyen said. "This is a watershed moment."
She went on to say that "in another unprecedented step, we will ban in the EU the Kremlin's media machine," citing Russia Today and Sputnik.
In the private sector, FedEx and UPS announced they were suspending shipments to Russia, further isolating Russia's economy from the rest of the world.
The moves came as Ukraine agreed to talks with Russian officials in neighboring Belarus, after initially rejecting the idea, while Russian President Vladimir Putin ordered his country's nuclear deterrent forces to be on high alert.
Fighting continued across Ukraine early Sunday, with the Russian assault appearing to be stymied by the stiffer-than-expected resistance, according to a United States defense official. The area surrounding Kyiv saw fighting and heard blasts and air-raid sirens, while Ukrainian officials claimed they had regained control of Kharkiv, Ukraine's second-largest city, from Russian forces.
Follow our in-depth coverage of the Russia-Ukraine crisis here.
Kyiv children's hospital says it's undamaged, 6-year-old caught in nearby attack dead
An official at a Kyiv children's hospital allegedly damaged by Russian forces Saturday says it remained intact despite nearby fighting, though a child brought to the hospital had died.
Three adults and three children were brought to the Ukraine National Specialized Children's Hospital, called Okhmadyt, after getting caught in a nearby attack, the hospital's press manager, Anastasia Maggeramova, said over the phone. One six-year-old boy was dead when he arrived at the medical facility.
"We heard an attack and after that some people came in by emergency vehicle," she said, adding that they were treating the three adults and two children who had survived. "Now a child is dead because of [the] massive attack."
Maggeramova said the hospital staff had frequently heard nearby conflict over the past few days, though it had not yet reached the medical facility. This is the most patients they'd yet received because of the conflict, she said. 
"Our doctors have tried to do their best to save them and to help them," Maggeramova said.
Local reports had said Saturday that the hospital, which specializes in treating children with cancer, had been hit by Russian artillery fire and killed one child. 
Though they remained safe so far, Maggeramova said the staff wanted people to know what was happening.
"We want the world to know the truth: civilian people are under attack," she said. "Children are suffering, people are suffering because of war, because of attacks, because of terrible things now happening here in Ukraine."
Trump boasts as Russian attack continues; blames Biden, not Putin
ORLANDO — Former President Donald Trump test drove a new message on Ukraine Saturday night that immediately won approval from his base.
"I stand as the only president of the 21st century on whose watch Russia did not invade another country," he said to applause at the Conservative Political Action Conference here.
Russia launched attacks into Georgia during President George W. Bush's administration, Crimea during President Barack Obama's administration and into Ukraine just a few days ago. 
In a break with traditional decorum from a former president — but in line with Trump's approach to his successor — he placed more blame for the invasion on President Joe Biden, rather than on Russian autocrat Vladimir Putin.
"The problem is not that Putin is smart," Trump said. "The problem is our leaders are dumb — so dumb."
While he called the attack on Ukraine "an assault on humanity," he declined to criticize Putin for launching it.
"If you take over Ukraine, we're going to sanction you, they say," Trump said of the western alliance. "Sanction, well that's a pretty weak statement."
At least 240 civilian causalities in Ukraine, U.N. says
GENEVA — The United Nations says it has confirmed at least 240 civilian casualties, including at least 64 people killed, in the fighting in Ukraine that erupted since Russia's invasion — though it believed the "real figures are considerably higher" because many reports of casualties remain to be confirmed.
The U.N. Office for the Coordination of Humanitarian Affairs relayed the count late Saturday from the U.N. human rights office, which has strict methodologies and verification procedures about the toll from conflict.
OCHA also said damage to civilian infrastructure has deprived hundreds of thousands of people of access to electricity or water and produced a map of "humanitarian situations" in Ukraine — mostly in northern, eastern and southern Ukraine.
The human rights office had reported early Friday an initial count by its staffers of at least 127 civilian casualties – 25 people killed and 102 injured – mostly from shelling and airstrikes.
What happens after removal from SWIFT? Phone or fax, U.S. official says
Banks removed from SWIFT banking system would have to "use a telephone or a fax machine" to send money internationally, a senior Biden administration official said.
The U.S. and its allies on Saturday announced an agreement in which they "commit to ensuring that selected Russian banks are removed from the SWIFT messaging system" as punishment for Russia's invasion of Ukraine.
Which banks have not been determined, but the administration official said that those already under U.S. and European Union sanctions would be considered first.
"If one of these 'de-SWIFT-ed' Russian banks wants to make, or receive, a payment with a bank outside of Russia, such as a bank in Asia, it will now need to use the telephone or a fax machine," the administration official said on condition of anonymity.
"In all likelihood, most banks around the world will simply stop transacting altogether with Russian banks that are removed from SWIFT," the official said.
SWIFT is an industry-owned cooperative headquartered in Belgium. The U.S. official said that the list of banks that could be removed would be finalized by the EU.
French president asks Belarus counterpart to order removal of Russian soldiers
PARIS — French President Emmanuel Macron has asked his Belarus counterpart to demand that the country, Ukraine's neighbor, quickly order Russian troops to leave, claiming Moscow has been given the green light to deploy nuclear arms there.
In a phone conversation Saturday, Macron denounced "the gravity of a decision that would authorize Russia to deploy nuclear arms on Belarus soil," a statement by the presidential palace said.
Macron told Alexander Lukashenko that fraternity between the people of Belarus and Ukraine should lead Belarus to "refuse to be a vassal and an accomplice to Russia in the war against Ukraine," the statement said.
Belarus was one one of several axes used by Russia to launch attacks on Ukraine, with Belarus the point to move toward the capital Kyiv, a senior U.S. defense official has said.
U.N. Security Council to meet Sunday
UNITED NATIONS — The U.N. Security Council will meet Sunday afternoon to hold a procedural vote on a request by Ukraine for an emergency session of the 193-member General Assembly in light of Russia's invasion of its country.
There are no vetoes on a procedural vote in the council, unlike on resolutions. A procedural vote requires approval from nine of the 15 council members.
Council diplomats said approval is virtually certain, and the emergency meeting of the General Assembly is expected to be held on Monday.
Ukraine's U.N. Ambassador Sergiy Kyslytsya tweeted Thursday that he asked General Assembly President Abdulla Shahid to prepare for an emergency meeting in the coming days.
He said the meeting should be held under the so-called "Uniting for Peace" resolution, initiated by the United States and adopted in November 1950 to circumvent vetoes by the Soviet Union during the 1950-53 Korean War.
The resolution gives the General Assembly the power to call emergency meetings to consider matters of international peace and security when the Security Council is unable to act because of the lack of unanimity among its five veto-wielding permanent members -- the United States, Russia, China, Britain and France.
Russia vetoed a Security Council resolution Friday demanding that Moscow immediately stop its attack on Ukraine and withdraw all troops.
Ohio, New Hampshire move to halt sale of Russian vodka
The governors of Ohio and New Hampshire on Saturday moved to halt the purchase or sale of Russian-made vodka in response to Russia's invasion and continued attack on Ukraine.
Ohio Gov. Mike DeWine ordered the state to no longer buy or sell vodka made by Russian Standard and said retailers have been asked to remove it from their shelves.
New Hampshire Gov. Chris Sununu tweeted that he signed an executive order instructing state liquor stores to remove Russian-made and Russian-branded spirits.
Texas Gov. Greg Abbott also asked retailers and restaurants to voluntarily remove all Russian products, and later Saturday Utah Gov. Spencer Cox ordered Russian-made products removed from state-run liquor stores. 
Some parts of Canada have also pulled Russian-made liquor.
Ontario's finance minister on Friday directed the liquor control board to remove products produced in Russia. And the Nova Scotia Liquor Corporation and the Newfoundland and Labrador Liquor Corporation also removed Russian Standard vodka, the CBC reported.
Latest SWIFT move against Russia follows 'the Iran model'
The move to kick some of Russian banks out of the SWIFT financial system follows "the Iran model" since this is what was done to Tehran in 2018, a senior Biden administration official told reporters Saturday. 
The official, speaking on condition of anonymity, said the banks that are already under U.S. and E.U. sanctions will be considered first, but ultimately E.U. officials will have the final say. 
Germany readying to block airspace to Russia
Germany is preparing to close its airspace to Russian aircraft, the latest European country to take that step since Russia attacked Ukraine this week.
Germany's transportation minister, Volker Wissing, supports the move and has ordered preparations to be made, the transportation ministry tweeted.
The United Kingdom, Romania and the Baltic states of Estonia, Latvia and Lithuania are among the countries that have either closed or announced plans to close their airspace to Russian aircraft.
Also Saturday, German airline Lufthansa said it will not use Russian airspace for the next seven days "due to the current and emerging regulatory situation."
Flights that were in Russian airspace would leave, it said, and all flights to Russia will be suspended.
U.S. and key allies kick select Russian banks out of SWIFT payment system
The U.S., European Union, United Kingdom and Canada on Saturday announced that select Russian banks would be removed from the SWIFT payment system, a move that Ukraine had pushed allies for in recent days.
"We will hold Russia to account and collectively ensure that this war is a strategic failure for [Russian President Vladimir] Putin," the joint statement read. "This past week, alongside our diplomatic efforts and collective work to defend our own borders and to assist the Ukrainian government and people in their fight, we, as well as our other allies and partners around the world, imposed severe measures on key Russian institutions and banks, and on the architects of this war, including" Putin.
"As Russian forces unleash their assault on Kyiv and other Ukrainian cities, we are resolved to continue imposing costs on Russia that will further isolate Russia from the international financial system and our economies," the statement continued. "We will implement these measures within the coming days."
The allies said they "commit to ensuring that selected Russian banks are removed from the SWIFT messaging system," will impose "restrictive measures that will prevent the Russian Central Bank from deploying its international reserves in ways that undermine the impact of our sanctions," and that they "commit to acting against the people and entities who facilitate the war in Ukraine and the harmful activities of the Russian government."
On that last bit, the group of nations said they will take "measures to limit the sale of citizenship — so-called golden passports — that let wealthy Russians connected to the Russian government become citizens of our countries and gain access to our financial systems."
The nations said they will launch a task force this week to ensure the implementation of the sanctions and identify and freeze assets of sanctioned people and companies within each of their jurisdictions.
Russian police detain conflict demonstrator in a night of protests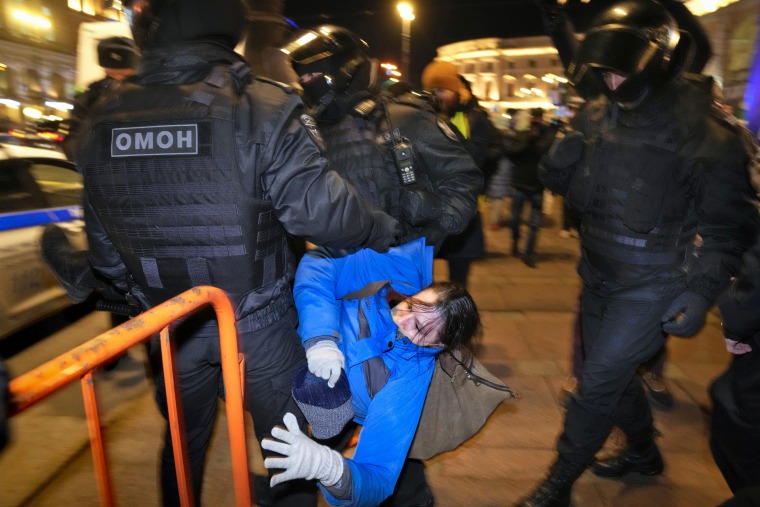 Cryptocurrency donations pour in after Ukraine puts out call on Twitter
Ukraine's government received more than $4 million in cryptocurrency on Saturday shortly after it began directly soliciting funds on social media, according to its accounts' public transactions.
Ukraine's official Twitter account, as well as its minister for digital transformation, tweeted Crypto wallet addresses where people can donate their bitcoin, ethereum and tether, a cryptocurrency whose value is tied to the U.S. dollar.
Within a few hours, those addresses had received more than $761,949 of bitcoin and more than $3.4 million worth of ethereum, the account showed.