The European Union announced new measures Sunday designed to bolster Ukraine in its fight against Russia, while imposing bans on Russian aircraft and state-owned media outlets.
"For the first time ever, the European Union will finance the purchase and delivery of weapons and other equipment to a country that is under attack," European Commission President Ursula Gertrud von der Leyen said. "This is a watershed moment."
She went on to say that "in another unprecedented step, we will ban in the EU the Kremlin's media machine," citing Russia Today and Sputnik.
In the private sector, FedEx and UPS announced they were suspending shipments to Russia, further isolating Russia's economy from the rest of the world.
The moves came as Ukraine agreed to talks with Russian officials in neighboring Belarus, after initially rejecting the idea, while Russian President Vladimir Putin ordered his country's nuclear deterrent forces to be on high alert.
Fighting continued across Ukraine early Sunday, with the Russian assault appearing to be stymied by the stiffer-than-expected resistance, according to a United States defense official. The area surrounding Kyiv saw fighting and heard blasts and air-raid sirens, while Ukrainian officials claimed they had regained control of Kharkiv, Ukraine's second-largest city, from Russian forces.
Follow our in-depth coverage of the Russia-Ukraine crisis here.
Zelenskyy urges foreigners to join Ukrainian resistance to Russia's invasion
Ukraine's embattled President Volodymyr Zelenskyy has appealed to people across the world to join the resistance against Russia's invasion and enlist in Ukraine's armed forces. 
"Anyone who wants to join the defense of Ukraine, Europe and the world can come and fight side by side with the Ukrainians against the Russian war criminals," he said a statement on the government website just after 8 a.m. local time (1 a.m. ET).
Zelenskyy accused Russia of "using very vile tactics with all elements of war crimes under Geneva 1949 Convention," including killing civilians.
"This is not just Russia's invasion of Ukraine. This is the beginning of a war against Europe, against European structures, against democracy, against basic human rights, against a global order of law, rules and peaceful coexistence," he said.
He invited foreigners to join an international territorial defense legion, and said anyone could contact the defense attaché at the Ukrainian embassy in their country for more details.
Ukraine's foreign minister, Dmytro Kuleba, echoed the president's call and added in a tweet: "Together we defeated Hitler, and we will defeat Putin, too." 
Ukraine rejects Belarus as location for talks
Ukraine's president said on Sunday that his country was ready for peace talks with Russia but not in Belarus, which was a staging ground for Moscow's 3-day-old invasion.
Speaking in a video message Sunday, President Volodymyr Zelenskyy named Warsaw, Bratislava, Istanbul, Budapest or Baku as alternative venues. He said other locations are also possible but made clear that Ukraine doesn't accept Russia's selection of Belarus.
The Kremlin said Sunday that a Russian delegation had arrived in the Belarusian city of Homel for talks with Ukrainian officials. Kremlin spokesman Dmitry Peskov said the delegation includes military officials and diplomats.
"The Russian delegation is ready for talks, and we are now waiting for the Ukrainians," Peskov said.
Russia invaded Ukraine on Thursday, with troops moving from Moscow's ally Belarus in the north, and also from the east and south.
Russian troops move into Kharkiv
Russian troops have moved into the center of Kharkiv, a city in northeast Ukraine.
City Chief of Police Volodymyr Tymoshko warned residents to stay inside.
"It is quite dangerous on the streets of the city now," he said through Telegram, according to an NBC News translation. "Due to the small groups of the enemy who broke into the city, fighting continues."
Russian troops take Ukrainian city home to hydroelectric power plant, mayor says
Nova Kakhovka, a city in southern Ukraine home to a strategic hydroelectric power plant, is in the hands of Russian forces, Mayor Volodymyr Kovalenko said Sunday.
"Nova Kakhovka in the Kherson Oblast is completely under the control of Russian troops, they seized the city executive committee, removed all Ukrainian flags from buildings," Kovalenko said in a statement on Telegram, according to an NBC News translation. 
It was unclear if Russian forces had taken control of the power plant. 
The Kherson region, which borders Crimea, was once served by a canal that brought water from the Dnieper River, which also churns electricity at the Kakhovka Hydroelectric Station. In 2017, Ukraine built a dam that blocked the canal's supply of water from the river to Crimea. 
Invading Russian troops have already destroyed the dam in the Kherson region, Reuters reported, allowing for the water to flow freely to the occupied peninsula. 
Kyiv official says capital is 'completely controlled' by Ukraine forces
As Ukraine starts its fourth day fending off Russian troops and munitions, a Kyiv official declared Sunday that the capital city was still in the hands of Ukrainians.
"The situation in Kyiv is calm, the capital is completely controlled by the Ukrainian army and defense," Mykola Povoroznyk, first deputy head of the Kyiv City State Administration, said on messaging service Telegram.
He warned that it was not news to savor; the city was under attack by Russian forces. "There were several clashes with sabotage groups at night," Povoroznyk said.
Ukraine's minister of defense, Oleksiy Reznikov, said early Sunday that forces fending off the Russian offensive in Kyiv have made history. "Three days changed our country and the world forever," he said on Facebook.
"I see a heroic army, a civil guard, fearless border guards, selfless rescuers, reliable police officers, tireless medical angels," Reznikov said on Facebook. 
He also praised thousands of Ukrainians who took up arms in defense of Kyiv and their country. "You are seen by all, the whole world!" he wrote.
'SNL's' solemn and stunning cold open, 'Prayer for Ukraine,' was no joke
"Saturday Night Live" opened its first show since the Beijing Winter Olympics with a stunning and solemn performance by the Ukrainian Chorus Dumka of New York.
Singing "Prayer for Ukraine," the approximately 30-member group appeared in traditional white vyshyvanka. Ukraine's national flower, sunflowers, adorned the stage around a table with candles that spelled out "Kyiv." 
It was "SNL's" way of urging peace as Russia invaded Ukraine following its initial offensive Thursday morning.
A U.N. office estimated there have been at least 240 confirmed civilian casualties in Ukraine since Russia attacked, with at least 64 deaths. 
The chorus was founded after World War II by Ukrainian immigrants who wanted to preserve their cultural heritage in a new homeland, according to Ukrainian Weekly. It is now 72 years old and is composed strictly of nonprofessional performers.
Its Facebook page says the group performs work by Ukrainian composers but that its genres can include classical, sacred and folk choral.
Social media reaction to the chorus, introduced by Kate McKinnon and Cecily Strong, was heavily favorable, with some calling it powerful, beautiful and just right. The Christian hip-hop artist Tedashii tweeted that the performance honored "those fighting for their life in Kiev."
Google blocks state-owned media outlet, other Russian channels from earning ad dollars
Alphabet Inc's Google on Saturday barred Russia's state-owned media outlet RT and other channels from receiving money for ads on their websites, apps and YouTube videos, similar to a move by Facebook after the invasion of Ukraine.
Citing "extraordinary circumstances," Google's YouTube unit said it was "pausing a number of channels' ability to monetize on YouTube." These included several Russian channels affiliated with recent sanctions, such as those by the European Union.
Google is also barring Russian state-funded media outlets from using its ad technology to generate revenue on their own websites and apps.
In addition, the Russian media will not be able to buy ads through Google Tools or place ads on Google services such as search and Gmail, spokesman Michael Aciman said.
"We're actively monitoring new developments and will take further steps if necessary," Aciman said.
Videos from affected media will also come up less often in recommendations, YouTube spokesperson Farshad Shadloo said. He added that RT and several other channels would no longer be accessible in Ukraine after a Ukrainian government request.
Russia received an estimated $7 million to $32 million over the two years to December 2018 from ads across 26 YouTube channels it backed, digital researcher Omelas told Reuters at the time.
YouTube has previously said it did not treat state-funded media channels that comply with its rules differently from others when it comes to sharing ad revenue.
A much needed rest in Kyiv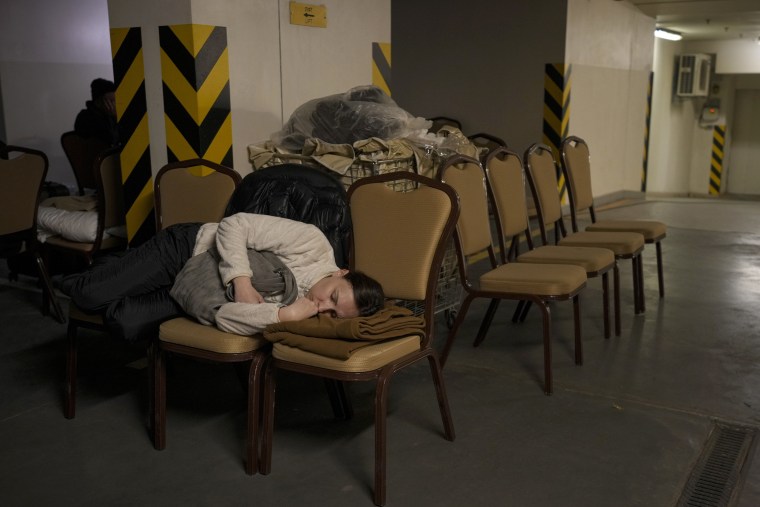 Ukrainian former tennis star Sergiy Stakhovsky enlists in reserve army
Ukrainian former tennis player Sergiy Stakhovsky enlisted in his country's reserve army last week prior to Russia's invasion, he said, despite a lack of military experience, although he can handle a gun.
The 36-year-old Stakhovsky, who won four ATP titles and had a shock win over Roger Federer in the second round of Wimbledon in 2013, said on Saturday he was willing to take up arms in Ukraine's defense.
"Of course, I would fight, it's the only reason I'm trying to get back," Stakhovsky told Sky News.
"I signed up for the reserves last week. I don't have military experience, but I do have experience with a gun privately.
"My dad and brother are surgeons, they are stressed out, but I speak to them frequently — they sleep in the basement.
"None of us believed that this could happen, and yet it happened."
Former heavyweight boxing champion Wladimir Klitschko also enlisted in Ukraine's reserve army this month, saying that love for his country compelled him to defend it.
Radioactive waste site struck by Russian munitions
Russian munitions struck a radioactive waste site in Kyiv, prompting some concern that the effects won't be known until the shelling and missile fire stops, government officials in Ukraine said Sunday. 
The State Inspectorate for Nuclear Regulation of Ukraine said in a statement that the capital branch of the government Radon Association reported seeing falling missiles on security cameras. 
"It is currently not possible to assess the extent of the destruction," the state office said, according to a translation of its statement. 
Experts from the Ukrainian State Association Radon, or Radon Association, reported the attack by phone after seeing it via security video, the inspectorate said. They had taken shelter and viewed the offensive via a remote video system intended for security, it said. The site's automated reporting system had failed.
Now those personnel are pinned down until the offensive at their location ends, the inspectorate said.
Assessment will happen in the wake of Russia's mission, it said. At the same time, the inspectorate believes there is no radioactive threat to people outside of a buffer zone intended to protect communities from radioactive waste sites.
Ukraine has more than a half dozen of these regional sites, including the Kyiv SISP, for State Interregional Specialized Plants for Radioactive Waste Management. They were built to accept waste from the use of radiation in medicine, science and "different industries," according to the government.
Russian forces blow up gas pipeline in Kharkiv, Ukrainian officials say
Russian forces blew up a gas pipeline in the northeastern Ukrainian city of Kharkiv, Ukrainian officials said Sunday.
Video shared by State Special Communications' Telegram channel showed a rising fireball similar to a mushroom cloud. Officials reassured in the post that was not a nuclear strike.
"In Kharkiv, the occupiers blew up a gas pipeline," the communications office said.
More than 200 miles to the west near Vasylkiv, south of the capital of Kyiv, a Russian ballistic missile attack set an oil depot on fire, officials said. The flames could reportedly be seen from Kyiv, and fighting was reported to be preventing emergency services from working to extinguish the blaze.
Missiles hit Vasylkiv, oil plant on fire, officials say
Ballistic missiles struck the city of Vasylkiv, south of Kyiv, and an oil plant was on fire, the mayor said as a Russian attack in the country continued for a fourth day.
"You all can see what is happening right now, you see the fire," Vasylkiv Mayor Natalia Balasinovich said in a video message.
Alexey Kuleba, head of the administration in Kyiv Oblast, said on Facebook that the missile strike caused a fire at the oil depot in the village of Kryachky, just outside of Vasylkiv.
Fighting was ongoing and prevented emergency services from extinguishing the fire, according to Kuleba. "We are in danger of an ecological catastrophe. We do everything possible to prevent this!" he said in the statement.
Ballistic missiles also struck an airfield, the mayor said. Vasylkiv is around 20 miles south of the capital of Kyiv. The fire could reportedly be seen from there.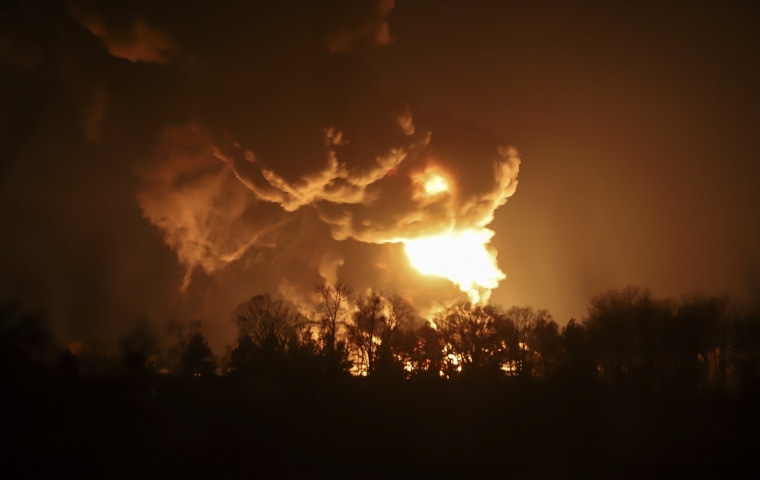 California-based app Premise battles accusations of helping Russian military
Premise, a San Francisco-based tech company that pays users around the world to share market research and intelligence information with companies and governments, said it suspended its activities in Ukraine on Friday "out of an abundance of caution" after Ukrainian officials accused it of assisting Russia.
The General Staff of the Armed Forces of Ukraine alleged in a Facebook post that enemies were using Premise's smartphone app to collect data in the western city of Stryi and other parts of the country for the Kremlin.
Premise CEO Maury Blackman said in a statement on Friday that the accusations were "unequivocally false" and that the company does not work for the Russian military or government. "Our company and our team worldwide strongly support Ukraine and the Ukrainian people defending themselves against this illegal act of aggression by Russia," he said.
Premise did not immediately respond to a request for comment.
In a separate news release also published on Friday, Blackman said that "the public statement of the Ukraine Defense Ministry that has gotten circulation is incorrect."
Ukraine roads company removing road signs to confuse Russians
MOSCOW - A Ukrainian company in charge of building and maintaining roads said it was removing all road signs that could be used by invading Russian forces to find their way around the country.
"The enemy has poor communications, they cannot navigate the terrain," the company Ukravtodor said in a Facebook update late on Friday. "Let us help them get straight to hell."
It posted an edited photo of a standard road sign in which directions to nearby cities have been replaced with profanities.
China so far not helping Russia evade sanctions, U.S. official says
WASHINGTON — China so far does not appear to be helping Russia evade Western financial sanctions on Moscow over its invasion of Ukraine, but doing so would "do profound damage" to China's reputation, a senior Biden Administration official said on Saturday.
"The latest signs suggest that China's not coming to the rescue," the official told reporters after announcing that the United States and its allies agreed to impose sanctions against Russia's central bank and disconnect key Russian banks from the SWIFT international financial transaction network.
The official said that recent reports that some Chinese banks have stopped issuing letters of credit for purchases of physical commodities from Russia were a positive sign.
This "suggests that, much like has been the pattern for years and years, China has tended to respect the force of U.S. sanctions," the official added.
China is Russia's biggest trade partner for both exports and imports, buying a third of Russia's crude oil exports in 2020 and supplying it with manufactured products from cell phones and computers to toys and clothing.
Shelling in northeast Ukraine reportedly hits residential building, 1 dead
A woman was killed after an artillery shell struck a residential building in Kharkiv in northeastern Ukraine, emergency services said Sunday morning local time.
The State Emergency Service said in a statement that "enemy artillery" struck a 9-story building and that an elderly woman in a fifth-floor apartment died. NBC News has not independently verified the claim.
Twenty people were rescued from a destroyed part of the building, the emergency service agency said. Sixty people hiding from the shelling in the basement were not injured, it said. 
There have been at least 240 confirmed civilian casualties in Ukraine since Russia attacked it and invaded Thursday morning, a United Nations office said. That number includes at least 64 dead. The U.N. believes the "real figures are considerably higher," because many reports of casualties have yet to be confirmed.
Kyiv children's hospital says it's undamaged, 6-year-old caught in nearby attack dead
An official at a Kyiv children's hospital allegedly damaged by Russian forces Saturday says it remained intact despite nearby fighting, though a child brought to the hospital had died.
Three adults and three children were brought to the Ukraine National Specialized Children's Hospital, called Okhmadyt, after getting caught in a nearby attack, the hospital's press manager, Anastasia Maggeramova, said over the phone. One six-year-old boy was dead when he arrived at the medical facility.
"We heard an attack and after that some people came in by emergency vehicle," she said, adding that they were treating the three adults and two children who had survived. "Now a child is dead because of [the] massive attack."
Maggeramova said the hospital staff had frequently heard nearby conflict over the past few days, though it had not yet reached the medical facility. This is the most patients they'd yet received because of the conflict, she said. 
"Our doctors have tried to do their best to save them and to help them," Maggeramova said.
Local reports had said Saturday that the hospital, which specializes in treating children with cancer, had been hit by Russian artillery fire and killed one child. 
Though they remained safe so far, Maggeramova said the staff wanted people to know what was happening.
"We want the world to know the truth: civilian people are under attack," she said. "Children are suffering, people are suffering because of war, because of attacks, because of terrible things now happening here in Ukraine."
Trump boasts as Russian attack continues; blames Biden, not Putin
ORLANDO — Former President Donald Trump test drove a new message on Ukraine Saturday night that immediately won approval from his base.
"I stand as the only president of the 21st century on whose watch Russia did not invade another country," he said to applause at the Conservative Political Action Conference here.
Russia launched attacks into Georgia during President George W. Bush's administration, Crimea during President Barack Obama's administration and into Ukraine just a few days ago. 
In a break with traditional decorum from a former president — but in line with Trump's approach to his successor — he placed more blame for the invasion on President Joe Biden, rather than on Russian autocrat Vladimir Putin.
"The problem is not that Putin is smart," Trump said. "The problem is our leaders are dumb — so dumb."
While he called the attack on Ukraine "an assault on humanity," he declined to criticize Putin for launching it.
"If you take over Ukraine, we're going to sanction you, they say," Trump said of the western alliance. "Sanction, well that's a pretty weak statement."
At least 240 civilian causalities in Ukraine, U.N. says
GENEVA — The United Nations says it has confirmed at least 240 civilian casualties, including at least 64 people killed, in the fighting in Ukraine that erupted since Russia's invasion — though it believed the "real figures are considerably higher" because many reports of casualties remain to be confirmed.
The U.N. Office for the Coordination of Humanitarian Affairs relayed the count late Saturday from the U.N. human rights office, which has strict methodologies and verification procedures about the toll from conflict.
OCHA also said damage to civilian infrastructure has deprived hundreds of thousands of people of access to electricity or water and produced a map of "humanitarian situations" in Ukraine — mostly in northern, eastern and southern Ukraine.
The human rights office had reported early Friday an initial count by its staffers of at least 127 civilian casualties – 25 people killed and 102 injured – mostly from shelling and airstrikes.
What happens after removal from SWIFT? Phone or fax, U.S. official says
Banks removed from SWIFT banking system would have to "use a telephone or a fax machine" to send money internationally, a senior Biden administration official said.
The U.S. and its allies on Saturday announced an agreement in which they "commit to ensuring that selected Russian banks are removed from the SWIFT messaging system" as punishment for Russia's invasion of Ukraine.
Which banks have not been determined, but the administration official said that those already under U.S. and European Union sanctions would be considered first.
"If one of these 'de-SWIFT-ed' Russian banks wants to make, or receive, a payment with a bank outside of Russia, such as a bank in Asia, it will now need to use the telephone or a fax machine," the administration official said on condition of anonymity.
"In all likelihood, most banks around the world will simply stop transacting altogether with Russian banks that are removed from SWIFT," the official said.
SWIFT is an industry-owned cooperative headquartered in Belgium. The U.S. official said that the list of banks that could be removed would be finalized by the EU.
French president asks Belarus counterpart to order removal of Russian soldiers
PARIS — French President Emmanuel Macron has asked his Belarus counterpart to demand that the country, Ukraine's neighbor, quickly order Russian troops to leave, claiming Moscow has been given the green light to deploy nuclear arms there.
In a phone conversation Saturday, Macron denounced "the gravity of a decision that would authorize Russia to deploy nuclear arms on Belarus soil," a statement by the presidential palace said.
Macron told Alexander Lukashenko that fraternity between the people of Belarus and Ukraine should lead Belarus to "refuse to be a vassal and an accomplice to Russia in the war against Ukraine," the statement said.
Belarus was one one of several axes used by Russia to launch attacks on Ukraine, with Belarus the point to move toward the capital Kyiv, a senior U.S. defense official has said.
U.N. Security Council to meet Sunday
UNITED NATIONS — The U.N. Security Council will meet Sunday afternoon to hold a procedural vote on a request by Ukraine for an emergency session of the 193-member General Assembly in light of Russia's invasion of its country.
There are no vetoes on a procedural vote in the council, unlike on resolutions. A procedural vote requires approval from nine of the 15 council members.
Council diplomats said approval is virtually certain, and the emergency meeting of the General Assembly is expected to be held on Monday.
Ukraine's U.N. Ambassador Sergiy Kyslytsya tweeted Thursday that he asked General Assembly President Abdulla Shahid to prepare for an emergency meeting in the coming days.
He said the meeting should be held under the so-called "Uniting for Peace" resolution, initiated by the United States and adopted in November 1950 to circumvent vetoes by the Soviet Union during the 1950-53 Korean War.
The resolution gives the General Assembly the power to call emergency meetings to consider matters of international peace and security when the Security Council is unable to act because of the lack of unanimity among its five veto-wielding permanent members -- the United States, Russia, China, Britain and France.
Russia vetoed a Security Council resolution Friday demanding that Moscow immediately stop its attack on Ukraine and withdraw all troops.
Ohio, New Hampshire move to halt sale of Russian vodka
The governors of Ohio and New Hampshire on Saturday moved to halt the purchase or sale of Russian-made vodka in response to Russia's invasion and continued attack on Ukraine.
Ohio Gov. Mike DeWine ordered the state to no longer buy or sell vodka made by Russian Standard and said retailers have been asked to remove it from their shelves.
New Hampshire Gov. Chris Sununu tweeted that he signed an executive order instructing state liquor stores to remove Russian-made and Russian-branded spirits.
Texas Gov. Greg Abbott also asked retailers and restaurants to voluntarily remove all Russian products, and later Saturday Utah Gov. Spencer Cox ordered Russian-made products removed from state-run liquor stores. 
Some parts of Canada have also pulled Russian-made liquor.
Ontario's finance minister on Friday directed the liquor control board to remove products produced in Russia. And the Nova Scotia Liquor Corporation and the Newfoundland and Labrador Liquor Corporation also removed Russian Standard vodka, the CBC reported.
Latest SWIFT move against Russia follows 'the Iran model'
The move to kick some of Russian banks out of the SWIFT financial system follows "the Iran model" since this is what was done to Tehran in 2018, a senior Biden administration official told reporters Saturday. 
The official, speaking on condition of anonymity, said the banks that are already under U.S. and E.U. sanctions will be considered first, but ultimately E.U. officials will have the final say. 
Germany readying to block airspace to Russia
Germany is preparing to close its airspace to Russian aircraft, the latest European country to take that step since Russia attacked Ukraine this week.
Germany's transportation minister, Volker Wissing, supports the move and has ordered preparations to be made, the transportation ministry tweeted.
The United Kingdom, Romania and the Baltic states of Estonia, Latvia and Lithuania are among the countries that have either closed or announced plans to close their airspace to Russian aircraft.
Also Saturday, German airline Lufthansa said it will not use Russian airspace for the next seven days "due to the current and emerging regulatory situation."
Flights that were in Russian airspace would leave, it said, and all flights to Russia will be suspended.
U.S. and key allies kick select Russian banks out of SWIFT payment system
The U.S., European Union, United Kingdom and Canada on Saturday announced that select Russian banks would be removed from the SWIFT payment system, a move that Ukraine had pushed allies for in recent days.
"We will hold Russia to account and collectively ensure that this war is a strategic failure for [Russian President Vladimir] Putin," the joint statement read. "This past week, alongside our diplomatic efforts and collective work to defend our own borders and to assist the Ukrainian government and people in their fight, we, as well as our other allies and partners around the world, imposed severe measures on key Russian institutions and banks, and on the architects of this war, including" Putin.
"As Russian forces unleash their assault on Kyiv and other Ukrainian cities, we are resolved to continue imposing costs on Russia that will further isolate Russia from the international financial system and our economies," the statement continued. "We will implement these measures within the coming days."
The allies said they "commit to ensuring that selected Russian banks are removed from the SWIFT messaging system," will impose "restrictive measures that will prevent the Russian Central Bank from deploying its international reserves in ways that undermine the impact of our sanctions," and that they "commit to acting against the people and entities who facilitate the war in Ukraine and the harmful activities of the Russian government."
On that last bit, the group of nations said they will take "measures to limit the sale of citizenship — so-called golden passports — that let wealthy Russians connected to the Russian government become citizens of our countries and gain access to our financial systems."
The nations said they will launch a task force this week to ensure the implementation of the sanctions and identify and freeze assets of sanctioned people and companies within each of their jurisdictions.
Russian police detain conflict demonstrator in a night of protests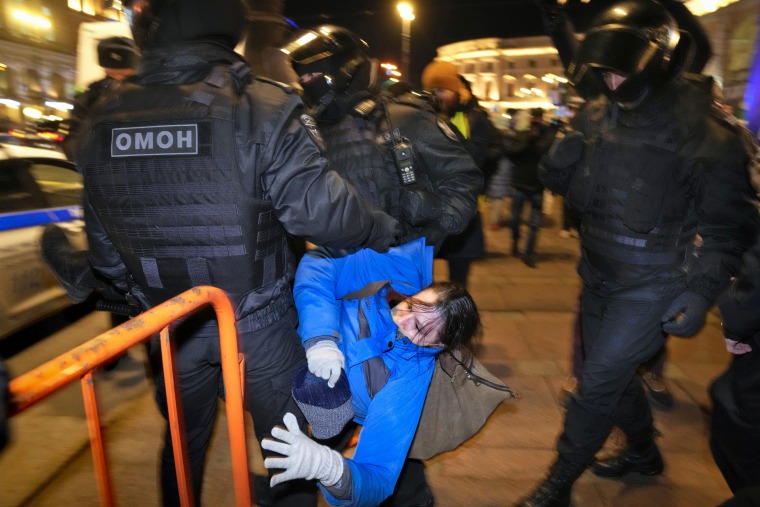 Cryptocurrency donations pour in after Ukraine puts out call on Twitter
Ukraine's government received more than $4 million in cryptocurrency on Saturday shortly after it began directly soliciting funds on social media, according to its accounts' public transactions.
Ukraine's official Twitter account, as well as its minister for digital transformation, tweeted Crypto wallet addresses where people can donate their bitcoin, ethereum and tether, a cryptocurrency whose value is tied to the U.S. dollar.
Within a few hours, those addresses had received more than $761,949 of bitcoin and more than $3.4 million worth of ethereum, the account showed.