This event is over. For more Russia-Ukraine coverage read here.
This Maxar Technologies satellite image taken and released on Sunday shows the southern end of a deployment of Russian ground forces, moving troops and equipment, in Ivankiv, around 50 miles northwest of the Ukrainian capital, Kyiv.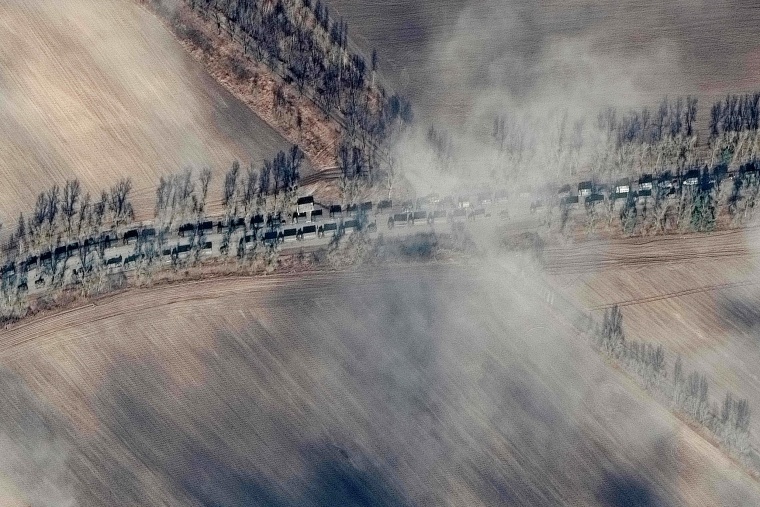 Another Maxar image, also taken Sunday, shows a damaged hangar at Antonov Airport in Hostomel, where Russian forces have met fierce resistance.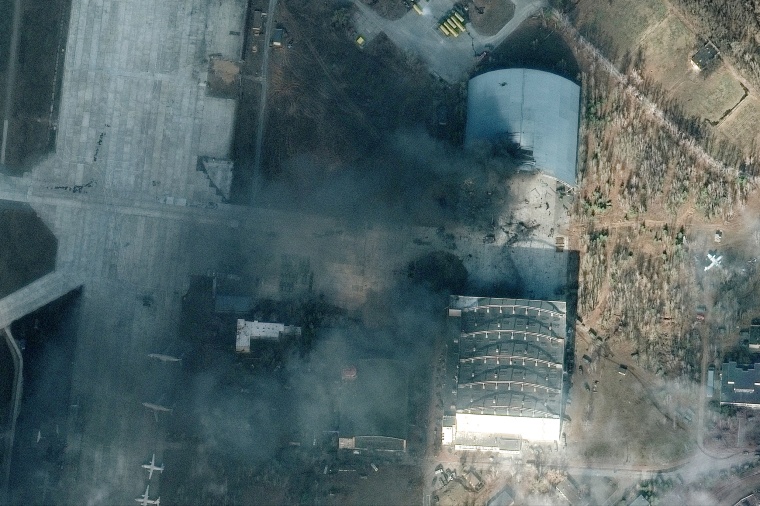 Nine out of ten of Ukrainians support Zelenskyy's defense of country, poll finds
Some 90 percent of Ukrainians support President Volodymyr Zelenskyy's defense the country against Russia, while most believe they will be able to repel Russia's attack, a new poll has found.
The poll conduct by the Rating Sociological group, a Ukrainian non-governmental polling organization, found that 70 percent of respondents said they believed Ukraine would be able to fend off Russia's invasion; 16 percent said they were not sure. 
The poll, which asked 2,000 people between Feb. 26 and Feb. 27, also found that the level of confidence in the Ukrainian Armed Forces had grown significantly over the span of a week, with the highest level of confidence in the west and in the center of the country, at around 75 to 78 percent. 
According to the data, support for Zelenskyy's actions has tripled since Dec. 2021. 
Ukraine's 'staunch resistance' is hampering Russian advance, Britain says
Britain's Ministry of Defense said Monday that Russia's ground forces remain 18 miles north of Kyiv, having been slowed down by Ukrainian fighters' "staunch resistance."
In a tweet described as an "intelligence update," the ministry said that Hostomel airfield near the capital was a "key Russian objective for day one of the conflict" but remains under Ukrainian control.
It added that "logistical failures" were frustrating the Russian advance.
Zelenskyy tells Russian forces to 'save your lives and leave,' says prisoners with combat experience can join the fight
Ukraine's President Volodymyr Zelenskyy on Monday warned Russian forces to save their lives and retreat as he said Ukrainians are standing firm in the fight against Russia's invasion.
Marking the "fifth day of Russia's full-scale war against Ukraine," Zelenskyy hailed Ukrainians' "inspirational" response and said they had shown what they are "really capable of...to the fullest."
Addressing Russian forces, Zelenskyy said in a video posted to his Telegraph channel: "Don't trust your commanders, don't trust your propagandists. Just save your lives. Leave," he warned. 
The Ukrainian leader said his government had also made a "morally difficult" decision to allow incarcerated people "with real combat experience" to be released from custody. He said they would be able to "compensate from their guilt in the flashpoints." 
"When I went to the presidency, I said that each of us is the president. Because we are all responsible for our country. For our beautiful Ukraine. And now it has happened that each of us is a warrior," he said.
"And I am sure that each of us will win."
Local residents carry the Ukrainian flag to put at the newly built checkpoint by the local community in Hushchyntsi, around 140 miles southwest of Kyiv on Sunday.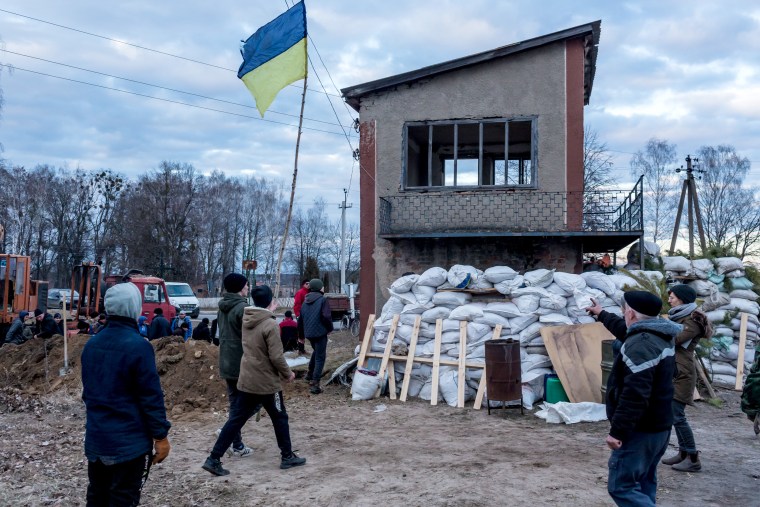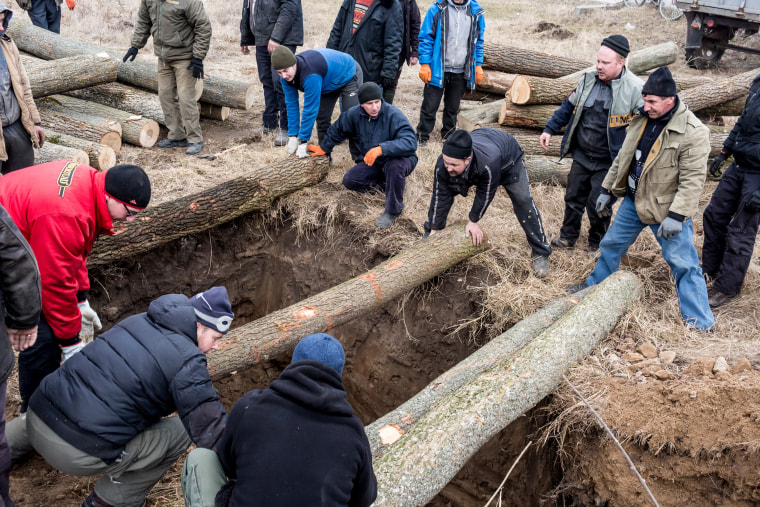 Ukrainian delegation arrives as talks with Russia set to begin
A Ukrainian delegation has arrived at the Belarusian border for talks with Russia.
In a statement on Telegram, Ukraine's Parliament said the delegation included a number of Ukrainian officials, including David Arakhamia of the Servant of the People faction, Oleksiy Reznikov, Ukraine's defense minister, Mykola Tochytsky, Ukraine's deputy minister for foreign affairs, Mykhailo Podoliak, a presidential adviser, and others. 
Ukraine's Parliament, the Verkhovna Rada, said the main focus of negotiations would be Ukraine's call for an immediate ceasefire and the withdrawal of troops from Ukraine.
Talks between Ukraine and Russia were expected to begin at around 9 a.m. GMT (4 a.m. ET). 
Posting a photo of a long conference table Monday morning, Belarus' Ministry of Foreign Affairs said "everything is ready to host Russia-Ukraine negotiations." 
The talks come after Ukrainian President Volodymyr Zelenskyy said he had agreed for a delegation to meet with Russian counterparts on the Belarus border "without preconditions" after speaking with Belarusian President Alexander Lukashenko.
Lukashenko, an ally of Russian President Vladimir Putin accepted "responsibility for ensuring that all planes, helicopters and missiles stationed on Belarusian territory will remain on the ground during the Ukrainian delegation's travel, talks and return," Zelenskyy's office said.
Facebook, Twitter remove disinformation accounts targeting Ukrainians
Facebook and Twitter removed two anti-Ukrainian "covert influence operations" over the weekend, one tied to Russia and another with connections to Belarus, the companies said.
One of the operations, a propaganda campaign featuring a website pushing anti-Ukraine talking points, was an offshoot of a known Russian disinformation operation. A Facebook spokesperson said it used computer-generated faces to bolster the credibility of fake columnists across several platforms, including Instagram.
The other campaign used hacked accounts to push similar anti-Ukraine propaganda and was tied to a known Belarusian hacking group.
Disinformation experts warned that Russia is expected to continue to try to manipulate narratives about Ukraine — most notably around the claims made by Russian President Vladimir Putin. 
Read the full story here. 
Ruble falls to historic lows as Russia's central bank hikes interest rates to 20 percent
The Russian ruble tumbled to a record low against the dollar Monday after Western countries announcer harsher sanctions against Russia over the weekend amid its invasion of Ukraine. 
The ruble fell to 119.50 per dollar in Asian trading, marking a record low for the currency. It later recovered to around 110 per dollar. 
Meanwhile, Russia's central bank set the country's key interest rate at 20 percent from Monday, nearly double its previous rate of 9.5 percent. 
"External conditions for the Russian economy have drastically changed," the bank said in a statement. "The increase of the key rate will ensure a rise in deposit rates to levels needed to compensate for the increased depreciation and inflation risks. This is needed to support financial and price stability and protect the savings of citizens from depreciation."
The bank said further key rate decisions would be made "taking into account risks posed by external and domestic conditions and the reaction of financial markets, as well as actual and expected inflation movements relative to the target and economic developments over forecast period."
Deserted streets during the curfew at sunrise on Monday in the Ukrainian capital Kyiv. Explosions and gunfire were reported around the city on the second night of Russia's invasion.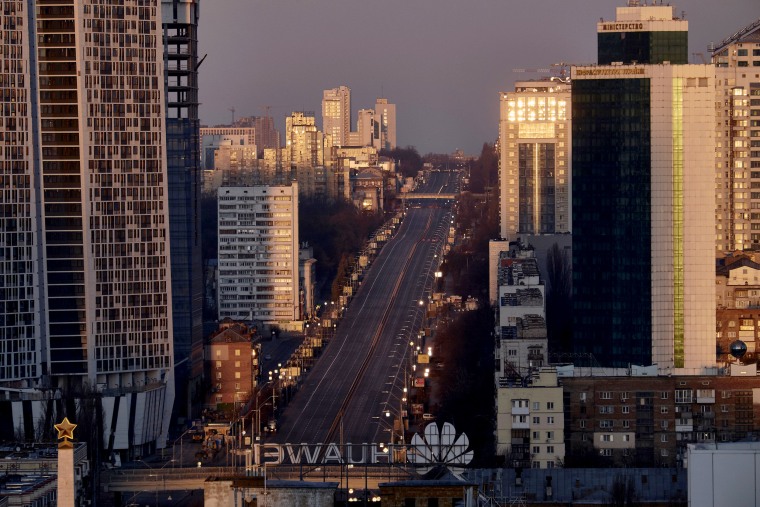 Canada says Russian airline violated its airspace
Canada accused the Russian airline Aeroflot on Sunday of violating its airspace, hours after Canada and other countries shut their skies to Russian aircraft. 
Transport Canada, the country's national transportation agency, said on Twitter that it would review actions leading up to the violation by Aeroflot Flight 111. Data from the website FlightAware showed the Miami-to-Moscow flight passing over eastern Canada. 
"We will not hesitate to take appropriate enforcement action and other measures to prevent future violations," Transport Canada said. 
Aeroflot did not immediately respond to a request for comment sent outside regular business hours. 
CEOs of Google, YouTube meet E.U. officials to discuss Ukraine
European officials pressed the CEOs of Google and YouTube on Sunday to take down Russian government messages in response to the conflict in Ukraine. 
"Online platforms took unprecedented steps after the Capitol Hill attacks. Surely Russian war #propaganda merits at least the same level of response," Thierry Breton, the E.U.'s internal market commissioner, said on Twitter. He posted a photo of a video meeting he and others had with Google's Sundar Pichai and YouTube's Susan Wojcicki. 
Google, which owns YouTube, said in a statement after the call that it was committed to tackling disinformation and that it was already taking unprecedented steps to prevent misuse of its platforms.
"As we said to the Commissioners, our teams continue to monitor the situation around the clock and are ready to take further action," the company said. 
Reuters reported Sunday that Google had temporarily disabled in Ukraine some Google Maps tools that provide live information about traffic conditions and how busy different places are in response to concerns about the safety of local communities.
"Succession" actor Brian Cox hails Zelenskyy, condemns Russia at SAG Awards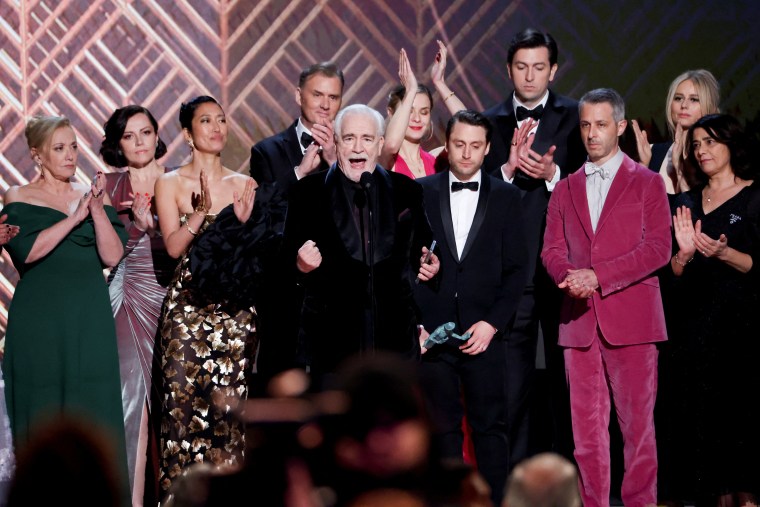 "Succession" star Brian Cox, accepting the statuette for best drama series ensemble at the Screen Actors Guild Awards on Sunday, paid tribute to Ukrainian President Volodymyr Zelenskyy and blasted Russian President Vladimir Putin's government.
Cox, surrounded by his "Succession" cast mates, acknowledged that Zelenskyy was a comedian and performer before he took office in 2019. He then blasted the Russian government for placing limits on what artists can say about the conflict.
"They are told, under pain of high treason, that they cannot say a word about Ukraine, and I think that is pretty awful," Cox said from the stage at the Barker Hangar in Santa Monica, California. He called on the audience to celebrate Russians who dare to take a stand against Putin's offensive in a democratic country.
In the crowd, many of Cox's acting peers stood up and applauded.
Russia still has friends, official says, citing China
Russia is not entirely isolated on the international stage, despite widespread sanctions, and it still counts China as a friend, said Maria Zakharova, a spokesperson for the Russian Foreign Ministry. 
The privately owned Russian news agency Interfax reported early Monday Moscow time that Zakharova was asked in an interview on the Russia-1 TV channel whether Russia still had friends. 
"Of course," she said. "Look at the reaction of the world's giants. Those who do not pretend to be giants, but real giants. Well, in particular, China. You see this reaction." 
Zakharova blamed Western countries for starting the conflict in Ukraine by stuffing the country with weapons, and she said Ukrainian authorities had "delegitimized themselves" by letting it happen, Interfax reported. 
Blasts heard in Kyiv
Blasts were heard in the Ukrainian capital, Kyiv, and in the major city of Kharkiv on Monday morning, Ukraine's State Service of Special Communications and Information Protection said.
Kyiv had been quiet for a few hours before that, it said in a brief statement on the Telegram messaging app. 
Russian saboteurs want to bring panic to Kyiv, mayor says
Kyiv Mayor Vitali Klitschko said Sunday that authorities in the city are searching for possible Russian saboteurs who may have entered in disguise. 
"They want to make [a] terror attack and to bring the panic to our city," Klitschko said, according to The Associated Press. He described them as small groups of armed troops dressed as civilians.
Ukrainian President Volodymyr Zelenskyy said earlier that sabotage groups had entered the city of 2.8 million people with the aim of killing government officials.
Klitschko said the presence of possible saboteurs was one reason for residents to obey a curfew. "We try to hunt these people. It will be much easier if nobody is in the street," he said. 
He told the AP that nine civilians in Kyiv had been killed, including a child. NBC News has not independently verified those figures.
Dow futures fall as much as 500 points
U.S. stock futures moved lower in overnight trading Sunday as investors grew concerned about the economic ramifications of the fighting between Russia and Ukraine.
Dow futures dropped as much as 500 points. S&P 500 futures fell as much as 2.12 percent, and Nasdaq 100 futures lost as much as 2.37 percent.
U.S. and global equities experienced volatile trading last week as tensions between Russia and Ukraine escalated.
The Russian ruble was set to tumble by at least 19 percent, with banks offering it at about 100 rubles per dollar, Reuters reported. It closed Friday at 84 rubles per dollar.
Blinken: U.S. to provide $54 million for 'ordinary Ukrainians'
The U.S. will provide nearly $54 million in additional humanitarian assistance to Ukraine, Secretary of State Antony Blinken said Sunday. 
"It is with the welfare of ordinary Ukrainians in mind that we are announcing the provision of nearly $54 million in humanitarian assistance to those affected by Russia's further invasion," Blinken said in a statement. 
The aid, which will go through independent organizations, will be spent on providing food, safe drinking water, shelter, emergency health care, winterization and protection, the State Department said. It brings the total U.S. humanitarian assistance in the Russia-Ukraine crisis to $405 million since 2014. 
Blinken said U.S. diplomats were working with Ukraine's neighboring countries to keep borders open for refugees and to assist refugees. 
"As with any refugee situation, we call on the international community to respond to the needs of those seeking protection in a way consistent with the principle of non-refoulement and our shared obligations under international law," he said. (Non-refoulement is the principle that no one should be returned to a country where they would face irreparable harm.)
E.U. diplomat says Ukraine conflict 'is a defining moment for European history'
The Russia-Ukraine conflict will help to define the history of Europe, Josep Borrell, the E.U.'s foreign policy chief, said Sunday.
"They are unprecedented times because the war is back in our borders. And that's why it is a defining moment for European history," Borrell said at a briefing with reporters, explaining the E.U.'s decision to finance a package of lethal assistance to Ukraine. 
He said there had been a "taboo" against the E.U.'s using collective resources to provide arms to a country that's at war with another, but, he said, "Another taboo has fallen these days." 
The total package would be more than 556 million Euros, and Poland has agreed to serve as a logistical hub for the delivery of aid.
Zelenskyy, in call with U.K.'s Johnson, says next 24 hours will be 'crucial' for Ukraine
Ukraine President Volodymyr Zelenskyy said during a call with U.K. Prime Minister Boris Johnson that the next 24 hours will be a "crucial period" for Ukraine, according to a readout of the call.
"The Prime Minister said he would do all he could to help ensure defensive aid from the UK and allies reached Ukraine," a Downing Street spokesperson said in a statement. "The leaders agreed to continue to stay in close contact and the Prime Minister reiterated the UK's staunch support for Ukraine's sovereignty."
Johnson also praised Zelenskyy's leadership and lauded the resistance of the Ukrainian people as "heroic."
Kids with cancer shelter in Kyiv hospital basements with limited access to meds, food and water
Kids with cancer and the staff members treating them are huddled in the basements of two children's hospitals in Kyiv with waning access to medication, food and water, an official with Ukraine's largest children's cancer charity said. 
Pharmacies and warehouses with medication that the children need have closed down, Yuliya Nogovitsyna, the director of programming for the charity Tabletochki, said in an interview.
The kids have access to only basic forms of chemotherapy, she said. Other treatments have been interrupted, raising concerns that the children could relapse, not achieve remission and grow sicker. 
"When we speak about casualties in war, we just count those who are killed in the fighting," Nogovitsyna said. "These children, they have been also killed by it, but slowly, because their treatments are interrupted."
A further challenge is finding drivers to deliver food and water, she said. The hospitals have made deals for food and water, but not many people are willing to drive through the conflict-ravaged city of Kyiv. 
A truck taking water to the children Saturday was shot at and the driver has had to shelter at the hospital, she said.
Thirteen children with cancer at the older of the two hospitals are being treated by four doctors, two nurses and two assistant nurses, who have decided to stay there. The basement is humid and moldy, Nogovitsyna said. 
The organization hopes to move some of the children by bus to a hospital in Lviv in western Ukraine as soon it is safe. After that, the kids have been offered beds and treatment if they can reach Poland. The logistics remain challenging, however.
"It's not possible to leave Kyiv for the moment — there is a curfew," Nogovitsyna said. "Nobody is allowed to move outside of the buildings because every person will be regarded as an enemy and will be shot."
Ukraine's U.N. ambassador condemns Putin's 'nuclear blackmail' and claims of genocide
Russian President Vladimir Putin has resorted to "nuclear blackmail" and perverted the basis of the international Genocide Convention for his own agenda, Sergiy Kyslytsya, Ukraine's ambassador to the United Nations, said at a public Security Council meeting Sunday. 
Kyslytsya detailed attacks in Ukraine on residential areas and the country's infrastructure from "bloody and mad Russian leadership" in his speech to fellow U.N. ambassadors Sunday. He said the world must take Putin's threat of nuclear armament very seriously.
Ukraine has filed a case with the International Court of Justice on the basis of the Genocide Convention and asked the world court to issue provisional measures against Russia, Kyslytsya announced. 
"Russia, however, has twisted the concept of genocide and perverted the solemn treaty obligation to prevent and punish genocide," Kyslytsya said. "It has made an absurd and unfounded claim of alleged genocide as a justification and pretext for its own aggression against Ukraine and violation of the sovereignty and human rights of the Ukrainian people." 
Vasily Nebenzya, the Russian diplomat assigned to the U.N., denied accusations that Russian armed forces were targeting Ukrainian civilians. He continued to push the narrative that crimes by Ukrainian nationalists were the catalyst for Putin's invasion. 
The Russian Federation blocked a previous resolution denouncing Russia's invasion, which Nebenzya said was "imbalanced." He asserted that any attempt to "circumvent" the Russian Federation's position on the Security Council would undermine the U.N. Charter.
"This is precisely why the council has the vested right for permanent members to block a decision," Nebenzya said. "This is not a privilege. This is a mechanism for ensuring the balance of interests, which is of such paramount importance for the entire world, and through this balance of interest for the achievement of global stability."
U.S. citizens should consider leaving Russia immediately, State Department says
The U.S. Embassy in Moscow warned U.S. citizens Sunday that they should consider leaving the country immediately as more countries impose airspace restrictions on Russia.
"An increasing number of airlines are canceling flights into and out of Russia, and numerous countries have closed their airspace to Russian airlines," the embassy said in a statement. "U.S. citizens should consider departing Russia immediately via commercial options still available."
The embassy added that U.S. citizens should have a contingency plan "that does not rely on U.S. government assistance." Americans also should monitor local and international media, keep in contact with family and friends, stay alert of their surroundings when in public, review security plans and always carry their passports with current Russian visas, the embassy said.
Since January, the State Department has said Americans should not travel to Russia because of "ongoing tension along the border with Ukraine, the potential for harassment against U.S. citizens, the embassy's limited ability to assist U.S. citizens in Russia, COVID-19 and related entry restrictions, terrorism, harassment by Russian government security officials, and the arbitrary enforcement of local law."
Ukrainians pack church for first Sunday service since Russian invasion
The St. Paraskeva church in the Ukrainian town of Kalynivka was packed with people for the first Sunday service since the Russian invasion.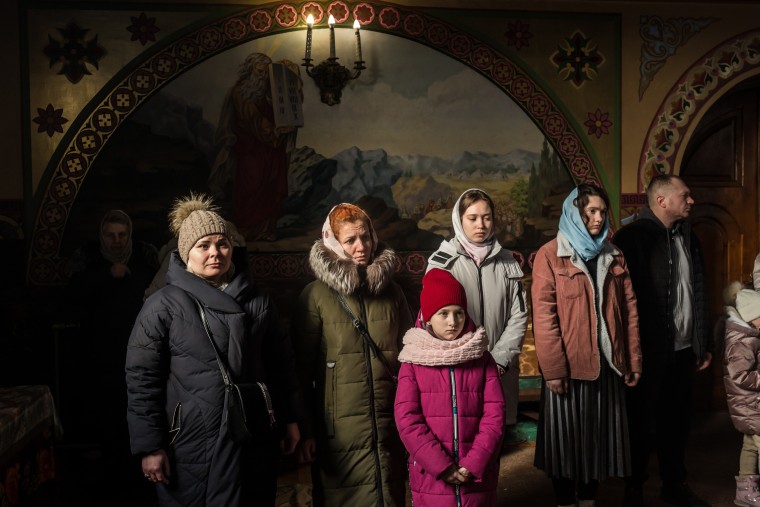 "Bullets kill people, children die, these explosions. This is crazy," the Orthodox priest told the congregation. 
As she left the church after the service, Svitlana Khvostoriezova, 64, said she had heard sirens as she walked to attend the service but that they had not deterred her from attending. 
She added that she hid at least three or four times a day in the basement of the 10-story building where she lives in the small town, around 150 miles southwest of Ukraine's capital, Kyiv.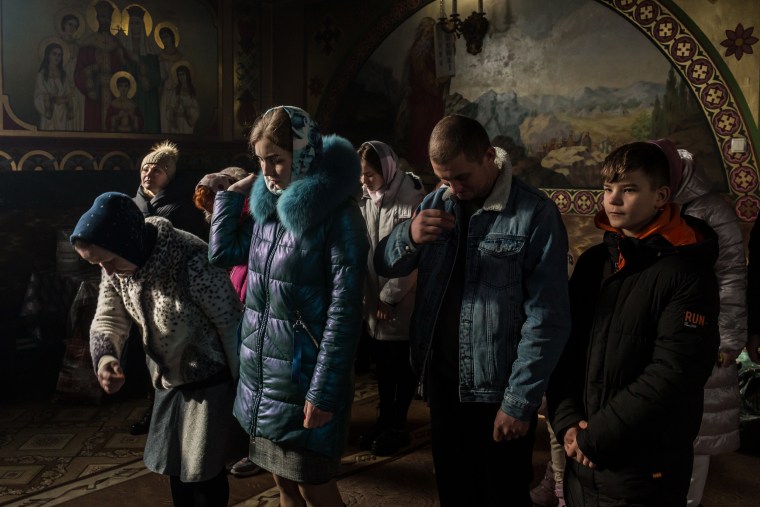 There, she said, she was joined by five or six families, including one with a 3-month-old baby. It used to be a hookah bar, she said.