This live blog is now closed. For the latest updates please check here.
Secretary of State Antony Blinken and Secretary of Defense Lloyd Austin took new promises of military and diplomatic support to Ukrainian President Volodymyr Zelenskyy in Kyiv on Sunday.
The trip, which had been shrouded in secrecy, was designed to show steadfast U.S. support for Ukraine and its defense, as the war enters a new, worrying phase expected to be marked by a major Russian offensive in Ukraine's south and east.
In his comments ahead of their visit, Zelenskyy had publicly urged the U.S. secretaries not to show up empty-handed — and they didn't.
Blinken came bearing news that the Biden administration will finally nominate an ambassador to Ukraine and that the U.S. will provide another $713 million in military financing for Ukraine and other regional partners. 
Earlier Sunday, Zelenskyy also congratulated France's President Emmanuel Macron on his re-election, calling him "a true friend of Ukraine" and expressing appreciation for his support.
For full coverage please click here.
Blinken, Austin meet with Zelenskyy in Kyiv
Secretary of State Antony Blinken and Defense Secretary Lloyd Austin slipped into Ukraine on Sunday for an extraordinary wartime meeting with President Volodymyr Zelenskyy, bringing new promises of military and diplomatic support and defying grave concerns about whether it was safe to make the journey.
The trip, the highest-level U.S. visit since Russia invaded Ukraine on Feb. 24, was designed to show steadfast U.S. support for Ukraine and its defense as the war enters a new, worrying phase expected to be marked by a major Russian offensive in Ukraine's south and east.
Civilians in steelworks beg for aid
MARIUPOL, Ukraine — A newly released video shows Ukrainian children in an underground bunker receiving Easter presents.
The video was released Sunday by the far-right Azov Battalion, which is among Ukrainian forces at the Azovstal steelworks where soldiers and civilians have been holed up under a Russian attack.
The group's deputy commander, Sviatoslav Palamar, says the video was shot Sunday at the plant.
One toddler is seen wearing homemade diapers made of cellophane. People are hanging laundry on makeshift hangers.
One of the women in the video begs for help from world leaders and says she and others stuck under the plant are tired of the bombing and are desperate for their freedom.
"We want to live in our city, in our country. We are tired of these bombings, constant airstrikes on our land. How much longer will this continue?" she says through tears. "The children are constantly crying here — they want to play and live," she adds. "Stop this aggression. I ask everyone, help please, free us!"
Another woman says 600 civilians are sheltering under the plant without food and water.
Zelenskyy congratulates 'true friend of Ukraine' Macron
KYIV, Ukraine — Ukraine's leader has congratulated Emmanuel Macron on winning a second term as president of France — and beating a far-right rival seen as close to Russia.
Ukrainian President Volodymy Zelenskyy called Macron "a true friend of Ukraine" Sunday and expressed appreciation for his support.
Tweeting in French, Zelenskyy said: "I'm convinced that we will advance together toward new joint victories. Toward a strong and united Europe!"
Macron has sought a diplomatic solution to Russia's war in Ukraine. France has also sent significant weapons to Ukraine, and Macron is planning more.
In a TV debate ahead of Sunday's runoff, Macron assailed challenger Marine Le Pen's past ties to Russia, notably a loan her party got from a Russian-Czech bank in 2014.
Switzerland rejects German requests to export Swiss ammunition to Ukraine
BERLIN — Switzerland has rejected two requests by Germany to export Swiss ammunition to Ukraine, citing its strict neutrality.
The decision was first reported Sunday by the Swiss weekly Sonntagszeitung.
Switzerland's State Secretariat for Economic Affairs confirmed that "both requests from Germany, whether the ammunition received from Switzerland can be passed on to Ukraine, were answered negatively with a reference to Swiss neutrality."
Germany needs Switzerland's consent for the arms delivery as part of the original sale contract. The Swiss office declined to specify what type of ammunition Germany had sought to export to Ukraine.
French projections show victory for Macron
Emmanuel Macron has held off a challenge from far-right leader Marine Le Pen to retain the French presidency, according to projected results from French polling agencies.
Macron, the centrist incumbent, is projected to get 57 percent to 58.5 percent of the vote in Sunday's second-round runoff, compared to 41.5 percent to 43 percent for Le Pen, his nationalist rival.
Russians, Ukrainians worship at UAE church
SHARJAH, United Arab Emirates — Hundreds of Russians and Ukrainians crowded into the only Russian Orthodox Church on the Arabian Peninsula on Sunday to celebrate Easter — far from home and in the shadow of a war that has brought devastation to Ukraine and international isolation to Moscow.
Although the two nationalities, united in language and history, typically celebrate Easter in harmony in this corner of the world where they've forged new lives as expats, this year there was unspoken tension.
"I don't have any problems with Russians as people," said Sergei, a Ukrainian businessman from Kyiv and Dubai resident of five years, who like others interviewed declined to give his last name for privacy reasons. "But war changes people. Children are dying. The Russians now hate my country."
A few Russians interviewed said they did not support the war and felt sick or guilty about it. But to avoid any confrontation in the pews, they stuck to small talk with Ukrainians about the festivities and warming weather, they said.
Ordinary Russians say Dubai has become an increasingly rare haven as anti-Russian hostility escalates around the world over the grinding war, which has rocked the stability of Europe, sent oil prices soaring and triggered the continent's worst refugee crisis since World War II.
Zelenskyy, Erdogan discuss evacuation
KYIV, Ukraine — Ukraine's President Volodymyr Zelenskyy says he has discussed the evacuation of civilians from Mariupol in a call with Turkish President Recep Tayyip Erdogan.
Zelenskyy said on Twitter that he "stressed the need for immediate evacuation of civilians from Mariupol, including Azovstal, and immediate exchange of blocked troops" in Sunday's call with Erdogan. He noted that the call came before Erdogan's planned conversation with Russian President Vladimir Putin.
Ukraine has urged Russia to allow the evacuation of civilians holed up at the giant Azovstal steel plant, the last remaining Ukrainian pocket of resistance in the strategic Sea of Azov port. It also has pushed Russia to conduct talks on a safe exit for the Ukrainian defenders of the plant, but Moscow has stonewalled the demands.
Zelenskyy said he and Erdogan also discussed the course of the negotiation process and possible security guarantees for Ukraine from Turkey and other nations.
Erdogan's office said he told Zelenskyy in their call that Turkey is ready to mediate and assist in talks between Ukraine and Russia.
Prosecutors to investigate deadly strike on Odesa apartment block
An attack on apartment block in Odesa that Ukrainian officials said killed eight people including a 3-month-old baby is being investigated by the city's regional prosecutors.
Criminal proceedings were started for "violation of the laws and customs of war, combined with premeditated murder" in relation to the strike, their office said in a statement on its website late Saturday.
Investigators found that Russian missiles destroyed living quarters between the second and fifth floors, blocking exits and trapping people, the statement added.
Eight civilians were killed, including a 3-month-old child, the prosecutor's office said, adding that another 18 people were injured and houses and cars were also damaged. There were no military facilities in the area, it said.
NBC News could not independently verify these claims and Russia has consistently denied that its forces are targeting Ukrainian civilians.
Separately, Russian news agency Tass quoted Russian Defense Ministry spokesman Igor Konashenkov as saying Saturday that the country's armed forces destroyed a logistics terminal at a military airfield near Odesa, where foreign-supplied weapons were stored.
Pope Francis renews call for an Easter truce in Ukraine
VATICAN CITY — Pope Francis has renewed his call for an Easter truce as Orthodox Christians celebrated Easter Sunday, when the faithful mark the resurrection of Jesus.
Without naming countries, Francis urged aggressors to "stop the attack to help the suffering of the exhausted people."
Francis told a crowd gathered in St. Peter's Square that two months had passed since Russia's invasion of Ukraine and said that "instead of stopping, the war got worse. It is sad that in these days that are the holiest and most solemn for all Christians, the deadly clamor of arms is louder than the sound of bells announcing the Resurrection."
'It was killing me': Mother accuses Russia of forcibly deporting her son from Ukraine
Natalia Demish escaped the horrors of besieged Mariupol last month.
But while she is now in relative safety in the central Ukrainian city of Dnipro, she was cut off from her 21-year-old son, Yuri, by the ongoing fighting when she fled. 
Demish, 40, says Yuri has now been forcibly deported to Russia, and she worries that he will be forced to fight against his own country. 
Red Cross 'deeply alarmed' by situation in besieged Mariupol
The International Committee of the Red Cross said Sunday it was "deeply alarmed" by the situation in Ukraine's besieged souther port city of Mariupol, whose population it said was in "dire need of assistance."
The ICRC called for "immediate and unimpeded humanitarian access" to allow safe passage of thousands of civilians and hundreds of wounded out of the city, including from the Azovstal plant area, where Ukrainian soldiers and civilians are holding out.
"Each day, each hour that passes has a terrible human cost," it said.
Russia claimed it had taken control of the strategically important city last week.
The city has been at the center of what Ukrainian officials and aid organizations have called a humanitarian catastrophe, where residents are surviving with little to no water, food, medication and electricity.
Ukrainian authorities have blamed Russian forces for refusing to allow humanitarian aid to be delivered into the city from Ukraine. Both sides have blamed each other for not sticking to the conditions of humanitarian corridors to get civilians out of the city. Ukraine has also accused Russia of forcibly deporting city residents into the Russian territory.
Christian Orthodox spiritual leader says 'indescribable human tragedy unfolding' in Ukraine
The spiritual head of Eastern Orthodox Christians worldwide called Sunday for humanitarian corridors to open in Ukraine, where he said "an indescribable human tragedy is unfolding."
Ecumenical Patriarch Bartholomew, who has previously called for an end to the war, said that he hoped Easter would be "the impetus to open humanitarian corridors, safe passages to truly safe areas for the thousands of people surrounded in Mariupol."
"The same applies to all other regions of Ukraine, where an indescribable human tragedy is unfolding," Bartholomew said after an Easter service in Istanbul, where he is based. "We call once again for an immediate end to the fratricidal war, which, like any war, undermines human dignity,"
His comments came after the leader of the Russian Orthodox Church, whose backing for Moscow's "special military operation" in Ukraine has dismayed many fellow Christians, said on Saturday he hoped it would end quickly but again did not condemn it.
Ukraine repelled numerous Russian assaults, U.K. defense ministry says
Ukraine has repelled numerous Russian assaults along the line of contact in its eastern Donbas region this week, according to an intelligence briefing from Britain's defense ministry.
Despite Russia making some territorial gains, Ukrainian resistance has been strong across all axes and inflicted a significant cost on Russian forces, it said.
"Poor Russian morale and limited time to reconstitute, reequip and reorganize forces from prior offensives are likely hindering Russian combat effectiveness," it added.
8 people die in attacks on Luhansk, regional governor says
Eight people were killed and two others wounded by Russian shelling in recent days, the regional governor of Luhansk in eastern Ukraine, said Sunday.
Serhiy Haidai said at least seven houses and a police station were hit in a post on the Telegram messaging app that was translated by NBC News.
"The Russians fired 12 times at the peaceful homes of Luhansk residents on April 23," he said. "Among the cities affected are, in particular, Hirske, Zolote, Lysychansk and Sieverodonetsk."
Haidai said 6 people died and two were injured as the result of Saturday's artillery attack on the cities of Gorskoye and Zolote. He added that two women who were trapped by a strike on a building in the city of Popasna several days ago also did not survive.
The shelling comes as the Russians are pressing on with their offensive to gain full control over Donbas, Ukraine's eastern industrial heartland.
'They were trying to escape': Ukrainian man says he saw Russian forces shooting civilians
HAVRONSHCHYNA, Ukraine — Driving past nondescript fields in the countryside near Kyiv, it's easy to miss a small family car abandoned by the side of the road.
But the vehicle — riddled with bullet holes, strewn with baby clothes and spattered with human remains — is a microcosm of the horror that has befallen Ukraine.
It's also an example of the heroism that has allowed it to endure.
"It was chaos. I couldn't feel anything. I was numb. Some people were trying to hide in my house. I was trying to pick up wounded people," said Yuriy Patsan, 42, a mechanic, in describing the incident on March 15 that ended with the car being stranded outside his house on the edge of this small village of about 1,000 residents around 30 miles west of the capital, Kyiv.  
The vehicle is now one more piece of a giant puzzle for investigators gathering evidence of alleged war crimes committed by Russian forces, a charge they deny. Moscow has also repeatedly denied that it is targeting Ukrainian civilians. 
'We ask God for great grace,' Zelenskyy says in Easter message
As Ukrainians marked Orthodox Easter Sunday, President Volodymyr Zelenskyy sent a message of support and faith to his countrymen.
"At Easter, we ask God for great grace, to make our great dream come true — for another great day, a day when great peace will come to Ukraine. And with it — eternal harmony and prosperity," Zelenskyy said in an Instagram post, accompanied by a video of him walking through Kyiv's historic Saint Sophia Cathedral.
"With faith and confidence in this, I wish you all happy Easter," he said. "Take care of yourselves. Take care of your loved ones. Take care of Ukraine," he added.
8 killed in missile attack on Odesa, Zelenskyy says
Eight people were killed and at least 18 others were wounded in a missile attack on the Ukrainian city of Odesa on Saturday, Ukrainian President Volodymyr Zelenskyy said.
"Ordinary peaceful people. Among those killed was a 3-month-old baby girl. How did she threaten Russia?" Zelenskyy said in an address, an English version of which was posted on the Ukrainian president's website.
Video in the aftermath of the missile strike in the southern port city showed rescuers rappelling down the side of a damaged apartment building in the search for survivors or the wounded.
Apartment building damaged after Russian shelling in Odesa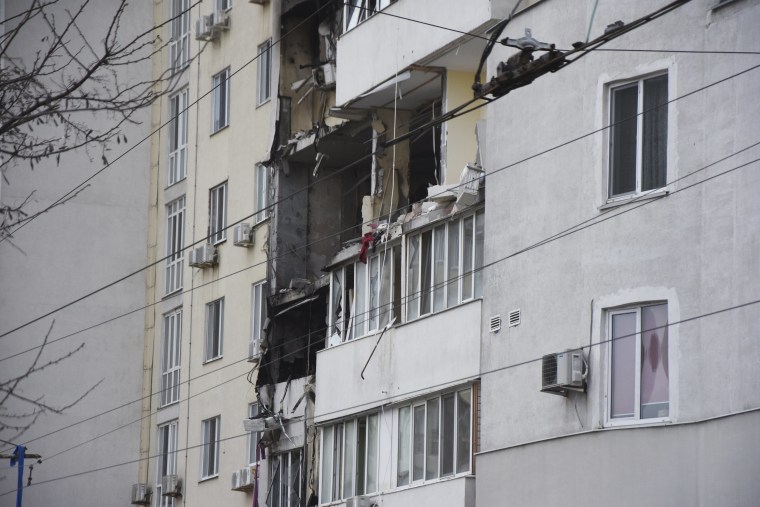 An apartment building damaged after Russian shelling in Odesa, Ukraine, Saturday. Ukrainian officials reported that Russia fired at least six cruise missiles at the Black Sea port city.
Russian command post in Kherson destroyed, Ukrainian military says
The Ukrainian military said Saturday it destroyed a Russian command post in Kherson, a southern city that fell to Russian forces early in the war.
The Ukrainian military intelligence agency posted a statement saying the command post was hit on Friday and two generals were killed and one was critically wounded.
Oleksiy Arestovych, an adviser to Ukrainian President Volodymyr Zelenskyy, said in an online interview that 50 senior Russian officers were in the command center when it came under attack. He said their fate was unknown.
The Russian military did not comment on the claim, which could not be confirmed.