This live blog is closed. For the latest updates please click here
Civilian evacuations from the Azovstal steel plant and surrounding areas in the Russia-occupied city of Mariupol continued Thursday night into Friday, with U.N. Secretary-General António Guterres announcing the safe passage of almost 500 people.
Russia has attacked the massive steel plant, where civilians and a group of soldiers have been barricaded since mid-April. Ukraine said Wednesday it lost contact with the troops amid heavy fighting.
Russia maintains its offensive in eastern Ukraine, where officials have said civilian centers are still the target of strikes. U.S. and E.U. support is still entering the country, with President Joe Biden on Friday authorizing the shipment of another $150 million in military assistance for Ukraine.
Intelligence sharing also remains a focus. NBC News reported Thursday that information shared by the U.S. helped Ukraine sink the Russian cruiser Moskva.
Read full coverage of the war here.
Biden, Zelenskyy to attend virtual G7 meeting
President Joe Biden is expected to attend a virtual meeting of the Group of Seven world leaders Sunday with Ukrainian President Volodymyr Zelenskyy as a guest, White House press secretary Jen Psaki said Friday.
Psaki said the timing of the meeting of top economic nations should be noted because Russian President Vladimir Putin has "projected his desire" to use his nation's Victory Day celebrations Monday to declare Russia's defeat of Ukraine.
"I think it should not be lost, the significance of ... when this G7 meeting is happening," Psaki said after a briefing Friday.
The G7 meeting will have Putin and the attack on Ukraine as a topic front-and-center, she said.
Group leaders, joined by Zelenskyy, will discuss "building on our unprecedented sanctions to impose severe costs for Putin's war," Psaki said.
'This is hypocrisy': Zelenskyy lambasts West over Russia sanctions loopholes
Biden authorizes shipment of $150 million in military assistance for Ukraine
WASHINGTON — President Joe Biden on Friday authorized the shipment of another $150 million in military assistance for Ukraine for artillery rounds and radar systems in its fight against Russia's invading forces.
Biden said the latest spending means his administration has "nearly exhausted" what Congress authorized for Ukraine in March and called on lawmakers to swiftly approve a more than $33 billion spending package that will last through the end of September.
"We are sending the weapons and equipment that Congress has authorized directly to the front lines of freedom in Ukraine," Biden said in a statement. "U.S. support, together with the contributions of our Allies and partners, has been critical in helping Ukraine win the battle of Kyiv and hinder Putin's war aims in Ukraine."
A U.S. official said the latest tranche of assistance includes 25,000 155mm artillery rounds, counter-artillery radars, jamming equipment, field equipment and spare parts.
Biden to officials: Media reports of intel sharing with Ukraine are counterproductive    
President Joe Biden spoke with top U.S. intelligence and defense officials on Friday to stress the importance of their work but also said that recent news reports about U.S. intelligence sharing with Ukraine have been counterproductive, according to two administration officials.
On the phone with CIA Director William Burns, Director of National Intelligence Avril Haines and Defense Secretary Lloyd Austin, Biden's message was that such disclosures "distract from our objective," one official said. The other official said Biden conveyed that the leaks should stop.
The CIA and the Office of the DNI declined to comment. The Pentagon and the National Security Council did not respond to requests for comment.
UN Security Council, including Russia, agrees on statement of finding peaceful solution in Ukraine
UNITED NATIONS — Members of the United Nations Security Council, including Russia, have agreed on a statement expressing "strong support" for Secretary-General Antonio Guterres' efforts to find a peaceful solution to the "dispute" in Ukraine.
The council scheduled a meeting later Friday to adopt the brief statement, which would be the first approved by the U.N.'s most powerful body since Russia invaded Ukraine on Feb. 24.
It does not mention a "war," "conflict" or "invasion" as many council members call Russia's ongoing military action, or a "special military operation" as Moscow refers to it.
The statement, drafted by Norway and Mexico, "expresses deep concern regarding the maintenance of peace and security of Ukraine" and "recalls that all member states have undertaken, under the Charter of the United Nations, the obligation to settle their international disputes by peaceful means."
Secretary-General Antonio Guterres reached an agreement with Russian President Vladimir Putin and Ukraine's President Volodymyr Zelenskyy for the evacuation of civilians, first and foremost from the besieged southeastern port city of Mauripol and its last Ukrainian forces holdout at the Azovstal steel plant where hundreds of civilians are also still living in underground bunkers.
The U.N. and the International Committee of the Red Cross have carried out two successful evacuations from Mariupol and surrounding areas so far and are currently trying to arrange a third from the steel plant.
Children with severe mine injuries among 30 airlifted to Germany, Ukraine's cabinet says
Children with severe injuries from mine explosions were among 30 people airlifted to Germany for treatment, a briefing from Ukraine's cabinet ministers said Friday.
The group was taken from the city of Kharkiv and other parts of Ukraine's east to Cologne, according to the briefing which was posted to the cabinet's website and translated by NBC News.
The patients had initially been taken by train to the western city of Lviv to stabilize their condition, the briefing added.
Among those transported were adults and children with severe injuries from mine explosion and others were suffering with diseases that are currently untreatable in Ukraine, the briefing said.
E.U. 'very much worried' that Russia could invade Moldova
The European Union's foreign affairs chief has expressed concerns that Russia might expand its war to include Moldova, a small nation that borders southern Ukraine.
Josep Borrell, the top E.U. diplomat, was asked at a forum in Florence, Italy, on Friday if he was concerned about what could happen to Moldova.
"Yes, we're very much worried about what can happen," Borrell said. "The temptation to expand the war and affect Moldova is a possibility," Borrell said.
He cited recent explosions in the country as well as the presence of Russian troops. Last month, two explosions in a radio facility close to the border with Ukraine knocked out of service a pair of powerful broadcast antennas in Moldova's separatist region of Transnistria, according to local police.
Transnistria is a narrow strip of land that has been under the control of separatist authorities since a 1992 war with Moldova. Russia bases some 1,500 troops in the breakaway region, describing them as peacekeepers.
41 freed in prisoner exchange with Russia, Ukraine's deputy PM says
A prisoner exchange saw Russia hand over 41 people, including 28 military members, Ukraine's Deputy Prime Minister Iryna Vereshchuk said Friday.
"It is especially gratifying that today the abbot of the Orthodox Church of Ukraine is among those released," Vereshchuk said in a post on her Telegram channel that was translated by NBC News.
She did not say how many Russian prisoners were exchanged.
'Anecdotal evidence' suggests Russian forces are stealing grain from Ukraine, U.N. says
The U.N.'s Food and Agricultural Organization is pointing to "anecdotal evidence" that Russian forces are stealing grain from Ukraine, at a time when the country's ports have been all but unable to export following the Russian invasion.
Josef Schmidhuber, deputy director of FAO's markets and trade division, told reporters at a U.N. briefing in Geneva that about 700,000 tons of grain had "disappeared" in Ukraine. He cautioned that there were no "statistics" about possible theft.
"There's anecdotal evidence that Russian troops have destroyed storage capacity and that they are looting the storage grain that is available," he said. "They are also stealing farm equipment."
He pointed to "quite a bit of credibility" to footage shared on social media suggesting that "large amounts of grain all being trucked out of the country by Russia."
Schmidhuber said that "to the best of my knowledge," no grain was leaving Ukrainian ports.
Collecting pensions under fire in east Ukraine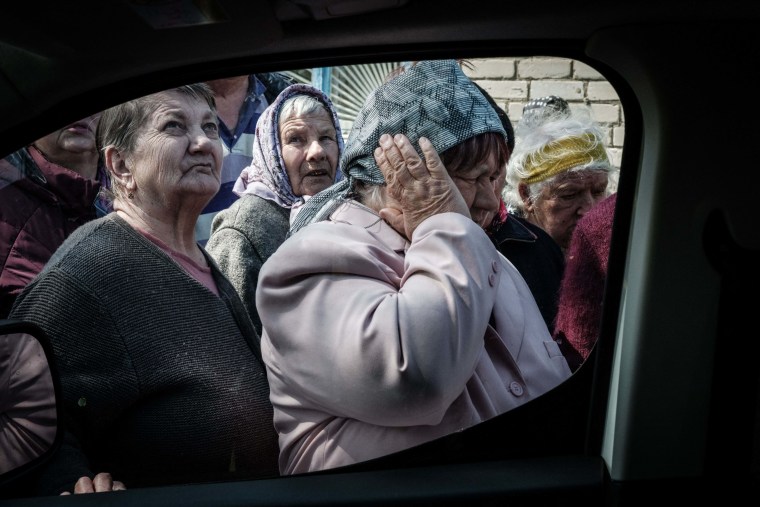 Ukraine finance minister calls for total embargo on Russian oil and gas
Ukrainian Finance Minister Serhiy Marchenko called on Friday for a complete international embargo on Russian oil and gas, Reuters reports.
Marchenko told an online briefing that Ukraine was struggling to balance its budget after 10 weeks of war and said he was dissatisfied with the pace of assistance coming in from abroad. In contrast, he claimed that Moscow had a budget surplus and that "they feel quite comfortable" due to the high price of oil and gas.
"The main issue is a complete embargo on the purchase of gas and oil from the Russian Federation," he said. "This will make it possible to remove the possibility of financing the war."
While the European Commission has been laying down plans to phase out Russian oil and gas within six months, countries such as Hungary have rejected the proposals due to their greater dependency on Russian resources. The Czech and Slovak governments also want longer transition periods.
The animals of war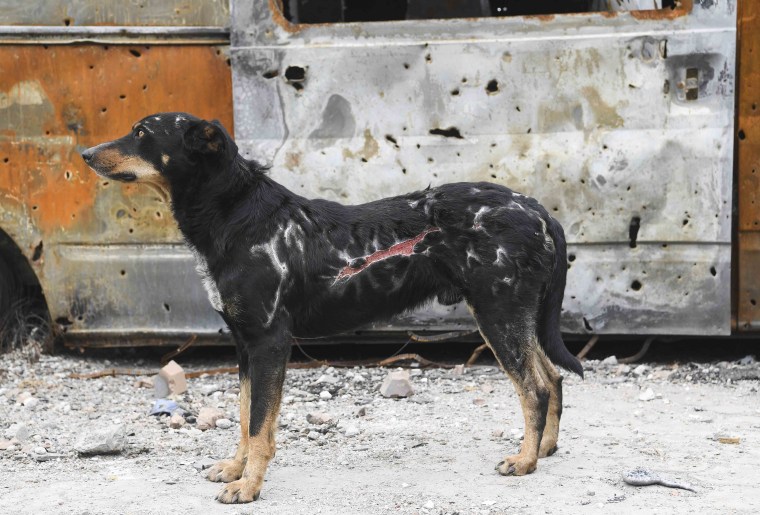 War is 'barbarous' because Christians are killing fellow Christians, Pope says
Pope Francis says Russia's war in Ukraine is particularly "barbarous" given that it involves Christians killing fellow Christians in a scandal that should drive the faithful toward unity.
Speaking to members of the Vatican office that promotes Christian unity among Catholics, Orthodox and other Christian churches, Francis said Christians should ask themselves what they have done and can do to foster fraternity with one another.
Francis recalled that efforts at unifying Christians took off in the last century thanks to "the awareness that the scandal of the division of Christians had a historical weight in generating the evil that has poisoned the world with grief and injustice."
He said: "Today, in the face of the barbarism of war, this yearning for unity must be fueled again."
Mariupol "tortured to death," Zelenskyy says
Zelenskyy made an appearance at an event hosted by the British think tank Chatham House on Friday to discuss the effects of the Russian invasion on Ukraine and the global response.
On the situation in the besieged city of Mariupol, Zelenskyy said: "This is an example of torture, with starvation used as a weapon of war. No international organizations can enter the city."
Speaking to European leaders, Zelenskyy warned: "If Ukraine falls, Russia will come for you. It may take a generation but they will come for Europe," and he criticized those who would "place sanctions on Russia with one hand, and sign Russian contracts with the other."
On Ukrainian negotiating strategy and the future of relations with Russia, Zelenskyy said: "I was elected by the people of Ukraine as the president of Ukraine, not as president of a mini-Ukraine." To achieve peace, Russian soldiers must withdraw from Ukraine so that the nation can reclaim its full territory, he said.
Ukrainian professor gives a lecture from the front lines of fight against Russia
A Ukrainian soldier fighting Russia's assault in the east of the country found some time this week to return, briefly, to his day job.
An image that circulated on social media on Friday shows Fedir Shandor, a professor at of Uzhhorod National University, in full army fatigues with his assault rifle on his lap, giving his students a lecture on the somewhat incongruous subject of tourism.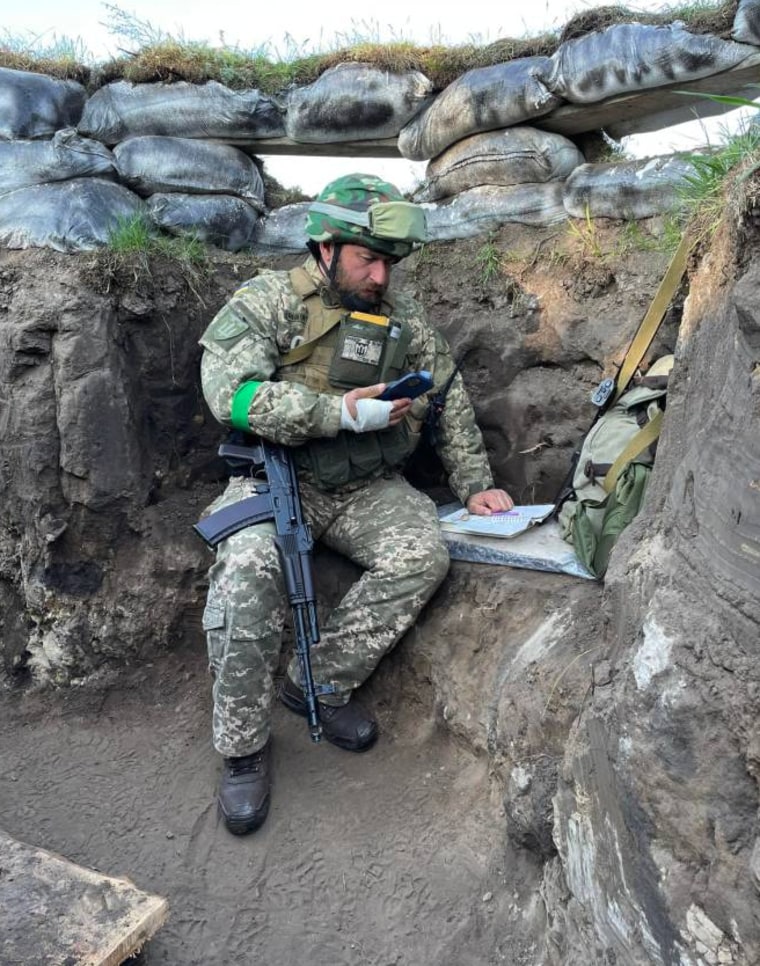 Car hit during evacuation, breaking ceasefire, Mariupol city council says
Authorities in Mariupol accused Russian forces on Friday of violating a cease-fire at the city's Azovstal steel works and firing at a car involved in evacuation efforts, killing one Ukrainian fighter and wounding six.
NBC News could not independently verify these claims.
Russia did not immediately comment on the city council's online statement. It denies targeting civilians.
Still possibility of attack on Kyiv, Ukrainian general says
Ukrainian authorities have not ruled out the potential for further Russian attempts to capture the capital of Kyiv, said Ukrainian general Oleksandr Pavliuk in an interview with news agency Ukrinform on Friday.
"There is a possibility of an attack on Kyiv, because without the capture of the capital there will never be a victory over Ukraine," he said. "If Russia's plans remain the complete destruction of Ukraine, as it has always been, and as long as Russia exists, the heart of Ukraine — Kyiv — will be in focus."
He emphasised that Ukrainian military strategy has thus far been flexible, and that authorities are preparing for all such eventualities. "We calculate and prepare for various possible scenarios of the enemy's actions," he said.
Russian troops committed war crimes in Ukraine, Amnesty International finds
Human rights organization Amnesty International on Friday released an investigation into war crimes in Ukraine.
In Bucha, one of the first towns to be occupied by Russian troops in late February, Amnesty found evidence of extrajudicial executions and also found evidence of torture prior to death. In the nearby town of Borodyanka, Amnesty found evidence of indiscriminate attacks which left up to 40 civilians dead.
NBC News has not verified those claims, and Russia has repeatedly denied committing war crimes in Ukraine.
Agnès Callamard, Amnesty's secretary general said: "The pattern of crimes committed by Russian forces that we have documented includes both unlawful attacks and wilful killings of civilians." She called on "Ukrainian authorities, the International Criminal Court and others to ensure evidence is preserved that could support future war crime prosecutions."
Funerals for the fallen in Lviv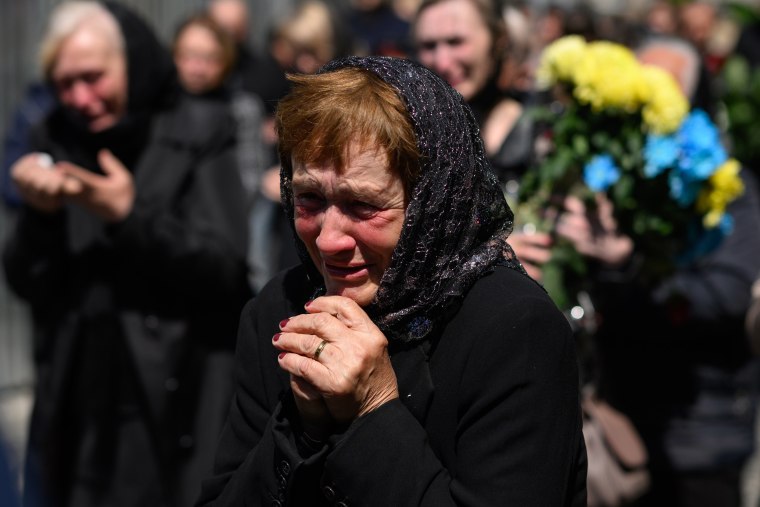 Lithuania's minister of foreign affairs visit Kyiv
We will not use nuclear weapons in war, Kremlin says
Russia will not use nuclear weapons in Ukraine, foreign ministry spokesman Alexei Zaitsev said on Friday.
Zaitsev told reporters that the use of nuclear weapons — a risk long feared by many in the West — was not applicable to Moscow's "special operation" in Ukraine.
Large ammunition depot in eastern Ukraine destroyed, Russia says
Russia's defence ministry claimed on Friday that its missiles destroyed a large ammunition depot in the eastern Ukrainian city of Kramatorsk, Reuters reports.
It also said its air defences shot down two Ukrainian warplanes, an Su-25 and a MiG-29, in the eastern Luhansk region.
It was not possible to independently verify the claims.
Russian forces prepare for Victory Day celebrations in Mariupol, despite Ukrainian objections
Russian forces have pushed forward with preparing for Victory Day celebrations on May 9 in Mariupol, despite objections from Ukrainian officials in the besieged port city.
Petro Andriushchenk, adviser to Mariupol's mayor, said in a Telegram post that Ukrainians continued to "observe preparations" for Victory Day, which marks the defeat of the Nazis in 1945, "despite the public refusal to hold a parade."
"Yesterday in the city St. George's ribbons were distributed en masse," Andriushchenk said. Meanwhile, he said, "in recent days, all the monuments of the Soviet period have been 'restored'."
"Against the backdrop of a ruined city and hungry people, it all looks like a cynical celebration on the bones," he said.
Rocket remnants in Kyiv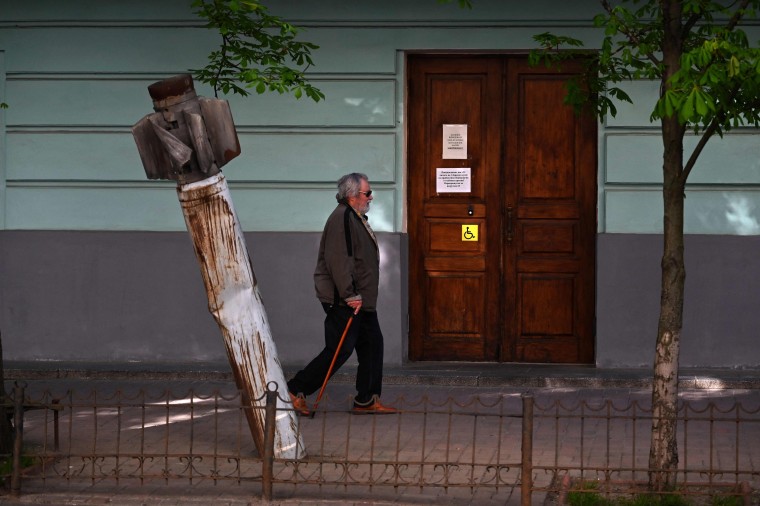 Germany to send seven self-propelled howitzers to Ukraine
Germany will deliver seven self-propelled howitzers to Ukraine, on top of five such artillery systems the Dutch government already pledged, German Defence Minister Christine Lambrecht said on Friday.
Germany reversed its long-held policy of not sending heavy weapons to war zones last week following pressure at home and abroad for it to help Ukraine fend off Russian attacks.
The heavy weapons will come out of the Bundeswehr inventories and be delivered as soon as they emerge from maintenance over the next weeks, Lambrecht and her chief of defence, general Eberhard Zorn, told reporters in the Slovak town of Sliac.
Ukraine's pleas for heavy weapons have intensified since Moscow has turned its heaviest firepower on the country's east and south, after failing to take the capital Kyiv.
Ukrainian journalist joined the fight on the frontlines after seeing war's horrors at home
KYIV, Ukraine — The last time Petro Shevchenko saw his home near Bucha, his daughter and wife were in the car with him as they fled from Russian shells and rockets that had burnt down his neighbors' houses or turned them to rubble.
Now he's watching the Russians do the same in Ukraine's east, where he's leading a military unit on the front lines. The death and destruction he witnessed near his home inspired Shevchenko, a former journalist, to join the fight in hopes of pushing back those who invaded his country. 
"War knows few rules, but when they destroy our homes, plunder our houses, rape women and kill our children, you realize that something is wrong," Shevchenko said, recalling how he used to take his daughter to soccer practice in Bucha. "No war is normal, but this unheard-of violence is just too much."
Russia's attack on Ukraine has not caused the country's defenses to crumble, as numerous experts expected. Instead, many Ukrainians have sought to aid or join the fight in any way they can — their resolve hardened by the atrocities they've witnessed.
Zelenskyy shares nightly address with Great Britain
Ukrainian president Volodymyr Zelensky addressed attendees at a "Brave Ukraine" fundraiser held by the Ukrainian embassy in London on Thursday.
Zelenskyy reiterated the importance of a relationship with Britain to Ukraine, stating: "Obviously, Russia is annoyed by our proximity — Ukraine and Britain. So this means that we are really strong in defending freedom in Europe."
He also updated attendees of the event on evacuation efforts in Mariupol, where he said Ukrainian forces continue to hold out at the Azovstal steel plant: "They have many wounded. But they do not give up. They are holding positions."
In response, British Prime Minister Boris Johnson said that the U.K. would "continue to intensify" support for Ukraine, stating that it was "a blessing for Ukraine and for the world" and a "disaster for Putin" that Zelenskyy was leading Kyiv, describing the president as "truly one of the most incredible leaders of modern times."
Return to Irpin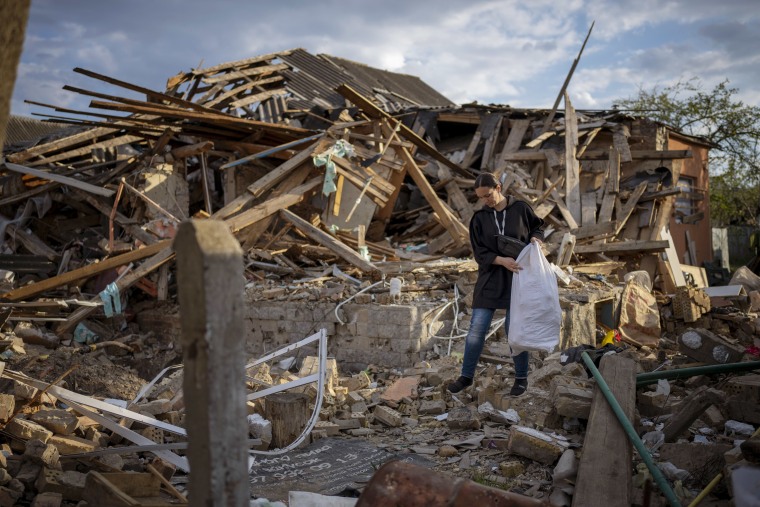 Nearly 500 people evacuated from Azovstal plant, U.N. chief says
Nearly 500 people have been evacuated from the besieged Azovstal steel works plant in Mariupol, as well as from surrounding areas, in a joint operation conducted by the United Nations and the International Committee of the Red Cross, officials have said.
In a tweet, United Nations Secretary-General António Guterres said two safe passage convoys successfully carried out the evacuations from the besieged areas.
"I hope that continued coordination with Moscow & Kyiv will lead to more humanitarian pauses to allow civilians safe passage," he said.
Jill Biden to travel to Ukraine border, spend Mother's Day meeting refugees
WASHINGTON — First lady Jill Biden's weekend trip to Eastern Europe will include a Mother's Day trip to Slovakia's border with Ukraine, the White House announced Thursday.
Sunday's stop at a border crossing in Vyšné Nemecké, Slovakia, will be the latest by a prominent U.S. government official to the front lines of the Russia-Ukraine war. There, Biden will survey a checkpoint where Ukrainian refugees get basic assistance from humanitarian and Slovakian government workers before they travel farther west to processing centers and transit hubs, the White House said.
At the stop, which will include a visit to a small Greek Catholic chapel, Biden is expected to learn about the experiences of aid workers and refugees and convey the Biden administration's gratitude for the work being done there, the White House said. 
Biden on Sunday will also visit a refugee center and school in the larger city of Košice, about 55 miles from the border, where she will participate in Mother's Day activities with Slovaks and Ukrainian refugees.
Russian attack on Mariupol plant likely driven by 'symbolic victory' aim, U.K. says
Russia's continued attack on a steel plant in Mariupol is likely driven by a desire for a "symbolic victory" for Russia's Victory Day celebration, the United Kingdom's defense ministry said Friday.
Russian ground forces continued to attack the Azovstal steel plant, where the city's last defenders are located, the U.K. said. When Russian President Vladimir Putin declared victory in Mariupol two weeks ago, he ordered his troops not to storm it but to seal it off.
"The renewed effort by Russia to secure Azovstal and complete the capture of Mariupol is likely linked to the upcoming 9 May Victory Day commemorations and Putin's desire to have a symbolic success in Ukraine," the U.K. said in its daily intelligence update.
Russia's annual Victory Day commemorates its victory over Nazi Germany in World War II.