This live blog is closed. For full coverage of the war click here.
President Joe Biden welcomed the leaders of Finland and Sweden to the White House on Thursday after the two countries officially submitted their applications to join NATO.
The Nordic neighbors' bids to join the Western military alliance face an early challenge from Turkey, which has expressed objections.
But Russia's war in Ukraine has already reshaped European security and threatened consequences far beyond, with the United Nations warning of a potential global food crisis — an issue aggravated by Russia's now full control over the key port city of Mariupol.
---
Here's what to know today:
The U.S. has reopened its embassy in Kyiv three months after it shuttered its doors and relocated staff members ahead of Russia's invasion.
The Red Cross says it registered hundreds of POWs from Mariupol's Azovstal steel plant.
The head of the U.N. World Food Program has warned that failing to reopen Ukraine's ports would amount to "a declaration of war on global food security."
The first war crimes trial since the conflict began is resuming in Kyiv after a Russian soldier pleaded guilty.
Senate signs off on $40 billion Ukraine aid package
WASHINGTON — After a weeklong delay, the Senate voted Thursday to pass a $40 billion military, economic and humanitarian aid package for Ukraine as its bloody war with Russia neared the three-month mark.
The vote was 86-11, with Republicans casting all of the no votes. The Senate also voted to confirm Bridget Brink as the U.S. ambassador to Ukraine on Wednesday night, shortly after the State Department announced it was reopening its embassy in Kyiv.
Biden hails Sweden, Finland NATO applications
WASHINGTON — President Joe Biden has hailed the "momentous" applications of once-neutral Sweden and Finland to join NATO in response to Russia's invasion of Ukraine.
Biden greeted Prime Minister Magdalena Andersson of Sweden and President Sauli Niinistö of Finland at the White House on Thursday as they met for trilateral conversations about the NATO mutual defense pact and other European security concerns.
The Biden administration has professed optimism for the applications, which mark a significant embarrassment to Russia after its invasion of Ukraine.
Biden said both countries "meet every NATO requirement and then some."
Russian President Vladimir Putin has demanded that the alliance stop expanding toward Russia's borders.
Captive medic's bodycam shows firsthand horror of Mariupol
KHARKIV, Ukraine — A celebrated Ukrainian medic recorded her time in Mariupol on a data card no bigger than a thumbnail, smuggled out to the world in a tampon. Now, she is in Russian hands, and Mariupol itself is on the verge of falling.
Yuliia Paievska, who as medic went by Taira, used a body camera to record 256 gigabytes of video on her team's frantic efforts over two weeks to bring people back from the brink of death. She got the harrowing clips to an Associated Press team, the last international journalists in the Ukrainian city of Mariupol, as they left in a rare humanitarian convoy.
Russian soldiers captured Taira and her driver the next day, March 16, in one of the many forced disappearances in areas of Ukraine now held by Russia. Russia has portrayed Taira as working for the nationalist Azov Battalion, in line with Moscow's narrative that it is trying to "denazify" Ukraine. But the AP found no such evidence, and friends and colleagues said she had no links to Azov.
The military hospital where she led evacuations of the wounded is not affiliated with Azov. And the video she recorded shows her trying to save wounded Russian soldiers along with Ukrainian civilians.
A March 10 clip shows two Russian soldiers being taken roughly out of an ambulance by a Ukrainian soldier. One is in a wheelchair. The other is on his knees, hands bound behind his back, with an obvious leg injury.
A Ukrainian soldier curses at one of them. "Calm down. Calm down," Taira tells him.
A woman asks her, "Are you going to treat the Russians?"
"They will not be as kind to us," she replies. "But I couldn't do otherwise. They are prisoners of war."
Taira, 53, is now a prisoner of the Russians, like hundreds of local officials, journalists and other prominent Ukrainians who have been kidnapped or captured. The U.N. Human Rights Monitoring Mission in Ukraine has recorded 204 cases of enforced disappearances, saying that some victims may have been tortured and that five were later found dead.
Exhumations outside Kharkiv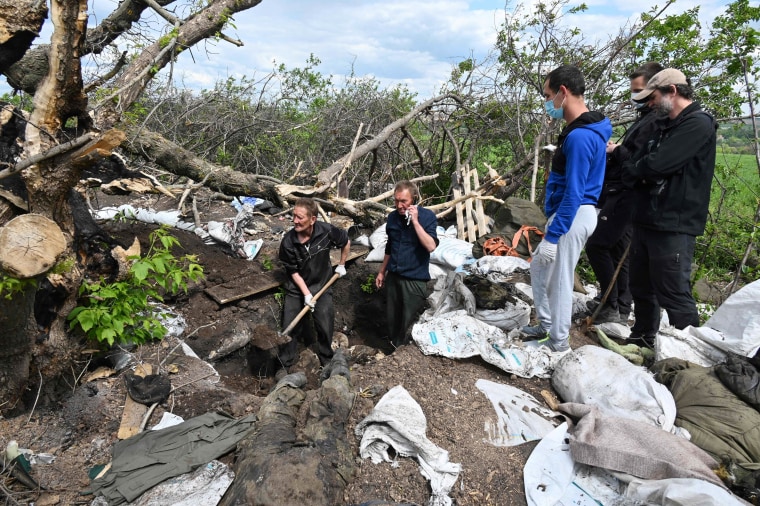 Russian soldier on trial on war crimes charges apologizes to victim's wife, says he was ordered to shoot
A Russian soldier on trial on war crimes charges in Kyiv spoke in court Thursday, calling his actions "unacceptable" and saying he was pressured by a higher-up to shoot an unarmed civilian.
Sgt. Vadim Shyshimarin, 21, has pleaded guilty to killing the civilian in the first war crimes trial since the conflict began. He told the court from his glass booth Thursday that he was aware that, when he crossed into Ukraine with his unit, he was invading another country, but he said he was not familiar with international acts about customs of war.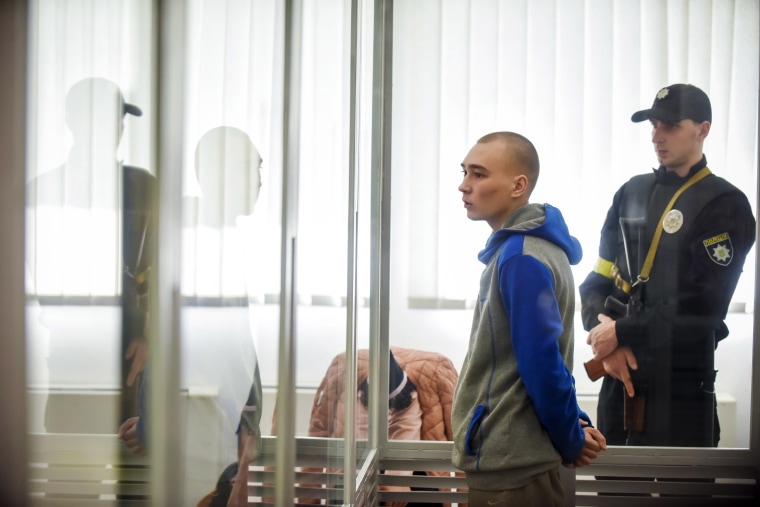 He apologized to the victim's wife, who also spoke in court. "I understand that you will not be able to forgive me," he said.
She told the court the Russian soldier deserved life imprisonment for killing her husband but said she wouldn't mind if he was exchanged for one of the Ukrainian troops who surrendered at the Azovstal steel plant in Mariupol this week.
Biden meets leaders of Sweden, Finland in Washington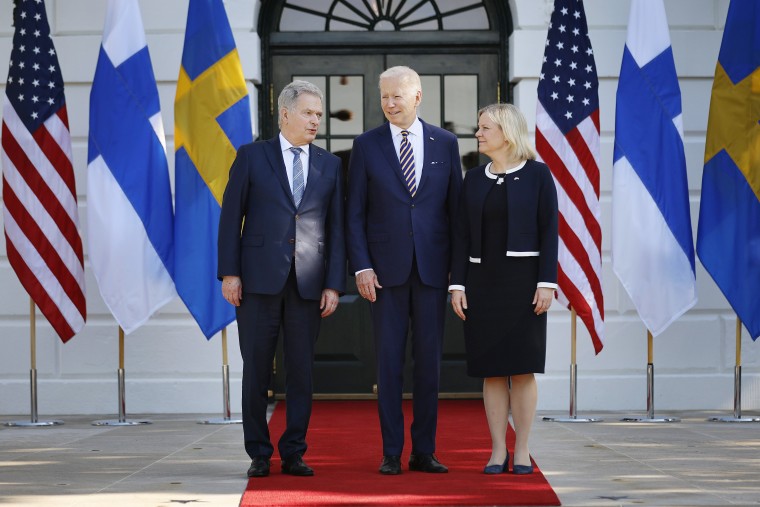 Kremlin says Ukrainians have a say on future in occupied territories
The Kremlin says it will be up to residents of areas in Ukraine controlled by Russian troops to determine their future status.
Kremlin spokesman Dmitry Peskov said Thursday that people living in such places must "determine how and with whom they want to live."
Peskov made the statement on a conference call with reporters after he was asked about some Russian officials who said Russia could move to incorporate the captured Kherson region of southern Ukraine.
Peskov responded that authorities need to focus on providing basic services to the residents of areas under Russian control.
Dancing with Putin: Has Europe finally had enough of politicians making big money from Russia?
A former German leader and a former Austrian foreign minister face censure over their continued ties to the Kremlin.
The European Parliament passed a package of measures Thursday that urges the European Union to sanction politicians who still receive huge sums of money from Russian businesses.
While the motion is nonbinding, its adoption is an important step in the sanctions that are being introduced, and it sends a clear signal that the European community will no longer tolerate tacit support for President Vladimir Putin's regime that has characterized much of the continent's approach to the Kremlin for decades.
Senior citizens suffer in Ukraine's east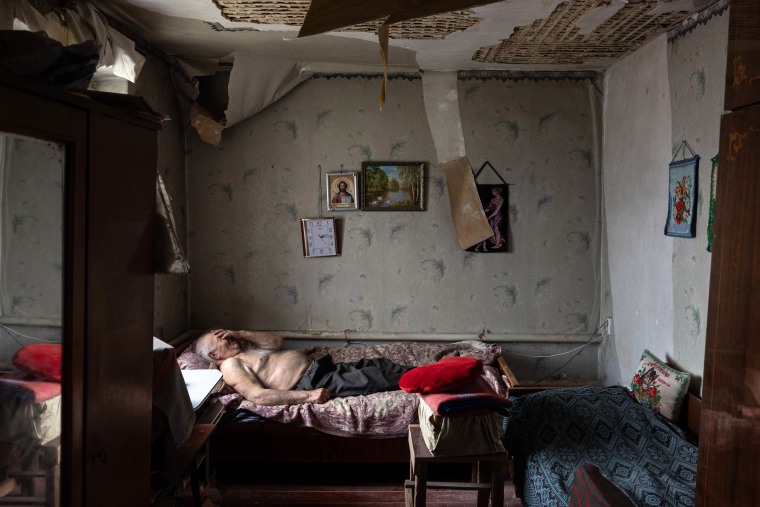 Portugal says Russia expelling its diplomats
The Portuguese government says Russia is expelling five diplomats from its Moscow embassy, a day after the Kremlin also expelled diplomats from Spain, France and Italy.
The Portuguese Foreign Ministry said Thursday that Russia's decision was "unjustified" and merely a tit-for-tat step after Portugal last month expelled Russian diplomats at the Lisbon embassy.
"Unlike the Russian staff expelled from Portugal, these Portuguese staff members were involved in strictly diplomatic tasks," a Portuguese Foreign Ministry statement said.
Zoo animals remain in Mariupol after months of devastation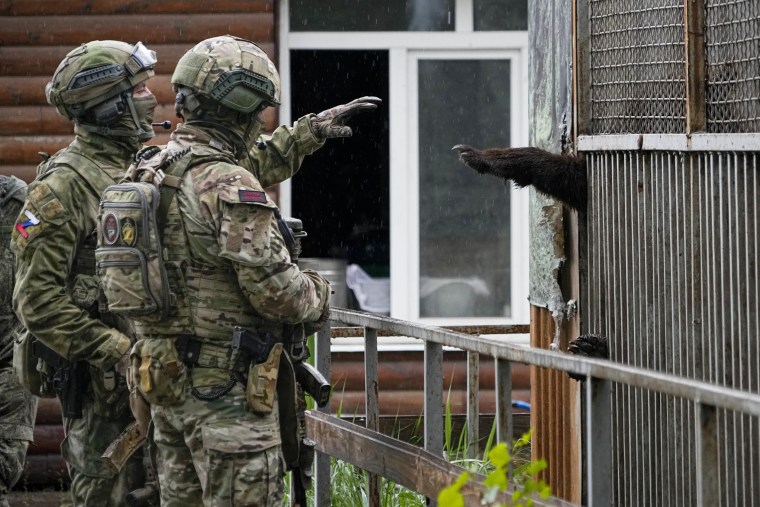 Those returning to Kyiv's suburbs face new hardship: Homelessness
IRPIN, Ukraine — Since pushing Russian forces out from the suburbs around Kyiv last month, Ukraine has worked remarkably quickly to fix damaged infrastructure.
But rebuilding destroyed houses and apartment buildings as the country is still at war is proving to be a much thornier task, leaving thousands of people displaced and in desperate need of assistance.
The crisis is creating a divide among Ukrainians: Those with means are starting to pay for their own repairs, while those without money are left dependent on charity and aid groups for shelter.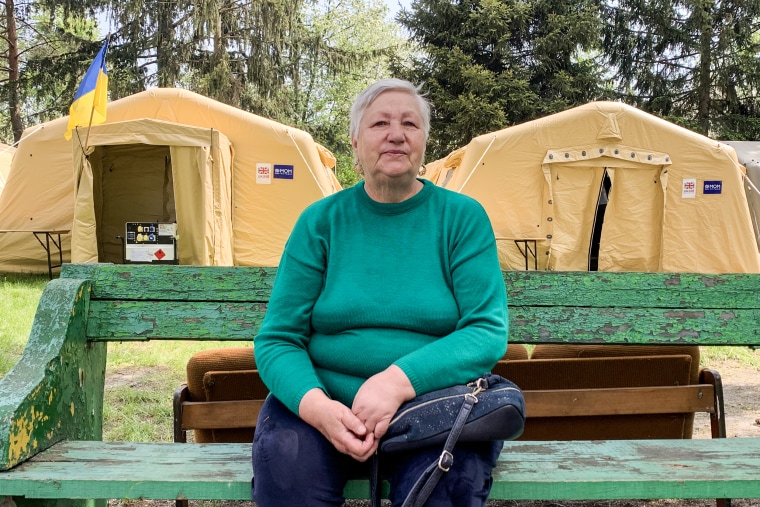 Zelenskyy mocks Russian announcement of new laser weapon
'I mean Ukraine': Bush makes gaffe in speech, calls Iraq invasion 'unjustified'
After delay, Senate poised to send $40 billion in Ukraine aid to Biden
WASHINGTON — After a weeklong delay, the Senate appeared poised Thursday to pass a $40 billion military, economic and humanitarian aid package for Ukraine.
Democratic and Republican leaders had hoped to quickly take up the House-passed package last week, but Sen. Rand Paul, R-Ky., objected and dragged out the process over a dispute about oversight of the spending.
Thursday's big bipartisan vote, which will send the aid package to President Joe Biden's desk for his signature, represents an unmistakable signal to Kyiv that the U.S. remains firmly in its corner. Paul's stall tactics miffed many colleagues who had warned that Ukraine is dangerously close to running out of weapons, food and other supplies.
Azov fighters' fate not known in Mariupol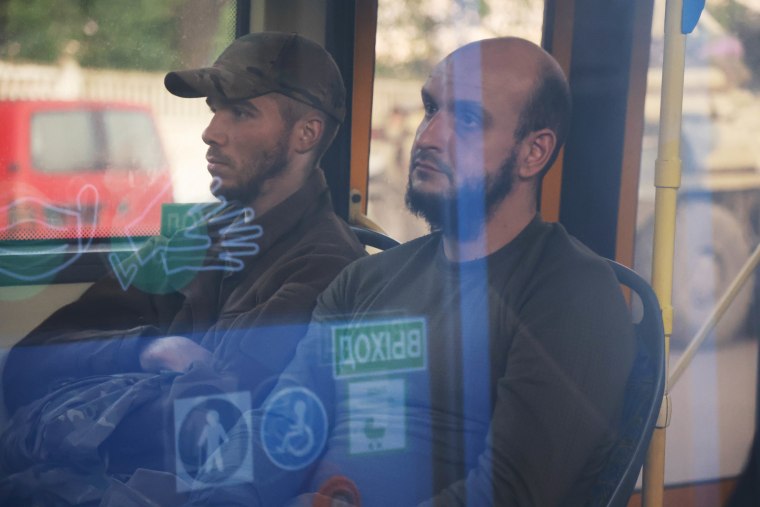 Turkey's Erdogan outlines opposition to Sweden, Finland NATO bid
Turkey's president emphasized his opposition to Sweden and Finland joining NATO, stating Ankara would say "no" to their bid.
Speaking to a group of Turkish youth, Turkish President Recep Tayyip Erdogan accused the two countries — and especially Sweden — of being "a focus of terror, home to terror." The video of their conversation was released Thursday.
Erdogan's objection to Sweden and Finland stems from Turkey's grievances with Stockholm's — and to a lesser degree with Helsinki's — perceived support to the banned Kurdistan Workers' Party, or PKK, and an armed group in Syria that Turkey sees as an extension of the PKK. Turkey also accuses them of harboring the followers of the U.S.-based Muslim cleric Fethullah Gulen whom Ankara says is behind a failed military coup attempt in 2016.
Turkey's approval is crucial because the military alliance makes its decisions by consensus. Each of its 30 member countries can veto who can join.
Russian forces control Mariupol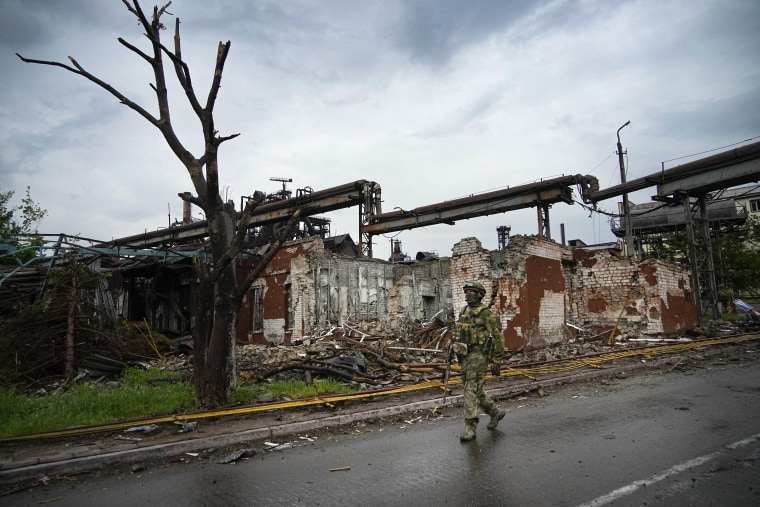 Red Cross says it registered hundreds of POWs from Mariupol's Azovstal steel plant
The Red Cross said it registered hundreds of prisoners of war from the Azovstal steel plant in Mariupol, where the last Ukrainian defenders stopped fighting earlier this week.
Registration of fighters leaving the plant, including the wounded, began Tuesday under an agreement between Moscow and Kyiv, the International Committee for the Red Cross said in a statement. "The operation continued Wednesday and was still ongoing Thursday," it added.
The Geneva-based humanitarian agency noted that it did not transport the prisoners of war to "the places where they are held."
It did not say where that is, but buses have carried hundreds of fighters to Russian-controlled territory. Ukraine says it wants to exchange its fighters for Russian prisoners, but Russia has given no indication it will do so.
Russian military beset by 'culture of cover-ups and scapegoating,' U.K. says
Russia's military is likely beset by a "culture of cover-ups and scapegoating" that is hampering its war in Ukraine, the U.K. defense ministry said Thursday.
Russia has suspended one commander and likely suspended another over failures, it claimed, adding that "many officials involved in the invasion of Ukraine will likely be increasingly distracted by efforts to avoid personal culpability for Russia's operational set-backs."
The U.K. military said in a daily intelligence update that Lt. Gen. Serhiy Kisel, who commanded Russia's 1st Guards Tank Army, has been suspended for failing to take the city of Kharkiv. The U.K. also said that Russia's Black Sea Fleet commander, Vice Admiral Igor Osipov, was likely suspended after the sinking of the cruiser Moskva — the fleet's flagship — in April. Ukrainian and U.S. officials have said it was struck by Ukrainian missiles.
NBC News has not independently verified the reports. Russia has not announced any such moves.
Senate confirms new U.S. ambassador to Ukraine
The Senate confirmed Bridget Brink late Wednesday as U.S. ambassador to Ukraine, filling the post as officials plan to return American diplomats to Kyiv during the nation's continuing battle against the Russian invasion.
The veteran foreign service officer, who has spent most of her career in the shadow of the former Soviet Union, was nominated to the position last month by President Joe Biden. She was confirmed by the Senate unanimously without a formal roll call vote.