Coverage on this live blog has ended. Please click here for the latest updates.
The European Union is proposing a complete ban on Russian oil by the end of the year, a dramatic step for a continent that has had to weigh its growing support for Ukraine's defense with its own reliance on energy imported from Moscow.
The plan to deprive the Kremlin of a key source of revenue will have to be approved by the bloc's 27 member states. It forms part of a broader set of sanctions as Europe takes new action to punish and pressure Russia over its war in Ukraine.
Russian forces bombarded infrastructure across the country late Tuesday, seemingly targeting power hubs and railways, while its offensive in the east struggled to make progress.
In Mariupol, the last Ukrainian defenders and some civilians faced a new Russian assault that brought heavy fighting to the Azovstal steel plant — but there was relief as one wave of more than a hundred people made it to safer territory after weeks trapped in the key port city's final stronghold.
Evacuations continued Wednesday, when more than 300 civilians from Mariupol, Manhush, Berdiansk, Tokmak and Vasylivka were evacuated to Zaporizhzhia.
Ukraine asks U.S. for anti-ship missiles, drones, rocket launchers
Ukraine is asking the Biden administration for anti-ship missiles to secure ports that have been blocked by Russia's navy, as well as more capable drones and multiple rocket launcher systems that can strike Russian forces at a longer distance, according to Rep. Jason Crow, D-Colo. 
Ukrainian President Volodymyr Zelenskyy conveyed the request to Crow and other lawmakers who visited Kyiv over the weekend, who then relayed the wish list to President Joe Biden directly, Crow told NBC News. 
Ukraine said it needed U.S.-made Harpoon anti-ship missiles or similar weapons to free up the use of the Black Sea port of Odesa and other ports for the export of millions of tons of grain and food. The ports are under a de facto naval blockade by Russian forces off the coast, Crow said.
More than 300 evacuated Wednesday from Mariupol, other towns, U.N. says
The United Nations said more than 300 civilians from the besieged southeastern city of Mariupol and four other towns have been evacuated to Ukrainian-held Zaporizhzhia in a second successful operation to get civilians out of areas subject to Russian shelling and attacks.
Osnat Lubrani, the U.N. humanitarian chief in Ukraine, said in a statement that many of the civilians from Mariupol, Manhush, Berdiansk, Tokmak and Vasylivka came Wednesday with nothing but the clothes they were wearing and are now getting humanitarian assistance. She said they will also receive "much-needed psychological support."
Ukrainian President Volodymyr Zelenskyy said the 344 people evacuated Wednesday are in addition to the more than 150 people who were evacuated earlier this week from the bunkers under the Azovstal steel mill in Mariupol, which is surrounded by Russian troops and was reported to have come under renewed fire Wednesday.
No civilians were reported to have been evacuated from the plant Wednesday. Zelenskyy said agreement is being sought to save those remaining at Azovstal, including women and children.
U.S. military sends howitzer artillery to Ukraine
Ukraine welcomes E.U.'s proposed oil embargo
Ukrainian Foreign Minister Dmytro Kuleba welcomed the European Union's decision to propose an embargo on Russian oil. In a video message posted on Twitter, he said that Ukraine isn't happy it will be delayed for several months but that "it's better than nothing."
Kuleba said it should be clear now "that times for half-sanctions or half-measures when it comes to sanctions is gone." He said the E.U. can no longer support Ukraine on one hand by imposing sanctions while continuing to pay Russia for oil and gas and support its "war machine."
He also said that if any country continues to oppose the embargo, it will be a reason to say the country is complicit in the crimes committed by Russia in Ukraine.
The proposals, which need unanimous approval from E.U. countries, are likely to be the subject of fierce debate. Hungary and Slovakia have already said they won't take part in any oil sanctions. They could be granted exemptions.
Majority of Russian forces have moved away from Mariupol, senior defense official says
The majority of Russian forces that were in and around the besieged southern city of Mariupol have moved north, a senior defense official said Wednesday.  
There had been about 10 battalion-tactical groups, or about 10,000 troops, in the city, the official said, speaking on condition of anonymity. Now there are around 2,000, they added. 
The others have moved north and are likely to join the fight in Ukraine's eastern Donbas region, the official said. 
Mariupol has been under heavy Russian bombardment for nearly two months, leaving residents trapped with little food, clean water or medical care. 
A U.S. assessment had concluded that Russian progress was still slow and uneven and that it had stalled in some cases, the official said.
Russian strikes in Ukraine's west have been going after critical infrastructure, specifically electrical and some railroads, they added.
Netherlands assessing whether to supply more heavy weapons to Ukraine
The Netherlands is assessing whether it can join Germany, Belgium and the U.K., among others, to supply more heavy weapons to Ukraine, Dutch Prime Minister Mark Rutte said Wednesday.
Rutte wrote on Twitter that he had praised Ukraine's steadfastness in the battle against Russia for the eastern Donbas region in a phone call with President Volodymyr Zelenskyy.
"The Netherlands will continue to support Ukraine's fight to defend democracy and sovereignty, in the short and long term," he said.
Hungary won't support ban on Russian oil
Hungary's foreign minister said the country won't support a European Union proposal to ban oil imports from Russia in a move that could derail the bloc's efforts to apply united pressure against Moscow over its war in Ukraine.
In a video on social media, Hungarian Foreign Minister Péter Szijjártó said Wednesday that Hungary's energy supply "would be completely destroyed" by an E.U. embargo of Russian oil, which he said would make it "impossible for Hungary to obtain the oil necessary for the functioning of the Hungarian economy."
European Commission President Ursula von der Leyen proposed that E.U. member nations phase out imports of crude oil within six months and refined products by the end of the year as part of a sixth package of sanctions against Russia.
The proposals must be approved unanimously to take effect, and reluctance by governments in Hungary and Slovakia to support sanctions against Russian fossil fuels has placed roadblocks before a united E.U. response.
Meet the Shulgins: One couple among 100,000 civilians trapped in Mariupol
Zelenskyy: No deal without Russian withdrawal
Ukrainian President Volodymyr Zelenskyy says his country could not accept a deal with Moscow that would allow Russian troops to remain in occupied territory.
Speaking Wednesday to participants at The Wall Street Journal CEO Council Summit, Zelenskyy said Ukrainian forces had halted the Russian offensive in what he described as the first stage of the conflict. In the second stage, he said, Ukraine will expel Russian troops from its territory, and in the third, it will move to fully restore its territorial integrity.
Zelenskyy said he would not accept a cease-fire deal that would allow Russian forces to remain in their current positions — insisting that "we will not accept a frozen conflict" ‒ but gave no further details.
Some Ukrainians evacuate Mariupol steel plant as E.U. announces new sanctions on Russia
Ukraine lost connection with soldiers amid heavy fighting at Azovstal steel plant, Mariupol mayor says
Mariupol's mayor has said he lost contact on Wednesday with the city's last Ukrainian forces amid heavy fighting at the Azovstal steel plant.
"Unfortunately, there is no connection with the guys today, there is no possibility to reach out to them to understand what is happening, whether they are safe or not," Mayor Vadym Boichenko said on Ukrainian TV.
He said there were at least 30 children still waiting to be rescued from the plant, after the first evacuees arrived in a safer city on Tuesday.
Russia's chief rabbi says Lavrov should apologize for Hitler comments
Russia's chief rabbi has criticized comments by the country's foreign minister and suggested he should apologize.
"It would be nice if he apologized to the Jews and simply admitted that he was mistaken," Chief Rabbi Berel Lazar told the Jewish Telegraphic Agency.
Russian Foreign Minister Sergey Lavrov said Nazi leader Adolf Hitler had Jewish roots and suggested Jews were the worst antisemites, remarks that drew global condemnation and threatened to undermine relations with Israel.
Ukraine digital transformation minister says internet restored in Kherson
E.U. considers additional military support to Moldova
The European Union is considering significantly increasing support to Moldova by providing additional military equipment and countering disinformation, E.U. Council President Charles Michel said on Wednesday in a visit to the country's capital, Chisinau.
Lviv residents clean up after attacks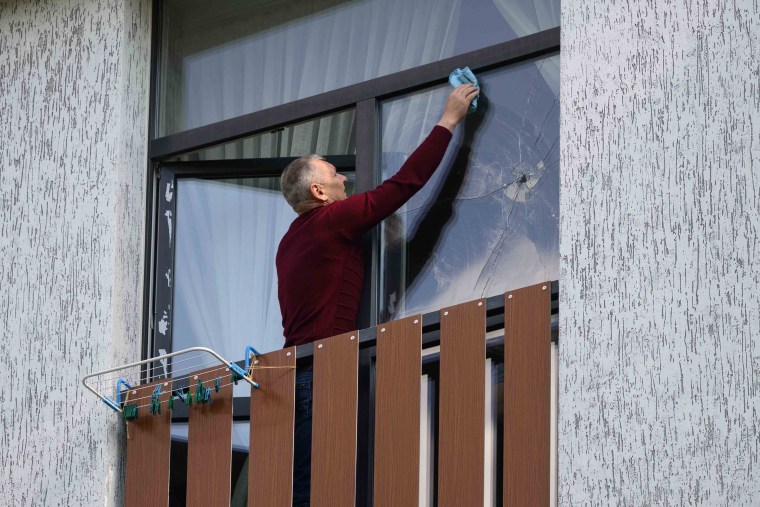 Russian ally Belarus begins snap combat readiness drills
The armed forces of Belarus began sudden large-scale drills on Wednesday to test their combat readiness, the defense ministry of Ukraine's neighbor said.
Belarus is a close ally of Russia, which invaded Ukraine in late February immediately after holding joint drills with Minsk which had allowed it to move more forces closer to the Ukrainian border.
"It is planned that the [combat readiness] test will involve the movement of significant numbers of military vehicles, which can slow down traffic on public roads," the Belarusian ministry said in a statement. The ministry said the exercise posed no threat to its neighbors or the European community in general.
Belarusian leader Alexander Lukashenko spoke to his Russian counterpart Vladimir Putin on Tuesday and the two discussed the Russian operation in Ukraine, among other issues, according to official statements.
Russia confirms strikes on power substations near Lviv, warns NATO transports
Russia's defense ministry confirmed Wednesday strikes on power substations in western Ukraine including near the city of Lviv.
The ministry also said in a briefing that it struck 40 Ukrainian military assets. NBC News has not verified those strikes.
Russia said the targets of some strikes were supplies and weapons sent by the U.S. and E.U.
Defense Minister Sergei Shoigu warned that it could target NATO transports.
"I would like to note that any transport of the North Atlantic Alliance that arrived on the territory of the country with weapons or material means for the needs of the Ukrainian armed forces is considered by us as a legitimate target for destruction," Shoigu said in the briefing.
Fighter jets form 'Z' over Moscow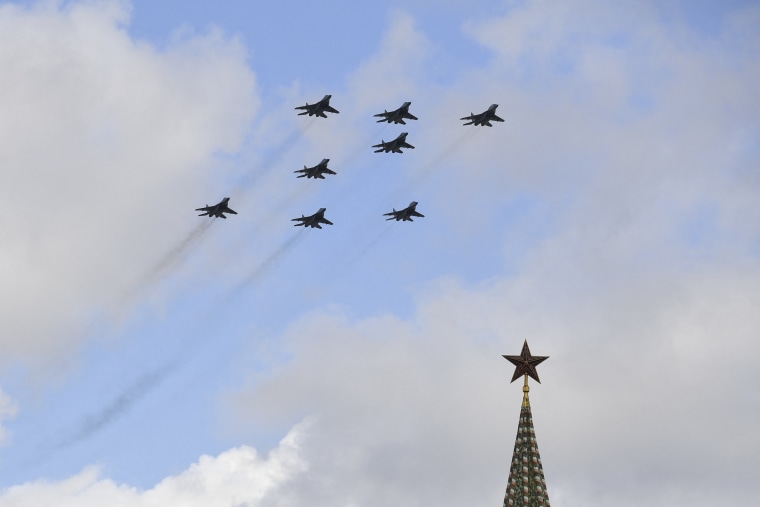 Russian strikes continue to hit towns in eastern Ukraine
Russian strikes on town and cities near Luhansk in eastern Ukraine continued on Tuesday, according to a local official.
Serhii Haidai, head of Luhansk regional administration, said in a Telegram post on his official account that "rocket and bomb attacks" hit Severodonetsk, Rubizhne, Lysychansk and Zolote, killing two people and damaging 45 houses and other buildings.
He also said the city of Popasna has taken severe damage, with two additional civilian casualties.
"The Russians are not just destroying Popasna — they are removing it from the map of Luhansk region as a settlement," he wrote.
NBC News has not verified the strikes or the deaths.
Russian economy can withstand sanctions, economics professor says
Russia not likely to end its war in Ukraine due to economic sanctions, according to Rolf J. Langhammer, a professor at the Kiel Institute for the World Economy based in Germany.
"Hopes that Russia will soon give in to the Ukraine war in the face of drastic Western sanctions are likely to be disappointed," Langhammer wrote in a recent blog post. "Both the state budget situation and structural characteristics of the Russian economy create sound conditions for a prolonged persistence of a war economy based on autarky."
Russia has been the target of widespread sanctions, and the E.U. has proposed a complete ban on Russian oil by the end of the year. The hope has been that economic pressure could convince Putin to pull out of Ukraine.
The Russian economy has taken a hit but appears to be reasonably stable. Langhammer said the U.S. and E.U. will need to be committed to long-term sanctions to make a serious difference.
"The very negative consequences of the lack of important and irreplaceable capital goods from abroad, which are certain to occur in the longer term, will not quickly drive the Russian economy to ruin," he wrote. "The West will have to show long staying power."
U.S. can seize Russian superyacht, Fiji judge says, but not right away
WELLINGTON, New Zealand — A judge in Fiji has ruled that U.S. authorities can seize a Russian-owned superyacht, but has put a hold on his order until at least Friday while defense lawyers mount a challenge.
The yacht Amadea, which is worth $325 million, had earlier been stopped from leaving the South Pacific nation because of its links to Russia. That order will stand for now, preventing U.S. authorities from taking the yacht to Hawaii or elsewhere.
A question remains over which of two Russian oligarchs really owns the Amadea, with only one of them facing sanctions. There are also questions about how far U.S. jurisdiction extends into Fiji.
Suva High Court Justice Deepthi Amaratunga on Tuesday granted an order allowing the U.S. to seize the superyacht after the U.S. had earlier filed a warrant. But the judge has also allowed for a pause while defense lawyers put together their challenge.
The U.S. Justice Department in March announced the creation of a team of federal agents and prosecutors to pursue wealthy Russians or those aiding Russia's invasion of Ukraine. The team, called Task Force KleptoCapture, was set up to seize assets belonging to oligarchs with the aim of pressuring Russia to end the war.
Ukraine minister of foreign affairs calls for more pressure on Russia
Considered a refuge from war, Lviv area hit by Russian missiles
A Ukraine official said Wednesday that Russian bombers hit three electrical substations in the Lviv region.
Lviv, near the border with Poland in the western part of Ukraine, has generally been insulated from the war, though missile strikes in April killed seven people.
Maksym Kozytskyi, head of the Lviv Regional State Administration, said in a Telegram post that there were no casualties, though two people were injured. He added that the substation attack has hurt the area's train system, which has been crucial for the country's supply chains.
E.U. proposes ban on Russian oil
The European Union's top official called on Wednesday for a ban on oil imports from Russia, a move that has been the subject of much debate since the war in Ukraine began.
In an address the European Parliament in Strasbourg, France, European Commission President Ursula von der Leyen said that Russian crude oil would be phased out within six months and refined products by the end of the year "in a way that allows us and our partners to secure alternative supply routes and minimizes the impact on global markets."
The proposal, which was included in a larger sanction package, needs to be approved by the 27-member bloc to take effect. Europe is heavily reliant on Russian imports for its energy supply, and Russian oil and gas has continued to flow into Europe despite the bloc's support for Ukraine in the war. 
E.U. proposes further sanctions on Russia, including on military officers responsible in Bucha and Mariupol
The European Union presented a further set of sanctions on Russia, including restrictions on high-ranking military officers in command during the occupations of Bucha and Mariupol, the bloc's top official announced Wednesday morning.
"This sends another important signal to all perpetrators of the Kremlin's war: We know who you are, and you will be held accountable," European Commission President Ursula von der Leyen said in an address to the European Parliament in Strasbourg, France.
Von der Leyen also proposed a block on Russia's largest bank's access to the SWIFT banking system, along with two other banks, as well as a ban on Russia's three state-owned broadcasters.
The sanctions announcements were included with the E.U.'s proposal for a ban on oil imports from Russia. Europe's dependence on Russian energy has been a subject of hot debate since the invasion of Ukraine.  
Russia likely intends to try to capture two new eastern cities, U.K. says
Russia's military has been deploying troops and "highly likely" intends to try to capture the eastern Ukrainian cities of Kramatorsk and Severodonetsk, the British defense ministry said Wednesday.
Both cities are in the Donbas region, which has been the target of Russia's new offensive. Russian battle groups have been deployed near Izyum to support an attempted advance, the U.K. said in the daily intelligence update.
Although it has struggled, taking Kramatorsk and Severodonetsk would allow Moscow to consolidate its control in the region and try and cut off Ukrainian forces, the U.K. said.
Hundreds of Ukrainians await entry to U.S. in Mexico City
MEXICO CITY — Hundreds of Ukrainian refugees are camping out in Mexico City and waiting for the U.S. government to allow them into the country.
About 500 evacuees were waiting Tuesday in large tents under a searing sun on a dusty field on the east side of Mexico's sprawling capital. The camp has been open only a week and from 50 to 100 people are arriving every day.
Some refugees have already been to the U.S. border in Tijuana where they were told they would no longer be admitted. Others arrived at airports in Mexico City or Cancun.
Giorgi Mikaberidze, 19, arrived in Tijuana April 25 and found the U.S. border closed. He went from being just yards from the United States to some 600 miles away in the Mexico City area. He said he traveled to Mexico alone.
"It's very difficult to wait. We don't know how the program will work," he said.