This live blog is closed. For the latest updates click here.
Secretary of State Antony Blinken met with Ukrainian Foreign Minister Dmytro Kuleba in Berlin on Sunday to discuss providing more weapons and other aid to the country. They also talked about continuing food exports to Africa and Asia, Kuleba tweeted after the meeting.
Finnish President Sauli Niinistö and Prime Minister Sanna Marin announced that Finland intends apply for membership in NATO. The Finnish Parliament is expected to endorse the decision, and a membership application is likely to be submitted this week at NATO headquarters in Brussels.
In Ukraine, President Volodymyr Zelenskyy praised the Kalush Orchestra after the band won the Eurovision Song Contest with its song "Stefania." He said the country's forces had retaken several towns in the east. Ukraine's military also said Russian forces were retreating from Kharkiv, the country's second-largest city.
---
Here's what's going on:
Secretaty of State Antony Blinken and Ukraine's Foreign Minister Dmytro Kuleba discuss more aid
Finland announces it wants to join NATO
Ukraine crowned winner of 2022 Eurovision Song Contest
Russian state media using "spine-chilling rhetoric" to intimidate the West
Read full coverage of the war here.
Ukrainians react with joy to Eurovision win
McConnell: Finland, Sweden 'important additions' to NATO
WASHINGTON — Senate Republican leader Mitch McConnell said Sunday that Finland and Sweden would be "important additions" to NATO as he led a delegation of GOP senators to the region in a show of support against Russia's aggression.
McConnell, R-Ky., also called on President Joe Biden to designate Russia as state sponsor of terrorism over its invasion of Ukraine.
Speaking to reporters from Stockholm, McConnell said Finland and Sweden, unlike some members of the Western alliance, would likely be in positions to pay their NATO obligations and would offer significant military capabilities.
"They will be important additions to NATO, if they choose to join," he said, adding, "I think the United States ought to be first in line to ratify the treaty for both these countries to join."
Azovstal resistance goes on in Mariupol, Ukraine's border guard says
Ukrainian fighters continue to defend the sprawling Azovstal steel plant "despite the extremely difficult conditions" in the southern city of Mariupol, Ukraine's border guard said Sunday.
Shortly after the Russian invasion, groups of Ukrainian fighters and civilians took over the site — a vast Soviet-era plant founded under Josef Stalin and designed with a labyrinth of bunkers and tunnels to withstand attack.
Civilians have been evacuated from the bunkers, but fighters remain holed up there, despite a near constant pummeling from Russian forces.
During breaks, Ukrainian border guards said the fighter distract themselves by playing chess and reading, the border guard said in a post on its Telegram channel that was translated by NBC News.  
Ukraine 'can win,' but it needs more support, NATO secretary general says
Ukraine "can win this war," NATO Secretary General Jens Stoltenberg told top diplomats from the 30 member states of the trans-Atlantic military alliance at a meeting in Berlin.
"Russia's war in Ukraine is not going as Moscow had planned," Stoltenberg said, speaking by video, as he is recovering from a Covid-19 infection. "They failed to take Kiev. They are pulling back from around Kharkiv. Their major offensive in Donbas has stalled. Russia is not achieving its strategic objectives."
"Ukraine can win this war," he said, adding that NATO must continue to step up its military support.
Stoltenberg said he was confident the accession process for Finland and Sweden could be expedited in the existing member states. In the meantime, the alliance will increase its presence in the Baltic region to deter Russian threats, he said.
"All allies realize the historic magnitude of the moment," Stoltenberg added.
Norway welcomes Finland's decision to seek NATO membership
Nordic NATO member Norway said it strongly welcomed Finland's decision to seek membership. Norwegian Foreign Minister Anniken Huitfeldt described Helsinki's move as "a turning point" for the Nordic region's defense and security policies.
"Finnish membership in NATO will be good for Finland, good for the Nordic region, and good for NATO. Finland has Norway's full support," Huitfeldt said in comments emailed to The Associated Press.
Huitfeldt said the Norwegian government would facilitate "a swift consent to ratification by the Norwegian Parliament" for Finland's accession into NATO.
"We are now seeing unprecedented unity in NATO. With the Finnish membership, we will further strengthen the Nordic flank of the military alliance," she added.
U.S. Embassy in Kyiv will reopen 'very soon,' Blinken says
The U.S. Embassy will reopen in Kyiv will resume operations "very soon," Secretary of State Antony Blinken said Sunday.
"American diplomats have returned to Ukraine after several weeks of working out of Poland," Blinken told top diplomats from the 30 member states of the trans-Atlantic military alliance at a meeting in Berlin.
"We're taking all necessary precautions, but that work is underway, and we will resume operations" he said.
Blinken added that there was support "almost across the board" from existing members of NATO for Finland and Sweden to join the organization.
Couple salvage property after their house was destroyed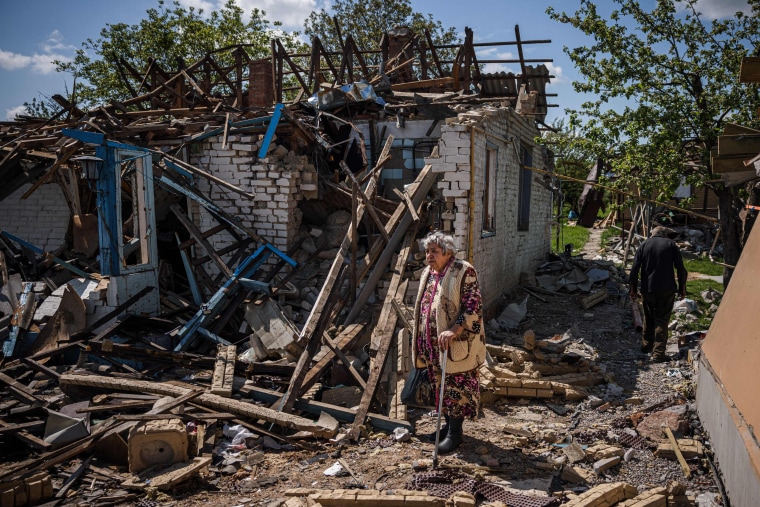 A couple bring luggage out of their destroyed house in the village of Vilkhivka, near the eastern city of Kharkiv on Saturday.
Water shortages 'No. 1 issue' in Mariupol, mayoral adviser says
Water shortages have become the "No. 1 issue" in the besieged port city of Mariupol, an adviser to the city's mayor has said.
"The Russians are trying to create the illusion that 'all is well' in the city. But water supply and water shortages remain the No. 1 issue in the city," Petro Andriushchenko said Sunday in a Telegram post that was translated by NBC News.
"The restoration of centralized water supply has, as expected, turned into a farce," he said. "The supply of drinking water is insufficient. There are huge queues at the bottling points, but even here there is not enough water for everyone."
Andriushchenko further warned that "low-mobility and elderly people" in the city faced difficulties in getting access to water.
Russia has likely lost a third of its Ukraine ground forces, U.K. Defense Ministry says
Russia has now likely lost one-third of the ground combat forces it committed in February and is "increasingly constrained by degraded enabling capabilities, continued low morale and reduced combat effectiveness," Britain's Defense Ministry said in an intelligence briefing Sunday.
The briefing, posted to Twitter, added that Russia had failed to achieve any substantial territorial gains over the past month and continued to suffer "consistently high levels of attrition."
"Under the current conditions, Russia is unlikely to dramatically accelerate its rate of advance over the next 30 days," it said.
Russia's neighbor Finland says it wants to join NATO
Finland announced Sunday that it intends apply for membership in NATO, paving the way for the 30-member Western military alliance to expand amid Russia's war in Ukraine.
President Sauli Niinistö and Prime Minister Sanna Marin made the announcement at a news conference at the Presidential Palace in Helsinki.
Finland's Parliament is expected to endorse the decision in coming days, and the result is considered a formality. A formal membership application is likely to be submitted to NATO headquarters in Brussels next week.
Russia, which shares an 800-mile border with Finland, has said it would be a mistake for its neighbor to join the transatlantic alliance and that it would harm bilateral ties.
Sweden is also expected to follow suit as public support for membership has grown.
More weapons on the way to Ukraine, foreign minister says after Blinken meeting
More weapons and other aid is on the the way to Ukraine, the country's foreign minister, Dmytro Kuleba tweeted after a meeting with Secretary of State Antony Blinken.
Pro-Russian hacker attacks thwarted during Eurovision, Italian police say
Hacker attacks by pro-Russian groups were thwarted during the May 10 semi-final and Saturday final of the Eurovision Song Contest in Turin, Italian police said Sunday.
During voting operations and contestants' performances, police said they had mitigated several cyber attacks on network infrastructure by the hacker group "Killnet" and its affiliate "Legion."
On May 11, "Killnet" claimed an attack to the websites of several Italian institutions, including the Senate, Italy's upper house of parliament, and the National Health Institute (ISS), the ANSA news agency reported.
Since Russia invaded Ukraine on Feb. 24, many Western governments have raised alert levels in anticipation of possible cyber attacks on IT systems and infrastructure.
Ukraine's Kalush Orchestra won the Eurovision Song Contest on Saturday with their entry "Stefania", riding a wave of public support to claim an emotional victory that was welcomed by the country's president Volodymyr Zelenskyy.
Missiles hit military infrastructure in western Ukraine near Polish border, regional governor says
Four missile strikes hit military infrastructure in the Yavoriv area of western Ukraine, near to the Polish border, early Sunday, Maxim Kozitsky, the regional governor of Lviv said.
"The object is completely destroyed," Kozitsky said in a post on his Telegram channel that was translated by NBC News.
His post came after the regional air command of Ukraine said several missiles had been fired at the Lviv region from the Black Sea in the early hours of the morning.
Ukraine crowned winner of 2022 Eurovision Song Contest
Ukraine was crowned the winner Saturday of Eurovision Song Contest.
The contest tweeted the winner.
The Ukrainian band was the beneficiary of a last-minute wave of 439 votes from the television audience that put it in front.
Winning Ukrainian band Kalush Orchestra's "Stefania" was written as a tribute to the frontman's mother, but became an anthem for the war-torn country.
"Indeed, some stuff in here was written long before the war, and it was dedicated to my mother," frontman Oleh Psiuk told The Associated Press.
Ukraine: Russians withdraw from around Kharkiv, batter east
KYIV, Ukraine — Russian troops are withdrawing from around Ukraine's second-largest city after bombarding it for weeks, the Ukrainian military said Saturday, as Kyiv and Moscow's forces engaged in a grinding battle for the country's eastern industrial heartland.
Ukraine's general staff said the Russian forces were pulling back from the northeastern city of Kharkiv and focusing on guarding supply routes, while launching mortar, artillery and airstrikes in the eastern province of Donetsk in order to "deplete Ukrainian forces and destroy fortifications."
Defense Minister Oleksii Reznikov said Ukraine was "entering a new — long-term — phase of the war."
President Volodymyr Zelenskyy, meanwhile, said Ukrainians were doing their "maximum" to drive out the invaders and that the outcome of the war would depend on support from Europe and other allies.