This live blog is closed. For the latest updates click here.
The U.S. reopened its embassy in Kyiv on Wednesday three months after it shuttered its doors and relocated staff members to other parts of the region.
"The Ukrainian people, with our security assistance, have defended their homeland in the face of Russia's unconscionable invasion, and, as a result, the Stars and Stripes are flying over the Embassy once again," Secretary of State Antony Blinken said in a statement.
Earlier, a Russian soldier pleaded guilty in the first war crimes trial since the conflict began. The case will renew the focus on mounting allegations of atrocities committed by Russian President Vladimir Putin's forces. It comes as Moscow's troops gain full control of the key port city of Mariupol after the last pocket of Ukrainian resistance surrendered, ending a battle that came to symbolize the brutality of Putin's war.
Putin faced a new setback on the global stage, meanwhile, with Nordic neighbors Finland and Sweden jointly submitting their applications to join NATO as Russia's war in Ukraine reshapes European security and boosts the West.
---
Here's what to know today:
Google's Russian subsidiary to file for bankruptcy
Google's Russian subsidiary plans to file for bankruptcy after authorities seized its bank account, making it impossible to pay staff members and vendors, but free services, including search and YouTube, will keep operating, a Google spokesperson said Wednesday.
Google unit has been under pressure in Russia for months for failing to delete content Moscow deems illegal and for restricting access to some Russian media on YouTube, but the Kremlin has so far stopped short of blocking access to the company's services.
A TV channel owned by a sanctioned Russian businessman said last month that bailiffs had seized 1 billion rubles ($15 million) from Google over its failure to restore access to its YouTube account, but this is the first time Google has said its bank account as a whole has been seized. 
Google did not immediately confirm whether it was the seizure of funds that led to its intention to file for bankruptcy or whether other seizures had occurred.
The database of Russia's Federal Bailiffs Service listed two seizures since mid-March, without specifying the amounts, as well as other fines and enforcement fees.
The service confirmed that it had seized Google assets and property.
Foreign service vet confirmed as U.S. ambassador to Ukraine
WASHINGTON — The Senate confirmed Bridget Brink late Wednesday to be the U.S. ambassador to Ukraine as officials plan to return U.S. diplomats to Kyiv during the country's battle against the Russian invasion.
Brink, a veteran foreign service officer who has spent most of her career in the shadow of the former Soviet Union, was nominated last month by President Joe Biden. The Senate confirmed her unanimously without a formal roll call vote.
U.S. diplomats evacuated Kyiv when the war began three months ago. Brink told senators at her confirmation hearing this month that she would work to reopen the embassy.
Russia has fired more than 2,000 missiles in war
KYIV, Ukraine — President Volodymyr Zelenskyy said Russia has already fired more than 2,000 missiles in its attack on Ukraine, which he said was a large part of its arsenal.
He said the majority of the missiles hit civilian infrastructure and brought no strategic military benefit. In the past day, Russian missiles hit the southern cities of Mikolaiv and Dnipro, Zelenskyy said late Wednesday in his nightly video address to the nation.
Zelenskyy noted Russia's claims Wednesday to have deployed new laser weapons in Ukraine, saying the claims reflected a desire to find an alternative to its missiles.
A senior U.S. defense official said Wednesday the U.S. has seen nothing to corroborate Russia's claims that it has used laser weapons in Ukraine. The official spoke on condition of anonymity to discuss the U.S. military assessment.
Zelenskyy said Ukraine is determined to restore its control over the southern cities of Kherson, Melitopol, Berdyansk, Enerhodar and Mariupol, now occupied by Russian troops.
"All of our cities and communities under occupation — under temporary occupation — should know that Ukraine will return," Zelenskyy said.
War unlikely to end by fall, Ukrainian presidential adviser warns
Despite signs that parts of Ukraine are resuming some level of normalcy, presidential adviser Oleksiy Arestovych said Wednesday that the war is likely to continue through the summer and possibly beyond.
"It is quite clear to me that this war is unlikely to end by the fall," Arestovych said on Ukrainian TV.
President Volodymyr Zelenskyy is seeking to extend martial law for 90 more days, even as the U.S. Embassy reopened its doors Wednesday and border guards recorded an uptick in Ukrainian citizens returning home.
The current martial law order is in effect until May 25. 
Nearly 1,300 bodies of civilians found in Kyiv since invasion
The bodies of more than 1,280 Ukrainian civilians have been found in the Kyiv region since Russian forces invaded in late February, local police said.
"Today, there are 1,288 bodies of dead people," Kyiv regional Police Chief Andriy Nebitov said in a televised address. "I emphasize civilians! Most of them were shot from automatic weapons."
Two men were killed Wednesday in a mine explosion in the Kyiv region near the villages of Lipovka and Korolovka, police said. Several people were also injured and taken to a hospital. The total number of victims was not immediately clear.
Border officials say thousands of Ukrainians 'starting to return home'
Ukrainian border guards say they have seen a steady flow of civilians seeking to re-enter the country, many crossing along the Polish border.
Since May 10, border officials have recorded 30,000 to 40,000 Ukrainians returning home a day and few looking to flee, the Internal Affairs Ministry said.
"We can assume that Ukrainians are starting to return home," Andriy Demchenko, a spokesman for the State Border Guard Service of Ukraine, said in a statement.
30,000 Crimean Tatars flee Russian-occupied territory, Ukraine says
Ukrainian prosecutors say they have submitted evidence to the International Criminal Court about Russian war crimes committed against thousands of indigenous people in Crimea, which Russia annexed in 2014.
"We remember Crimea," Ukrainian President Volodymyr Zelenskyy said in his Wednesday evening address. "And we will never forget 1944 — the genocide of the Crimean Tatars committed by the Soviet authorities. Nor will we forget 2014 — the second wave of destruction of everything free on the Crimean Peninsula."
Since then, 30,000 Crimean Tatars have fled "intolerable living conditions and persecution" in the peninsula, Ukrainian officials said.
At least 22 activists have been abducted or are missing, and 18 Crimean Tatars have been tortured, Ukrainian prosecutors said. At least 136 are being held as political prisoners.
"The history of persecution of Crimean Tatars has been repeated since the occupation of the Russian peninsula in 2014," Ukrainian officials said in a statement. "They are systematically tortured, forcibly disappeared, deported and other serious violations of international humanitarian law."
Official: U.S. in talks with Sweden, Finland
WASHINGTON — A senior U.S. defense official says Defense Department officials are having discussions with Sweden and Finland about their security needs to deter Russia as both move toward NATO membership.
The official said Defense Secretary Lloyd Austin met Wednesday with Swedish Defense Minister Peter Hultqvist and spoke about the interim period between when the NATO application is formally made and it is approved.
There have been concerns about threats from Russia during that period, in which Sweden and Finland would not formally be covered by NATO's Article 5, which says an attack against one member is an attack against all and calls for collective defense.
The defense official spoke on condition of anonymity to discuss private Pentagon discussions.
Russia, Belarus banned indefinitely from international basketball
The international governing body of basketball banned national teams of Russia and Belarus from competition Wednesday in light of the Kremlin's invasion of Ukraine and Minsk's support of the aggression.
The far-reaching action announced by the International Basketball Federation covers men's, women's, 3-on-3 and junior team competitions.
Belarus isn't a basketball power. The Russian Olympic Committee won silver in both men's and women's 3-on-3 play at the most recent Tokyo Games.
U.S. reopens its embassy in Kyiv
Three months after it closed its doors because of Russia's invasion, the U.S. raised the flag and reopened its embassy in Kyiv.
"Today we are officially resuming operations at the U.S. Embassy in Kyiv," Secretary of State Antony Blinken said in a statement. 
"The Ukrainian people, with our security assistance, have defended their homeland in the face of Russia's unconscionable invasion, and, as a result, the Stars and Stripes are flying over the Embassy once again," he added. "We stand proudly with, and continue to support, the government and people of Ukraine as they defend their country from the Kremlin's brutal war of aggression."
The U.S. had moved its Ukraine embassy operations to Poland over security concerns as Russia's invasion plans ramped up in late February. Many other countries did the same, although some moved their embassies to the relative safety of Lviv in western Ukraine.
Charge d'Affaires Kristina Kvien, who has led the U.S. delegation in Ukraine, said this month that the State Department aimed to reopen the embassy later in May after a brief symbolic visit to Kyiv by staff members on Russia's Victory Day.
Several countries, particularly those from Europe, reopened their embassies in Kyiv in recent weeks. The return of the U.S. is a strong signal of support for Ukraine and a gesture of a return to normal diplomatic relations.
Missile strikes push Russian-speaking Odesa's allegiance further toward Ukraine
ODESA, Ukraine — A popular vacation spot for Russians prior to 2014, Odesa has long contended with its place in Ukraine and its perceived shared history with Russian royalty.
Now, months into Russia's invasion of Ukraine, hundreds of buildings have a simple Ukrainian flag painted on their walls, doors or gates.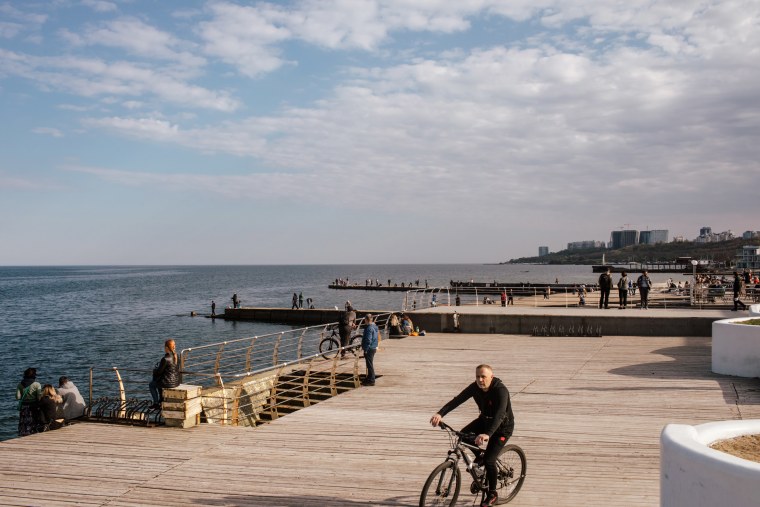 Odesa's identity was once a blurry and complicated question, but each Russian missile that wrecks destruction here makes the answer clearer for the city's people: Odesa belongs to Ukraine and Europe. 
Finland, Sweden officially apply to join NATO amid Turkish objections
BRUSSELS/ANKARA — Finland and Sweden formally applied to join the NATO alliance on Wednesday, a decision spurred by Russia's invasion of Ukraine, but face objections from Turkey to an accession process that is expected to take only a few weeks.
Neutral throughout the Cold War, Sweden's and Finland's decision to join NATO is one of the most significant changes in Europe's security architecture in decades, not least because Finland shares a 1,300-km (810-mile) border with Russia.
It also reflects a shift in public opinion in the Nordic region since Russia's Feb. 24 invasion of Ukraine.
"This is a historic moment which we must seize," NATO Secretary-General Jens Stoltenberg said at a short ceremony at NATO headquarters in which the Swedish and Finnish ambassadors to the alliance handed over their application letters, each in a white folder embossed with their national flag.
"I warmly welcome requests by Finland and Sweden to join NATO. You are our closest partners, and your membership in NATO will increase our shared security," Stoltenberg said. The alliance believes the accession of Finland and Sweden will hugely strengthen it in the Baltic Sea.
With the applications formally submitted, the Nordic countries and their many backers now face uncertain months where any resistance to their bids must be overcome, with all 30 of NATO's members needing to approve the enlargement.
Ratification by all allied parliaments could take up to a year, diplomats say.
Russia shuts down Canadian broadcaster's Moscow bureau and exiles journalists
Russia announced Wednesday that it would shutdown the Moscow offices of the Canadian Broadcasting Corporation, or CBC, and seize its employees accreditation and visas — essentially banishing them from the country.
The retaliatory move comes after Canada banned Russian state TV channel Russia Today, which stands accused of disseminating the Kremlin's propaganda. Canada also closed access to its French-speaking channel.
"With regret we continue to notice open attacks on the Russian media from the countries of the so-called collective West who call themselves civilized," Russian foreign ministry spokesperson Maria Zakharova said, according to Reuters.
CBC spokesperson Chuck Thompson said that the outlet was "deeply disappointed to learn of this news."
The Moscow bureau had operated for more than 44 years, he said, adding that CBC had been the only Canadian news organization with a permanent presence in Russia and this constituted the first time in the broadcaster's history that a foreign government had closed one of its bureaus.
"This appears to be another step by Russia to stifle a free and independent press within its borders," Thompson said, noting that CBC's journalism runs independently of the Canadian government. "We are tremendously proud of the journalism our correspondents have produced in Russia over the past many years and we will continue to tell the story of Russia as best we can from outside the country."
German ex-leader Schroeder loses privileges over Russia ties
Germany's three governing parties plan to strip former Chancellor Gerhard Schroeder of his office and staff after he maintained and defended his long-standing ties with Russia despite the war in Ukraine.
Schroeder's own Social Democratic Party said Wednesday that lawmakers on the parliamentary budget committee had agreed to link some of the former German leader's privileges to actual duties, rather than his status as former chancellor.
They planned to submit a proposal to lawmakers on Thursday.
Schroeder has become increasingly isolated in recent months due to his work for Russian state-controlled energy companies.
NATO talks with Finland, Sweden falter but will continue
NATO envoys failed to reach a consensus on Wednesday about whether to start membership talks with Finland and Sweden, diplomats said, as Turkey renewed its objections to the two Nordic countries joining.
The envoys met at NATO headquarters in Brussels after Finland and Sweden's ambassadors submitted written applications to join the Western military alliance.
Turksih President Recep Tayyip Erdogan insists that the two countries must show more respect for Turkish sensitivities about terrorism and is refusing to budge over what he says is their alleged support for Kurdish militants.
'They fought till the end': Ex-Mariupol resident hails Azovstal fighters 
Ukrainians are holding their breath for any news about the fighters who left the Azovstal steel plant in Mariupol earlier this week and turned themselves over to Russian forces after weeks holed up under bombardment.
Ukrainian officials have steered clear of saying that the fighters, the last pocket of Ukrainian resistance in the city, have surrendered, even though that's how Moscow has described it.
Tetyana Kolesnikova, a Mariupol resident who left the city in mid-April, told NBC News she also doesn't see it as a surrender.
"They fought till the end and, unfortunately, they no longer had any chance," she said in a message on the Telegram messaging app from Riga, Latvia where she escaped after first evacuating to Russia from Mariupol. "They just want to return alive to their families."
Born and raised in Mariupol, Kolesnikova, 19, said she still harbors hope her hometown will be liberated by the Ukrainian army and will thrive again as one of the country's industrial centers. 
"I believe that I will return home," she added. 
Russia has no information on soldier's war crimes trial, Kremlin spokesman says
Moscow says it still does not have information on the case of a Russian soldier who on Wednesday pleaded guilty to killing a Ukrainian civilian in the first war crimes trial since the conflict began.
Kremlin spokesman Dmitry Peskov told reporters Wednesday that Russia also has "very limited" ability to provide any kind of assistance to Sgt. Vadim Shyshimarin because it no longer has diplomatic presence in Ukraine.
Shyshimarin, 21, is accused of shooting a 62-year-old civilian in the head in the northeastern village of Chupakhivka in the early days of the war. 
Asked about mounting allegations of war crimes in Ukraine, Peskov said it was "unacceptable to throw around such terms," adding that many of the cases that Ukraine is talking about are "obvious fakes."
Russia expelling French, Italian diplomats
Russia is expelling 34 French and 24 Italian diplomats following similar expulsions of Russian diplomats throughout Europe last month.
The Russian Foreign Ministry said Wednesday that the French diplomatic staff would be given two weeks to leave the country.
Russia said it was responding to "the provocative and utterly baseless decision of French authorities" in April to expel 41 Russian diplomats, which it said had damaged the relationship between the two countries.
Spokeswoman Maria Zakharova told state news agency RIA Novosti that 24 Italian diplomats also will be expelled. She gave no other details.
Russian soldier on trial for war crimes pleads guilty to killing unarmed civilian
A Russian soldier on trial for war crimes has pleaded guilty to the murder of a Ukrainian civilian during the early days of the invasion.
It's the first such trial since the war began, and takes place amid mounting allegations of atrocities committed by Russian forces.
Sgt. Vadim Shyshimarin, 21, was accused of "violating the laws and customs of war" under Ukraine's criminal code for shooting a 62-year-old Ukrainian man in the head in the northeastern village of Chupakhivka in the early days of the war. He could get up to life in prison.
His trial resumed in a Kyiv court on Wednesday after a preliminary hearing last week.
U.S., banks unveil plan to ease food crisis from Russia's war
Ahead of the G7 finance ministers' meetings, the U.S. Treasury, several global development banks and other groups unveiled a multi-billion dollar plan meant to address a worldwide food security crisis exacerbated by Russia's war in Ukraine.
Treasury announced Wednesday that several global development banks are "working swiftly to bring to bear their financing, policy engagement, technical assistance" to prevent starvation prompted by the war, rising food costs and climate damage to crops.
Tens of billions will be spent on supporting farmers, addressing the fertilizer supply crisis, and developing land for food production, among other issues.
Clearing a school shelling in eastern Ukraine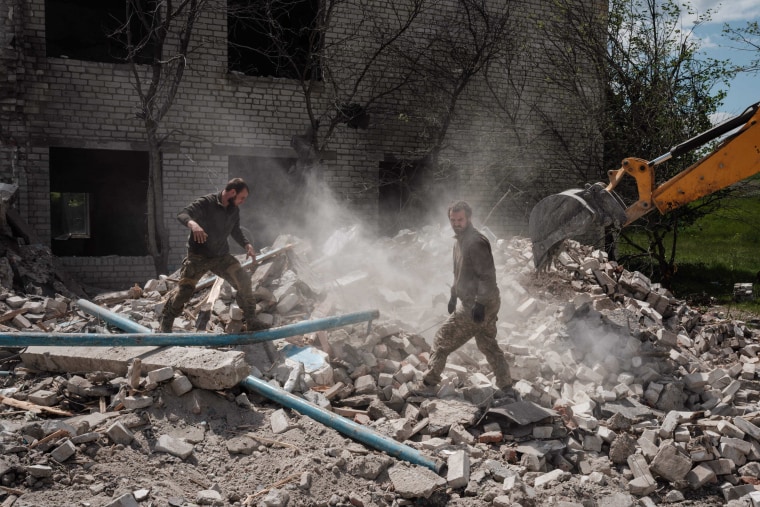 German group says U.S. support for Ukraine higher than E.U.'s
The United States has mobilized about three times as much support for Ukraine as the European Union, according to figures compiled by a German think tank.
The Kiel Institute for the World Economy said Wednesday that a new aid package passed by the U.S. House of Representatives takes American military, financial and humanitarian support for Ukraine to over $45 billion
The institute found that aid from the E.U. amounted to just under $16.8 billion during the same period. However, some countries in the 27-nation bloc have shied away from giving the value of their Ukraine aid, particularly for arms supplies.
Compared to their gross domestic products, Estonia, Latvia and Poland provided the most support, ahead of the United States, according to the think tank's calculations.
Finland, Sweden submit bids to join NATO, despite Russia's threats
From neutrality to NATO: How Putin's war pushed Finland, Sweden 'over the line'
Finland had become such a byword for neutrality that the "Finlandization" of Ukraine was discussed as a compromise solution that Russia might accept to stave off war. Now the Nordic country — and its Swedish neighbors — could be key new members of the Western alliance.
In three short months, analysts say, the invasion of Ukraine has reworked European security for decades to come — and not in Putin's favor.
Court to decide fate of Ukrainian fighters from Azovstal, separatist leader says
Amid uncertainty over the fate of Ukrainian soldiers from Mariupol's Azovstal steel plant who surrendered earlier this week, a Russian-backed separatist leader has said a court will decide what will happen to them.
"As for war criminals and those who are nationalists, if they laid down their arms their fate should be decided by the court," Denis Pushilin, the leader of the so-called Donetsk People's Republic, was quoted as saying by Russian state news agency Tass.
"Regardless of the emotions of some [people], I heard various opinions, if an adversary laid down the arms, the future fate is decided by the court. If this is a Nazi criminal, then by a court martial," Pushilin said.
His comments come amid growing questions about what will happen to the fighters, with Ukraine pushing for a prisoner swap, while some in Russia have voiced strong opposition to it.
Taking shelter in the vegetable cellar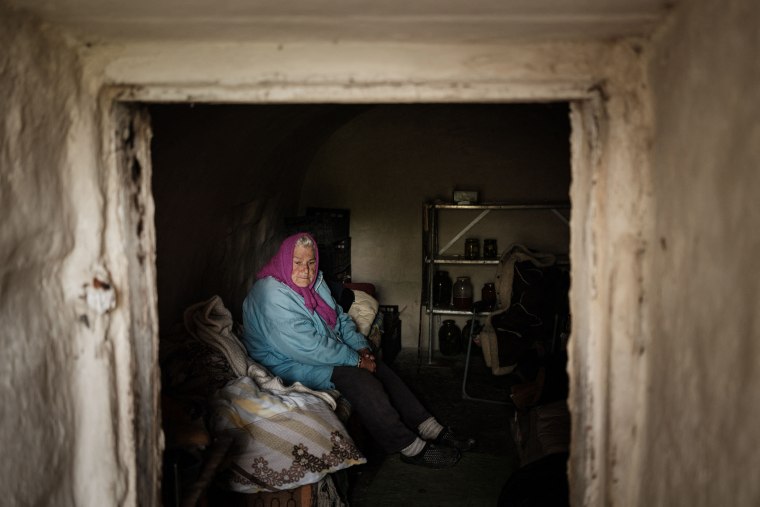 Russian gymnast banned for 1 year for displaying letter 'Z' on his uniform 
Russian gymnast Ivan Kuliak has been handed a one-year ban for displaying the letter "Z" on his uniform during a competition in Doha, Qatar in March, the International Gymnastics Federation said in a statement released on Tuesday.
The federation said Kuliak, 20, was in breach of a number of its codes of conduct and statutes when he wore the letter on his singlet during the competition and the subsequent award ceremony after he won bronze in the parallel bars event. 
The federation said Kuliak will have to return his medal and prize money as part of the ban. He has a right to appeal, it added. 
Russians have used the letter "Z" to mark their military equipment in Ukraine and it has become associated with the invasion. The symbol has also been used to rouse patriotic pride and support in Russia for what the Kremlin calls its "special military operation."
Kuliak had previously said he had no regrets about the display and said he was just showing his position, Reuters reported. 
War in Ukraine a 'wake-up call' to abandon fossil fuels, U.N. chief says
United Nations Secretary-General António Guterres said the war in Ukraine and its immediate impact on fuel prices are a wake-up call, urging the global community to ditch fossil fuels.
"The global energy system is broken and bringing us ever closer to climate catastrophe. Fossil fuels are a dead end — environmentally and economically,"  Guterres said at the launch of the World Meteorological Organization's State of the Global Climate 2021 Report.
"The war in Ukraine and its immediate effects on energy prices is yet another wake-up call," he said.
First war crimes trial set to resume in Kyiv
The trial of a Russian soldier accused of killing an unarmed civilian is set to resume in Kyiv today. 
It has attracted international attention as it's the first war crimes trial in the country since Moscow invaded, and takes place amid mounting allegations of atrocities committed by Russian forces. 
Sgt. Vadim Shyshimarin, 21, is accused of shooting a 62-year-old Ukrainian man in the head in the northeastern village of Chupakhivka in the early days of the war. He could get up to life in prison if found guilty.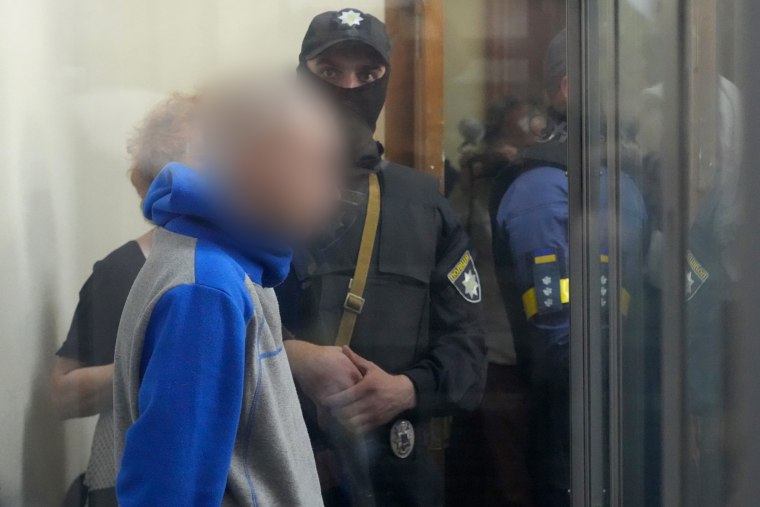 Shyshimarin appeared in a small glass cage in a Kyiv courtroom last week. His attorney could not comment on whether his client admitted guilt. He also did not disclose if Shyshimarin was cooperating with the investigation.
Putin plans to hold 'direct line' news conference this year, Kremlin says
Russian President Vladimir Putin plans to hold his traditional annual "direct line" news conference with the Russian public this year, Kremlin spokesperson Dmitry Peskov was quoted as saying Wednesday by Russian state news agency Tass.
The event, which normally lasts for hours and is broadcast by major state TV channels, is a highly-staged affair during which Putin gets questions from people all over Russia to show his connection with the Russian public.
Putin has made few public appearances since he launched his invasion of Ukraine in February, with most of his comments on the war tightly scripted.
Last year, the conference was held on June 30, and lasted nearly 4 hours, with Putin answering some 70 questions, according to Tass. Peskov did not indicate when the event would take place this year, but said that "preliminary preparations were underway."
War wounds heal in Lviv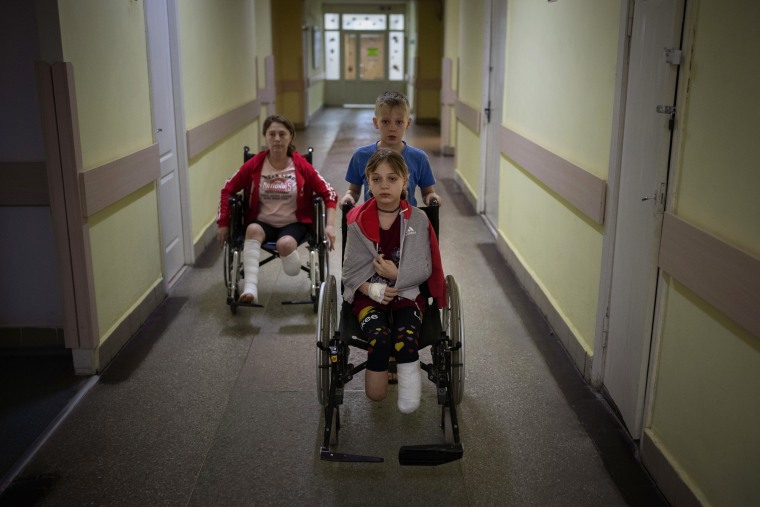 Nearly 1000 Ukrainian fighters have left Azovstal, Russia says
Nearly 1,000 Ukrainian troops who were holding out for weeks at the Azovstal steelworks in besieged Mariupol have surrendered since Monday, Russian state news agency Tass reported, quoting Moscow's ministry of defense.
Russian Defense Ministry spokesman Maj. Gen. Igor Konashenkov said that in the last 24 hours nearly 700 Ukrainian soldiers have surrendered, including 29 who were injured. That adds to previous numbers to make a total of 959 since Monday, Konashenkov said.
Those numbers could not be independently verified by NBC News. Kyiv has also not commented on the Russian estimates.
Fate of Azovstal evacuees remains uncertain 
There was little information Wednesday about the fate of the Ukrainian fighters who turned themselves over to Russian forces after weeks of holding out at Mariupol's Azovstal steel plant.
The fighters have been taken to areas under Russia's control, and while officials in Kyiv have indicated they want to conduct a prisoner swap with the Russians, there has been some opposition to that in Moscow.
Russia's main federal investigative body said Tuesday it intends to interrogate the fighters to "identify the nationalists" and "check them for involvement in crimes committed against the civilian population."
Many of the fighters who were holed up at Azovstal belong to the Ukrainian National Guard's Azov Regiment, which has Neo-Nazi roots.
Russia's Supreme Court will consider recognizing the regiment as a "terrorist organization," according to a statement from its justice ministry. Russian State Duma speaker Vyacheslav Volodin also seemed to have spoken out against a prisoner swap, saying that the "Nazis" should be treated as "war criminals" and adding that "we must do everything to bring them to justice."
VIDEO: Finland, Sweden submit formal applications to join NATO
Russia suffering 'significant resourcing problems,' U.K. says
Russia has likely used "several thousand" Chechen fighters in its war against Ukraine, the United Kingdom's defense ministry said Wednesday.
"In attempting to overcome Ukrainian resistance, Russia has made significant use of auxiliary personnel," the U.K. said in a daily intelligence update. "This includes a deployment of Chechen forces, likely consisting of several thousand fighters primarily concentrated in the Mariupol and Luhansk sectors.
"The combat deployment of such disparate personnel demonstrates Russia's significant resourcing problems in Ukraine and is likely contributing to a disunited command which continues to hamper Russia's operations," the U.K. said.
Chechnya is a republic in southern Russia. The Chechen fighters are likely volunteers and national guard troops whose deployment was overseen by Chechnya's leader Ramzan Kadyrov, a Putin ally, the U.K. said.
NATO chief welcomes 'good day at a critical time'
Finland and Sweden apply to join NATO
Nordic neighbors Finland and Sweden jointly submitted their bids to join NATO on Wednesday, as Russia's war in Ukraine reshapes European security.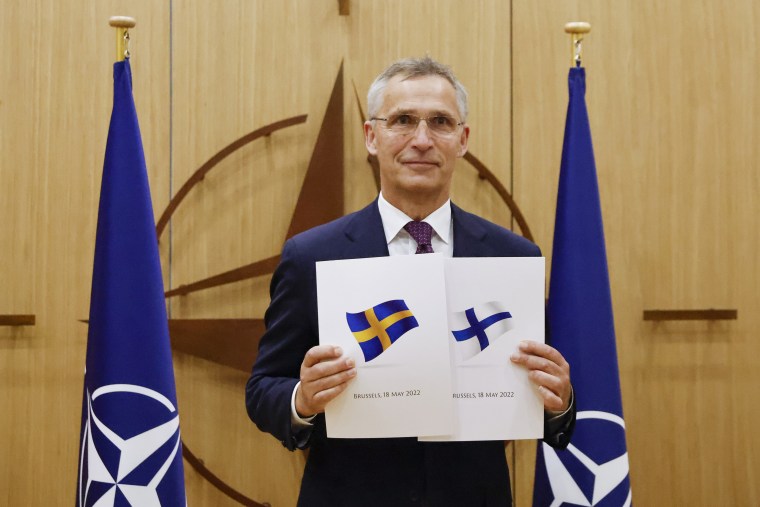 NATO Secretary-General Jens Stoltenberg hailed what he said was "an historic moment which we must seize" as he received the dual applications at the headquarters of the Transatlantic military alliance in Brussels.
Ukrainian soldiers transported to Russian-controlled territory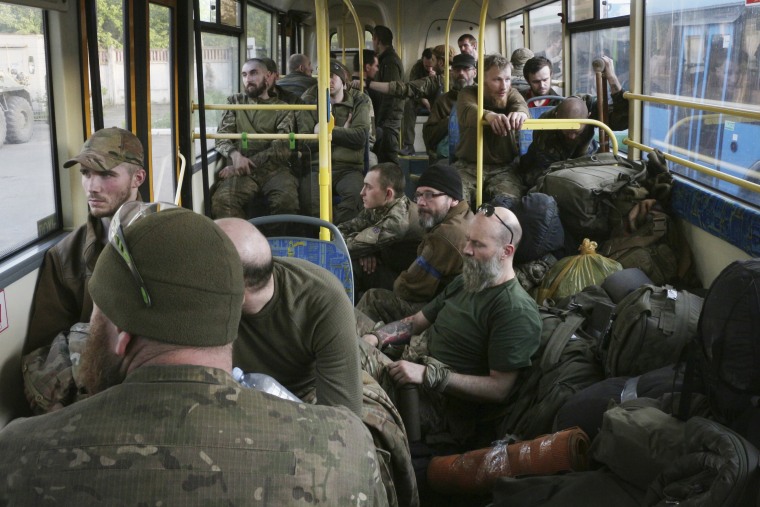 Ukraine first lady: Millions in country will need psychological help
Ukraine's first lady, Olena Zelenska, said Tuesday that millions of people in her country will need psychological help after Russia's attack and invasion, according to a readout of her call with Israel's first lady.
Zelenska made the comments in a phone call with Israel's Michal Herzog, in which she thanked Israel for its medical support, the office of Ukraine's president said in a statement.
Zelenska said she is spearheading a national program for psychological assistance, according to the statement. "The brutality of the Russian military, which has deeply shocked the entire civilized world, means that millions of Ukrainians also need urgent professional psychological help. And here I am very grateful for the support of the state of Israel," she said in part.