This live blog has now finished. You can find the latest updates here.
A second round of talks between Ukrainian and Russian officials ended Thursday with the two sides tentatively agreeing to establish humanitarian corridors for the safe evacuation of civilians caught in the crossfire and the delivery of supplies to those staying in the country.
In Enerhador, Russian troops were shelling Europe's largest nuclear power station, which accounts for about one-quarter of the nation's power generation.
As Russia intensifies its offensive, its focus has remained on a number of strategic cities, including the capital, Kyiv, Ukraine's second-biggest city, Kharkiv, and another key port city, Mariupol.
Already, as many as 1 million people have been forced to flee Ukraine, the United Nations high commissioner for refugees said late Wednesday.
Follow our in-depth coverage of the Russia-Ukraine crisis here.
Airline software giant ends distribution service with Russia's Aeroflot
Sabre Corp. on Thursday said it terminated a global distribution agreement with Russia's Aeroflot, crippling the country's largest airline's ability to sell seats.
The Texas-based airline software giant provides airline ticket distribution and reservation services for airlines around the world. Sabre's decision to end the distribution agreement means Aeroflot's flights won't show up on online travel agencies or other third party sites. Aeroflot didn't immediately comment.
It is the latest measure that has isolated Russia's airlines since the country invaded Ukraine last week.
Kherson mayor says Russian troops have 'captured the city'
Kherson Mayor Ihor Kolykhaev said Thursday that Russian troops have "captured the city."
"Yes it really is true. The situation is difficult, we need a green corridor for humanitarian aid for our city!" he told NBC News via WhatsApp.
The mayor said Russian troops had established a "military commandant's office." He said he was "not offered any conditions for cooperation."
However, Kolykhaev said, he had outlined a number of conditions himself, including a demand that "there must be only the Ukrainian flag above the building of the city council because Kherson is Ukraine."
"There can be no tanks in the city," he also said, adding: "There should be green corridors for humanitarian convoys and for evacuation of the population if required." 
The head of Kherson's regional council had said earlier Thursday, however, that Russian forces had taken control of the city's regional state administration building.
In a Facebook post, Hennadiy Lahuta said Russian attackers had "completely occupied the building of the Kherson Regional State Administration."
"However, we have not given up our responsibilities," Lahuta said.
Ukraine's foreign minister tells NATO 'you will be next' if 'radical steps' are not taken
Ukrainian Foreign Minister Dmytro Kuleba warned NATO partners that a direct confrontation with Russia is "inevitable" unless the military alliance helps Ukraine bring an end to the current conflict. 
"You can think as much as you want about how to avoid a direct confrontation with Russia," he said Thursday afternoon during a TV marathon. "But if you do not help us to stop it now, a direct confrontation will be inevitable because you will be next."
Ukrainians continue to be threatened by Russian airplanes, helicopter and missile systems, he said. "Therefore, if you do not take radical steps to strengthen Ukraine's air defense, the blood of our dead citizens will be in your hands, as well."
In a tweet Thursday he also said, "Russia's barbaric war tactic is to manipulate the civilian suffering it itself inflicts."
The television address came as a second round of talks was expected to take place between Russia and Ukraine.
"Your restraint and your unwillingness to take the next steps — all this gives Russia the opportunity to continue the killings without punishment," he said.
Serhii, the father of Iliya, a teenager, cries over his son's body lying on a stretcher at a maternity hospital converted into a medical ward in Mariupol, Ukraine, on Wednesday.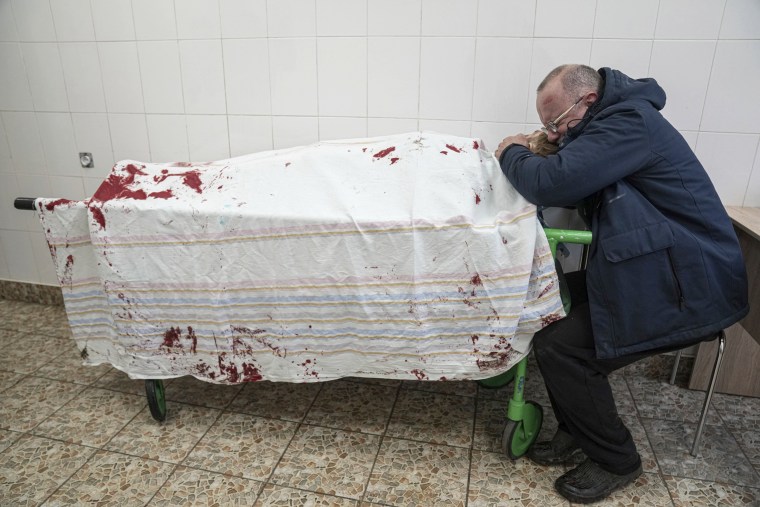 Internet governing board won't cut off Russia
The internet's primary international governing board has rejected Ukraine's request to cut Russia's connections to the rest of the world.
On Monday, Ukraine asked the Internet Corporation for Assigned Names and Numbers, which oversees domain name management for the internet, to cancel connections to websites on Russia's .ru domain and shut down global internet access that comes from St. Petersburg and Moscow. 
ICANN, which prides itself on being an apolitical body, denied Ukraine's request Wednesday evening, saying: "Our mission does not extend to taking punitive actions, issuing sanctions, or restricting access against segments of the Internet – regardless of the provocations."
White House asks Congress to provide $10 billion in humanitarian and defense assistance for Ukraine
The Biden administration has asked Congress for $10 billion in humanitarian and defense assistance for Ukraine. 
In a letter to House Speaker Nancy Pelosi, D-Calif., on Thursday, Office of Management and Budget Director Shalanda D. Young said that the administration appreciates Congress' support for Ukraine, which has allowed the United States to provide $1.4 billion in assistance to the country since 2021. 
"This request identifies an immediate need for $10.0 billion in additional humanitarian, security, and economic assistance for Ukraine and Central European partners due to Russia's unjustified and unprovoked invasion," Young said. "It also outlines a number of authorities needed to provide maximum flexibility in supporting Ukraine, our European allies and partners, and other emergent global needs."
This is more than the $6.4 billion the administration had asked Congress for last week. 
Young urged Congress to wrap this emergency funding into a governmentwide spending package by March 11. 
Young added that she anticipates Congress may need to provide more to Ukraine over time. 
Former Zelenskyy adviser expresses concern for psychological toll of ongoing conflict
A former adviser to President Volodymyr Zelenskyy has sounded the alarm on the psychological toll of Russian President Vladimir Putin's war on Ukrainians as Moscow's invasion continues.
"I'm worried about the psychological state of the civilians, especially women and children. Every little bit helps," Igor Novikov said in an interview with MSNBC on Wednesday.
The former adviser also described the emotional toll on his own loved ones. "My family's kind of psychological state disintegrating and my older daughter was crying. My younger daughter disturbed and I couldn't afford to leave them alone," he said, explaining why he could not attend a scheduled interview Tuesday. 
Novikov went on to describe his teenage daughter breaking down and "crying out of the blue with no warning."
He urged people around the world to join in the efforts to help in whatever way they can. 
"If there's a message to the people of Ukraine, it would make a difference. Why don't we get like Western celebrities that record those messages, #stand with Ukraine and we'll provide you with numbers of individual civilians. Why not give them a call and support them?" he suggested. 
"It might save somebody's life," he said.
The Emmanuel tenor bell at Notre Dame, Paris, rang out with a "call for peace in Europe," following Russia's invasion of Ukraine.
Volunteers assemble flak jackets in a warehouse in Prague as a part of a shipment to Ukraine on Tuesday.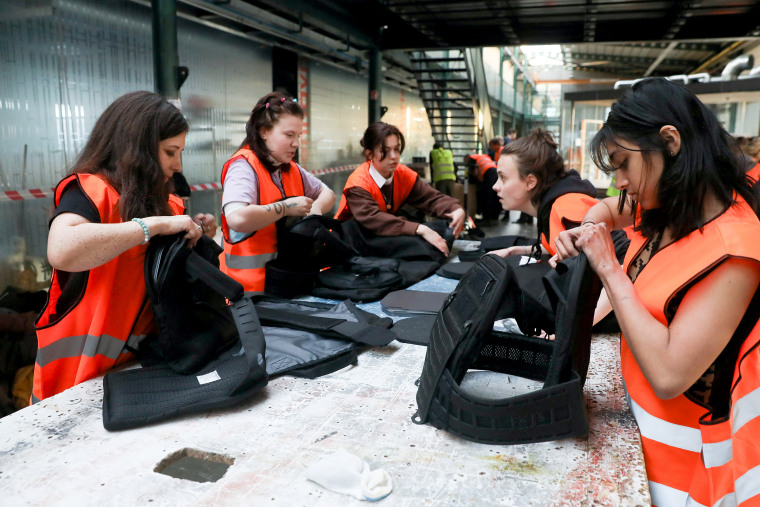 F1 terminates Russian Grand Prix contract
Formula One has terminated its contract with the Russian Grand Prix official promoter Ano Rosgonki, it said in a statement Thursday.
"Formula 1 can confirm it has terminated its contract with the Russian Grand Prix promoter," it said. "It means Russia will no longer have a race in the future."
In a statement Thursday, Ano Rosgonki said that it's performing its refund obligations in full.
Formula One's governing body, FIA, had announced last week that the Russian Grand Prix 2022 would be canceled, and with it, the race scheduled in Sochi for September. On Tuesday, it had said Russian and Belarusian racers could compete under a neutral flag.
"The FIA is watching the developments in Ukraine with sadness and shock and I hope for a swift and peaceful resolution to the present situation," FIA President Mohammed Ben Sulayem said Tuesday.
Kherson regional council head says it will continue to operate
Kherson's regional council will continue to operate and provide help to its citizens despite Russian forces taking control of the city's regional state administration building, the council's head said Thursday. 
In a Facebook post, Hennadiy Lahuta said Russian attackers had "completely occupied the building of the Kherson Regional State Administration."
"However, we have not given up our responsibilities," Lahuta said.
"The regional operational headquarters, where I am the head, continues to work and address pressing issues to help residents of the region," he continued. 
Russia has said its forces have taken control of the southern port city. British intelligence on Thursday said that, although Russian forces have entered the city, the situation remains unclear.  
Lahuta called on Kherson's inhabitants to stay calm. "We are waiting for humanitarian aid. Please do not believe in fakes and do not panic."
Nuclear weapon use 'not in the head' of Russians, Lavrov says
Russia's foreign minister Sergey Lavrov has said the idea of nuclear warfare is "not in the heads" of Russians.
Lavrov told journalists that it was "clear that World War Three can only be nuclear," Russian state media RIA Novosti reported Thursday.
Lavrov said it appeared as though the thought of "a nuclear war is constantly twisting in the heads of Western politicians," but he said it is "not in the heads of the Russians."
"Therefore, I assure you that we will not allow any provocations to force us out of balance," he said. 
Residential buildings heavily damaged in Kharkiv, Ukraine, on Thursday after continued Russian attacks.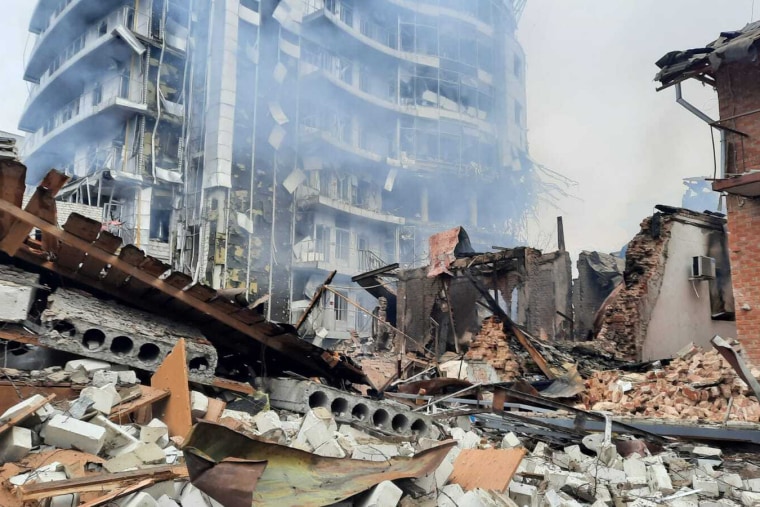 EU must be prepared to host millions of refugees, says European Commissioner for Home Affairs
European Union member states must be prepared to host millions of refugees from Ukraine as the conflict develops, European Commissioner for Home Affairs Ylva Johansson said Thursday.
"We are in a very, very dangerous situation with the development in Ukraine. We have to prepare for millions of refugees to come to the European Union," Johansson said ahead of a meeting of the bloc's Justice and Home Affairs Council.  
"This is really a moment to be proud of being European," she added, referring to the outpouring of donations and efforts by European citizens to house incoming fugitives from Ukraine. "But this is also a moment for strong decisions ... We need proper guidance on how to deal with the different situations at the border." 
Johansson said she expected the new legislation for the temporary arrangement for refugees from Ukraine in Europe to be passed in the coming days. The current proposal offers temporary residence rights to refugees from Ukraine for up to three years, which would include the right to work and social welfare. 
Second round of Russia-Ukraine talks expected to begin today, Russia says
A second round of talks between Russia and Ukraine is expected to begin today, the head of the Russian delegation has said. 
Vladimir Medinsky, adviser to Russian President Vladimir Putin, said a second round of talks were expected to begin around 7 a.m. ET in the Brest region of Belarus.
Medinsky said the Russian delegation had a "block of proposals in three parts" concerning "the military-technical aspect," as well as "humanitarian-international and political" issues. 
"We are now bringing positions together, we are not wasting time," he said.
On Wednesday, Belarus' Ministry of Foreign Affairs tweeted out a photo of a conference room, saying it had already been set up "to host second round of Russia-Ukraine negotiations."
It comes days after the first round of talks at the Belarusian border ended without a clear breakthrough.
Russian forces 'regrouping' to attack in the direction of Kyiv, Ukrainian military says
Russian forces are "regrouping" in an effort to reach the capital city of Kyiv after they failed to succeed in northern cities, the Ukrainian military has said.
Part of the Northern Fleet of the Russian Armed forces, which has lost combat capability, is "regrouping and trying to attack in the direction of Brovary and Kyiv."
"The enemy is trying to break through to the capital," said Kyiv Mayor Vitali Klitschko in a Telegram post Wednesday night. The city was under heavy shelling, with private houses, cars and police facilities damaged, he said.
The Ukrainian military also said a fleet of four large landing ships in the Black Sea – accompanied by three missile boats – was headed in the direction of Odessa in southern Ukraine. The military said that Naval groups continued to capture sailors and fire on civilian ships.
"Kyiv and other Ukrainian cities are suffering from enemy missile strikes," said the General Staff of the Armed Forces of Ukraine on Facebook.
A destroyed building in a residential area of Zhytomyr, Ukraine on Tuesday.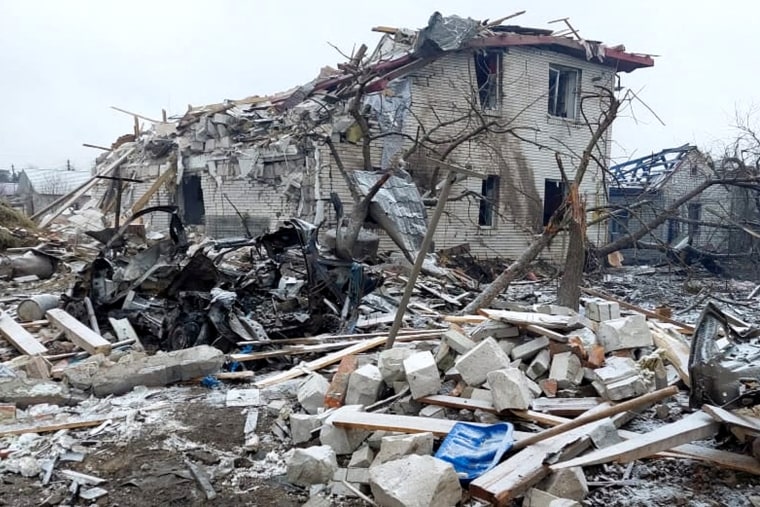 Ukraine foreign minister calls conflict a 'true People's War for Ukraine'
Ukrainian foreign minister Dmytro Kuleba has called the ongoing conflict a "true People's War for Ukraine," hailing residents who blocked the road leading to a nuclear power plant in Enerhodar, in the country's north-west, on Thursday. 
"This is a true People's War for Ukraine. Putin has no chance of winning it," the minister tweeted along with a photo of the crowd on the road.
Kuleba also urged the international community to shut the country's airspace. "We need partners to help Ukraine defend itself. Especially in the air. Close the sky now!"
Russian and Belarusian athletes barred from the Paralympic Games
The International Paralympic Committee has decided to refuse the entry of athletes from Russia and Belarus for the Beijing 2022 Paralympic Games, it said on Thursday.
This comes after IPC had earlier on Wednesday allowed the Russians and Belarusians to compete "as neutral athletes".
"In taking our decision yesterday we were looking at the long-term health and survival of the Paralympic Movement," said the IPC President Andrew Parsons in a statement on Thursday.   
"However, what is clear is that the rapidly escalating situation has now put us in a unique and impossible position so close to the start of the Games."
Multiple countries had threatened to boycott the games which would put the Games in grave danger – the impact of which would be far reaching, Parsons said.
A total of 83 Para athletes have been affected by this decision, he said.
"To the Para athletes from the impacted countries, we are very sorry that you are affected by the decisions your governments took last week in breaching the Olympic Truce.  You are victims of your governments' actions," he said.
Russian tanks have made 'little discernible progress' towards Kyiv, British defense ministry says
A column of tanks advancing towards Kyiv has made "little discernible progress" since Tuesday and remains more than 18 miles from the centre of the capital, according to the British Ministry of Defence. 
The delay is due to "staunch Ukrainian resistance, mechanical breakdowns and delays," the ministry said.
Kharkiv, Chernihiv and Mariupol remain under Ukrainian control despite continued heavy Russian shelling, it continued, while the situation in Kherson remains unclear after Russian forces entered the city. Russia had claimed it had seized control over the southern port city. 
The ministry noted that Russia's own defense ministry has also for the first time announced casualties suffered since first attacking Ukraine last Thursday, reporting 498 dead and 1,597 wounded. 
Independent Russian radio network Echo of Moscow disbands
Independent Russian radio network Echo of Moscow has shut down after its board of directors voted to liquidate its station and news site on Thursday. 
The closure comes days after the station, one of Russia's last liberal news sources, was taken off air.
The country's prosecutor general had called for access to the station to be restricted over its coverage of Russia's invasion of Ukraine.