Coverage on this live blog has ended. Please click here for the latest updates.
Russia is struggling to make gains in its combat operation in the east of Ukraine amid poor morale and logistical challenges, the U.K.'s Ministry of Defense said in an update on Saturday.
Russia has been "forced to merge and redeploy depleted and disparate units from the failed advances in north-east Ukraine," the ministry said on Twitter.
There remain problems with tactical coordination, air support and skills, meaning Russian forces can't "fully leverage its combat mass, despite localized improvements," the update said.
Ukraine suffered a barrage of aerial attacks on Thursday and Friday, including on the capital, Kyiv.
With Russia's eastern advance stalled due to fierce local resistance and Western support, analysts say both sides appear ready to dig in for a protracted conflict that is showing increasing signs of spilling beyond the battlefield. 
Blinken, Ukrainian foreign minister talk following Sunday visit in Kyiv
Secretary of State Antony Blinken and spoke Saturday with Ukrainian Foreign Minister Dmytro Kuleba on a range of topics, according to State Department spokesperson Ned Price.
The discussion was a follow-up to their meeting Sunday in Kyiv, Price said.
"The Secretary emphasized the United States' robust support for Ukraine's sovereignty and territorial integrity in the face of Russia's brutal aggression," he said in a statement.
Blinken and Defense Secretary Lloyd Austin traveled in a highly secret trip to Ukraine and met Sunday with President Volodymyr Zelenskyy and other senior officials.
During the visit, Blinken said U.S. diplomats would likely return to Ukraine this week. He provided an update Saturday on their return, Price said.
The U.S. Embassy in Kyiv tweeted Tuesday about a visit to Lviv and said plans were being made to resume operations in Kyiv as soon as possible.
Blinken and Kuleba also discussed President Joe Biden's request to Congress on Thursday for $33 billion in security, economic and humanitarian aid to Ukraine, Price said.
Zelenskyy urges Russian soldiers not to fight in Ukraine
KYIV, Ukraine — Ukrainian President Volodymyr Zelenskyy switched into Russian in his nightly video address to urge Russian soldiers not to fight in Ukraine, saying even their generals expected that thousands of them would die.
He said Russia has been recruiting new troops "with little motivation and little combat experience" for the units that were gutted during the early weeks of the war so these units can be thrown back into battle.
He said Russian commanders fully understand that thousands of them will die and thousands more will be wounded in the coming weeks.
"The Russian commanders are lying to their soldiers when they tell them they can expect to be held seriously responsible for refusing to fight and then also don't tell them, for example, that the Russian army is preparing additional refrigerator trucks for storing the bodies. They don't tell them about the new losses the generals expect," Zelenskyy said late Saturday.
"Every Russian soldier can still save his own life. It's better for you to survive in Russia than to perish on our land," he said.
Russian military plane violated airspace, Sweden says
STOCKHOLM — Sweden says a Russian military plane has violated Swedish airspace.
The incident happened late Friday in the Baltic Sea near the island of Bornholm.
In a statement Saturday, the Swedish Armed Forces said a Russian AN-30 propeller plane flew toward Swedish airspace and briefly entered it before leaving the area.
The Swedish Air Force scrambled fighter jets which photographed the Russian plane.
Swedish Defense Minister Peter Hultqvist told Swedish public radio that the violation was "unacceptable" and "unprofessional."
In a similar incident in early March four Russian warplanes violated Swedish airspace over the Baltic Sea.
Sweden and neighboring Finland are both considering NATO membership following Russia's invasion of Ukraine. Moscow has warned that such a move would have consequences, without giving specifics.
Kherson experiencing 'near-total' internet blackout, outage tracker says
The besieged Ukrainian city of Kherson has essentially lost access to the internet, according to Netblocks, a British operation that tracks outages around the world.
Netblocks said in a tweet that "real-time network data show the loss of service on multiple providers" in Kherson, with one company saying the incident was "not an accident."
Internet outages in Ukraine have become more common in recent weeks as Russian President Vladimir Putin's forces make advances on the country, blocking civilians' links to the rest of the world.
Johnson talks about Mariupol with Zelenskky
LONDON — Britain's Prime Minister Boris Johnson discussed the progress of the U.N. effort to evacuate people from the besieged Ukrainian city of Mariupol and "offered the U.K.'s continued economic and humanitarian support" during a talk Saturday with Ukraine's President Volodymyr Zelenskky.
"The prime minister reiterated that he is more committed than ever to reinforcing Ukraine and ensuring (Russian President Vladimir) Putin fails, noting how hard the Ukrainians are fighting for their freedom,'' Johnson's Downing Street office said.
"He confirmed that the UK will continue to provide additional military aid to give the Ukrainians the equipment they needed to defend themselves," the statement said.
The United Nations has been attempting to broker an evacuation in the port city where some 100,000 civilians remain.Up to 1,000 civilians are living beneath a Soviet-era steel plant in Mariupol, according to Ukrainian officials.
Ukraine has not said how many fighters are also in the plant, but the Russians put the number at about 2,000.
Russian rocket attack destroys Odesa runway
A Russian rocket attack destroyed an airport runway in Odesa, Ukraine's third-largest city and a key Black Sea port, the Ukrainian army said Saturday.
In a Telegram post, Ukraine's Operational Command South said there was no way that the Odesa runway could be used as a result of the rocket attack.
Local authorities urged residents of the area to shelter in place as Ukrainian news agency UNIAN, citing army sources, reported that "several" explosions were heard in Odesa.
Odesa's regional governor said that the rocket was fired from Russian-occupied Crimea. Maksym Marchenko said there were no reports of any injuries.
Russian forces have embarked on a major military operation to seize significant parts of southern and eastern Ukraine, the country's industrial heartland, and capture the country's Black Sea and Sea of Azov coasts.
Angelina Jolie arrives in Lviv, Ukraine, to meet with children, doctors
Actor Angelina Jolie arrived in Lviv, Ukraine, to meet with children affected by the war.
Jolie met with orphaned and displaced children, including several who evacuated from Mariupol as Russia continued its attack. She also spent time with the doctors and volunteers who are caring for the children.
"The purpose of Angelina's visit is to bear witness to the human impact of the conflict, and to support the civilian population," her spokesman said Saturday.
Read the full story here.
Ukraine evacuates more from besieged east
Ukraine evacuated more people Saturday in the eastern town of Lyman in the fiercely fought-over region of Donetsk, where at least half the residents have fled Russian shelling since the start of the war.
About 20 mostly elderly people boarded a minivan amid the sounds of outgoing artillery and explosions in the distance. All the shops in the almost-empty town were closed and those who decided to remain rely on aid distributed by groups including the Ukrainian Red Cross.
Those who remain say they are either too old, don't know where to go or don't want to leave their homes unattended. They seek shelter in their basements whenever the shelling starts.
Meanwhile, in Dobropillya, further to the west, two air strikes hit the town on Saturday, damaging buildings and slightly injuring seven people including three children, according to authorities.
British military believes Russian forces likely suffering from "weakened morale."
LVIV, Ukraine — The British military believes Russian forces in Ukraine are likely suffering from "weakened morale."
The British Defense Ministry made that assessment in a tweet Saturday as part of a daily report it provides on Russia's war on Kyiv.
It says Russia "still faces considerable challenges" in fighting. The British military believes Russian forces have "been forced to merge and redeploy depleted and disparate units from the failed advances in northeast Ukraine."
It offered no information on how it arrived at this assessment. However, analysts believe Russian forces that failed to take Kyiv at the start of the war have been redeployed without the time needed to properly rearm and restaff.
The British believe Russia hopes to reorganize its effort and shorten supply lines.
The ministry added: "A lack of unit-level skills and inconsistent air support have left Russia unable to fully leverage its combat mass, despite localized improvements."
People walk past wrecks of military vehicles in Bucha, on the outskirts of Kyiv, Ukraine, on April 30, 2022.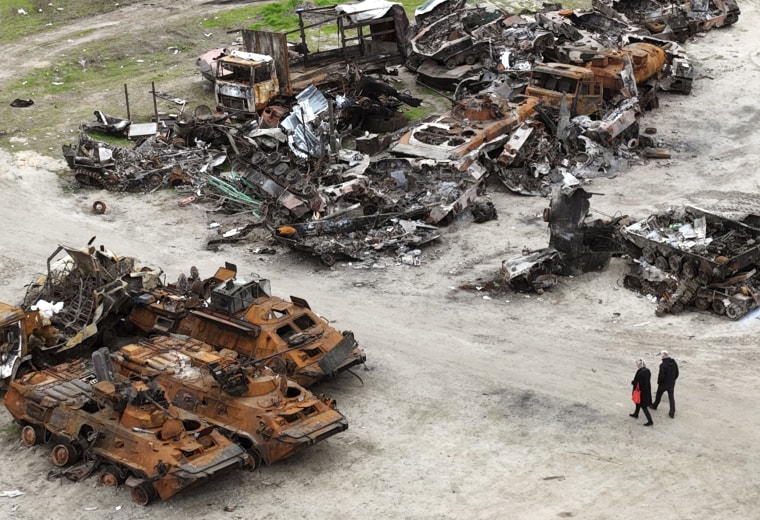 Ukraine says Russia stole 'several hundred thousand tons' of grain
Russian forces have stolen "several hundred thousand tonnes" of grain in the areas of Ukraine they occupy, Ukraine's deputy agriculture minister said on Saturday.
Speaking to Ukrainian national TV, Taras Vysotskiy expressed concern that most of what he said was 1.5 million tons of grain stored in occupied territory could also be stolen by Russian forces.
Ukraine's foreign ministry accused Russia on Thursday of stealing grain in territory it has occupied, an act it said increased the threat to global food security. Agriculture minister Mykola Solskyi said grain theft had increased in the last two weeks.
Zelenskyy thanks France for help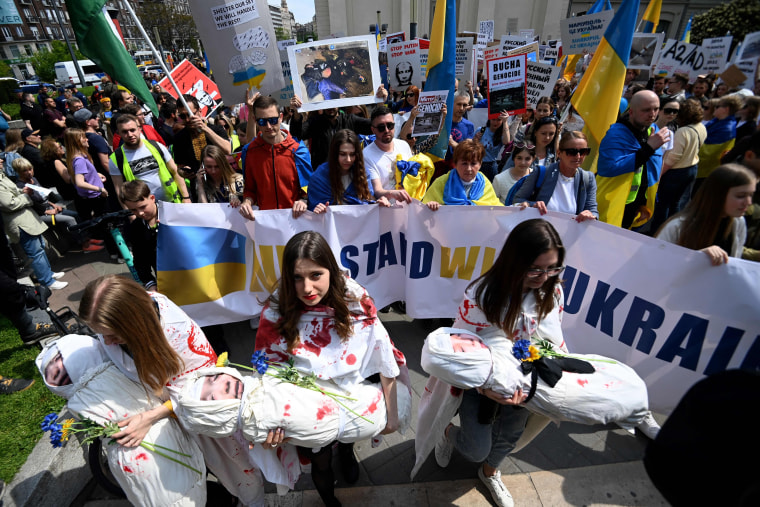 Russian diplomat says strategic dialogue with U.S. "frozen"
A top Russian diplomat said Saturday that any negotiations with the U.S. on "strategic stability" are frozen, according to Russian state media outlet TASS.
Vladimir Yermakov, director of the department for non-proliferation and arms control of the Russian Foreign Ministry, said there is "no need to talk about any prospects for negotiations on strategic stability with the United States."
"Unfortunately, all of Washington's actions are directed in the diametrically opposite direction," Yermakov reportedly said. " In any dialogue, and even more so in a strategic dialogue, it is necessary, at a minimum, to have an adequately tuned partner.  At the moment, such a dialogue is formally frozen on the American side."
Kyiv police say bodies of three men found in Bucha show signs of torture
Kyiv police said Saturday that the bodies of three men found buried in a pit in Bucha showed signs of torture.
The police said the "victims' hands were tied, cloth was wrapped around their faces to close their eyes, and some men had gags in their mouths. There are traces of torture on the corpses, as well as gunshot wounds to various parts of the body." NBC News has not verified those claims.
Investigations are ongoing in various parts of Ukraine into allegations of war crimes perpetrated by Russian troops.
The police said so far investigators have examined the bodies of 1,202 civilians allegedly killed by Russian soldiers.
Ukraine fuel shortage increasingly noticeable, Zelenskyy promises to resolve the issue within weeks
ODESA, Ukraine — The roadways of Ukraine aren't crowded, but the lines of cars at gas stations often stretch a down the highway, NBC News observed as it traveled from Kyiv to Odesa. That's if the stations had any fuel to offer at all.
When a station appears on the horizon hopeful cars often slow to see whether any gas is available. Most of the gas stations NBC News passed on the nearly 300-mile journey from Kyiv to Odesa on Saturday all flashed zero next to the various types of gas, indicating that they had nothing to offer. Diesel, in particular, appears to be in short supply.
It's a growing issue that Ukrainian officials are attempting to address as Russian attacks on the country's fuel depots and their blockade in the Black Sea appear to be having an effect
In Kyiv, the city administration told residents to "remember the needs of the military" by avoiding the use of cars and taking public transit whenever possible.
Ukraine President Volodymyr Zelenskyy acknowledged the problem in video address on Friday night, when he noted that "lines and rising prices at gas stations can be seen in many regions of our country."
 Zelenskyy promised his government would create a system to remedy the fuel shortages within two weeks, though he provided few details. He also said that the country's European partners should provide the nation gas, even as those countries face their own Russian-based fuel problems.
The president's office reported later on Friday that Zelenskyy had started a conversation with Polish President Andrzej Duda about enter in the Ukrainian fuel market.
"They really want to enter our market of gas station business," Zelenskyy  said, according to his office. "We have a large open network. I think they will enter."
Ukraine says Russia pounding Donbas, failing to take targets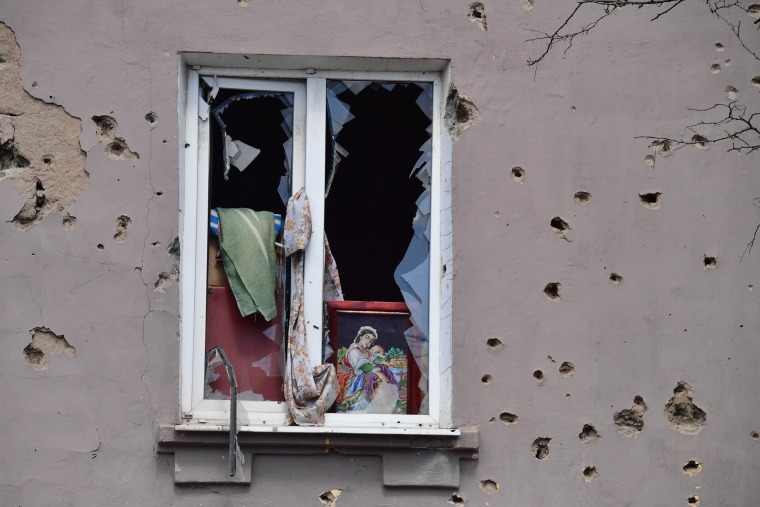 KYIV — Russian forces pounded Ukraine's eastern Donbas region on Saturday but failed to capture three target areas, Ukraine's military said, while Moscow said Western sanctions on Russia and arms shipments to Ukraine were impeding peace negotiations.
The Russians were trying to capture the areas of Lyman in Donetsk and Sievierodonetsk and Popasna in Luhansk, the General Staff of Ukraine's Armed Forces said in a daily update. "Not succeeding — the fighting continues," it said.
Russian Foreign Minister Sergei Lavrov, in remarks published early on Saturday, said lifting Western sanctions on Russia was part of the peace talks, which he said were difficult but continued daily by video link.
Ukrainian President Volodymyr Zelenskiy has insisted since the Russian invasion began on Feb. 24 that sanctions needed to be strengthened and could not be part of negotiations. He said on Friday there was a high risk the talks would end because of what he called Russia's "playbook on murdering people."
Russian company attempting nuclear plant take over, Ukraine tells IAEA 
KYIV, Ukraine — A subsidiary of Russian state nuclear company Rosatom has sent a group of nuclear specialists to Ukraine to take over management of the Zaporizhzhya Nuclear Power Plant, the Ukrainian government told the International Atomic Energy Agency.
The country and Europe's largest nuclear plant, which contains six of Ukraine's nuclear reactors, has been under Russian control since March 4. The Russian energy company has sent eight specialists to Zaporizhzhya to begin taking over the plant, IAEA reports.
Under military control and with these new operations experts in place, the Russian company has "demanded daily reports from plant management about 'confidential issues'" and full details about the operations of the plant including the management of nuclear fuel, spent fuel and radioactive wastes, the nuclear agency said.
IAEA Director General Rafael Mariano Grossi said the plant is under Russian control but continues to be operated by its Ukrainian staff under "extremely stressful and challenging work conditions."
Ukraine had previously told the agency at the start of the month that the staff's "morale and emotional state" were "very low."
In a report on nuclear safety published earlier this week after Grossi's recent visit to Ukraine, the director general wrote that the situation at Zaporizhzhya "continues to be challenging and requires continued attention owing to the presence of Russian forces and Rosatom personnel at the site while operational management remains with Ukrainian plant operators."
He warned that the current state of affairs would become untenable. Grossi has called for his agency to be able to visit the Zaporizhzhya plant.
The fighting remains close to the city of Zaporizhzhya and has entered the administrative district of the same name where the nuclear plant is located. In March, before the Russians took control of it, the world watched as the nuclear plant came under fire by the Kremlin's forces, though it sustained limited damage.
Poland's resources running dry as Ukrainian refugee crisis continues
WARSAW, Poland — When the Russian invasion started, Adriana Porowska, a Polish social worker, could hardly keep track of the flood of people signing up to volunteer to help Ukrainian refugees arriving in Warsaw.
But more than nine weeks into the war, that wave of volunteers is receding. She is having an increasingly difficult time finding people to fill volunteer shifts.
"There are no new people coming to join the volunteers, only leaving," she said. Those who do sign up "have to do more work, and they are even more tired," she said.
Russians destroying 70 percent of some Ukrainian towns, regional official says
Russia soliders are following a "Mariupol scenario" in which they destroy large parts of the Luhansk in eastern Ukraine, according to Serhii Haidai, the head of the Luhansk Regional State Administration.
Haidai said in a television appearance posted to his Telegram account on Saturday that the area is under heavy bombardment.
"The enemy is shelling all the free cities of the region, trying to break through in three directions — Rubizhne, Popasna, Hirske community," Haidi said. "Unsuccessfully, they suffer losses in equipment and in people."
"In the Luhansk region, the Russians are acting according to the Mariupol scenario, our cities have been almost completely destroyed, each settlement has been destroyed by more than 70 percent," he added.
Ukraine says Kharkiv hospital hit by shelling
Russian shelling of the Ukrainian city of Kharkiv hit a hospital, the State Emergency Service of Ukraine said Saturday.
"The building of one of Kharkiv's hospitals was damaged," the service said in a Telegram post. "As a result of the shelling, the concrete structures and window frames of the technical floor of the hospital were partially destroyed. Additionally, there was a fire on the 5th floor, which was promptly eliminated by rescuers. Fortunately, there are no casualties there."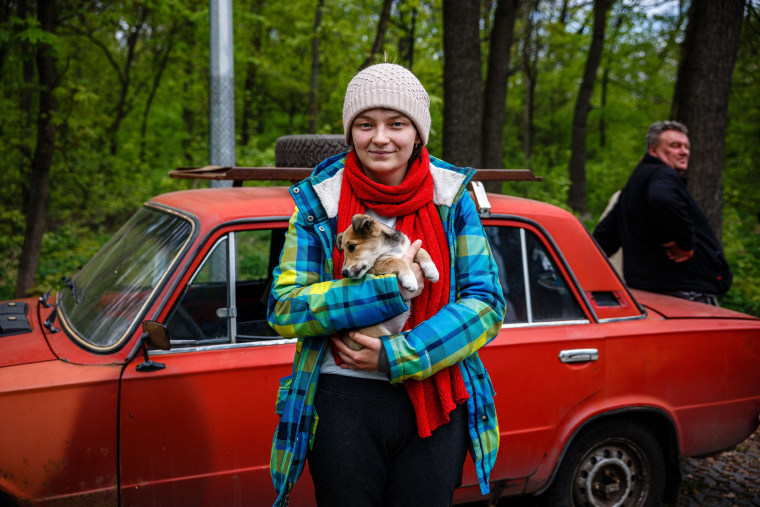 Wives of Mariupol defenders appeal for soldiers' evacuation
Two Ukrainian women whose husbands are defending a besieged steel plant in the southern city of Mariupol are calling for any evacuation of civilians to also include soldiers, saying they fear the troops will be tortured and killed if left behind and captured by Russian forces.
"The lives of soldiers matter too. We can't only talk about civilians," said Yuliia Fedusiuk, 29, the wife of Arseniy Fedusiuk, a member of the Azov Regiment in Mariupol. "We are hoping that we can rescue soldiers too, not only dead, not only injured, but all of them."
She and Kateryna Prokopenko, whose husband, Denys Prokopenko, is the Azov commander, made their appeal in Rome on Friday for international assistance to evacuate the Azovstal plant, the last stronghold of Ukrainian resistance in the strategic and now bombed-out port city.
An estimated 2,000 Ukrainian defenders and 1,000 civilians are holed up in the plant's vast underground network of bunkers, which are able to withstand airstrikes. But conditions there have grown more dire, with food, water and medicine running out, after Russian forces dropped "bunker busters" and other munitions in recent days.
Poland and Lithuania to help Ukraine rebuild communications infrastructure
Ukraine said Saturday that Poland and Lithuania will be helping the country rebuild communications infrastructure including TV and radio transmitter.
"In the war that Russia has waged against our state, the aggressor is deliberately destroying the telecommunications infrastructure," Ukraine's state special communications service said in a Telegram post.
"Dozens of television stations were damaged by rocket fire and bombing. Now the restoration of broadcasting is one of the key tasks of the Concern of Radio Broadcasting, Radio Communications and Television (RRT), one of the units in our Service."
The post said that Lithuania had already given 19 television and FM radio translators.
Ukraine spars with Russia over talks, says Moscow not succeeding in east
Ukraine and Russia traded accusations over shaky talks to end a war now in its third month as Russia pounded areas in the east of the country and U.S. lawmakers vowed a massive new weapons package for Kyiv.
Russian Foreign Minister Sergei Lavrov, in remarks published early on Saturday, said lifting Western sanctions on Russia was part of the peace negotiations, which he said were "difficult" but continue daily by video link.
Ukraine's president, Volodymyr Zelenskiy, told Polish journalists that chances were "high" that the talks, which have not been held in person for a month, would end because of Russia's "playbook on murdering people," the Interfax news agency said.
Ukraine accuses Russian troops of atrocities in areas near the capital, Kyiv, that they had occupied. Moscow denies the claims.
After failing to capture the capital in the nine-week assault that has turned cities to rubble, killed thousands and forced 5 million Ukrainians to flee abroad, Moscow is now focussing on the east and south.
Russian forces captured Ukraine's southern city of Kherson and mostly occupied the southeastern port city of Mariupol, where the United Nations is making efforts to evacuate civilians and fighters holed up in a large steel plant.
The West prepares for Putin's next moves as Ukraine war enters a new phase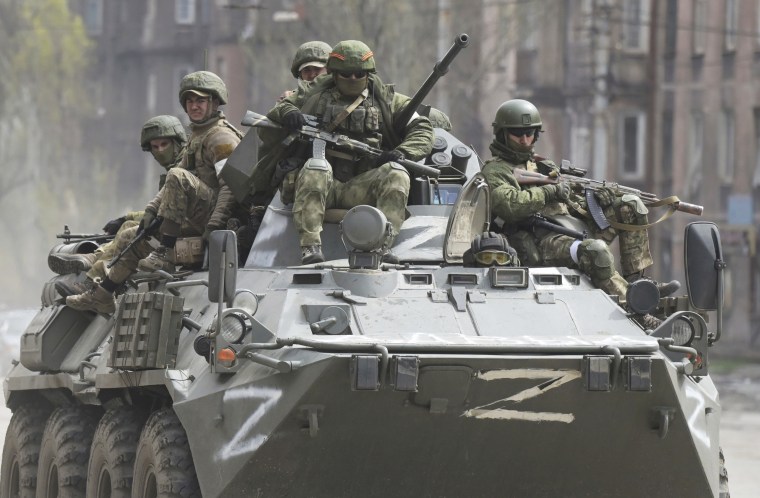 The war in Ukraine is widening.
With Russia's advance stalled due to fierce local resistance and Western support, analysts say both sides appear ready to dig in for a protracted conflict that is showing increasing signs of spilling beyond the battlefield.  
From warning of nuclear confrontation to stoking energy crises and perhaps even eyeing up fresh territories to invade, Moscow has ramped up its threats this week — but so has the West.
Russia still having coordination problems in attack on Ukraine, U.K. says
Despite attempts to try and learn from past failures, Russia's military attacking Ukraine continue to suffer from poor coordination and low morale, the United Kingdom's defense ministry said.
"Shortcomings in Russian tactical co-ordination remain. A lack of unit-level skills and inconsistent air support have left Russia unable to fully leverage its combat mass, despite localised improvements," the U.K. said in a daily update Saturday.
Russian forces have been concentrating on an attack in Ukraine's eastern Donbas region, after suffering setbacks in the invasion Moscow launched against Ukraine on Feb. 24, officials have said.
A senior U.S. Defense Department official said Friday that "Ukrainians continue to resist effectively in the Donbas," and that Russian forces are behind schedule in part because of that.