Fears of a nuclear catastrophe worse than the 1986 Chernobyl disaster were raised overnight into Friday when Russian shelling hit Europe's largest power plant, causing a fire that was later extinguished.
Russian forces now occupy the Zaporizhzhia plant in southeastern Ukraine, the country's nuclear inspectorate said, adding that the nuclear facilities are intact and undamaged. Nuclear scientists called the attack "astonishing" and unprecedented.
The incident came as Russian forces made gains in Ukraine's south, seizing one key port city and encircling another.
Meanwhile, the humanitarian crisis continues to grow with more than 1 million people displaced so far. Ukraine and Russia tentatively agreed in talks Thursday to create humanitarian corridors to allow the safe passage of civilians. The Biden administration is offering temporary immigration protections to Ukrainians already in the United States.
Russia blocks foreign media outlets including BBC, Voice of America
Russia has blocked a series of foreign media outlets, the Russian state-owned news agency RIA Novosti reported on Friday.
Broadcasters including BBC, Deutsche Welle, and Voice of America have been taken off air, while Russia's state communications regulator, Roskomnadzor, said that the websites of Voice of America, the BBC, Deutsche Welle, Meduza and Radio Liberty had also been blocked.
On Friday, Deutsche Welle was completely unavailable while BBC's availability was at 17 percent on GlobalCheck, an independent service which researches internet censorship in the Commonwealth of Independent States (CIS), of which both Russia and Ukraine are a part.
BBC Director-General Tim Davie said Wednesday that the BBC News website was witnessing an increase of more than 250 percent in the past week alone in Russia. The BBC also launched two shortwave frequencies to broadcast its World Service radio coverage to Ukraine and parts of Russia.
A woman stands next to rescuers amidst the debris of a school building destroyed by shelling in Zhytomyr, Ukraine on Friday.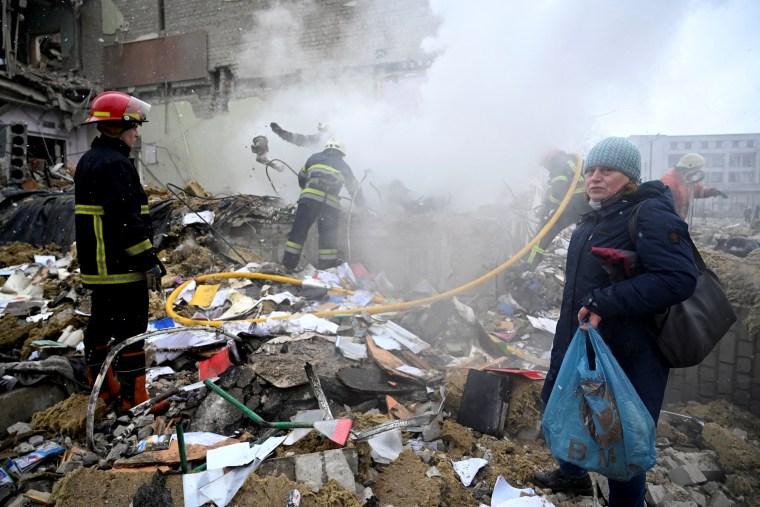 Zelensky urges Russia to remember Chernobyl: 'How can you forget it?'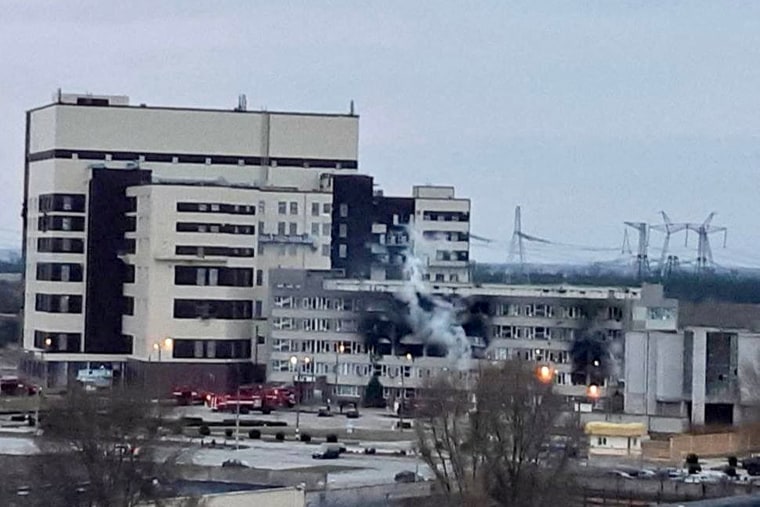 Ukraine's President Volodymyr Zelenskyy said in a video Friday morning that the Russian attack on the Zaporizhzhia nuclear power plant could have led to a tragedy for Ukraine and for Europe and appealed to the Russian forces to remember history.
Speaking in Russian, he said: "Together in 1986 we struggled with the consequences of the Chernobyl disaster. You must remember the burning graphite scattered by the explosion, the victims. You must remember the glow above the destroyed power unit. You must remember the evacuation from Pripyat and the 30km (18.5 miles) zone. How can you forget it?," he said.
"And if you have not forgotten, then you cannot be silent, you must tell your authorities, go out to the streets and say that you want to live. You want to live on earth without radioactive contamination. Radiation does not know where Russia is, radiation does not know where the borders of your country are," the leader added.
Three dead in Russia attack on nuclear power plant, Ukraine says
Three Ukrainian soldiers were killed after Russian forces had shelled the Zaporizhzhia Nuclear Plant, the National Nuclear Energy Generating Company said on its Telegram channel Friday.
Two more soldiers were wounded — one was said to be in a critical condition. No staff at the station were injured.
Yesterday evening local time, Russian occupiers stormed through the entrance of the nuclear power plant, and began firing on it, the company said. The nuclear facilities remain undamaged and intact.
"Zaporizhzhya NPP is many times more powerful and dangerous than Chernobyl," said Ruslan Stefanchuk, chair of Ukraine's Parliament. "Russian occupation forces are deliberately shelling the Zaporizhzhia nuclear plant."
Moscow Stock Exchange remains shut for fifth consecutive day
Moscow Stock Exchange was closed Friday, making it the fifth consecutive day of not trading as it tries to protect local stocks from immediate sale.
The Bank of Russia announced in a statement that there would be no trading, with only limited exceptions allowed.
Russian companies listed in foreign stock exchanges continued to plummet on Thursday. The London Stock Exchange suspended trading for 27 Russian-linked companies on Thursday, its CEO David Schwimmer told CNBC.
The Exchange's opening hours for Saturday will be announced at 9.00 a.m. local time on Saturday (1 a.m. ET), the bank said.
Stanislav, 40, says goodbye to his son David, 2, and his wife Anna, 35, on a train to Lviv at Kyiv station, Ukraine on Thursday.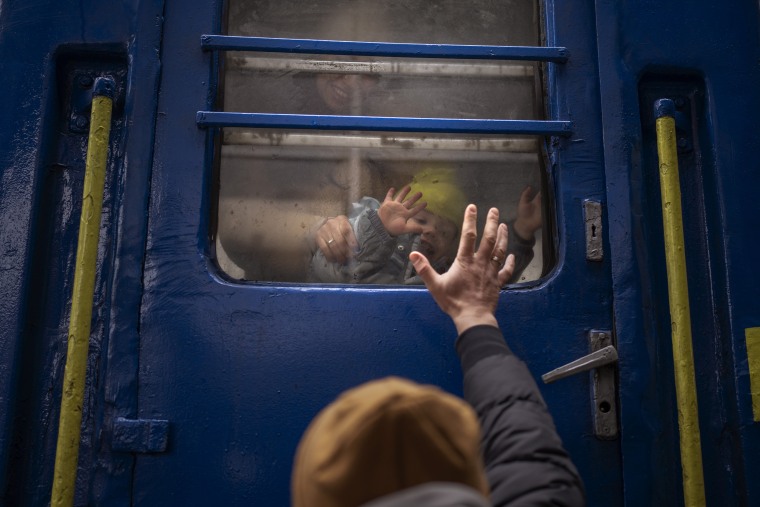 Russian troops surround Mariupol, city faces intense strikes, officials say
Russian troops have encircled the Ukrainian port city of Mariupol, as confirmed by the U.K.'s Ministry of Defence.
Although there have been recurring attacks from Russian forces, a strategic city on the Azov Sea still remains under Ukraine's control, officials said. 
The city's "civilian infrastructure has been subjected to intense Russian strikes," the ministry said in a tweet.
In an update posted to Facebook on Friday morning, the General Staff of the Armed Forces of Ukraine said that, "having a significant advantage in technique, the enemy surrounded Mariupol." 
As Russian forces have advanced, there have been reports of residents being cut off from water, power and food supply in the city, according to Reuters. 
Russian forces occupy nuclear power plant in Ukraine after shelling
Russian military forces have occupied Europe's largest nuclear power plant in Ukraine after a night of heavy shelling, the State Inspectorate for Nuclear Regulation has confirmed.
The Zaporizhzhia Nuclear Power Plant remained intact, and though there was damage to the reactor compartment of one unit, it did not affect the unit's safety, the state inspectorate said on Facebook, according to an NBC News translation. 
A fire broke out at a training facility at the plant after Russian shelling earlier Friday, sparking concerns that an explosion at the facility could be worse than the 1986 Chernobyl disaster. It was later extinguished. 
The plant's personnel are monitoring the condition of the units, and no changes in radiation status have been recorded, the state office said.