Fears of a nuclear catastrophe worse than the 1986 Chernobyl disaster were raised overnight into Friday when Russian shelling hit Europe's largest power plant, causing a fire that was later extinguished.
Russian forces now occupy the Zaporizhzhia plant in southeastern Ukraine, the country's nuclear inspectorate said, adding that the nuclear facilities are intact and undamaged. Nuclear scientists called the attack "astonishing" and unprecedented.
The incident came as Russian forces made gains in Ukraine's south, seizing one key port city and encircling another.
Meanwhile, the humanitarian crisis continues to grow with more than 1 million people displaced so far. Ukraine and Russia tentatively agreed in talks Thursday to create humanitarian corridors to allow the safe passage of civilians. The Biden administration is offering temporary immigration protections to Ukrainians already in the United States.
State Dept. instructs U.S. Embassies in Europe not to retweet U.S. Embassy Kyiv's 'war crime' tweet
The U.S. State Department sent an "urgent" message to U.S. Embassies in Europe to not retweet a post from the U.S. Embassy Kyiv that called Russia's attack on Europe's largest nuclear plant in Ukraine "a war crime," according to an internal message obtained by NBC News. The State Department did not immediately respond to a request for comment.
The official Twitter account of U.S. Embassy Kyiv tweeted it was "a war crime to attack a nuclear power plant" and that "Putin's shelling of Europe's largest nuclear plant takes his reign of terror one step further." 
The State Department soon after sent a memo to their public affairs offices in U.S. missions in Europe asking them not to endorse the statement.
"URGENT: Do Not/Not Retweet Emb. Kyiv's Tweet on Reactor," the subject line of the email from the State Department's public affairs office said. "All - do not/not retweet Embassy Kyiv's tweet on shelling of the facility being a possible war crime. If you have retweeted it - un-re-tweet it ASAP."
 As of 11:45 a.m. ET,  the U.S. Embassy Kyiv's tweet had not been taken down.
BBC News suspends work in Russia amid Putin's media crackdown
BBC News said Friday that it will suspend reporting work in Russia after President Vladimir Putin's regime blocked access to several foreign media outlets.
Russia's parliament reportedly passed a law making it an offense to disseminate what it described as "fake" information about the country's armed forces. The move is widely seen as part of Putin's crackdown on foreign and independent media services reporting on the realities of his offensive against Ukraine.
"This legislation appears to criminalize the process of independent journalism," BBC Director-General Tim Davie said in a statement posted on social media.
"It leaves us no other option than to temporarily suspend the work of all BBC News journalists and their support staff within the Russian Federation while we assess the full implications of this unwelcome development," he said.
"The safety of our staff is paramount and we are not prepared to expose them to the risk of criminal prosecution simply for doing their jobs," he added.
Davie said BBC journalists based in Ukraine and around the world will continue to report on Russia's war against Ukraine.  
FedEx suspends services in Ukraine, Russia and Belarus
FedEx Corporation announced Friday that it was suspending all services in Ukraine for the safety of its employees and that in support of the country it was also suspending services in Russia and Belarus.
"First and foremost, we are focused on the safety of our team members in Ukraine, and we know you share our concern for their well-being," Frederick Smith, chairman and CEO of the company, and Raj Subramaniam, president and COO of the company, said in a statement. "This is our top priority. Our team in Europe is staying in close contact with them on a daily basis, and we have temporarily suspended all services in Ukraine for their safety. And, as we support the people of Ukraine, we also have made the decision to suspend all FedEx services in Russia and Belarus."
FedEx said it was providing its employees in Ukraine direct financial assistance and resources including an emergency helpline. 
The company said it was giving more than $1.5 million in humanitarian aid, with $1 million in "in-kind shipping to organizations who are transporting supplies into the area" and $550,000 in cash donations to European non-governmental organizations.
Moscow Exchange remains closed, suspended from trade group
A global trade association representing major financial exchange markets, including the New York-based Nasdaq, said Friday that it is suspending the Moscow Exchange from its membership.
"The Board took the decision to suspend Russian members and affiliates," a spokesperson for the World Federation of Exchanges said in an email, adding that "this decision, which is consistent with the global response to this matter, was not taken lightly."
The Moscow Exchange, which first joined the London-based World Federation of Exchanges in 2009, is the largest stock exchange in Russia. It remained closed for a fifth straight day on Friday as the Russian economy remains in a crisis caused by global sanctions.
Microsoft suspends sales in Russia
Microsoft is suspending all sales in Russia, the company announced in a blog post Friday. It joins a number of western companies, including fellow American tech giant Apple, in suspending sales to Russia.
"As a company, we are committed to the safety of our employees in Ukraine and we are in constant contact with them to offer support in many forms," wrote Brad Smith, president of Microsoft.
It was unclear what will happen to Russian users who currently use Microsoft products as a subscription service.
Children learn how to use an AK-47 assault rifle during a civilian self-defense course on the outskirts of Lviv, western Ukraine, on Friday.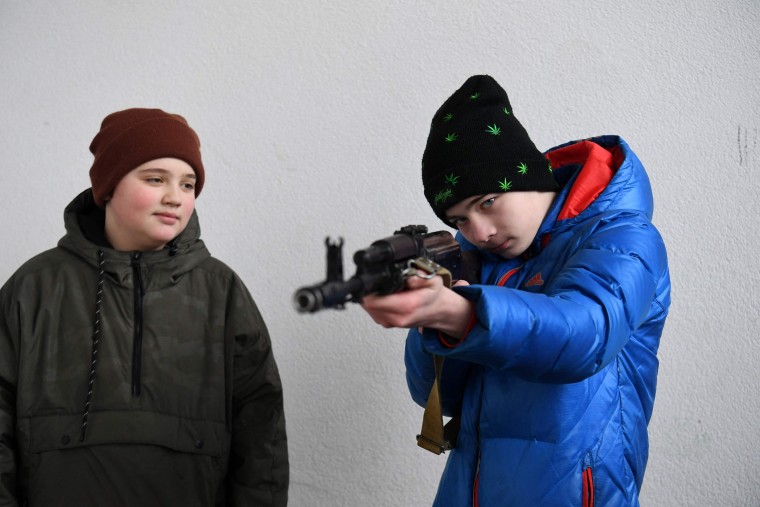 NATO chief says Russia has used cluster bombs in Ukraine
NATO Secretary-General Jens Stoltenberg said Friday that NATO has "seen the use of cluster bombs" by Russia in Ukraine.
Speaking at a NATO meeting in Brussels, he said Russia's invasion was "a blatant violation of international law."
"We have seen the use of cluster bombs, we have seen reports of use of other types of weapons which will be in violation of international law," he said.
"And of course NATO and NATO allies and partners are collecting information and monitoring very closely what is going on in Ukraine," he added. 
His comments come after Ukraine's ambassador to the U.S., Oksana Markarova, said Russia had used a vacuum bomb Monday in its invasion of Ukraine. 
"They used the vacuum bomb today, which is actually prohibited by the Geneva convention," Markarova had said at the time after briefing U.S. Congress members. 
A vacuum bomb uses oxygen from the surrounding air to generate a high-temperature explosion, which can produce a blast wave of a significantly longer duration than that of a conventional explosive.
A woman stands next to rescuers amid the debris of a school building destroyed by shelling in Zhytomyr, Ukraine, on Friday.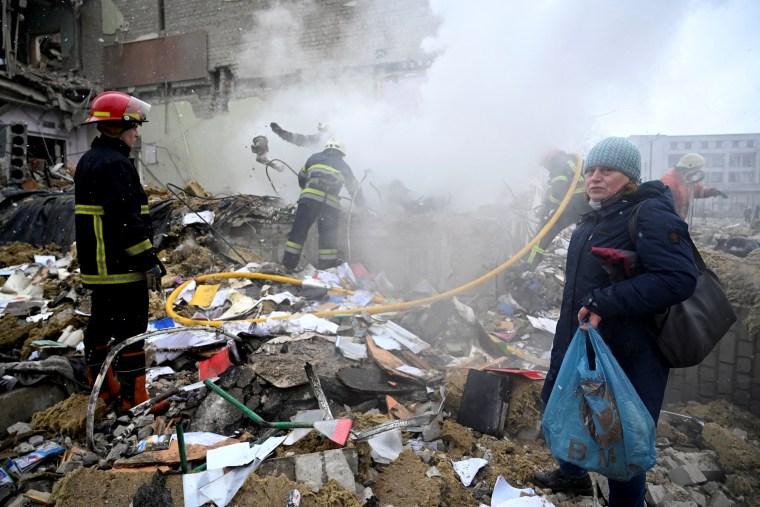 More explosions heard in Kyiv in sign assault is intensifying
Up to a dozen explosions were heard in downtown Kyiv on Friday morning and air raid sirens wailed, in an apparent sign Russian missile strikes on and around the capital were intensifying.
Reuters witnesses in the centre of the city of 3.4 million people could not immediately confirm the cause of the blasts, but they were more frequent than in recent days and some were louder. There were no immediate reports of casualties.
While no major assault has been launched on Kyiv yet, the capital has been shelled and Russian forces unleashed fierce firepower to try to break resistance in the nearby town of Borodyanka.
Drone footage from the town to the northwest of Kyiv on Thursday showed flattened houses and a badly damaged apartment block, with some homes charred and still on fire. Burned out military vehicles littered a main road.
In Kyiv's Borshchahivka neighbourhood, some 18km (11 miles) west of the centre, the twisted metal remnants of a missile, which Ukrainian air defences apparently downed overnight, lay in the middle of a street a few meters from a bus station.
Russian President Vladimir Putin attends a flag-raising ceremony on the ferry Marshal Rokossovsky via a video link at his residence outside Moscow on Friday.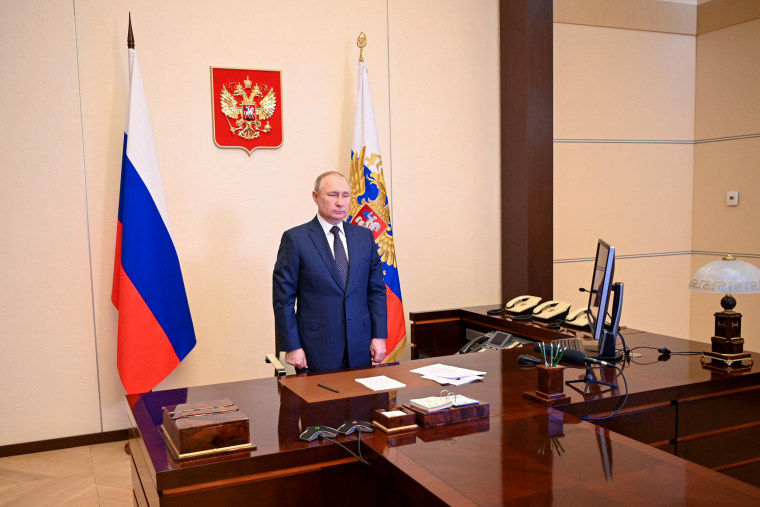 Pentagon spokesman Adm. John Kirby says 'no radioactive leakage' at Ukraine nuclear plant
Pentagon press secretary Adm. John Kirby said Friday that the U.S. agrees with assessments that there was "no radioactive leakage" from Ukraine's Zaporizhzhia power plant and that the damage at the plant has been "fairly limited." 
Kirby, who made the comment in an interview on MSNBC's "Morning Joe," said the Pentagon is working closely with the Department of Energy to assess the damage. He said the attack on the plant by Russians "speaks to the recklessness and the dangerous atmosphere and fear inside Ukraine caused by this unprovoked war of aggression, this unprovoked invasion by Russia."
The spokesman said Russians have not been discriminate in their military campaign and the situation regarding the power plant is "an example of just how dangerous this can get not just for the people of Ukraine, but for the European continent."
Nuclear power plant attack could have killed millions, Ukrainian lawmaker says
The Russian attack on the Zaporizhzhia nuclear power plant could have killed as many as 3 million people and affected more than 51 million, according to a Ukrainian lawmaker.
"I want to put the nuclear power plant attack in context. 6x bigger than #Chernobyl means: 51,000,000 people affected by radiation, 3,000,000 dead. Not just in Ukraine. Across the world," Lesia Vasylenko said in a tweet Friday morning.
She was echoing President Volodymyr Zelesnkyy, who said in a video earlier Friday that the attack could have caused a disaster six times larger than Chernobyl in 1986, widely regarded as the worst recorded nuclear accident.
Citizens in the city of Lviv, in the west of Ukraine about 40 miles from the Polish border, are preparing to fight the Russian invasion in any way they can.
A man finishes gluing a huge billboard depicting a serviceman that says "A Russian soldier is a liberator!" in the city center of Simferopol, Crimea, on Friday.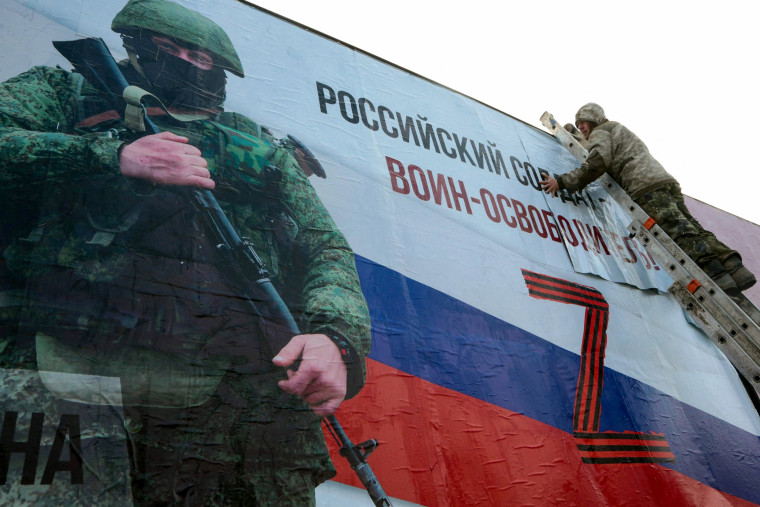 Putin says Russia's neighbors should not escalate tensions
President Vladimir Putin urged Russia's neighbors on Friday not to escalate tensions, eight days after Moscow sent its forces into Ukraine.
"There are no bad intentions toward our neighbors. And I would also advise them not to escalate the situation, not to introduce any restrictions. We fulfill all our obligations and will continue to fulfill them," Putin said in televised remarks.
"We do not see any need here to aggravate or worsen our relations. And all our actions, if they arise, they always arise exclusively in response to some unfriendly actions, actions against the Russian Federation."
Putin was shown on TV taking part online, from his residence outside Moscow, in a flag-raising ceremony for a ferry in northern Russia.
Russia blocks foreign media outlets including BBC, Voice of America
Russia has blocked a series of foreign media outlets, the Russian state-owned news agency RIA Novosti reported on Friday.
Broadcasters including BBC, Deutsche Welle, and Voice of America have been taken off air, while Russia's state communications regulator, Roskomnadzor, said that the websites of Voice of America, the BBC, Deutsche Welle, Meduza and Radio Liberty had also been blocked.
On Friday, Deutsche Welle was completely unavailable while BBC's availability was at 17 percent on GlobalCheck, an independent service which researches internet censorship in the Commonwealth of Independent States (CIS), of which both Russia and Ukraine are a part.
BBC Director-General Tim Davie said Wednesday that the BBC News website was witnessing an increase of more than 250 percent in the past week alone in Russia. The BBC also launched two shortwave frequencies to broadcast its World Service radio coverage to Ukraine and parts of Russia.
A woman stands next to rescuers amidst the debris of a school building destroyed by shelling in Zhytomyr, Ukraine on Friday.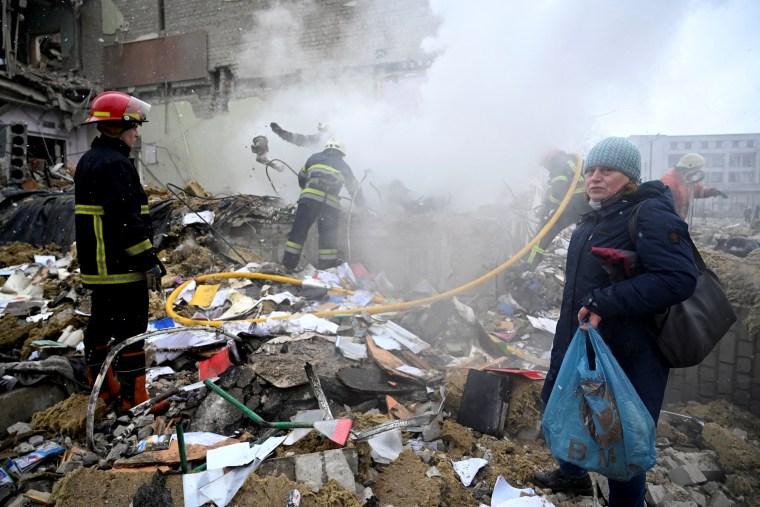 Zelensky urges Russia to remember Chernobyl: 'How can you forget it?'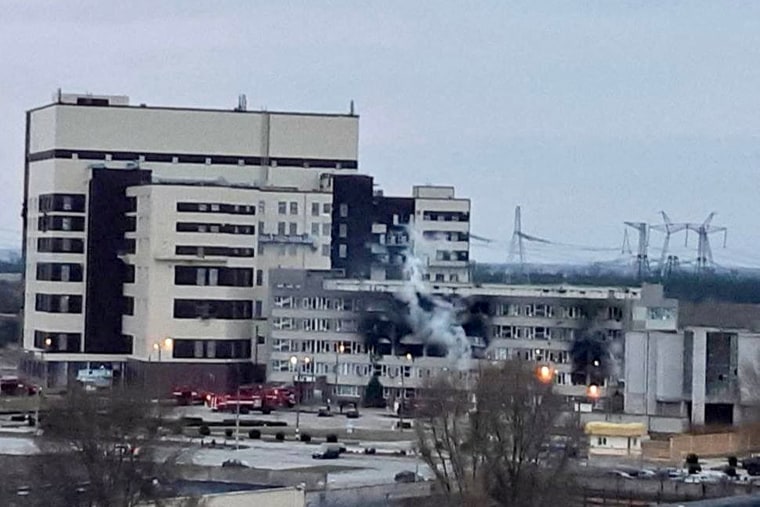 Ukraine's President Volodymyr Zelenskyy said in a video Friday morning that the Russian attack on the Zaporizhzhia nuclear power plant could have led to a tragedy for Ukraine and for Europe and appealed to the Russian forces to remember history.
Speaking in Russian, he said: "Together in 1986 we struggled with the consequences of the Chernobyl disaster. You must remember the burning graphite scattered by the explosion, the victims. You must remember the glow above the destroyed power unit. You must remember the evacuation from Pripyat and the 30km (18.5 miles) zone. How can you forget it?," he said.
"And if you have not forgotten, then you cannot be silent, you must tell your authorities, go out to the streets and say that you want to live. You want to live on earth without radioactive contamination. Radiation does not know where Russia is, radiation does not know where the borders of your country are," the leader added.
Three dead in Russia attack on nuclear power plant, Ukraine says
Three Ukrainian soldiers were killed after Russian forces had shelled the Zaporizhzhia Nuclear Plant, the National Nuclear Energy Generating Company said on its Telegram channel Friday.
Two more soldiers were wounded — one was said to be in a critical condition. No staff at the station were injured.
Yesterday evening local time, Russian occupiers stormed through the entrance of the nuclear power plant, and began firing on it, the company said. The nuclear facilities remain undamaged and intact.
"Zaporizhzhya NPP is many times more powerful and dangerous than Chernobyl," said Ruslan Stefanchuk, chair of Ukraine's Parliament. "Russian occupation forces are deliberately shelling the Zaporizhzhia nuclear plant."
Moscow Stock Exchange remains shut for fifth consecutive day
Moscow Stock Exchange was closed Friday, making it the fifth consecutive day of not trading as it tries to protect local stocks from immediate sale.
The Bank of Russia announced in a statement that there would be no trading, with only limited exceptions allowed.
Russian companies listed in foreign stock exchanges continued to plummet on Thursday. The London Stock Exchange suspended trading for 27 Russian-linked companies on Thursday, its CEO David Schwimmer told CNBC.
The Exchange's opening hours for Saturday will be announced at 9.00 a.m. local time on Saturday (1 a.m. ET), the bank said.
Stanislav, 40, says goodbye to his son David, 2, and his wife Anna, 35, on a train to Lviv at Kyiv station, Ukraine on Thursday.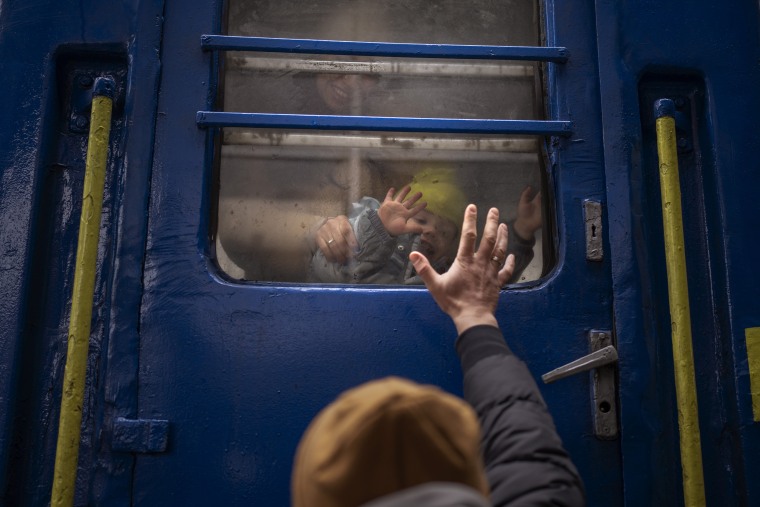 Russian troops surround Mariupol, city faces intense strikes, officials say
Russian troops have encircled the Ukrainian port city of Mariupol, as confirmed by the U.K.'s Ministry of Defence.
Although there have been recurring attacks from Russian forces, a strategic city on the Azov Sea still remains under Ukraine's control, officials said. 
The city's "civilian infrastructure has been subjected to intense Russian strikes," the ministry said in a tweet.
In an update posted to Facebook on Friday morning, the General Staff of the Armed Forces of Ukraine said that, "having a significant advantage in technique, the enemy surrounded Mariupol." 
As Russian forces have advanced, there have been reports of residents being cut off from water, power and food supply in the city, according to Reuters. 
Russian forces occupy nuclear power plant in Ukraine after shelling
Russian military forces have occupied Europe's largest nuclear power plant in Ukraine after a night of heavy shelling, the State Inspectorate for Nuclear Regulation has confirmed.
The Zaporizhzhia Nuclear Power Plant remained intact, and though there was damage to the reactor compartment of one unit, it did not affect the unit's safety, the state inspectorate said on Facebook, according to an NBC News translation. 
A fire broke out at a training facility at the plant after Russian shelling earlier Friday, sparking concerns that an explosion at the facility could be worse than the 1986 Chernobyl disaster. It was later extinguished. 
The plant's personnel are monitoring the condition of the units, and no changes in radiation status have been recorded, the state office said.