'Our happy life stopped': Families recount first hours of Russia's invasion of Ukraine
Ukrainian counterattacks stymie Russian progress, U.K. says
Russia has not made major gains in the last 24 hours due to Ukrainian counterattacks, according to the U.K.'s defense ministry.
Ukraine's defense of air and sea has reduced Russia's ability to gain control over either domain, the ministry said in a Saturday morning update.
Their resistance has also slowed Russian attempts to fully capture the battered port city of Mariupol, the ministry said.
"Despite their stated conquest of Mariupol, heavy fighting continues to take place frustrating Russian attempts to capture the city thus further slowing their desired progress in the Donbas," the ministry stated.
Russian President Vladimir Putin has claimed "success" over Mariupol, but Ukrainian President Volodymyr Zelenskyy has insisted that Russia does not control the city.
Defense officials, military leaders from more than 20 countries to convene for Ukraine defense talks
WASHINGTON — The Pentagon says U.S. Defense Secretary Lloyd Austin will convene a meeting next week in Germany of defense officials and military leaders from more than 20 countries to discuss Ukraine's immediate and long-term defense needs.
The Pentagon press secretary, John Kirby, said Friday that about 40 nations, including NATO members, were invited and that responses are still arriving for the session to be held Tuesday at Ramstein air base. He did not identify the nations that have agreed to attend but said more details will be provided in coming days.
The meeting comes as Russia gears up for what is expected to be a major offensive in eastern Ukraine.
The agenda will include an updated assessment of the Ukraine battlefield as well as discussion of efforts to continue a steady flow of weapons and other military aid, Kirby said. It will include consultations on Ukraine's post-war defense needs but is not expected to consider changes in the U.S. military posture in Europe, he said.
Russia says 1 dead, 27 missing, nearly 400 rescued after ship's sinking
The Russian Defense Ministry said Friday that one serviceman died, 27 more went missing and 396 were rescued after a fire on the flagship missile cruiser Moskva last week.
The statement comes a week after the vessel sunk.
Shortly after the incident, the ministry said the entire crew of the ship, which was presumed by the media to be about 500 people, had been rescued. The ministry did not offer an explanation for the contradicting reports.
Ukraine said it hit the cruiser with a missile strike.
Zelenskyy sleeps about four hours a night, his press secretary says
Ukrainian President Volodymyr Zelenskyy, who has been praised for his leadership and patriotism in the wake of Russia's invasion of his country, is working around the clock, his press secretary said.
"The president sleeps four to five hours a day," Serhii Nekiforov, Zelenskyy's press secretary, said Friday.
"There are issues that require the urgent intervention of the president: waking up at night, talking to someone who is in a different time zone, some problems that have arisen that require the intervention of the president in the army. In general, round-the-clock work," Nekiforov said.
Another apparent mass grave discovered near Mariupol, Ukrainian official says
What appeared to be another mass grave was discovered in a village near Mariupol, a city devastated by Russian bombardment, Ukrainian officials said Friday.
The burial site was found near a cemetery in Vynohradne, a village 7 miles east of Mariupol, said Petro Andriushchenko, an adviser to the city's mayor.
In a Telegram post, Andriushchenko accused Russian forces of "using the site to attempt to hide the consequences of war crimes."
NBC News has not independently verified the claim that the site is a mass grave.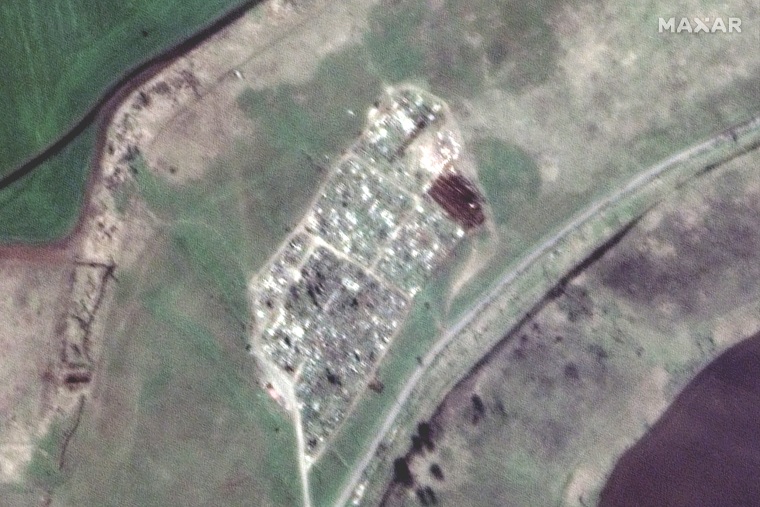 Satellite images from U.S. defense contractor Maxar appear to show what the firm described in a statement as several long, parallel trenches that "are/will likely become" new gravesites. Each trench is roughly 131 feet, the company said.
The firm said the trenches began to appear in late March, around the same time another apparent mass grave was dug in the nearby village of Manhush. Ukrainian officials said Thursday that site could contain as many as 9,000 bodies.
Russian officials did not immediately comment on the allegations.
United Nations finds growing evidence of war crimes by Russian forces in Ukraine
The United Nations has found growing evidence of war crimes committed by Russian forces in Ukraine, including summary executions, shelling of civilian buildings, attacks on medical clinics, abductions and sexual violence, said Michelle Bachelet, U.N. high commissioner for human rights, in a statement Friday.
"Our work to date has detailed a horror story of violations perpetrated against civilians," Bachelet said. "International humanitarian law has not merely been ignored but seemingly tossed aside."
U.N. human rights monitors have documented the summary execution of 50 civilians in Bucha, outside of Kyiv, and are looking into the alleged killing of more than 300 civilians in towns in the regions of Kyiv, Chernihiv, Kharkiv and Sumy, which were under the control of Russian forces in late February and early March, according to Bachelet.
"Almost every resident in Bucha our colleagues spoke to told us about the death of a relative, a neighbor or even a stranger," she said. "We know much more needs to be done to uncover what happened there and we also know Bucha is not an isolated incident."
U.N. chief to meet with Putin in Moscow
U.N. Secretary-General Antonio Guterres plans to meet Tuesday with Russian President Vladimir Putin to press for the fighting to stop in Ukraine.
The U.N. chief will travel to Moscow for conversations with Putin and Foreign Minister Sergey Lavrov, U.N. spokesperson Eri Kaneko said Friday. She said discussions about a similar visit to Ukraine are under way.
"He wants to discuss with the leadership steps that can be taken right now in order to silence the guns, in order to help the people and in order to allow the people who need to get out" to do so safely, she said.
Guterres asked to meet with both Putin and Ukrainian President Volodymyr Zelenskyy in their respective capitals. Ukraine has welcomed the idea.
Guterres had appealed for a four-day "humanitarian pause" in fighting leading up to Sunday, when Orthodox Christians celebrate Easter.
Ukrainian PM meets with USAID Admin. Samantha Power on increasing assistance to Ukraine
Russia blames Ukraine for halted talks
MOSCOW — Russia's top diplomat says talks to end the fighting in Ukraine have "ground to a halt," because Moscow hasn't received any response from Kyiv to its most recent set of proposals.
Russian Foreign Minister Sergey Lavrov said during a press conference on Friday that "right now, they (talks) have ground to a halt, because another proposal we passed on to Ukrainian negotiators about five days ago, which was drawn up with their comments taken into account, it remains without a response."
Lavrov also charged that recent statements by Ukrainian President Volodymyr Zelenskyy and his advisors suggest "they don't at all need these talks, they have put up with their destiny."
However, Vladimir Medinsky, President Vladimir Putin's aide and Russia's lead negotiator at the talks with Ukraine, confirmed reports that he held several lengthy conversations Friday with the head of the Ukrainian delegation.
He didn't offer any details as to what was discussed or if any progress was made.
Mariupol official says Russians bombing plant
LVIV, Ukraine — A city official in besieged Mariupol says Russian forces are continuing to bomb a massive steel mill where Ukrainian fighters are holed up.
Petro Andryushchenko, an adviser to Mariupol's mayor, told The Associated Press on Friday that "every day they drop several bombs on Azovstal, despite false promises not to touch the defenders." Andryushchenko added that "fighting, shelling, bombing do not stop."
The Azovstal plant is the last stronghold of Ukrainian forces in Mariupol, which the Russians has blocked for nearly two weeks and declared victory over this week. Ukrainian authorities have estimated that 1,000 civilians are inside the plant along with the fighters.
A day after satellite images came to light that indicated mass graves outside the port city in southeastern Ukraine, Andryushchenko said local residents reported that Russian forces were using mobile crematoria at two locations.
Initial estimates said the apparent mass graves could hold up to 9,000 bodies, but Andryuschenko said there could be more.
Battle for Mariupol is not over, Azov Battalion commander says
'Like the Stone Age': One couple's story of surviving Russia's assault on Mariupol
Hear more of the family's harrowing story in the hourlong special "On Assignment with Richard Engel: Ukraine: Freedom or Death," airing tonight at 10 p.m. ET on MSNBC and streaming tomorrow on Peacock.
Earth observation company says images could show mass graves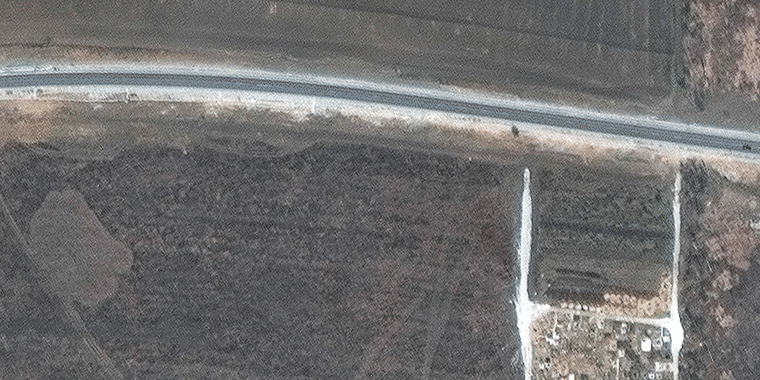 Ordinary Ukrainians join wartime supply effort
LVIV, Ukraine — He once sold pots, cookie cutters and pizza pans. His company in this city in west Ukraine even sold metal wine racks to Ikea. But the war left Maksym Andrushchyshyn to contend not just with the existential threat of Russians invading his homeland, but with $100,000 of canceled orders and no regular business beyond the war effort.
Sparks now fly as the third-generation metalworker's laser machines slice plates for bulletproof vests from Swedish or German steel, make dog tags to dangle from young soldiers' necks and build metal braces for limbs broken in battle. A machine that once bent metal for round cake pans is now used to flex steel plates to the contours of a human torso. 
Andrushchyshyn is using the 30 remaining employees at his metal workshop — he had 70 before the war — and his company's leftover savings to make items useful to the war effort that he hopes will keep his home out of Russian hands. 
"If Russian invaders come here, I understand there will be no business, there will be no life," Andrushchyshyn said, noting that most employees are working for free as he struggles to pay the workshop's rent and utilities.
Passover sorrow at a Jewish burial near Kyiv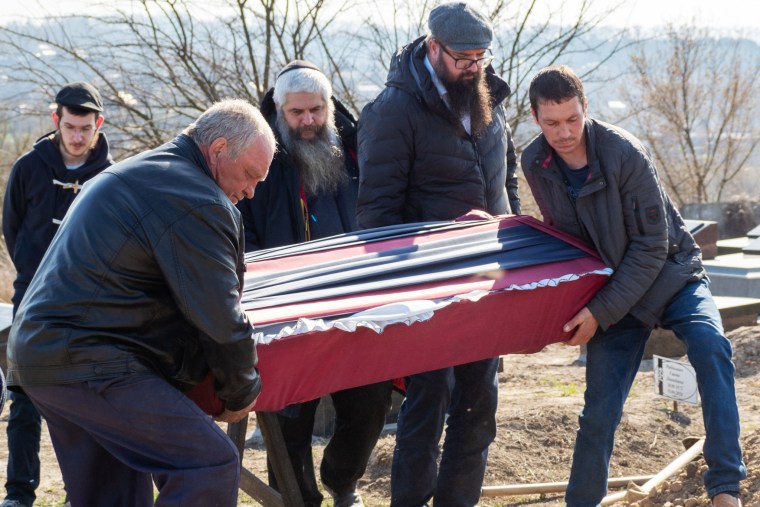 BARAKHTY, Ukraine — He was a quiet man who attended temple regularly, Rabbi Moshe Azman told NBC News last week as he stood next to Zoreslav Zamojskij's coffin.
"I don't understand why they killed this guy," Azman said in the Jewish cemetery on a hill in Barakhty, a picturesque village around 30 miles south of Ukraine's capital, Kyiv. Amid panoramic views of the countryside, he then recited funeral prayers and together with a handful of mourners helped to lower the casket and fill the grave with earth.
It was a sorrowful occasion for Azman on April 15, the first day of Passover, when Jews traditionally celebrate the liberation of their ancestors from slavery in Egypt. 
He was barely able to contain his anger about Russian President Vladimir Putin's claims that his forces were liberating Ukrainians "subjected to bullying and genocide," and the invasion was launched to "de-Nazify" the country and its leadership. 
"I said many times. We here in Ukraine don't need de-Nazification," he said. "Because we are here in a free country, free religion."
Russia denies forces are blocking civilians, says humanitarian pause will follow if Ukraine troops in Mariupol surrender
Russia will begin a humanitarian pause in the fighting at the Azovstal steel plant in Mariupol to evacuate civilians when it sees Ukrainian troops waving white flags, Russia's defense ministry has said.
Col.-Gen. Mikhail Mizintsev, head of the National Center for Defense Control of the Russian Federation, also slammed reports that Russian troops were preventing civilians from evacuating as unfounded, according to Russian state media TASS.
Russia claims to have evacuated 144,000 civilians from the port city, and have arranged for the safe withdrawal of 1,844 troops after they surrendered.
Ukraine's deputy prime minister earlier on Friday had accused Russia of blocking the evacuation of civilians from the plant, where around 1,000 civilians are sheltering.
Moldova submits first E.U. membership questionnaire
London police received 50 referrals for war crimes in Ukraine
London's metropolitan police war crimes team has received around 50 referrals relating to alleged war crimes committed in Ukraine, the force said in a statement on Friday.
The team, which sits under the force's Counter Terrorism Command, has been helping the International Criminal Court's investigation of potential war crimes since March 2.
Dominic Murphy, head of the Counter Terrorism Command, said he expected the number to grow as more Ukrainians arrive in the U.K. Murphy encouraged Britons hosting Ukrainians who may have witnessed or been victims of potential war crimes to report the information via the force's online portal.
"We want to make sure those people know we're here, and that we're ready to receive any evidence of war crimes from them, as well as provide them with the support and help that they might need in relation to that," he said.
U.K. to reopen embassy in Kyiv
The United Kingdom will reopen its embassy in Ukraine's capital, Kyiv, next week, Prime Minister Boris Johnson said.
Johnson praised the "extreme fortitude" of Ukrainian President Volodymyr Zelenskyy and the Ukrainian people in resisting Russian forces in a speech Friday.
The prime minister made his speech in New Delhi, where he met with Indian Prime Minister Narendra Modi.
Burials in Bucha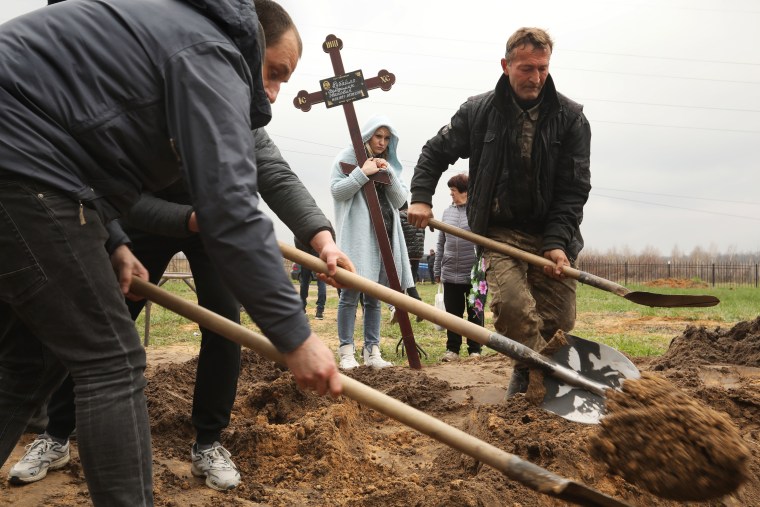 Russia attempting to gain ground west of Luhansk, local governor says
Ukraine has continued to engage in defensive battles with Russian forces attempting to gain ground west of the city of Luhansk, local governor Serhiy Gaidai said Friday.
"The enemy is trying to advance in the area of ​​Rubizhne, and defensive battles with the enemy continue in the direction of the settlements of Novtoshkivske and Popasna," he said in a Telegram post.
Almost 270 Russian service members were taken to the central hospital in Novoaidar, including 50 dead, he said. NBC News was unable to verify the claims.
Senior Russian general says forces aim to capture southern Ukraine
Russia aims to capture not just the eastern Donbas region but all of southern Ukraine in its new stage of the war, one of the country's senior generals has said.
Major Gen. Rustam Minnekayev said the aim was to create a land bridge from Russia to Crimea and another exit to the unrecognized breakaway republic of Transnistria in Moldova to Ukraine's southwest.
"We are now at war with the whole world, as it was in the Great Patriotic War all of Europe, the whole world was against us," Minnekayev, who serves as the deputy head of the Central Military District, said Friday, according to the state media Tass.
A Twitter account of Ukraine's defense forces said the statements pointed to Russia's plan as "not victory over the mythical Nazis, but simply the occupation of eastern and southern Ukraine."
Russian swimmer Rylov banned for appearing at Putin rally
Russian Olympic gold medalist swimmer Evgeny Rylov has been banned from the sport for nine months for appearing at a rally in support of President Vladimir Putin and Russia's invasion of Ukraine.
Rylov stood on stage with medalists from other Olympic sports at the event last month and wore a jacket with a "Z" on the chest. The letter isn't part of the Russian alphabet but has become a symbol of support for Russian troops after it was used as a marker on Russian armored vehicles operating in Ukraine.
A brief statement from swimming's world governing body, FINA, on Thursday said it "acknowledged" an earlier, as-yet unpublished ruling from a disciplinary panel to ban Rylov "following Mr. Rylov's attendance and conduct at an event held at the Luzhniki Stadium in Moscow."
No humanitarian corridors to open in Ukraine, deputy PM says
No humanitarian corridors will open in Ukraine on Friday due to "danger on the routes," Iryna Vereshchuk, the country's deputy prime minister, said Friday, accusing Russia of blocking civilians from evacuations.
In a statement on her official Telegram channel, she urged people who are waiting to be evacuated to be patient and stay indoors.
In a separate statement Friday, Vereshchuk said Russia has provided its own channel for Ukrainian troops in the besieged Azovstal steel plant in Mariupol to surrender, but that Ukrainian troops have no plans to use it.
She accused the Russian side of knowingly blocking civilians from evacuating to exert pressure on Ukrainian soldiers at the plant.
"The Russians refuse to open a corridor for civilians, cynically pretending that they do not understand the difference between a corridor for the military to surrender and a humanitarian corridor to evacuate the civilians," she added.
Around 1,000 civilians are sheltering at the plant, according to Vereschuk.
One family's story of escaping Mariupol
At the start of the Russian assault on Mariupol, Daniil Repro, a native of the city, worked at a volunteer center while his wife, Olga, and their two children lived for three weeks in an underground shelter without heat, water or electricity, shielding themselves from the constant shelling.
But fearing for their lives and the lives of their children, the family was forced to flee to Norway, where they are now watching from afar the destruction of the city they love.
"When I see a video on the internet of Russian tanks driving through the streets of Mariupol, it feels like they are driving through my body," Daniil said.
Olga, 32, said she worries for the military and ordinary Mariupol residents still sheltering in the Azovstal steel factory, the last Ukrainian military holdout in the city. 
"Homes can be rebuilt," she said, "but people cannot be resurrected." 
Hear more of the Repros' harrowing story in the hourlong special "On Assignment with Richard Engel: Ukraine: Freedom or Death," airing tonight at 10 p.m. ET on MSNBC and streaming tomorrow on Peacock.
Fleeing Mariupol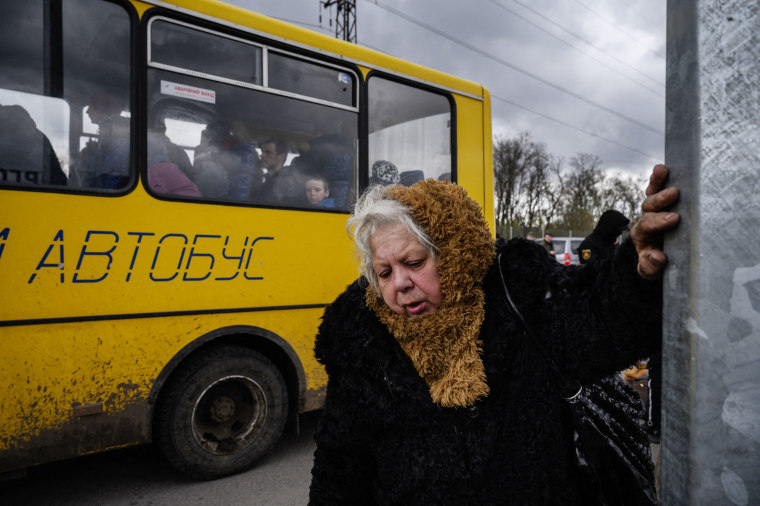 More than a quarter of Ukraine's population in need of 'urgent humanitarian assistance,' the U.N. says
More than a quarter of Ukraine's population is currently in need of urgent humanitarian assistance, a United Nations official said Friday, after Russian forces destroyed critical infrastructure in urban centers and cut off some cities from food, water and medicine.
"At least 15.7 million people in Ukraine are now in urgent need of humanitarian assistance and protection," Assistant Secretary-General Amin Awad said during a press conference in Lviv in western Ukraine.
The official said the city of Kherson was running low on food and supplies, while Mykolaiv has been without water for seven days.
"I appeal for safe and unhindered access for humanitarian assistance," he said, saying workers on the ground faced "tremendous challenges that often prevent them from delivering assistance to areas where people are in desperate need."
Russia frees up its forces around Azovstal steel plant for redeployment, U.K. says 
Russia is likely freeing up its forces near the Azovstal steel plant in Mariupol for deployment elsewhere in eastern Ukraine, the British defense ministry said.
"A full ground assault by Russia on the plant would likely incur significant Russian casualties, further decreasing their overall combat effectiveness," it said in an intelligence update published Thursday.
Russia is seeking to advance deeper into the Donbas region, including settlements of Barvinkove and Popasna, it said.
"Despite Russia's renewed focus they are still suffering from losses sustained earlier in the conflict. In order to try and reconstitute their depleted forces, they have resorted to transiting inoperable equipment back to Russia for repair," it added.
Satellite images appear to show potential mass grave in Mariupol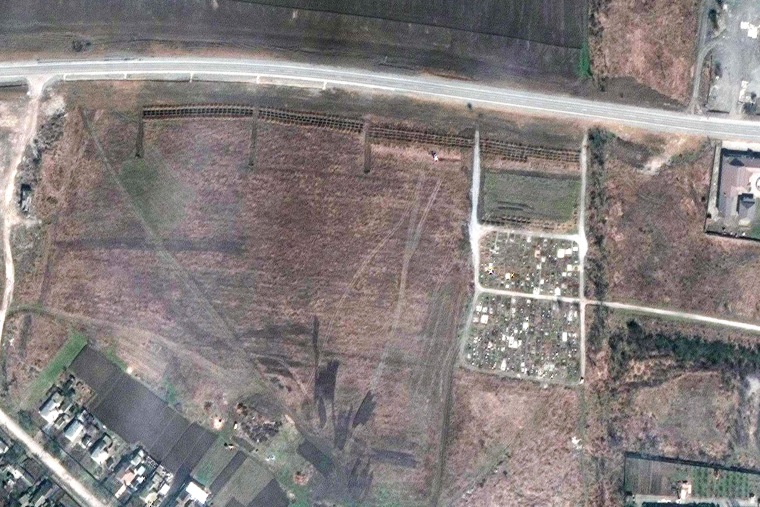 Russia rejects Easter truce, Zelenskyy says
Russia rejected a proposal for a truce during Orthodox Christian Easter, Ukrainian President Volodymyr Zelenskyy has said.
"This shows very well how the leaders of this state actually treat the Christian faith, one of the most joyful and important holidays," he said in a video address late Thursday. "But we remain hopeful," he said. "Hope for peace. Hope that life will overcome death." 
Russian officials did not immediately comment on the proposal.