Ukrainian cities including the capital, Kyiv, faced new power outages Friday as the country's energy system struggles to cope with damage from a wave of Russian attacks.
Kyiv residents were warned to prepare for temporary blackouts in the city Friday morning, just a day after widespread outages, as the government rationed energy use and urged residents to conserve electricity.
It comes after Russian President Vladimir Putin's forces launched a wave of missile strikes and "kamikaze" drone attacks against critical infrastructure in Ukraine. Moscow's forces launched fresh strikes in Zaporizhzhia and Kharkiv on Friday, local officials said.
Secretary of Defense speaks to Russian and Ukrainian ministers of defense
Secretary of Defense Lloyd Austin separately spoke to the Russian and Ukrainian ministers of defense on Friday, the Pentagon said.
In his call with Russian Defense Minister Sergei Shoigu, Pentagon Press Secretary Air Force Brig. Gen. Pat Ryder said that Austin "emphasized the importance of maintaining lines of communication amid the ongoing war against Ukraine."
Other details of the conversation were few, but the Russian Ministry of Defense said on its official Telegram channel that "they discussed international security problems, notably the situation in Ukraine."
Austin also spoke with Ukrainian Minister of Defense Oleksii Reznikov over the phone, the Pentagon said. On the call, he reiterated "the unwavering U.S. commitment to supporting Ukraine's ability to counter Russia's aggression."
Ukraine energy minister says Russia has hit half of country's thermal generation capacity
Herman Halushchenko, Ukraine's energy minister, told Reuters that Russia had struck at least half of the country's thermal generation capacity — creating a major hardship for the country's energy capacity.
Speaking on Friday, Haluschenko said that the strikes had cost the country about 4,000 MW in electricity consumption. A single megawatt provides about the same amount of electricity consumed by 400 to 900 homes in a year, according to the Department of Energy.
The energy minister estimated that around 30 to 40% of the country's total power infrastructure had been attacked in an effort to destroy Ukraine's energy sources, though he said that Russia had not achieved that goal yet.
At least 260,000 people conscripted in Russia, officials say
The number of Russian citizens conscripted to join the country's war against Ukraine has reached at least 260,000 people, state media reports.
The Russian Duma said Thursday that Moscow was close to reaching its goal of mobilizing 300,000 people, TASS reported.
It comes after Russian President Vladimir Putin said one week ago that the process would be complete in two weeks.
Russia accuses Ukraine of deadly missile attack in Kherson
Russian-installed officials in the occupied Kherson region say at least four people have been killed and others injured in a Ukrainian shelling of a river crossing near a key bridge, as thousands are being evacuated in anticipation of a new Ukrainian counteroffensive.
Kirill Stremousov, a deputy head of the occupied region's Moscow-installed administration, said Friday the civilian crossing in the area of the Antonivskyi Bridge was hit and a local journalist crew was among the victims. 
The Russian news agency Tass also reported the attack, saying that Kyiv's forces launched 12 missiles at the civilian crossing in Kherson, and one fell near the bridge. It also said that four people were killed and 10 injured. NBC News could not independently verify the reports. 
A Ukrainian official denied civilian casualties Friday, saying the shelling would have taken place during a curfew. Nataliya Gumenyuk, a spokesperson for Ukrainian forces in southern Ukraine, also said Ukraine has warned that Russians were preparing provocations in the area to blame Kyiv for civilian damage.
Putin meets reservists in Ryazan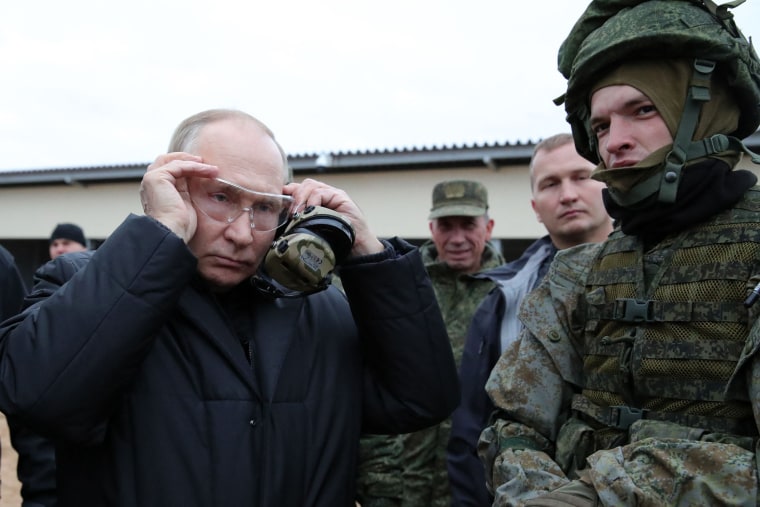 Russia planning to blow up a large dam in Ukraine's south, Zelenskyy says
Ukrainian President Volodymyr Zelenskyy warned Thursday that Russia was planning to blow up a large hydroelectric dam in the country's south.
"Russia is deliberately creating the basis for a large-scale disaster in the south of Ukraine," he said. 
Zelenskyy said Ukraine had information that Russian forces had mined the dam and units of the Kakhovka hydroelectric plant, warning that if Russian forces "blow up this dam, more than 80 settlements, including Kherson, will be in the zone of rapid flooding." NBC News has not verified the claim.
Kherson is one of four areas the Kremlin illegally annexed last month, but Russian forces have warned they face a difficult situation there as Ukraine looks to retake the strategically and symbolically important regional center.
Food handouts in Donetsk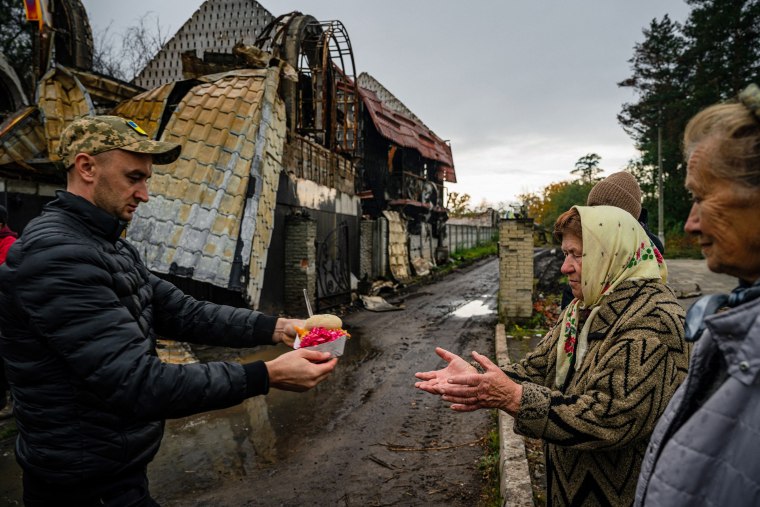 Russian forces carry out fresh strikes in Zaporizhzhia
Ukrainian officials accused Russian forces of launching fresh strikes on the southern region of Zaporizhzhia on Friday.
Oleksandr Starukh, the head of the Zaporizhzhia Military Administration, said in a Telegram post that multiple people had been injured in the attack.
He also warned of a "possibility of repeated attacks," as he called on residents to "be vigilant" and "take care of each other."
Power outages in Borodyanka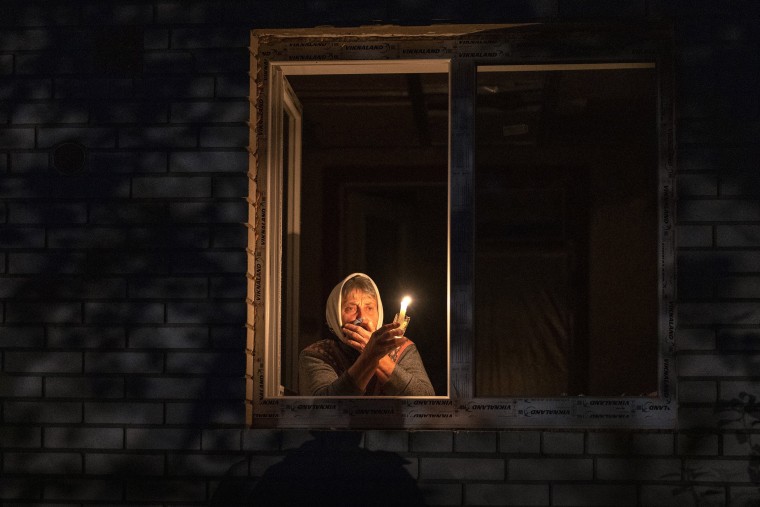 Power outages continue, including in Kyiv
A number of cities in Ukraine, including Kyiv, saw power outages continue Friday as the country's energy system struggles to cope with damage from a wave of Russian attacks.
Residents in the capital were warned to prepare for temporary blackouts in the city starting Friday.
It followed temporary widespread blackouts Thursday, when Ukraine's national energy company, Ukrenergo, urged people to charge all their devices and prepare warm clothing, blankets and flashlights.