This live blog is now closed. For the latest updates please check here.
Russia began a new offensive Monday in Ukraine's eastern Donbas region, Ukrainian President Volodymyr Zelenskyy said.
Russia in recent days had been building up its forces for an attack on what is Ukraine's industrial heartland, where Moscow-backed separatists have been fighting Kyiv for eight years.
"We will not give away anything Ukrainian, and we do not need anything that is not ours," Zelenskyy said.
Explosions also rocked Lviv on Monday in a rare and deadly attack on the western Ukrainian city — up to now a safe hub for refugees, Western officials and the media — as the world braces for a major Russian offensive farther east.
At least seven people were killed in the Russian missile strikes, Ukrainian officials said, with Russian forces striking areas across Ukraine while readying a new ground offensive in the east.
In Mariupol, the strategically crucial southeastern port city, the last Ukrainian resistance refused to surrender despite a Russian ultimatum and an unrelenting siege.
Time 'not quite ripe yet' for cease-fire to allow aid into Ukraine, U.N. official says
The United Nations' humanitarian chief said it seems "the time is not quite ripe yet" to establish a cease-fire to get humanitarian aid into Ukraine, but he held out hope as the Orthodox Easter holiday approaches this weekend.
"Maybe there will be some ripeness," Undersecretary-General Martin Griffiths said at a news conference Monday.
After traveling to Kyiv and Moscow for high-level meetings with Ukrainian and Russian officials this month, he told The Associated Press he had sensed little trust between the adversaries and was "not optimistic."
Griffiths called for Russia and Ukraine to return to talks to end the war and for "much, much more willing acceptance, primarily of the Russian Federation, to allow convoys in and convoys out."
"For now, let's get aid to people where they need it," he said.
The U.N. says 12 million people have been uprooted by the war, with about 5 million of them pouring across the borders and the rest seeking safety elsewhere in Ukraine.
U.S. expects to move forward with training on howitzers in the coming days
The U.S. expects to start moving forward on training Ukrainians to use howitzers being sent to the country in the coming days, a U.S. defense official said Monday.
The plan is to "train the trainers" outside Ukraine, the defense official said, according to a transcript. Howitzers were among the weapons listed in the latest military aid package to Ukraine, along with radar and helicopters.
Defense Department press secretary John Kirby said last week that while some of the systems, such as the radar and howitzers, would require some training, "it's not exorbitant."  
Included in the $800 million aid package authorized last week are 18 of the 155 mm howitzers and 40,000 artillery rounds, as well as counter-artillery radar, helicopters, javelin missiles and other equipment, according to the Pentagon.
Spain set to reopen embassy in Kyiv in coming days
MADRID — Prime Minister Pedro Sánchez says Spain will reopen its embassy in the Ukrainian capital, Kyiv, in a few days.
Following similar decisions by several European neighbors, Sánchez said the reopening will "show again the commitment of the Spanish government and Spanish people with the Ukrainian people."
"Spain is with Ukraine, and we are against Putin," Sánchez said in an interview on Spain's Antena 3 television. "This is a war by Putin against what the European Union stands for."
Spain closed the embassy within hours of the Russian invasion on Feb. 24.
Russians fight in streets of Ukrainian town
KVIV, Ukraine — A Ukrainian military official said street battles have begun and evacuation is impossible in the town of Kreminna. That's one of only two spots where the Ukrainians said the Russians managed to break through on Monday along a front stretching for hundreds of miles.
Luhansk regional military administrator Serhiy Haidai said the town came under heavy artillery overnight, setting seven residential buildings on fire, and that the Olympus sports complex where the country's Olympic team trains was targeted.
Haidai later said on Ukrainian TV that Russians took control of the city after "leveling everything to the ground," so his forces retreated to regroup and keep on fighting. "It simply makes no sense to stand in one place, to die for everyone, without causing significant damage to the enemy," he said.
Russia starts new offensive in the Donbas region
Stymied by fierce Ukrainian resistance in the rest of the country, Russia on Monday launched its expected new offensive in the southeastern Donbas region.
"Right now, we can already state that the Russian military began the fight for Donbas, for which they were preparing for a long time," Ukrainian President Volodymyr Zelenskyy announced. "A big part of all of the Russian army is now concentrated on this offensive. No matter how many Russian soldiers are being sent there, we will be fighting."
Russia in recent days had been building up its forces for an attack on what is Ukraine's industrial heartland, an area where Moscow-backed separatists have been fighting Kyiv for eight years.
"We will not give away anything Ukrainian, and we do not need anything that is not ours," Zelenskyy said.
World Bank to discuss 'next-phase' financing for Ukraine
WASHINGTON — More countries are expected to announce contributions to help war-torn Ukraine maintain its government through the World Bank's multidonor trust fund and parallel funds this week, World Bank President David Malpass said Monday.
Malpass said the World Bank was working during spring meetings of the World Bank and International Monetary Fund to put together a $3 billion package of aid to help Ukraine maintain essential government services.
The situation was "rapidly evolving," he said and predicted more bilateral announcements on humanitarian assistance and other aid this week.
Ukrainian officials: Russian strikes kill at least 7 in Lviv
LVIV, Ukraine — At least seven people were reported killed in Lviv on Monday as plumes of thick black smoke rose over the city, which has become a haven for large numbers of civilians fleeing intense fighting elsewhere.
To the Kremlin's increasing anger, Lviv has also become a major conduit for NATO-supplied weapons and for foreign fighters joining the Ukrainian cause.
Ukrainian Prime Minister Denys Shmyhal, meanwhile, vowed to "fight absolutely to the end" in strategically vital Mariupol, where the last known pocket of resistance in the seven-week siege consisted of Ukrainian fighters holed up in a sprawling steel plant. The holdouts ignored a surrender-or-die ultimatum from the Russian forces Sunday.
Ukrainian forces claim 'significant success' blocking Russian advance in Mariupol
Ukrainian forces have had "significant success" in blocking Russia's advance in a number of districts and operational areas in Mariupol, Ukraine's defense ministry said Monday.
In a televised address, Oleksandr Motuzianyk, a spokesperson for Ukraine's defense ministry, said Ukrainian troops have been able to "hold on" in areas where Russian forces are "actively trying to advance."
Still, Motuzianyk said the situation in the besieged port city was "extremely difficult."
"The city is surrounded. In fact there is a humanitarian crisis," he said, as tens of thousands of residents remained trapped in the city without access to food, water, medicine and other essentials after weeks of shelling from Russian forces.
Russia had offered to spare the lives of Ukrainian soldiers fighting in Mariupol if they agreed to lay down their weapons. However, Ukrainian forces have rejected the ultimatum and kept fighting.
Putin says West's 'economic blitz' against Russia has failed
Russian President Vladimir Putin says that the barrage of Western sanctions against Russia has failed.
The West "expected to quickly upset the financial-economic situation, provoke panic in the markets, the collapse of the banking system and shortages in stores," Putin said in televised remarks during a video call with top economic officials. He added that "the strategy of the economic blitz has failed."
Putin contended that "Russia has withstood the unprecedented pressure," arguing that the sanctions backfired against the United States and its European allies, speeding up inflation and leading to a drop in living standards.
Putin acknowledged a sharp hike in consumer prices in Russia, directing the government to take action to alleviate the impact of inflation on people's incomes.
Russian forces accused of holding thousands in 'filtration camps' near Mariupol
An adviser to the mayor of Mariupol has accused Russian forces of holding more than 20,000 people in "filtration camps" near the besieged port city. 
Mayoral adviser Petro Andryushchenko made the allegation in a statement on Telegram on Monday. He said Russian troops were readying civilians for deportation to Russia, with around 5,000 to 7,000 people also being held at a camp in the nearby village of Bezimenne. 
Tens of thousands of people remain trapped in the besieged city without access to food, water, medicine and other essentials. 
Ukrainian officials, including Andryushchenko and President Volodymyr Zelenskyy, have repeatedly warned of "filtration camps" and checkpoints set up by Russian troops to process civilians fleeing Mariupol. NBC News has not independently verified these allegations. 
The Russian Embassy in the United States has previously rejected reports of Russian forces forcibly transferring Ukrainians to Russia through filtration camps as "lies."
Russian strikes on Lviv rock western city seen as refuge from war
LVIV, Ukraine — The Monday morning attack on Lviv, which local officials said killed at least seven people, was a deadly extension of Russia's war into a city that has become a refuge for thousands fleeing from farther east as well as a major supply and logistics hub.
It served as a grave reminder that Russian forces would continue to threaten all of Ukraine even as the Kremlin refocuses its military campaign on the country's east.
NBC News heard two of the missile strikes and saw two others, but has not verified the numbers of people killed or the number of missiles used. The first indication of the missiles was the sound of jets, which was unusual as few aircraft have flown over the city since the start of the war. The missiles looked almost like two planes falling out of the sky until dull explosions could be heard and smoke poured from the blast sites.
Emergency services worked quickly to extinguish the fires, though the sudden sense of unease brought by the strikes still lingered.
British defense ministry says Mariupol siege slowing Russian advance
LONDON — Britain's defense ministry says the continuing siege of Mariupol is tying up Russian forces and slowing its advance ahead of a planned major offensive in eastern Ukraine.
In a daily intelligence update, Britain's military says "concerted Ukrainian resistance has severely tested Russian forces and diverted men and materiel, slowing Russia's advance elsewhere."
The Sea of Azov port city has been devastated in weeks of Russian pummeling. Britain says "large areas of infrastructure have been destroyed" and there are "significant" civilian casualties.
Britain accuses Russia of using similar tactics of all-out war on civilian areas that it deployed in Chechnya and Syria, despite Russian claims at the start of its invasion "that Russia would neither strike cities nor threaten the Ukrainian population."
Moscow says 20 Ukrainian military targets hit in recent strikes
MOSCOW — The Russian military says it has struck over 20 Ukrainian military targets with missiles.
Russian Defense Ministry spokesman Maj. Gen. Igor Konashenkov said Monday that precision-guided air-launched missiles destroyed 16 military facilities, including five command headquarters, a fuel depot, three ammunition depots and concentrations of Ukrainian military vehicles and personnel in several areas in the Kharkiv, Zaporizhzhia and Dnipro regions.
Konashenkov also said that the military fired Iskander land-based missiles to destroy four ammunition depots and three groups of Ukrainian troops near Popasna and Kramatorsk in the east and Yampil in central Ukraine.
He said that the military used artillery to hit 315 Ukrainian targets, and Russian warplanes performed 108 strikes to target Ukrainian troops and military equipment.
Konashenkov's claims couldn't be independently verified.
Blasts rock Lviv in western Ukraine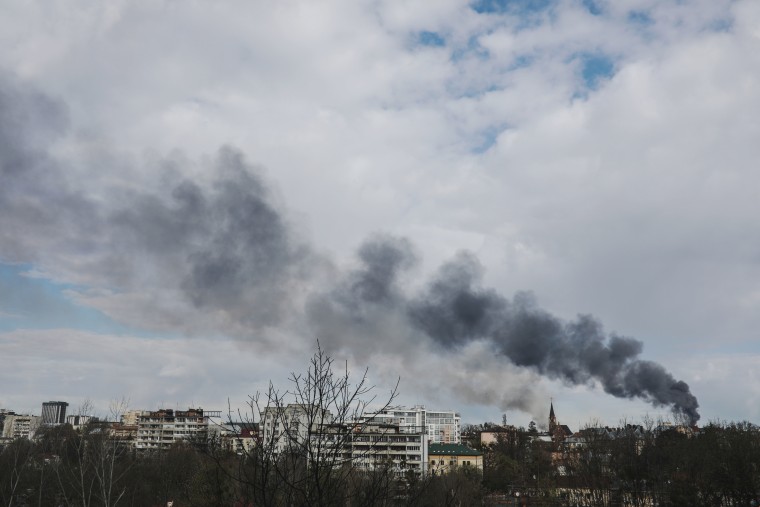 LVIV, Ukraine — The regional military administration and mayor's office said that several missiles had struck this western city early Monday.
Lviv Mayor Andriy Sadovy said Russia had targeted the city with four missile strikes. Smoke could be seen rising above the city after the blasts around 8:30 a.m. local time.
The exact targets remain unclear, but the explosions rocked what has been a safe haven in the country throughout Russia's war.
Lviv has become a city of refuge for those fleeing the fighting in central and east Ukraine, with more displaced Ukrainians continuing to arrive each day by train and by car.
The city also serves as a central hub for military and humanitarian supplies, as much of the equipment and goods that are sent to Ukraine from the West cross the Polish border about 40 miles away.
Ukraine releases video of Medvedchuk calling for Mariupol swap 
The State Security Service of Ukraine posted video on Monday to its Telegram channel appearing to show a pro-Russian Ukrainian politician asking Russia to exchange him for the safe release of residents and fighters in the besieged port city of Mariupol. 
Viktor Medvedchuk, a member of Ukraine's parliament, has been held in Ukrainian custody since April 12, with his wife recently claiming that he appeared to have been beaten while in custody, according to Reuters.
In the video posted to Telegram, Medvedchuk appears to appeal to Russian President Vladimir Putin and Ukrainian counterpart Volodymyr Zelenskyy to facilitate the exchange. The video has not been independently verified by NBC News, and the circumstances under which the apparent request were made were not immediately clear.
Tens of thousands of people have fled Mariupol, but more than 100,000 civilians are trapped in the city without access to food, water, heat, medicine and other essentials, according to Ukrainian officials.
Taking shelter in Lviv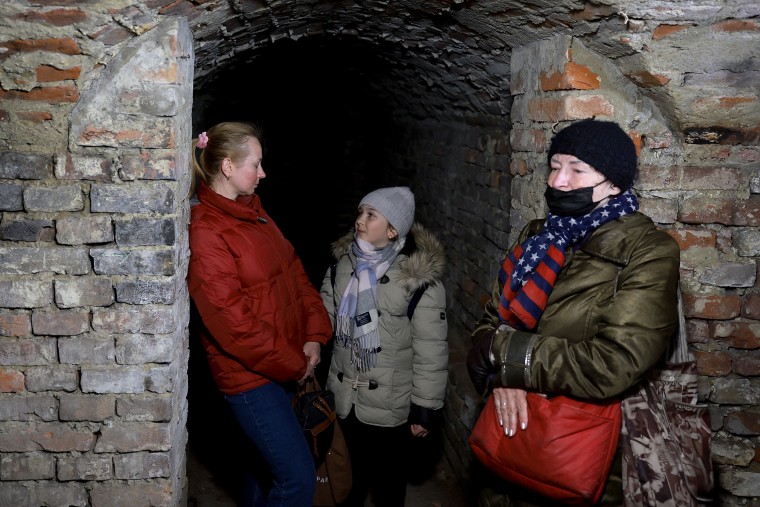 Four dead after Russian forces accused of firing at civilians in Luhansk, official says
A Ukrainian official said Monday at least four people are dead after Russian forces shot at civilians trying to flee the city of Kreminna in the Luhansk region on Monday.
In a statement posted to Facebook on Monday, Serhiy Hadai, head of the Luhansk Regional Military Administration, said Russian forces had opened fire on a car carrying civilians. "Four people died," he said.
At least one person was seriously injured, Hadai said. However, he said doctors were unable to reach them due to "endless shelling."
Hadai said control over the city was "lost," with street fights also breaking out in Kreminna.
9 civilians killed, 25 wounded in Kharkiv shelling 
Nine civilians were killed and at least 25 others wounded in shelling Sunday night in the Kharkiv region, state administration officials said.
In a statement posted to Facebook on Monday, the Kharkiv regional state administration said Russian forces had shelled residential areas in the city of Kharkiv on Sunday night, killing six people and injuring 24 others. 
It said shelling in Derhachi, about 10 miles northwest of Kharkiv had also left two people dead and injured one person. Another civilian died in an attack in Zolochiv, about 25 miles northwest of Kharkiv, it said. 
NBC News was not able to independently verify the attacks or the reported death tolls. 
Firefighters battle blaze in Lviv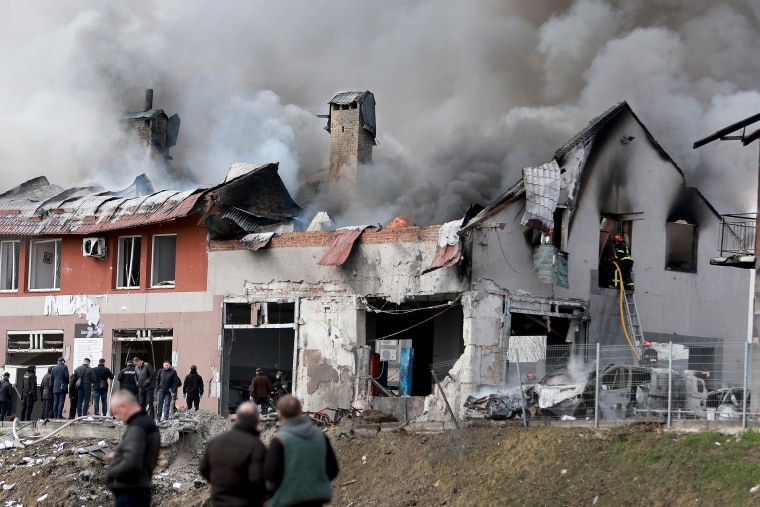 Deadly strikes hit central region of Dnipropetrovsk, local officials say
At least two people were killed in a Russian missile strike on the central Ukrainian region of Dnipropetrovsk, the local governor has said.
The deadly blast hit an infrastructure facility, while another destroyed some railway infrastructure but caused no injuries, Gov. Valentyn Reznichenko said in a post on Telegram.
Ukraine completes E.U. membership questionnaire
Ukraine has completed a questionnaire that will form a starting point for the European Union to decide on membership, said Ihor Zhovkva, the deputy head of President Volodymyr Zelenskyy's office.
European Commission President Ursula von der Leyen handed the questionnaire to Zelenskyy during her visit to Kyiv earlier this month, pledging a speedier start to Ukraine's bid to become a member of the E.U. following Russia's invasion.
"Today, I can say that the document has been completed by the Ukrainian side," Zhovkva told the Ukrainian public broadcaster Sunday evening.
The European Commission will need to issue a recommendation on Ukraine's compliance with the necessary membership criteria, he added.
Zhovkva added that Ukraine expects to attain the status of a candidate country for E.U. accession in June during a scheduled meeting of the European Council.
"Next, we will need to start accession talks. And once we hold those talks, we can already talk about Ukraine's full membership in the E.U.," Zhovkva said
At least 7 killed in strikes on Lviv, local officials say
At least seven people were killed, including a child, and a further 11 injured in the missile strikes on the western Ukrainian city of Lviv, local officials have said.
Four strikes hit the city early Monday, regional Gov. Maksym Kozytskiy said, with three targeting military infrastructure and one hitting a car repair facility.
The sites were all severely damaged, Kozytskiy said, with emergency services working to extinguish ongoing fires.
The city's mayor said 11 people were injured in addition to the 6 reported dead so far.
Shockwaves shattered the windows of a hotel housing evacuated Ukrainians, according to Lviv Mayor Andriy Sadovyi.
Photo shows aftermath of blast near train station in Lviv