This live blog is closed. For the latest updates click here.
Russia's blockade of Ukrainian ports is "provoking a large-scale food crisis," President Volodymyr Zelenskyy said Friday in his late-night video address, as he questioned countries that delayed placing sanctions on Moscow and postponed aid to his country.
"Russian officials are also openly threatening the world that there will be famine in dozens of countries," he said. "And what could be the consequences of such a famine? What political instability and migration flows will this lead to? How much will you have to spend then to overcome the consequences?"
His comments came after Turkish President Recep Tayyip Erdogan said his country is "not of a favorable opinion" of a move by Finland and, potentially, Sweden to join NATO.
On Saturday, a Senate delegation led by Republican leader Mitch McConnell met with Zelenskyy in Kyiv.
---
Here's what else is going on:
Read full coverage of the war here.
Ukraine crowned winner of 2022 Eurovision Song Contest
Ukraine was crowned the winner Saturday of Eurovision Song Contest.
The contest tweeted the winner.
The Ukrainian band was the beneficiary of a last-minute wave of 439 votes from the television audience that put it in front.
Winning Ukrainian band Kalush Orchestra's "Stefania" was written as a tribute to the frontman's mother, but became an anthem for the war-torn country.
"Indeed, some stuff in here was written long before the war, and it was dedicated to my mother," frontman Oleh Psiuk told The Associated Press.
Ukraine: Russians withdraw from around Kharkiv, batter east
KYIV, Ukraine — Russian troops are withdrawing from around Ukraine's second-largest city after bombarding it for weeks, the Ukrainian military said Saturday, as Kyiv and Moscow's forces engaged in a grinding battle for the country's eastern industrial heartland.
Ukraine's general staff said the Russian forces were pulling back from the northeastern city of Kharkiv and focusing on guarding supply routes, while launching mortar, artillery and airstrikes in the eastern province of Donetsk in order to "deplete Ukrainian forces and destroy fortifications."
Defense Minister Oleksii Reznikov said Ukraine was "entering a new — long-term — phase of the war."
President Volodymyr Zelenskyy, meanwhile, said Ukrainians were doing their "maximum" to drive out the invaders and that the outcome of the war would depend on support from Europe and other allies.
Rocket launcher fires near Svyatohirsk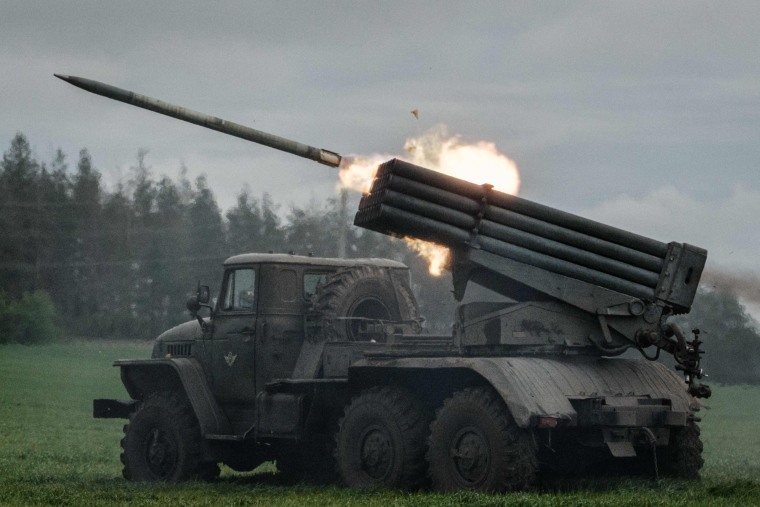 Finland's president says he spoke with Putin over NATO bid
Finnish President Sauli Niinistö had a phone call with Russian President Vladimir Putin about his country's move to join NATO, he said Saturday.
"The conversation was direct and straight-forward and it was conducted without aggravations. Avoiding tensions was considered important" Niinistö said in a news release.
Finland initiated the call, the release added.
"President Niinistö told President Putin how fundamentally the Russian demands in late 2021 aiming at preventing countries from joining NATO and Russia's massive invasion of Ukraine in February 2022 have altered the security environment of Finland," the news release said.
"President Niinistö announced that Finland decides to seek NATO membership in the next few days."
G7 leaders will back Ukraine 'as long as necessary'
The foreign ministers of the world's seven richest nations "will pursue our ongoing military and defense assistance to Ukraine as long as necessary," they said in a joint statement Saturday.
"We reiterate our demand that Russia put an end to the war it started unprovoked and to end the tragic suffering and loss of life it continues to cause," the ministers from the Group of 7 nations said.
"We are committed to helping Ukraine, a democracy and a UN member, uphold its sovereignty and territorial integrity, to defend itself and resist future attacks or coercion, choose its own future and prosper," the ministers from Canada, France, Germany, Italy, Japan, the U.K., the U.S. and the E.U., added.
Russian plan to annex Kherson is under way, U.K. defense ministry says
Russia's plan to annex the city of Kherson is under way, Britain's defense ministry said in an intelligence briefing Saturday.
The "Russian-imposed military-civilian administration" in the city in the south of Ukraine had announced it will ask to join Russia, the daily briefing posted to Twitter said.
"A central part of Russia's original invasion plan was highly likely to use rigged referendums to place the majority of Ukraine's regions under long-term pro-Russian authority," it added.
Kherson is the only city to fall to Russia since the invasion and the ministry said this pointed to "the failure of Russia's invasion to make progress towards its political objectives in Ukraine."
Any public vote on the matter would "almost certainly" be manipulated by Russia, the briefing added.
McConnell and Senate delegation meet with Zelenskyy in Kyiv
A Senate delegation led by Republican leader Mitch McConnell met with Ukrainian President Volodymyr Zelenskyy in Kyiv Saturday.
Describing the senators as "true friend's of Ukraine," Andrii Sybiha, the deputy head of Zelenskyy's office posted pictures of the meeting on his Facebook page.
"Today, our state has solid bipartisan and bipartisan support of American friends," he wrote. "And of the American people."
West has launched 'total hybrid war,' against Russia, Lavrov says
The West has announced a "total hybrid war" against Russia and it was hard to predict how long it would last, Russian Foreign Minister Sergei Lavrov said Saturday.
Everyone would feel the consequences of this war, he said, adding that efforts by the West to isolate Russia were doomed to fail, a reference to sanctions over Ukraine.
"We have done everything we can to avoid a direct clash, but the challenge has been thrown to us so accepted it," he said. "We have always been under sanctions so we are used to them."
Ukraine is "an instrument or tool to constrain Russia's peaceful development," he added.
Russia's media propaganda turns to 'spine-chilling rhetoric' to intimidate West
How many seconds does it take for a ballistic missile to reach London, Paris or Berlin? 
That's the question pundits on Russian state TV were pondering as the war in Ukraine entered its third month. 
The eerie estimates were accompanied by a graphic showing the trajectories that Moscow's intercontinental ballistic missiles would take to reach the capitals of European nations that supply Kyiv with the most military aid.
All the while, pro-Kremlin host Olga Skabeyeva and the experts on her "60 Minutes" show on the Russia-1 TV channel were nonchalantly joking about how the West should tune in. 
With Russia's military struggling, its rivals emboldened and the neighbor it invaded responding with defiance, NBC News watched dozens of hours of state media coverage to find the Kremlin and its mouthpieces increasingly reaching for new and more outlandish claims to justify the Ukraine invasion.
Ukraine trains with western arms
Ukraine's ground forces said Saturday that its forces were already training with weapons sent from western countries.
"Ukrainian soldiers are already actively using the technique and weapons provided by our partners," the group wrote in a Facebook post.
Finland's NATO push will require 'retaliatory steps,' Russia's foreign minister says
Moscow will be "forced to take retaliatory steps," if Finland joins NATO, Russia's foreign minister said Saturday.
"Finland's accession to NATO will seriously damage bilateral Russo-Finnish relations, which are maintained by stability and security in the Northern European region," Alexander Grushko said in a statement published on the Russian foreign ministry's website that was translated by NBC News.
"Russia will be forced to take retaliatory steps (both military-technical and other) in order to stop threats to its national security arising in this regard," he added.
Russian officials have racheted up their rhetoric in recent days after Finnish leadership backed a bid to join NATO.
Mariupol officials warn of humanitarian crisis
Mariupol officials are warning that a humanitarian crisis is developing in the city, which is now almost entirely occupied by Russian forces.
"Drinking water is still inaccessible. For the majority of Mariupol residents, it is necessary to go a long way to water supply points (barrels or water carriers)," Petro Andryushchenko, adviser to the city's Mayor Vadym Boychenko, said Saturday in a Telegram post that was translated by NBC News.
"Food. Situation has not changed. The flow of traders from the surrounding is increasing. But the problem is money to buy this food," he said.
Andryushchenko added that as many as 170,000 Mariupol residents are without power and have no way to flee the area.
The city's council and Boychenko also renewed calls for international help to save the Ukrainian soldiers holding out in the Azovstal steel plant.
"We need the involvement of the U.N. and the Red Cross, the leaders of the world's leading countries," Boychenko said in a separate statement published on the Mariupol City Council's Telegram page.
"Therefore, we appeal to the Ministry of Foreign Affairs of Ukraine to use all international instruments to save Ukrainian defenders and conduct an extraction operation. We will fight for the lives of our military, just as they are defending our city,"
Zelenskyy says talks for Azovstal evacuation ongoing
Ukraine's president said very difficult talks were underway on evacuating "a large number" of wounded soldiers from a besieged steelworks in the strategic southeastern port of Mariupol in return for the release of Russian prisoners of war.
Mariupol, which has seen the heaviest fighting in nearly three months of war, is now in Russian hands but hundreds of Ukrainian defenders are still holding out at the Azovstal steelworks despite weeks of heavy Russian bombardment.
Fierce Ukrainian resistance, which military analysts say President Vladimir Putin and his generals failed to anticipate when they launched the invasion on Feb. 24, has also slowed and in some places reversed Russian advances around Ukraine.
"At the moment very complex negotiations are under way on the next phase of the evacuation mission — the removal of the badly wounded, medics," President Volodymyr Zelenskiy said in a late night address.
Bodies of Russian soldiers stored in refrigerator railway wagons
Officials store bodies of Russian soldiers in refrigerator railway wagons in Kyiv, on Friday.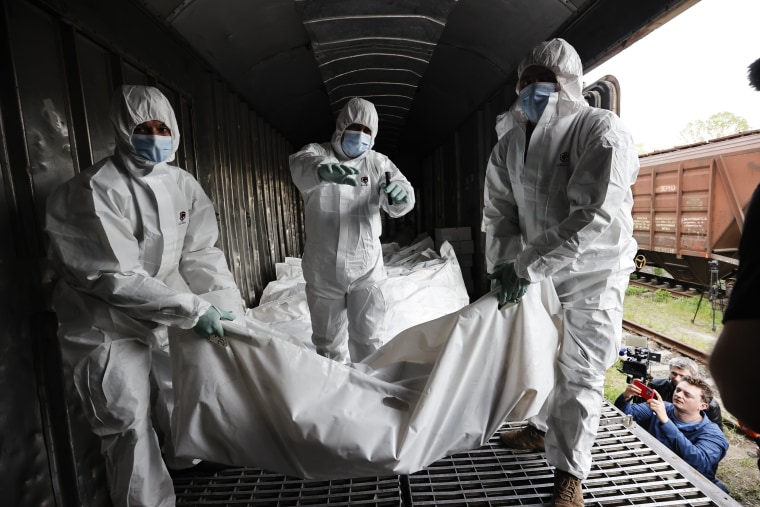 Turkey's leader opposes Finland, Sweden joining NATO
Turkish President Recep Tayyip Erdogan said Friday that his country is "not favorable" toward Finland and Sweden joining NATO, indicating Turkey could use its membership in the Western military alliance to veto moves to admit the two countries.
"We are following developments concerning Sweden and Finland, but we are not of a favorable opinion," Erdogan told reporters.
The Turkish leader explained his opposition by citing Sweden and other Scandinavian countries' alleged support for Kurdish militants and others whom Turkey considers to be terrorists.
Zelenskyy warns end war could be a ways off
President Volodymyr Zelenskyy said although Ukrainians are doing everything they can to drive out the Russians, "no one today can predict how long this war will last."
"This will depend, unfortunately, not only on our people, who are already giving their maximum," he said in his nightly video address to the nation. "This will depend on our partners, on European countries, on the entire free world."
He said he was thankful to all those who are working to strengthen the sanctions on Russia and increase military and financial support to Ukraine. "This is the only recipe for protecting freedom in the face of the Russian invasion. And for Western countries, this is not simply an expense. This is not about accounting, it's about the future."
Zelenskyy said Ukraine on Friday shot down the 200th Russian aircraft of the war and he noted Russia's heavy losses in tanks, armored vehicles, helicopters and drones.