This live blog is now closed. For the latest updates please check here.
Ukrainian President Volodymyr Zelenskyy said he will meet Sunday with U.S. Secretary of State Antony Blinken and Defense Secretary Lloyd Austin.
The White House, National Security Council and State Department have declined to comment on Zelenskyy's remarks about the meeting. The Pentagon will not speak to the claim, according to two defense officials.
Eight people were killed, including a 3-month-old girl, and 18 wounded in a missile attack Saturday on the port city of Odesa on the Black Sea, Zelenskyy said in his evening address.
On Friday, what appeared to be another mass grave was discovered in the village of Vynohradne near Mariupol, according to Petro Andriushchenko, an adviser to the besieged southern city's mayor.
Satellite images from U.S. defense contractor Maxar appeared to show what the firm described in a statement as several parallel trenches measuring roughly 131 feet that "are/will likely become" new gravesites. The trenches started to appear in late March, Maxar said. Russian officials did not immediately comment on the allegations.
Moscow's attempts to fully capture Mariupol have been slowed by Ukrainian resistance, according to an intelligence briefing from the U.K.'s defense ministry early Saturday.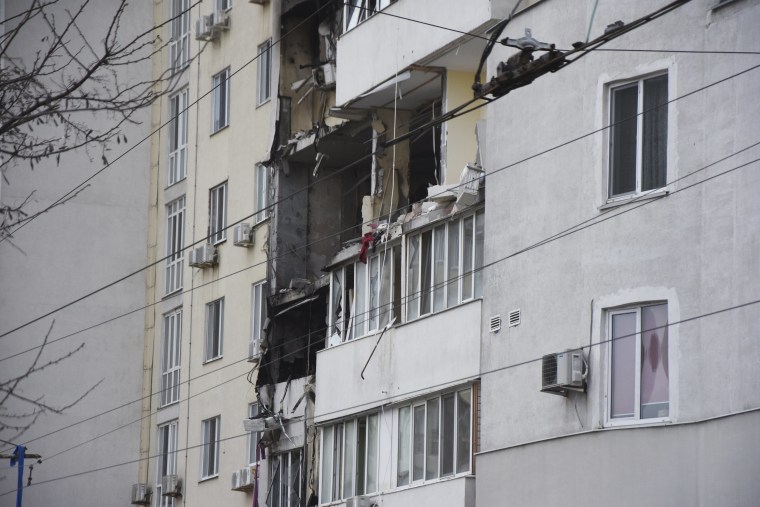 Russian command post in Kherson destroyed, Ukrainian military says
KYIV, Ukraine — The Ukrainian military said Saturday it destroyed a Russian command post in Kherson, a southern city that fell to Russian forces early in the war.
The Ukrainian military intelligence agency posted a statement saying the command post was hit on Friday and two generals were killed and one was critically wounded.
Oleksiy Arestovych, an adviser to Ukrainian President Volodymyr Zelenskyy, said in an online interview that 50 senior Russian officers were in the command center when it came under attack. He said their fate was unknown.
The Russian military did not comment on the claim, which could not be confirmed.
8 killed in missile attack on Odesa, Zelenskyy says
Eight people were killed and at least 18 others were wounded in a missile attack on the Ukrainian city of Odesa on Saturday, Ukrainian President Volodymyr Zelenskyy said.
"Ordinary peaceful people. Among those killed was a 3-month-old baby girl. How did she threaten Russia?" Zelenskyy said in an address, an English version of which was posted on the Ukrainian president's website.
Video in the aftermath of the missile strike in the southern port city showed rescuers rappelling down the side of a damaged apartment building in the search for survivors or the wounded.
Poland, Ukraine sign agreement aimed at maintaining trade exchange
WARSAW, Poland — Poland and Ukraine have signed an agreement increasing cooperation in the railway transport sector, aiming to help Ukraine maintain its trade exchange with foreign countries as the Russian invasion affects its ports.
Ukraine's Prime Minister Denys Shmyhal and Poland's premier, Mateusz Morawiecki, met on Saturday in Krakow, Poland.
Morawiecki said on Facebook that they both agreed that current sanctions on Russia are insufficient, which can be seen by the condition of the "Russian currency, bonds or inflation." They appealed to the international community for tougher steps that would stop Russia's aggression on Ukraine and for more military aid to help Ukraine.
Morawiecki drew special attention to the plight of civilians seeking protection in a steel plant in Mariupol, as he called for the assistance.
"In Mariupol soldiers — or rather Russian criminals want to make women and children starve to death. They are waiting until they run out of water. What kind of strategy is that? This is not war. This is genocide."
Ukrainian official announces country-wide curfew for the night of the Orthodox Easter
KYIV, Ukraine — A top Ukrainian official has announced a country-wide curfew for the night of the Orthodox Easter.
Kyrylo Tymoshenko, deputy head of Ukraine's presidential office, said in a video address Saturday that in the regions most affected by the invasion -- Donetsk, Luhansk, Zaporizhzhia, Kharkiv, Mykolaiv, Kherson -- the curfew will run from 7 p.m. Saturday until 5 a.m. Sunday.
In others regions, including Kyiv, Odesa, Chernihiv and Lviv, the curfew will run from 11 p.m. Saturday until 5 a.m. Sunday.
Blinken, Austin to visit Ukraine, Zelenskyy says
Ukrainian President Volodymyr Zelenskyy revealed Saturday that Secretary of State Antony Blinken and Defense Secretary Lloyd Austin will visit Ukraine on Sunday. Zelenskyy made the announcement during a news conference in Kyiv. 
"US Secretary of State Blinken and US Secretary of Defense will arrive in Ukraine tomorrow," he said.
The White House, National Security Council and State Department have declined to comment on the remarks. The Pentagon will not speak to the claim from the Ukrainian president, according to two defense officials.
British, Ukrainian leaders discuss support
LONDON — British Prime Minister Boris Johnson's office said he spoke with Ukrainian President Volodymyr Zelenskyy by phone on Saturday afternoon, the latest chat between the two leaders who talk to each other regularly.
Johnson confirmed to Zelenskyy that the U.K. would reopen its embassy in Kyiv next week. He also updated the Ukrainian leader on new U.K. sanctions designations against members of the Russian military and told him the British government was helping to collect evidence of war crimes.
The British leader told Zelenskyy that the United Kingdom is sending more defensive weaponry including vehicles, drones and anti-tank missiles. The two also discussed the U.K.'s work on long term security solutions and financial support with international partners.
"The Prime Minister ended by reiterating the UK's unwavering support for the people of Ukraine and committed to continue working with international partners to provide the assistance necessary to help Ukraine defend itself," Downing Street said in a statement.
Missile strike on Ukraine's Odesa caused casualties, says regional spokesperson
There are casualties in Ukraine's Odesa as a result of a missile strike on the southern port city on Saturday, regional spokesperson Serhiy Bratchuk said on national television.
"There are casualties — killed and wounded," he said, adding that the exact toll was still being determined.
Russia has deported hundreds to 'far east,' Mariupol City Council says
Russian forces have deported 308 Mariupol residents to the "far east," the city's council said Saturday.
The Kremlin's plan is to clear the city of people and establish a corridor to Crimea, Mariupol City Council said in a statement posted to its Telegram channel that was translated by NBC News.
"The occupiers deported 308 Mariupol residents to the Far East," the statement said. It did provide further details about where the residents had been taken.
"At first, the Russians almost leveled the city to the ground. Then, due to international pressure, half of the population was released in the direction of Zaporizhia," the statement added, referring to a city to the north-west of Mariupol, where some of the city's residents have previously evacuated to.
"Everyone else is deported to the most depressed areas of Russia."
NBC News was unable to verify these claims.
Russian forces resume air strikes on Mariupol steel plant, Ukrainian presidential advisor says
Russian forces have resumed airstrikes on the Azovstal steel plant in Mariupol, Oleksiy Arestovych, an advisor to Ukraine's president Volodymyr Zelenskyy, said Saturday.
"The enemy is trying to strangle the final resistance of the defenders of Mariupol in the Azovstal area," Arestovych said in an address on national television.
"They resumed air strikes on the territory of the plant," he said, adding that Ukrainian troops would try to carry out assault operations in the region.
"Our defenders hold on despite the very difficult situation and even make counter-attacks," Arestovych said.
NBC News was unable to verify his claims.
Luhansk under constant shelling from Russian forces, governor says
The Luhansk region in eastern Ukraine has been constantly shelled by Russian forces, its governor said on Saturday.
"Here shelling does not stop. It's happening constantly, even we can't say that it's only during a day or at night, they are constant around the clock they are shelling all our cities, towns and villages from artillery, mortars and aviation," Serhii Gaidai said in a televised interview on Ukraine's parliamentary TV channel, Rada.
The governor added there were "constant attempts to break through the line of defense," but that Ukrainian troops were holding the line.
NBC has not been able to verify his claims.
Deaths in Bucha account for a third of casualties in the Kyiv region, mayor says
The number of bodies discovered in Bucha account for one third of all deaths in the Kyiv region since the beginning of the Russian invasion, the city's mayor said Saturday.
"The figure we have today is 412," Anatoliy Fedoruk said statement posted on his Facebook page and translated by NBC News. "This means that every third victim in the Kyiv region is from Bucha," he added.
Fedoruk said that investigators had discovered another mass grave near a church in the city. He added that 117 bodies including those of 30 women and two children were found.
"There are killed, shot and tortured by the occupiers, there are charred bodies of civilians," Fedoruk wrote, adding that authorities were helping people to identify the bodies and give their relatives a proper burial.
NBC News has not been able to verify this claim and Russia has repeatedly denied its forces are targeting civilians.
Humanitarian corridor from Mariupol to open Saturday, Ukraine's deputy PM says
A humanitarian corridor is planned for civilians to evacuated from the besieged city of Mariupol on Saturday, Ukraine's deputy prime minister said Saturday.
"Today we are again trying to evacuate women, children and the elderly," Iryna Vereshchuk said in a message on her Telegram channel that was translated by NBC News.
Ukrainian troops have driven Russian forces out of parts of Kharkiv, regional governor says
Ukrainian troops in Kharkiv launched a successful counterattack on Russian forces which drove them out of four regions in and around the city, it's regional governor said Saturday.
"There were fierce battles," Oleh Syniehubov said in a video posted to his Telegram channel and translated by NBC News. "Our units drove Russian troops out of the settlements: Bezruki, Slatino, Prudyanka, Dergachiv direction, and secured their positions!"
He added that Russian troops had continued to fire on civilian infrastructure in the city and its surrouding regions on Friday. Two people had died and 19 were injured, he said.
NBC News has not been able to verify his claims.
Syniehubov also warned that no night gatherings would be allowed to celebrate Orthodox Easter Sunday.
"We can't allow crowds, security comes first," he said.
'Our happy life stopped': Families recount first hours of Russia's invasion of Ukraine
Bucha residents work to find and bury their dead amid scenes of recent atrocities
BUCHA, Ukraine — After hiding for weeks in the basement of her apartment complex in this community just outside of Kyiv with her mother and son, Inna Leschenko, 45, dashed out on March 19 to find clean water. She never made it home. 
Leschenko died after being struck by shrapnel when Russian forces shelled the area. Her family waited until it was safe and then retrieved her body from the courtyard hundreds of feet away. They later buried her there in a small grass island bordered by sidewalks. 
Once Ukrainian forces liberated the city, the police exhumed Leschenko and took her to the morgue. On Friday, her mother, Mariya Kovalenko, 66, identified her remains and finally laid her to rest about a month after she died. 
Kovalenko sobbed as she clutched a photo of Leschenko that she had kept in a plastic shopping bag to protect it from the heavy drizzle that fell Friday. There was at least some solace in knowing she would be able to bury her daughter properly.
"I came here three days ago, and we found her," she said. 
Ukrainian counterattacks stymie Russian progress, U.K. says
Russia has not made major gains in the last 24 hours due to Ukrainian counterattacks, according to the U.K.'s defense ministry.
Ukraine's defense of air and sea has reduced Russia's ability to gain control over either domain, the ministry said in a Saturday morning update.
Their resistance has also slowed Russian attempts to fully capture the battered port city of Mariupol, the ministry said.
"Despite their stated conquest of Mariupol, heavy fighting continues to take place frustrating Russian attempts to capture the city thus further slowing their desired progress in the Donbas," the ministry stated.
Russian President Vladimir Putin has claimed "success" over Mariupol, but Ukrainian President Volodymyr Zelenskyy has insisted that Russia does not control the city.
Defense officials, military leaders from more than 20 countries to convene for Ukraine defense talks
The Pentagon says U.S. Defense Secretary Lloyd Austin will convene a meeting next week in Germany of defense officials and military leaders from more than 20 countries to discuss Ukraine's immediate and long-term defense needs.
The Pentagon press secretary, John Kirby, said Friday that about 40 nations, including NATO members, were invited and that responses are still arriving for the session to be held Tuesday at Ramstein air base. He did not identify the nations that have agreed to attend but said more details will be provided in coming days.
The meeting comes as Russia gears up for what is expected to be a major offensive in eastern Ukraine.
The agenda will include an updated assessment of the Ukraine battlefield as well as discussion of efforts to continue a steady flow of weapons and other military aid, Kirby said. It will include consultations on Ukraine's post-war defense needs but is not expected to consider changes in the U.S. military posture in Europe, he said.
Russia says 1 dead, 27 missing, nearly 400 rescued after ship's sinking
The Russian Defense Ministry said Friday that one serviceman died, 27 more went missing and 396 were rescued after a fire on the flagship missile cruiser Moskva last week.
The statement comes a week after the vessel sunk.
Shortly after the incident, the ministry said the entire crew of the ship, which was presumed by the media to be about 500 people, had been rescued. The ministry did not offer an explanation for the contradicting reports.
Ukraine said it hit the cruiser with a missile strike.