Coverage on this live blog has ended, please click here for the latest updates.
Ukrainian President Volodymyr Zelenskyy has warned of a ramped-up Russian offensive in his country's east, with civilians rushing to flee the region ahead of what many fear could be a brutal new phase in the war.
Russia has deployed tens of thousands of troops to "prepare new attacks," Zelenskyy warned Monday, a day after he vowed his country's troops were prepared to "respond" to the new assault Moscow's forces appeared poised to launch in eastern Ukraine.
Satellite images captured by Maxar, a commercial company that works with the U.S. government, appeared to show an 8-mile convoy of Russian military vehicles moving south toward the Donbas area, which seems likely to be the focus of a major new offensive.
Russia has appointed a general with a record of brutality in Syria to take over its operations in Ukraine, a U.S. official and a Western official confirmed. Zelenskyy said that in Mariupol, the besieged southeastern port city, tens of thousands of people were likely to have been killed. NBC News has not verified the numbers of deaths.
Austrian Chancellor Karl Nehammer met with Russian President Vladimir Putin, the first European leader to do so since the Feb. 24 invasion, and said he had "no optimistic impression" to report.
Nehammer said he told Putin that sanctions would continue and would mean long-lasting damage for Russia for decades. "I clearly told him that his attitude toward war is in no way even remotely shared," Nehammer said at a news conference, adding that it is an invasion, according to Reuters.
Support for Griner, detained in Russia, at WNBA draft
NEW YORK — Moments before Rhyne Howard went to Atlanta with the No. 1 pick in the WNBA draft, Commissioner Cathy Engelbert said the league is working very hard to help bring Brittney Griner back to the United States.
Griner, one of the league's biggest stars, has been detained in Russia since arriving at a Moscow airport in mid-February. Russian authorities said a search of her luggage revealed vape cartridges that allegedly contained oil derived from cannabis, which could carry a maximum penalty of 10 years in prison.
"I want to take a moment to reiterate the WNBA's support for Phoenix Mercury star Brittney Griner," Engelbert said before the draft started. "Please know that getting her home safely continues to be our top priority and while we are facing an extraordinarily complex challenge, there is strength in community, especially the WNBA."
Engelbert said there will be a league-wide charity initiative spearheaded by the Mercury to support Griner's philanthropic project, called BG's Heart and Sole Shoe Drive. The drive has gathered new or gently used shoes for homeless people in the Phoenix area.
"This is an unimaginable situation for BG to be in," Engelbert said. "She continues to have our full support. Certainly, we're trying everything we can, every angle, working with her legal representation, her agent, elected leaders, the administration. Just everybody in our ecosystem to try and find ways to get her home safely and as quickly as we can."
Warsaw takes over Russia-built compound to give to Ukraine
WARSAW, Poland — The mayor of Warsaw says a disputed compound administered by Russia's diplomatic mission is being taken over by the city and will be made available to the Ukrainian community.
Mayor Rafal Trzaskowski was at the site Monday and said that a bailiff had entered the two apparently empty buildings, dubbed "spyville" by Warsaw residents, to check their condition and to mark them as seized by the Town Hall.
"It is very symbolic that we are closing this procedure of many years now, at the time of Russia's aggression" on Ukraine, Trzaskowski said on Twitter.
The Russian Embassy, which had the tall apartment blocks built in the 1970s, has been refusing court orders to pay the lease or to hand it over. Once busy, the buildings became empty in the 1990s, after Poland shed its communist rule and dependence from Moscow and after the then-Soviet Union dissolved.
Ever since, Poland has been saying that lease on the plot of land had expired and demanded it be returned.
Russian opposition figure reportedly arrested in Moscow
Russian opposition figure Vladimir Kara-Murza Jr. was arrested in Moscow on Monday, according to his lawyer and the foundation he heads.
Kara-Murza's lawyer told Russian state media RIA Novosti that he did not have details about the detention. NBC News has not verified the arrest independently.
The Boris Nemtsov Foundation, which Kara-Murza leads, tweeted that he was detained near his house in Moscow without explanation and demanded his release.
While a reason for the reported arrest was not immediately clear, Kara-Murza had criticized Russian President Vladimir Putin and his government on U.S. cable news networks.
He said Sunday on MSNBC that Putin's regime has "created a false reality" in Russia through censorship, and he described the measures as "Orwellian."
"It's not only that you cannot speak out against this war. You're not even allowed to call it a war," Kara-Murza said.
Russia's government has been cracking down on media in the country, limiting what they can say under threat of imprisonment.
Kara-Murza, a well-known critic of Putin, survived what he said was his second poisoning in 2017. It occurred as he was promoting a documentary about Boris Nemtsov, the former deputy prime minister and Putin critic who was shot dead in February 2015 on a bridge across from the Kremlin.
UNICEF official: Nearly two-thirds of Ukraine's children displaced
Nearly two-thirds of all of the children in Ukraine have been forced from their homes by Russia's attack and invasion, a war that a top UNICEF official called remarkable for the devastation it has caused.
"In my 31 years as a humanitarian, I have rarely seen so much damage caused in so little time," Manuel Fontaine, UNICEF's emergency programs director, told the United Nations on Monday after returning from a trip to the country.
The U.N. has recorded 148 children killed in Ukraine since Russia attacked the country, but Fontaine said the real number is likely to be much higher.
He said two-thirds of the children in Ukraine have been displaced. They are being killed and wounded mainly in crossfire and by explosive weapons. He recounted seeing a 4-year-old shot twice in the stomach while fleeing with his family, who is expected to live.
"Every day the war continues, children will continue to suffer," Fontaine told the U.N. Security Council. He said that eastern Ukraine was one of the most mine-contaminated areas in the world even before the invasion and that "this reality is rapidly extending to other parts of the country."
U.K. investigating reports Russia 'may have used chemical agents'
The British government said Monday that it was investigating reports that Russia may have used chemical agents in its attack on Mariupol last month.
Defense Department press secretary John Kirby said the U.S. is aware of the "reports" and will monitor the situation.
If it is verified, the use of a "chemical munition" would be "deeply concerning and reflective of concerns that we have had about Russia's potential to use a variety of riot control agents, including tear gas mixed with chemical agents, in Ukraine," he said.
Kirby appeared to be responding to a single Telegram message from Azov, an ultra-nationalist faction of the Ukrainian National Guard that's often described as a regiment or battalion. It alleged Russian forces used "a poisonous substance of unknown origin."
NBC News has not confirmed the claim.
The U.K.'s foreign secretary, Liz Truss, tweeted Monday, "We are working urgently with partners to verify details."
"Any use of such weapons would be a callous escalation in this conflict and we will hold Putin and his regime to account," she said.
Austrian chancellor says Putin meeting 'very direct, open, tough'
VIENNA — Austrian Chancellor Karl Nehammer says his meeting with Russian President Vladimir Putin in Moscow was "very direct, open and tough."
In a statement his office released after the meeting, Nehammer said Monday that his primary message was "that this war needs to end, because in war both sides can only lose."
Nehammer was the first European leader to meet Putin in Moscow since Russia invaded Ukraine in February.
Nehammer stressed that the Monday trip was "not a friendly visit" but rather his "duty" to exhaust every possibility to end the violence in Ukraine.
Nehammer on Saturday visited Kyiv, where he met Ukrainian President Volodymyr Zelenskyy.
In his conversation with Putin, Nehammer said he raised the issue of "serious war crimes" committed by the Russian military in the Ukrainian city of Bucha and others. "All those who are responsible will be held to account," he added.
Austria has backed the European Union's sanctions against Russia, although it so far has opposed cutting off deliveries of Russian gas. The country, which is militarily neutral, is not a member of NATO.
France declares six Russian spies 'persona non grata'
France's foreign ministry said Monday that following an investigation, six Russian agents "operating under diplomatic cover" were declared persona non grata in the country.
The foreign ministry said in a statement that a "very long investigation" revealed "a clandestine operation carried out by the Russian intelligence services on our territory."
"Six Russian agents operating under diplomatic cover and whose activities proved contrary to our national interests have been declared persona non grata," the ministry said. 
The French government said that in the absence of the Russian ambassador, the No. 2 official was informed of the decision.
Zelenskyy says 'tens of thousands' likely dead in Mariupol
Ukrainian President Volodymyr Zelenskyy said Monday that "tens of thousands" had likely been killed in the southeastern port city of Mariupol.
Zelenskyy made the comment in a video address to the South Korean parliament, during which he also said that the southern port city had been "destroyed."
Residents of Mariupol were left without electricity and running water and had little food for weeks as they lived under threat of missile strikes and shelling. 
Zelenskyy said despite the destruction, Russia continued its offensive.
Official says U.S. has seen evidence of Russian effort to reinforce troops in Donbas
The United States has seen efforts by the Russian military to resupply and reinforce troops in the Donbas region of eastern Ukraine, a senior defense official told NBC News on Monday.
The official said a line of vehicles is headed to Izyum in order to reinforce and resupply forces in Donbas.
A U.S. assessment of the line of vehicles included command and control elements, a support battalion, enablers, rotary wing aviation and other infantry support, according to the official.
The U.S. does not know the vehicles' ultimate destination or when they will get to Izyum but there is evidence that Russia wants to put more effort into the Donbas region, the official said.
U.S. ambassador to U.N.: What is happening to women, children in Ukraine is 'horrific beyond comprehension'
Linda Thomas-Greenfield, the U.S. ambassador to the United Nations, said Monday that what is happening to women and children during Russia's invasion of Ukraine is "horrific beyond comprehension." 
"When men like President Putin start wars, women and children get displaced, women and children get hurt, women and children get raped and abused, and women and children die," Thomas-Greenfield said during a U.N. Security Council meeting on Ukraine and the impact of the attack on women and girls.
"Since the start of Russia's unprovoked war against Ukraine, Russia has bombed orphanages and maternity hospitals. We've seen mass graves with dead children stacked on top of each other."
Sima Bahous, the executive director of UN Women, said that through the "horrors" of the invasion women have continued to serve their communities and that women make up "80 percent of all health and social care workers in Ukraine and many of them chose not to evacuate."
"Without fail, every Ukrainian man, woman and child I met had one dream to be able to return home," Bahous said, but that "many do not have homes to go back to."
Thomas-Greenfield said she had met with some of the millions of people displaced by the invasion, a "mass displacement" that "includes over half of all of Ukraine's children" and that 90 percent of refugees from Ukraine are women and children. 
She called on humanitarian actors to address gender-based violence and advocate for children's rights.
"What is happening to women and children in Ukraine is horrific beyond comprehension," she said.
Zelenskyy says there will be 'historic reconstruction' of Ukraine
Ukrainian President Volodymyr Zelenskyy said Monday that he was confident the country "will manage to rebuild our state quickly." 
Whatever the losses in the Russian invasion of Ukraine, "it will be a historic reconstruction," Zelenskyy said in a post on Telegram on Monday.
It will be "a project that will inspire the world just as our struggle for freedom, just as our struggle for Ukraine," he said.
Austrian leader meets with Putin in Moscow
Austrian Chancellor Karl Nehammer has become the first European Union leader to meet with Russian President Vladimir Putin since Moscow launched its invasion of Ukraine, with Austrian media reporting that the meeting had begun Monday.
The meeting, which Austrian newspaper Kronen Zeitung and other outlets said had already gotten underway, comes after the Austrian chancellor met with Ukrainian President Volodymyr Zelenskyy in Kyiv over the weekend.
During his daily briefing Monday, Kremlin spokesperson Dmitry Peskov said the discussion between Putin and Nehammer would focus "around Ukraine."
Asked whether the topic of Russian gas supplies would be discussed, he said: "The main topic will be the situation around Ukraine. But the gas issue cannot be ruled out either, because it is very relevant for Austria," given the country's dependency on Russian gas.
Russia says no reason peace talks can't continue
Russian Foreign Minister Sergey Lavrov has said he does not see "any reason" why peace talks between Russian and Ukrainian negotiators cannot continue.
 "I don't see any reason why we can't continue them," Lavrov told state-owned news channel Russia24 on Monday. He accused the Ukrainian side of turning "180 degrees" and "rejecting what it itself has just offered."
"But we are patient and persistent people," he said.
Lavrov's comments came as Russia faces growing condemnation over evidence of atrocities its forces have been accused of committing in Ukraine, including in the Kyiv suburb of Bucha and in the besieged port city of Mariupol.
French team investigating possible war crimes arrives in Ukraine
A team of experts tasked with investigating possible war crimes in Russia's invasion of Ukraine arrived in the war-torn country Monday morning.
The team is expected to investigate "war crimes committed by the Russians on French nationals" in Ukraine following the "discovery of abuses in Bucha," a joint announcement from three French ministries said.
France's Ministry for Europe and Foreign Affairs, Ministry of the Interior and Ministry of Justice said the team consists of "two forensic doctors and about fifteen gendarmes from the National Gendarmerie Criminal Research Institute," a forensic science institute.
Team members are "experts in crime scenes and victim identification," the announcement said. "In particular, they have recognized skills in ballistics, explosives, DNA sampling and processing, and fingerprints."
It comes after France's anti-terrorist prosecutor announced it had opened three inquiries over possible war crimes related to acts against French citizens during Russia's invasion of Ukraine.
Croatia tells 24 Russian embassy staff to leave over Ukraine invasion
Croatia on Monday told 24 Russian embassy staff to leave over Russia's invasion of Ukraine and "brutal aggression," the foreign ministry said in a statement, following similar moves by other E.U. countries. The 24 included 18 diplomats, it said.
The ministry said that the Russian ambassador was summoned in a protest over the "brutal aggression on Ukraine and numerous crimes committed (there)."
"The Russian party was informed about the reduction of administrative-technical staff of the Russian Federation's embassy in Zagreb," the statement said.
The European Union on Friday adopted a new package of sanctions against Russia including a ban on coal imports, new restrictions on trade and the blacklisting of several oligarchs close to the Kremlin.
Canada targets Russia's defense sector with new sanctions
Canada is imposing fresh sanctions targeting "entities in the Russian defense sector" that it says have provided support to Russia's military during its invasion of Ukraine, the country announced Monday.
The new sanctions target 33 entities, Global Affairs Canada said in a press release.
 "These entities have provided indirect or direct support to the Russian military and are therefore complicit in the pain and suffering stemming from Vladimir Putin's senseless war in Ukraine," the department said. It did not provide further details on the entities being targeted.
Since Russia launched its invasion of Ukraine in late February, Canada has imposed sanctions on more than 700 individuals and entities from Russia, Belarus and Ukraine, it said.
Russian troops 'massing' for attack on Donbas region, top E.U. official says
Russian troops are preparing to attack the eastern region of Donbas in Ukraine, a top European Union official warned Monday.
"I'm afraid the Russian troops are massing on the east to launch an attack on the Donbas. The Ukrainians are very much aware of that," Said E.U. High Representative for Foreign Affairs and Security Policy Josep Borrell ahead of a meeting of E.U. foreign ministers to discuss the war in Ukraine.
"So, I'm afraid in the next day the war will increase on the Donbas," he said.
Borrell said E.U. foreign ministers would discuss the "brutal aggression of the Russian troops" and how to respond. He said further sanctions were "always on the table," but did not say whether a Russian oil embargo would be included in a future sanctions package.
Slovakia rejects Moscow's claim that Russian forces destroyed air defense system supplied to Ukraine
Slovakia's prime minister has rejected claims from Moscow that its forces destroyed an anti-aircraft missile system supplied to Ukraine.
Russia said Monday it had used cruise missiles to destroy an S-300 anti-aircraft missile system supplied to Ukraine by a European country. It did not identify the country by name, but Slovakia announced Friday that it had donated its S-300 air defense system to Ukraine.
However, Slovakian Prime Minister Eduard Heger rejected that suggestion outright, writing in a tweet Sunday that Slovakia "categorically denies" the claim that the defense system was destroyed.
"It's a hoax," he said, adding that Ukraine had "officially confirmed" this. NBC News could not independently verify the status of the defense system.
Russia's invasion to shrink Ukraine economy by 45 percent, World Bank says
Ukraine's economy could shrink by almost half this year amid Russia's invasion of the country, the World Bank has warned.
According to the World Bank, Ukraine's gross domestic product is projected to contract by about 45 percent in 2022.
The World Bank said the war in Ukraine and sanctions against Russia have affected economies around the globe, with the Europe and Central Asia region "expected to bear the brunt" of the impacts.
The region's economy is forecast to shrink by 4.1 percent this year, compared with a prewar forecast of 3 percent growth, it said, with Russia's invasion compounding the impacts of the Covid-19 pandemic.
"This would be the second contraction in as many years, and twice as large as the pandemic-induced contraction in 2020," it said.
The World Bank also emphasized that support to countries hosting refugees fleeing the war "will be critical." It noted that it is preparing operational support programs to help "meet the increased financing needs from the refugee flows."
Ukrainian President Volodymyr Zelenskyy addresses South Korea's parliament via video link at the National Assembly in Seoul on Monday.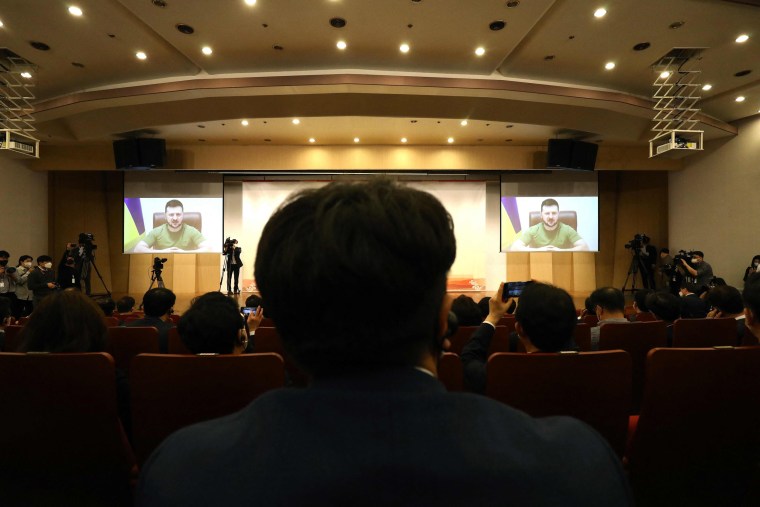 Russian oil embargo could be part of next E.U. sanctions package, ministers say 
The European Union's executive is drafting proposals for an EU oil embargo on Russia, the foreign ministers of Ireland, Lithuania and the Netherlands said on Monday, although there is still no agreement to ban Russian crude.
"They are now working on ensuring that oil is part of the next sanctions package," Irish Foreign Minister Simon Coveney said of the European Commission as he arrived for a meeting with his E.U. counterparts in Luxembourg.
His Dutch and Lithuanian counterparts also said they were open to looking at ways at targeting Russian oil, which makes up about a quarter of the E.U.'s crude imports, as a means to pressure Russia to halt the shelling of Ukrainian cities.
The European Parliament last week voted for an embargo, but its decision is not binding.
The E.U. last week approved a fifth round of sanctions on Russia that included an end to Russian coal imports and European Commission President Ursula von der Leyen said April 5 that she was considering additional sanctions, including on oil imports, based in part on proposals from E.U. governments.
Russia readying tens of thousands of troops for eastern Ukraine offensive, Zelenskyy says
Russia has deployed tens of thousands of troops to "prepare new attacks" in Ukraine, Ukrainian President Volodymyr Zelenskyy said Monday.
In the video address to South Korea's parliament, Zelenskyy said "the occupiers have sent dozens of thousands of soldiers and colossal numbers of equipment to prepare new attacks."
He did not specify where exactly the troops had been deployed, but has warned in recent days of a ramped-up offensive from Russian forces in eastern Ukraine. Analysts have also said that Ukraine's east will likely be the focus of Moscow's military in the war's next phase.
Satellite images captured by Maxar, a commercial firm that works with the U.S. government, appeared to show an 8-mile-long convoy of Russian military vehicles moving on Friday south toward the Donbas area that seems likely to be the focus of a major new offensive.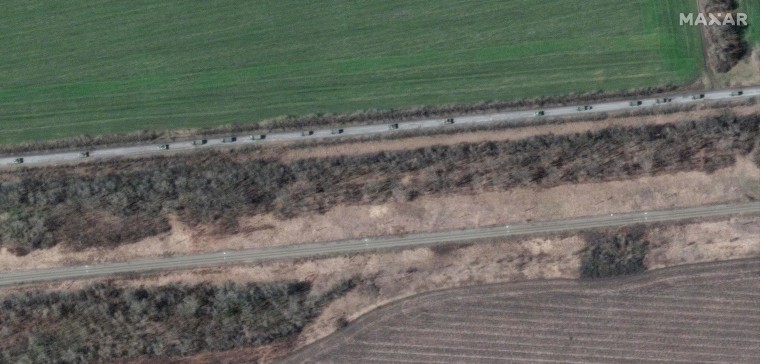 Tens of thousands of people likely killed in Mariupol, Zelenskyy says
Tens of thousands of people have likely been killed in the besieged port city of Mariupol, Ukrainian President Volodymyr Zelenskyy said Monday.
Speaking in a video address to South Korea's parliament, Zelenskyy warned that the death toll in Mariupol, which has faced weeks of relentless shelling from Russian forces, could be much higher than previously thought.
"Mariupol has been destroyed. Tens of thousands of residents have died. Even despite that the Russians haven't stopped the attack."
NBC News is unable to independently verify a death toll in Mariupol, which continues to experience intense fighting while thousands of people remain trapped without access to heat, water, medicine and other essentials.
Tens of thousands of people have managed to escape the city in southeastern Ukraine, according to local officials, but efforts to evacuate those who remain have been repeatedly hampered by continued shelling.
9 humanitarian corridors agreed for Monday
Nine humanitarian corridors have been agreed to open Monday, Ukrainian Deputy Prime Minister Iryna Vereshchuk said.
A route for people evacuating via private transport is expected to open from the besieged port city of Mariupol, Vereshchuk said in a Telegram post.
A number of evacuation routes will also be opened in the Zaporizhzhia region for those traveling by private transport, she said, with routes from Berdyansk, Tokmak and Enerhodar to the city of Zaporizhzhia. She said buses from Zaporizhzhia were also waiting to pass a checkpoint in Vasylivka.
In the Luhansk region, routes will be opened from a number of cities, including Severodonetsk and Lysychansk to Bakhmut, she said.
Germany sees 'massive indications' of war crimes in Ukraine, foreign minister says 
Germany sees massive indications of war crimes in Ukraine, Foreign Minister Annalena Baerbock said on Monday.
"We have massive indications of war crimes," she told reporters before a meeting with fellow European ministers in Luxembourg. "In the end, the courts will have to decide, but for us, it is central to secure all evidence."
"As the German federal government, we have already made it clear that there will be a complete phase-out of fossil fuels, starting with coal, then oil and gas, and so that this can be implemented jointly in the European Union, we need a joint, coordinated plan to completely phase out fossil fuels to be able to withdraw as a European Union," she added.
11 dead, including child, after airstrikes in Kharkiv
At least 11 people are dead in the Kharkiv region of Ukraine, including a 7-year-old, after Russian forces launched dozens of airstrikes on the city and surrounding areas, the region's governor has said.
In a Telegram post Monday, Gov. Oleh Synegubov said Russian forces had launched as many as 66 strikes in Kharkiv, Ukraine's second-largest city, and nearby areas. NBC News could not independently verify the claim or the reported death toll.
Synegubov said at least 14 people had also been injured in the attacks, which he said struck a number of areas, including Saltivka, Pisochyn and Zolochiv.
Russia could use phosphorus bombs in Mariupol, U.K. warns 
Britain's defense ministry has warned that Russia could use phosphorus munitions in the besieged port city of Mariupol.
In an intelligence update Monday morning, the ministry said Russia's "prior use of phosphorus munitions in the Donetsk Oblast" raises the possibility of its future use in Mariupol as heavy fighting continues around the strategic city.
The ministry further noted that Russian shelling has continued in the Donetsk and the Luhansk regions, with Ukrainian forces "repulsing several assaults resulting in the destruction of Russian tanks, vehicles and artillery equipment." 
It warned that Russia's "continued reliance" on unguided bombs decreases its military's ability to "discriminate when targeting and conducting strikes," which it warned could greatly increase the risk of further civilian casualties.