This live blog has now ended. You can follow the latest updates here.
The city of Kherson in southern Ukraine near Russian-occupied Crimea is "contested territory again," a U.S. Defense Department official said. If the city is retaken, it would represent a major setback for Russia.
The battlefield development came as Ukrainian officials, citing eyewitnesses, said some 300 people had died after Russian forces bombed a theater where more than 1,000 had taken refuge in the besieged Ukrainian city of Mariupol. NBC News was not able to independently confirm the claim, which involved an attack that has become an emblem of Russia's indiscriminate bombardment of civilian targets.
Speaking Friday on the state-owned news channel Russia-24, Col. Gen. Sergei Rudskoy, deputy chief of staff of Russia's armed forces, said the "first stage" of what Russian President Vladimir Putin has called a "special military operation" is complete and the military will now focus on the "complete liberation" of the separatist Donbas region.
The announcements Friday came as President Joe Biden traveled to Poland for the second leg of an emergency trip to Europe to fortify the West's response to Russia's invasion of Ukraine. Biden was briefed on the humanitarian response to the war, which has forced more than 3.6 million people to flee Ukraine to neighboring countries, with more than 2.1 million seeking refuge in Poland.
Mariupol officials: About 300 dead in theater attack, according to eyewitnesses
Around 300 people died after Russian forces bombed a theater where over 1,000 people had taken refuge in the besieged city of Mariupol, local officials said Friday, citing eyewitnesses.
NBC News was not able to independently the claim, which involved an attack on March 16 that has become an emblem of Russia's indiscriminate bombardment of civilian targets.
Mariupol's city council said that "about 300 people" died in the attack on the theater, according to eyewitnesses, calling it a "horror."
The council said that it had wanted to "believe" that those inside the theater had all managed to escape, but that testimonies from those who'd been inside the building "say otherwise."
"The Drama Theater in the heart of Mariupol has always been the hallmark of the city," the council said in a statement. "Now there is no more Drama theatre. In its place, a new point of pain for Mariupol residents appeared, ruins that became the last refuge for hundreds of innocent people."
Russia has denied targeting civilians in its attacks on Ukraine.
U.S., E.U. announce Task Force to reduce Europe's dependence on Russian energy
The United States and European Union have announced a joint task force to reduce Europe's dependence on Russian fuels, strengthening the region's energy security as Russia continues its invasion in Ukraine.
"This Task Force for Energy Security will be chaired by a representative from the White House and a representative of the President of the European Commission," said the White House on Friday.
The Task Force will focus its efforts on diversifying liquefied natural gas, reducing demand for natural gas altogether and accelerating renewable energy projects, it said.
President Joe Biden and European Commission President Ursula von der Leyen talk to the media about Russia's invasion of Ukraine at the U.S. Mission in Brussels on Friday.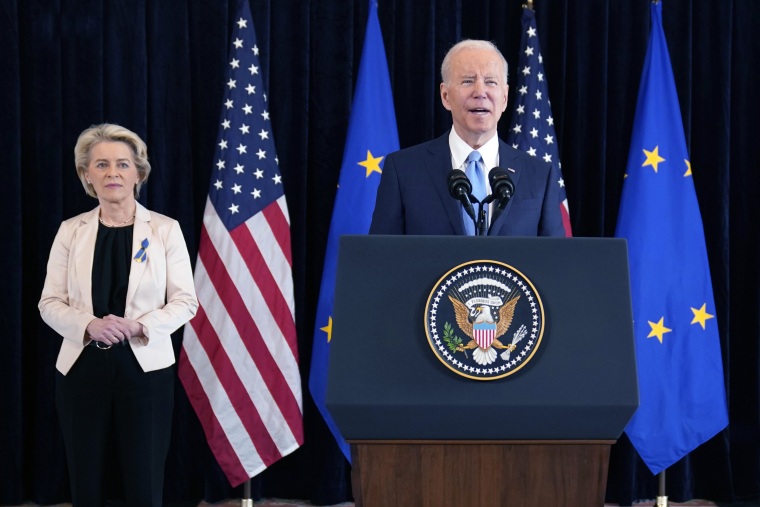 Russia and Ukraine swap prisoners of war
Russia and Ukraine have carried out their first "full-fledged" prisoner swap since the war began, according to Ukraine's deputy prime minister.
Iryna Vereshchuk said in a Telegram post that 10 Russian prisoners of war were handed over in exchange for 10 Ukrainian servicemen. 
An additional 11 Russian civilian sailors rescued from a sunken ship were being exchanged for 19 Ukrainian sailors who hailed from the Sapphire rescue ship, she added. The Sapphire's crew was captured in late February when the vessel was trying to get troops off of Snake Island.
Vereshchuk did not say when or where the exchange took place in her Thursday post. 
Russia's human rights commissioner, Tatyana Moskalkova, confirmed the swap, according to the Interfax News Agency. 
"We, too, were involved in establishing contact with Ukraine on this issue. Work continues in the framework of the queries I receive from citizens," Moskalkova told Interfax.
Ukrainian servicemen attend a funeral for marine Alexandr Khovtun in Kyiv on Sunday. Khovtun died in combat in the town of Huta-Mezhyhirska, north of Kyiv.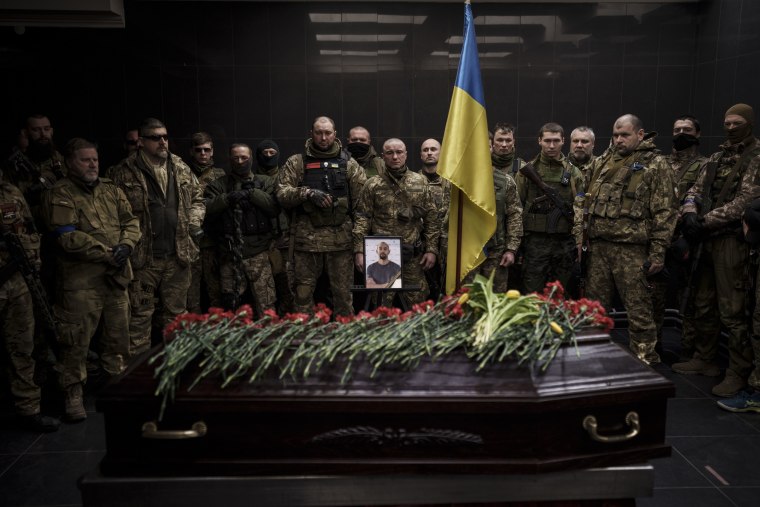 Mariupol police general offers his life to save children
Mariupol National Police General Vyacheslav Abroskin has offered his life to Russian forces, asking to let children out of the besieged port city in exchange.
"There are many children left who, if not saved now, will die in the coming days, the clock is ticking," he said in a Facebook statement on Wednesday. "My life belongs to me alone and I offer it in exchange for the lives of children who still remain in Mariupol," he said.
Abroskin, who said he was on Russia's "wanted list," appealed to the forces to let him organize the removal of children, asking for three days. 
Ukraine reclaims ground, pushes Russians away from Kyiv, U.K. says
Ukrainian forces have reclaimed towns and continue to push Russian Forces away from the Kyiv towards Hostomel Airfield in the north-west, Britain's defense ministry has said.
In an intelligence update published Friday, it said, "Ukrainian counter-attacks, and Russian Forces falling back on overextended supply lines, has allowed Ukraine to re-occupy towns and defensive positions" up to just over 20 miles east of Kyiv. 
In the south, Russian forces continued to circumvent Mykolaiv to reach east towards Odesa, it said.
Biden heads to Poland as country grapples with Ukraine refugee influx
President Joe Biden on Friday plans to travel to southeastern Poland, where he intends to meet with U.S. troops and aid workers assisting refugees in a country on the front lines of the humanitarian and military crisis unfolding in Ukraine. 
Biden is scheduled to visit Rzeszow to thank the thousands of U.S. troops who began arriving at a military base there last month. The base in Poland is less than 100 miles from where Russian missiles struck a Ukrainian military post this month. Before he returns to Washington on Saturday, Biden said, he will try to meet with some of the refugees.
"I've been to refugee camps, I've been in war zones for the last 15 years, and it's devastating," Biden said at a news conference Thursday. He said meeting with refugees in Poland would "reinforce my commitment to have the United States make sure we are a major piece of dealing with the relocation of all those folks."
Read the full story here. 
Humanitarian aid let into Melitopol, mayor says
Humanitarian aid that had been stalled has been let into the southeastern Ukrainian city of Melitopol, Mayor Ivan Fedorov said on Facebook.
The convoy, carrying food, medicine and hygiene products, was stopped Thursday night at the entrance to the city, Fedorov said. Russians allowed the convoy to enter Friday morning, he said. 
Approximately 350 residents will be evacuated to Zaporizhzhia as the buses exit the city, he said.
Earlier this month, Ukrainian officials said Fedorov had been captured and later released.