This live blog has now ended. You can see our latest updates here.
Ukraine rejected a Russian plan Monday to let civilians escape the Russian assault and flee to Russia or Belarus during a cease-fire.
Russia announced the cease-fire in major cities across Ukraine on Monday morning to let people evacuate, but only offered designated routes out of Kyiv and Kharkiv that Ukraine branded "unacceptable" and an effort to manipulate world leaders.
Both Russia and Ukraine say they've made a little progress during a third round of talks, and Russia's top negotiator says the corridors are expected to start functioning Tuesday.
More than 1.5 million people have left Ukraine since the conflict began, according to the United Nations refugee agency, which called it the biggest refugee crisis since World War II.
In an impassioned address to the nation on Sunday night, Ukrainian President Volodymyr Zelenskyy said Ukrainians would not forgive or forget the Russian aggression.
The dead bodies of civilians killed by Russian shelling lie covered in the street in the town of Irpin, Ukraine on Sunday.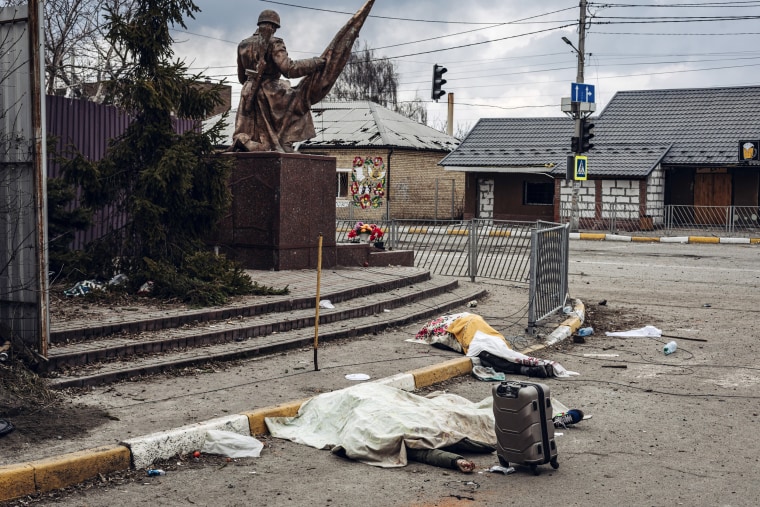 Russia's proposed humanitarian corridors 'unacceptable,' says Ukraine's deputy PM
Ukraine's deputy prime minister has condemned Russia's proposal for opening humanitarian corridors in the country as "unacceptable."
Russia had said it would be opening humanitarian corridors out of key cities at around 10 a.m. Moscow time (2 a.m. ET).
In a briefing in Kyiv Monday, Deputy Prime Minister Iryna Vereshchuk said Ukrainian officials had received a letter from the Russian side offering to organize a ceasefire and open humanitarian corridors. 
However, she noted that the humanitarian corridors offered appeared to only open pathways to Russia and Belarus. 
"Our people won't go to Belarus and to Russia," she said.
"As You saw in the morning Russian Federation spread the news about their humanism," she said. "This is an unacceptable variant of the humanitarian corridors opening."
Vereshchuk said Ukraine had sent its "own vision of humanitarian corridors to Russia" in response.
This dramatic video captured the moment Russian mortar shells were fired near the bridge used by people fleeing the fighting in Irpin, Ukraine, on Sunday.
Macron keeps an open line to Putin as war in Ukraine rages
NICE, France — While most of the world is shunning President Vladimir Putin over Russia's invasion of Ukraine, one of the few leaders keeping an open line of communication is French President Emmanuel Macron.
Macron's diplomatic efforts to prevent the war failed, but he's not giving up: the two men have spoken four times since Russian forces attacked Ukraine on Feb. 24, and 11 times over the past month.
The French leader, whose country holds the European Union's rotating presidency, is now one of the few outsiders with a view into Putin's mindset at the time of the largest military invasion in Europe since World War II. Israeli Prime Minister Naftali Bennett is also becoming a mediator, meeting Putin on a surprise visit to Moscow on Saturday and speaking with him again by phone on Sunday.
Macron's relentless push for dialogue reflects France's post-World War II tradition of carving out its own geopolitical path and its refusal to blindly follow the United States.
After Russian troops pushed deep into Ukraine, Macron's resolve to maintain communication channels with Putin is providing Western allies with insight into the Russian leader's state of mind, his intentions on the battlefield and at home in Russia as the Kremlin cracks down on opponents.
Russia likely targeting Ukrainian communications facilities to block access to news, British defense ministry says
Russia is likely targeting Ukrainian communications facilities in a bid to block the country's citizens from accessing news and information, Britain's defense ministry has said.
In an intelligence update on Monday, the defense ministry said it appeared that Russia was "probably targeting" Ukraine's communications infrastructure to "reduce Ukrainian citizens' access to reliable news and information."
The defense ministry noted reports of Russia striking a TV tower in Kharkiv on Sunday, "suspending broadcasting output." It noted that the apparent incident followed a similar strike on a TV tower in Kyiv on March 1. 
"Ukrainian internet access is also highly likely being disrupted as a result of collateral damage from Russian strikes on infrastructure," Britain's defense ministry said. It also noted that over the past week, internet outages have been reported across Ukraine, including in Mariupol, Sumy, Kyiv and Kharkiv.